For about a year now, I have been defending that Azul (AZUL) is the best company in the Brazilian airline sector. I have received (and welcomed) some criticism and contrarian views from competitor GOL Linhas Aéreas' (GOL) bulls, who believe the São Paulo-based carrier might be a better investment alternative in the sector instead.
Following the reporting of each company's October traffic reports and Azul's 3Q18 earnings, released on November 8th, I couldn't be more convinced that there's a clear divide between winners and losers in Brazilian air travel. Azul, in my view, is providing plenty of evidence that it is, in fact, the superior player.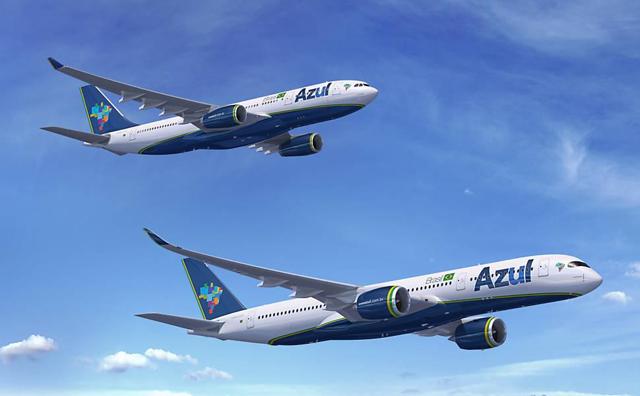 Credit: Folha de S.Paulo
A look at the numbers
The company delivered R$2.44 billion in revenues in 3Q18 for an outstanding 23% YOY increase in local currency terms. Converted at the end-of-quarter exchange rate, the company failed to reach consensus by about $36 million, but I believe the miss to be fully attributed to FX translation headwinds (the Real reached a bottom in the last half of September). GAAP EPS of $0.25 per ADS topped expectations by a dime, at first glance suggesting the quarter saw P&L benefits that extended beyond the 20% reported increase in traffic.
With RPK (revenue passenger kilometer) already having been shared prior to the earnings report, the key missing driver of revenue performance (namely RASK, or revenue per-available seat kilometer) increased once again at a healthy pace of 8%, assuming flat stage length. This metric reading, combined with very high total company load factor of 83.7% that increased 60 bps YOY, suggests that demand for Azul's increased seat capacity (ASK was up 19% YOY) remains quite strong, particularly on the domestic side.
On profitability, Azul continued to deliver beyond my expectations. Excluding fuel, CASK (cost per ASK) rose at a very timid 2%, and declined by an encouraging 8% on an FX-adjusted basis. In addition to tight opex management, I believe Azul's fleet upgrade to A320neos has been at the center of the margin improvement, as the new aircraft allow for an increase in available seats with lower per-unit costs. Encouragingly, Azul is operating A320neos in only 27 out of its 218 total routes, indicating further upside to capacity and per-unit cost yet to come.
Regarding October traffic, the contrast between Azul and Gol couldn't have been more evident. While the latter saw RPK shrink by 3%, with the small international business taking a turn for the worse after head-faking a recovery in 3Q18, the former delivered 16% traffic growth, both internationally and domestically. The graphs below further illustrate Azul's strong momentum over the past 18 months.

Source: DM Martins Research, using data from company reports
On the stock
Company fundamentals don't always closely correlate with stock price performance, particularly in the short to medium term. In the case of Brazilian airline players, crude oil prices, currency fluctuations and the state of the local economy tend to dictate investor sentiment to a large extent.
For this reason, there will always be significant risks associated with investing in a stock like AZUL. Case in point, shares only today returned to positive territory YTD, even though the carrier continues to deliver robust results quarter after quarter.
Eventually, however, I believe the stock will catch up. I continue to project $1.70/ADS in earnings attributed to the passenger and cargo businesses in a steady state, with further stock price upside likely to come from the wholly-owned loyalty program subsidiary Tudo Azul (ancillary service revenues grew a solid 26% in 3Q18, with Tudo Azul membership up 28% YOY). The timing of my forecast materializing is a bit more of a question mark, however, as fuel prices and FX swings will largely determine how long one might need to wait to see AZUL reach my unchanged price target of $45/ADS.
Note from the author: I have recently concluded a study on the U.S. airline sector, and shared my findings first - along with my working Excel file containing all the details - with my Storm-Resistant Growth group. To access all the premium material and dig deeper into how I have built a risk-diversified portfolio designed and back-tested to generate market-like returns with lower risk, join the Storm-Resistant Growth community. Take advantage of the 14-day free trial, read all the content written to date and participate in the discussions.
Disclosure: I am/we are long AZUL. I wrote this article myself, and it expresses my own opinions. I am not receiving compensation for it (other than from Seeking Alpha). I have no business relationship with any company whose stock is mentioned in this article.