The price of the US benchmark WTI crude has fallen close to $60 a barrel, but that's not a problem for Occidental Petroleum (OXY) which will continue growing production. Its output will climb to around 700,000 boe per day in the fourth quarter and will move higher in 2019. Meanwhile, the company will continue generating strong levels of cash flows, enough to fully fund its capital expenditure and dividends.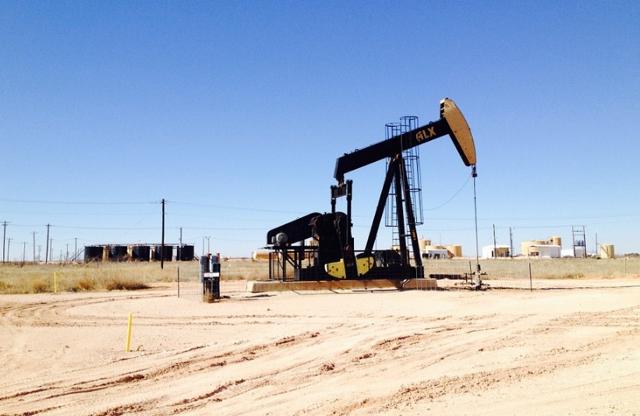 Image courtesy of Pixabay
Occidental Petroleum has recently reported its quarterly results in which its adjusted profits surged from $137 million, or $0.18 per share, in Q3-2017 to $1.36 billion, or $1.77 per share, in Q3-2018. Profits from the company's core exploration and production business rose to $963 million from $139 million a year earlier. The strong growth was driven in large part by an increase in production and improvement in oil prices. The company's output increased by 13.5% from Q3-2017 to 681,000 boepd, while its realized price for oil averaged $62.67 a barrel, up from $46.19 a barrel a year earlier. The growth in production was led by the company's shale oil and gas business in the Permian Basin, called the Permian Resources unit, where output surged by more than 60% to 225,000 boepd. That's at the high-end of the company's guidance of 215,000 to 225,000 boepd.
Occidental also generated strong levels of cash flows. For the third quarter, the company said that it generated $2.6 billion of cash flows before changes in working capital which exceeded its capital expenditure and dividends by $700 million. This shows that Occidental is not only living well within its means but also has ample room to increase spending and grow dividends.
Occidental's production will continue moving higher, led by an increase in output from the Permian Basin where it is one of the biggest shale oil producers. For the full year, Occidental has predicted that its Permian Resources output will be ~212,000 boepd -an increase of a little more than 50% from 2017. This implies that the company will increase fourth quarter production to 245,000 boepd which would depict a strong year-over-year growth rate of 45%. The increase in production from the Permian Basin in the last three months of 2018 will take Occidental's total output to almost 700,000 boepd in the quarter. Its annual output is forecasted to come in at 657,000 boepd, up from 602,000 boepd in 2017.
For the long term, Occidental is targeting 5% to more than 8% increase in production which will come on the back of higher volumes from the Permian Basin. The company expects to grow its unconventional production from the Permian Basin at an average annual rate of 30% to 35% between 2016 and 2019.
The latest production guidance for Permian Basin is 10,000 boepd higher than the initial forecast given at the start of the year. That increase in guidance is driven by strong well results and improvements in operational performance. In fact, Occidental has said that the third quarter was a record-breaking period for the company in terms of well results. Occidental brought its best well in the Permian Basin ever online - the Corral Fly 21H in Greater Sand Dunes region in New Mexico which peaked at 8,931 boepd and averaged 6,700 boepd for 30 days. Its Peck 11H well in Texas's Greater Barilla Draw position peaked at 6,552 boepd and averaged 4,900 boepd in more than 30 days and has set the industry record for the best well in its region.
Furthermore, it has ample room for growth beyond 2019. The company has access to almost 11,000 unconventional drilling locations in the Permian Basin which can power the company's production for decades. In addition to this, Occidental also holds two billion barrels of conventional oil equivalent resource potential at the Permian Basin. Outside of North America, the company owns conventional oil and gas producing assets in Latin America (Colombia) and the Middle East (Oman, the UAE).
The oil price environment, however, remains volatile. The price of the US benchmark WTI crude rose from $67 a barrel in September to more than $76 in October but has now fallen to $62 a barrel at the time of this writing. The swings have come as the markets weigh the impact of the US sanctions on Iran while OPEC has warned that the weaker-than-expected demand could push the global oil market to a surplus in 2019.
A $60 a barrel oil price environment can have a negative impact on Occidental's earnings and cash flows for the fourth quarter, given that the commodity averaged $69.50 a barrel in the third quarter. Though at $60 oil, Occidental may still report better oil price realization from Q4-2017 when oil averaged $55.40 a barrel. Occidental will likely post a ~13% increase in total production in the fourth quarter on a year-over-year basis as its output climbs to early 700,000 boepd. With the double-digit growth in production and higher oil price realization, Occidental is still well positioned to post strong growth in earnings and cash flows in Q4-2018 on a year-over-year basis.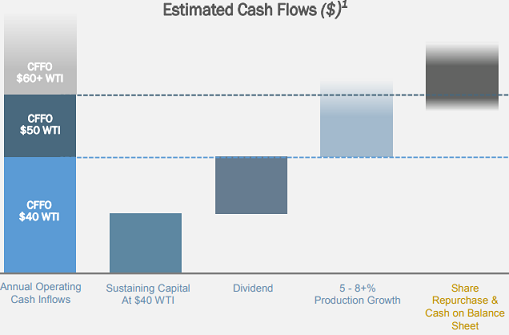 Image: Occidental Petroleum Investor Presentation, Q3-2018
More importantly, at $60 WTI, Occidental can still generate strong levels of profits and cash flows, enough to fund its dividend while growing production by 5% to more than 8%. Occidental benefits from having a low-cost and high-return asset base in the US and international markets. The company achieved its breakeven level of $40 WTI in the second quarter, meaning that in a $40 a barrel oil price environment, it can achieve cash flow neutrality by paying the dividend and maintaining flat levels of production. At $50 a barrel, which is well below the ongoing price, Occidental can generate enough cash flows to target dividend as well as production growth. The growth will come from the Permian Basin where Occidental holds 17 years of drilling inventory with a breakeven price of under $50 a barrel.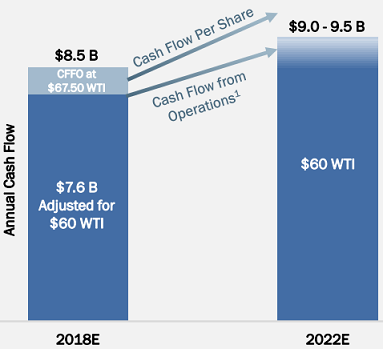 Image: Occidental Petroleum Investor Presentation, Q3-2018
In fact, at $60 a barrel, Occidental has forecast that it can grow its operating cash flows from $8.5 billion in 2018 to the range of $9 billion to $9.5 billion by 2022. Given the company has forecast CapEx of between $5 billion and $5.3 billion for the future, I believe that we can safely assume that at $60 oil, Occidental will continue to generate strong levels of free cash flows (or cash flows in excess of CapEx) that can cover CapEx as well as dividends. If the company generates free cash flows of $3.2 billion or higher (CFFO of $8.5Bn minus CapEx of $5.3Bn), then it can easily fund the dividend expenditure which was $2.37 billion on a trailing-twelve-months basis.
Shares of Occidental Petroleum have fallen by 9.4% in the last four weeks following weakness in oil prices. The entire energy sector, as measured by SPDR Energy Select Sector ETF (XLE), has also tumbled by 9.1% in the same period. But Occidental Petroleum is well positioned to continue growing production which will have a positive impact on its earnings and cash flows. In the current $60 a barrel oil price environment, it can generate enough cash flows to fund its production growth as well as dividend growth. The company already offers a dividend yield of 4.25%, which is one of the highest among oil producers. I suggest investors consider buying Occidental Petroleum stock on weakness.
Note from author: Thank you for reading. Please share your comments below. If you like this article, then please follow me by clicking " Follow" at the top of this page.
Disclosure: I/we have no positions in any stocks mentioned, and no plans to initiate any positions within the next 72 hours.
I wrote this article myself, and it expresses my own opinions. I am not receiving compensation for it (other than from Seeking Alpha). I have no business relationship with any company whose stock is mentioned in this article.