Welcome to the weekly natural gas storage report of Natural Gas Daily!
EIA reported a storage build of 65 Bcf for the week ending November 2. This compares to the +60 Bcf we projected and consensus average of +58 Bcf. The +65 Bcf was higher than the five-year average of +48 Bcf and 50 Bcf higher than last year's.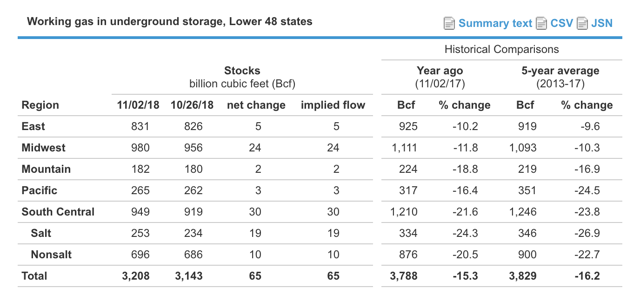 Source: EIA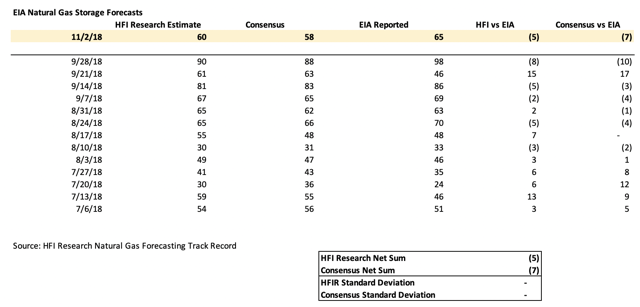 Next Week's Estimate
For the week ending 11/9, we currently have a forecast of +35 Bcf.
We have April 2019 storage at 1.1 Tcf.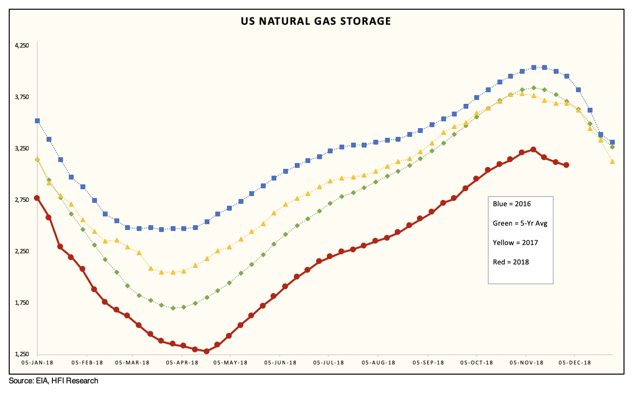 Trade Position
We closed out our long DGAZ position late Thursday on the back of a bullish ECMWF-EPS 12z model run (see trade alert to subscribers).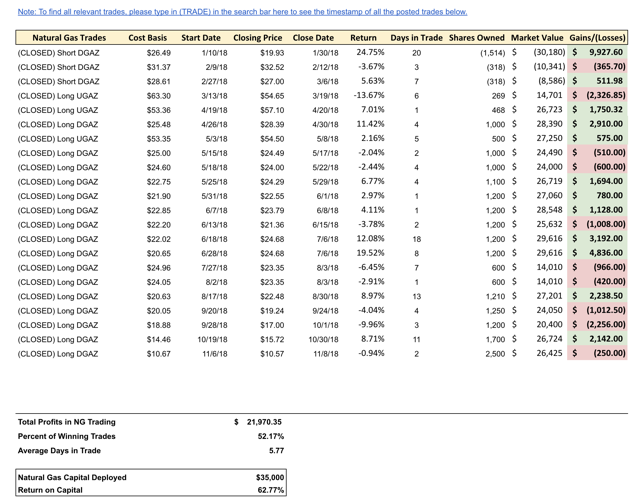 Source: HFI Portfolio
Shortly after we closed out bearish NG position, ECMWF-EPS long-range came out with a very bullish outlook for the end of November to early December. This is what prompted natural gas prices to spike today.
End of November cold blast could send prices to $4
The weather-induced volatility in natural gas trading will continue to haunt the bears, especially if the weather is turning bullish. As we had somewhat expected, with natural gas storage low and the market highly dependent on lower 48 production to keep balances well supplied, any cold blast potential could see natural gas prices quickly spike. Hence, we said that we are leaning with a bullish biased trading position over this winter period.
What happened yesterday was that the ECMWF-EPS long-range report showed a potentially very bullish outlook for the end of November to early December.

Source: StormVistaWxModels.com
While the daily models are still only forecasting to Nov. 24, we noted to subscribers that the set-up in Alaska could be a good guide to how the weather set-up looks like toward the end of the month. Notice that the pattern in Alaska is showing a ridging pattern that coincides with colder than normal temperatures in the lower 48? That indicates to us that if the daily models keep trending with a ridging pattern in Alaska, the lower 48 may show much colder than normal weather. Or to translate what we wrote into simpler terms - a cold blast toward the end of November could send natural gas prices to $4/MMBtu.
How certain is this outlook right now?
We give it a decent chance, but this weekend's weather model updates will give important clues to the set up. If natural gas prices are unchanged on Monday, but the set-up appears to be leaning toward a cold blast, we will be going long UGAZ for a trade.
For readers, keep a close eye on ECMWF-EPS updates twice a day. The 00z is updated at 3:00 AM EST and the 12z is updated at 3:00 PM EST.
We wouldn't rule out a $4 handle in the near-term if the weather keeps trending bullish.
Author's Note: Thank you for reading this article. If you found this article insightful, please leave a "Like" below.
For readers who are interested in receiving real-time trade alerts along with our exclusive natural gas fundamental, weather, and trader positioning updates, we highly recommend you to give HFI Research Natural Gas a try.
HFI Research Natural Gas will be increasing its subscription price on Dec 1 to $100/month or $700/annual. If you sign-up before then, you are locked in at the rate of $75/month or $600/annual forever.
You can see here for more info.
Disclosure: I/we have no positions in any stocks mentioned, and no plans to initiate any positions within the next 72 hours.
I wrote this article myself, and it expresses my own opinions. I am not receiving compensation for it (other than from Seeking Alpha). I have no business relationship with any company whose stock is mentioned in this article.