Welcome to the latest edition of the Energy Recap. Here are this week's "quick hits" from the energy sector - i.e., brief bits of recent news, along with some suggestions for further reading on each topic. Let us know what you think in the comments section below.
Quick Hits - Energy News
As reported by PV Magazine on Monday, Nov. 5, "China may raise [its] 2020 solar target to more than 200 GW. The target of 105 GW of cumulative installed photovoltaic power, which was originally set for the end of the decade, has already been surpassed. [And] the 2020 solar target may now be revised upward to 210-270 GW." Further reading: "SunPower Spiraling Toward Bankruptcy"
As reported by CNBC on Tuesday, Nov. 6, "the United States took measures to allow some of Iran's biggest customers to continue importing its oil without violating U.S. sanctions against the Islamic Republic. The sanctions waivers have further eased concerns that the oil market will swing into a deficit of crude supplies. Expectations for weaker-than-anticipated global economic growth amid a continuing U.S.-China trade dispute and currency weakness in emerging markets is also raising questions about demand for oil." Further reading: "Who On Earth Would Sell Crude With Iranian Oil Sanctioned?"
As reported by The Wall Street Journal on Thursday, Nov. 8, "Saudi Arabia's top government-funded think tank is studying the possible effects on oil markets of a breakup of OPEC, a remarkable research effort for a country that has dominated the oil cartel for nearly 60 years. The effort coincides with new pressures on the Saudi government, including from the U.S., where President Trump has accused the cartel of pushing up oil prices, and from investors who distanced themselves from the kingdom after the brutal killing of a U.S.-based Saudi journalist." Further reading: "OPEC's Foundation Shaken, As Saudi Arabia Mulls Withdrawing"
As reported by Reuters on Friday, Nov. 9, "a federal judge in Montana halted construction of the Keystone XL oil pipeline on Thursday on the grounds that the U.S. government did not complete a full analysis of the environmental impact of the TransCanada Corp (NYSE:TRP) project. The ruling deals a major setback for TransCanada Corp and could possibly delay the construction of the $8 billion, 1,180 mile (1,900 km) pipeline." Further reading: "TransCanada Is On Sale: Buy This Pipeline At A 29% Discount"
Energy Articles of Note
"Occidental Petroleum Grooves With Changing Oil Market Dynamics" by Jennifer Warren
"Canadian Natural Resources: Takeaways From A Solid Quarter" by Power Hedge
"Baytex Energy Is Managing Cash Flow Through Canadian Challenges" by Long Player
Energy Sector IPOs for the Week Ended Nov. 9, 2018
Here's a list of the most recent initial public offerings in the energy sector:
- None.
Feel free to add any that we might have missed in the comments section below.
On a separate note, we wanted to pass along some energy bankruptcy news (hat tip goes to Seeing Alpha author Raw Energy for the two items listed below). We haven't been tracking this topic of late; please let us know in the comments below if this is something you'd like to see again in the Recap.
- Aegean Marine (NYSE:ANW) filed for Chapter 11 bankruptcy on Tuesday, Nov. 6.
- PetroQuest Energy (PQUE) filed for Chapter 11 bankruptcy on Wednesday, Nov. 7.
U.S. Oil Rig Count
As per Baker Hughes, the number of active U.S. oil drilling rigs rose this week.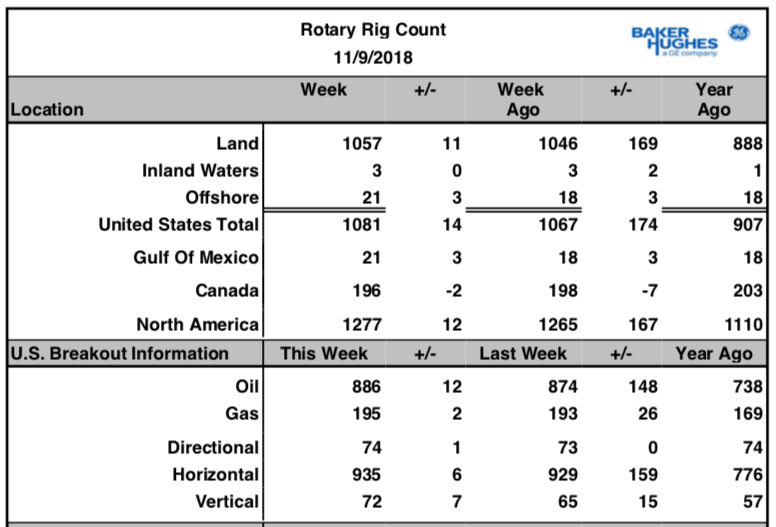 Weekly Natural Gas Storage Report and Summary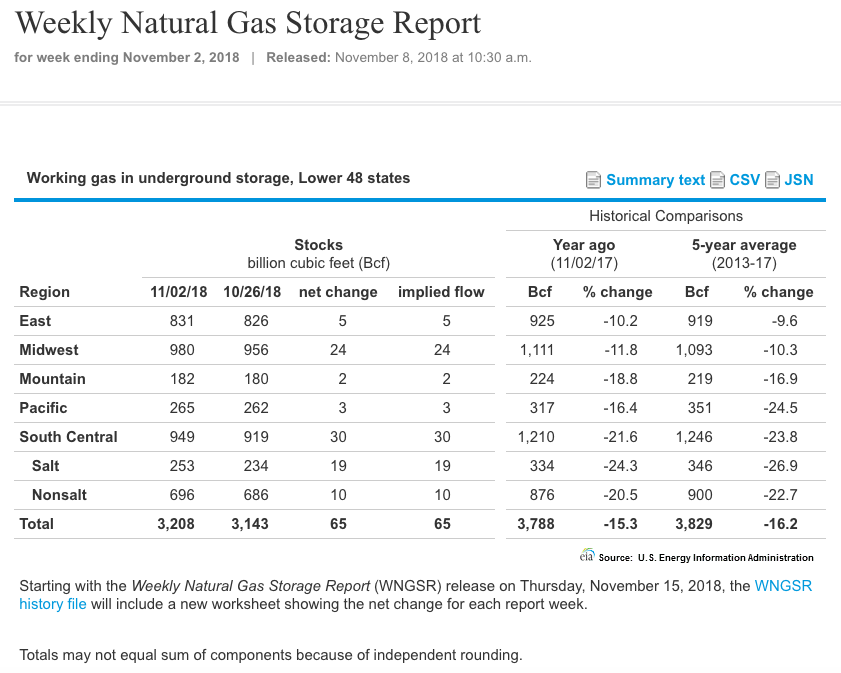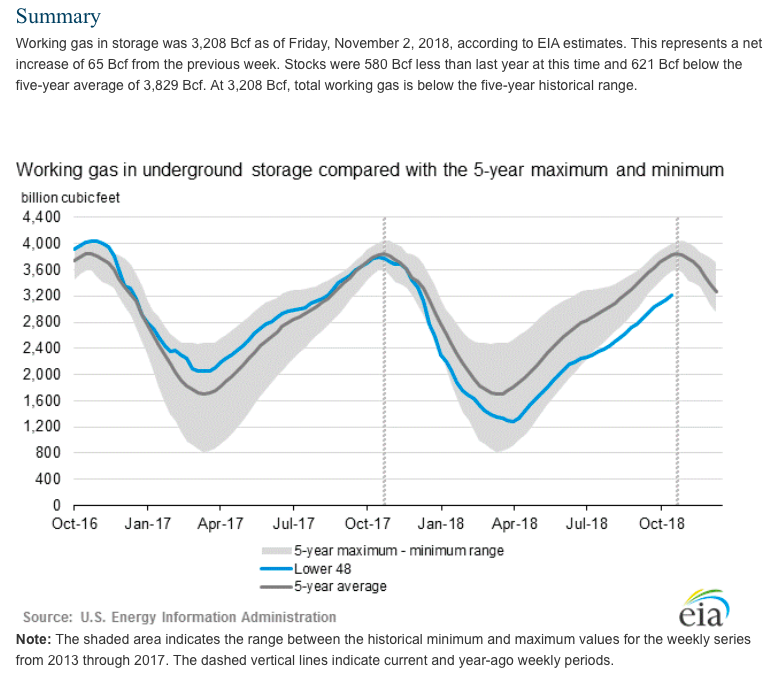 Natural Gas Rig Count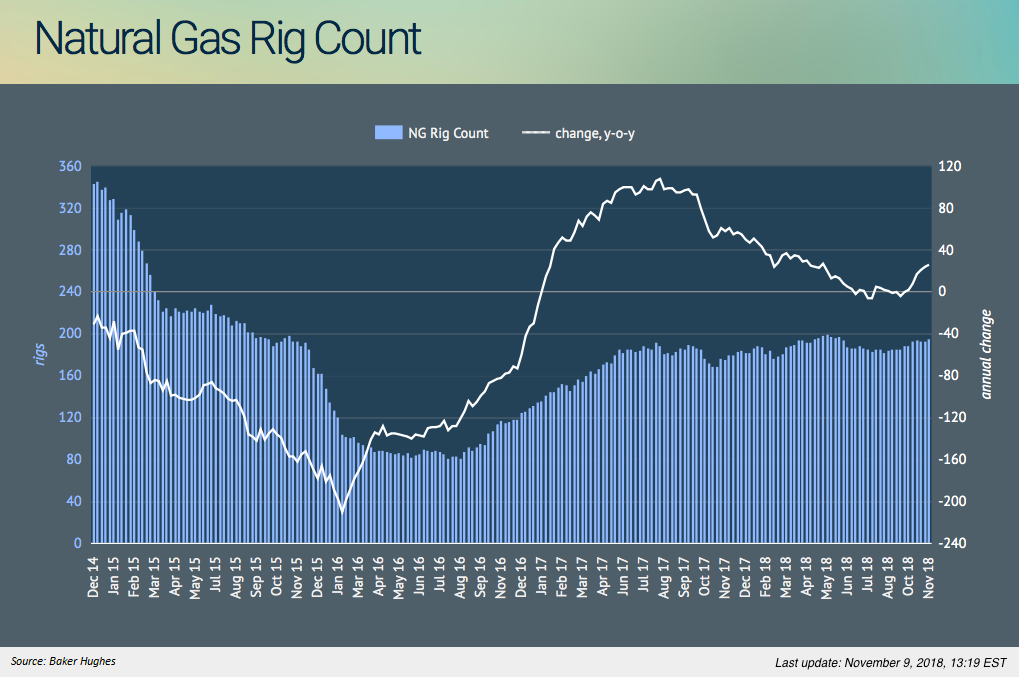 Oil Production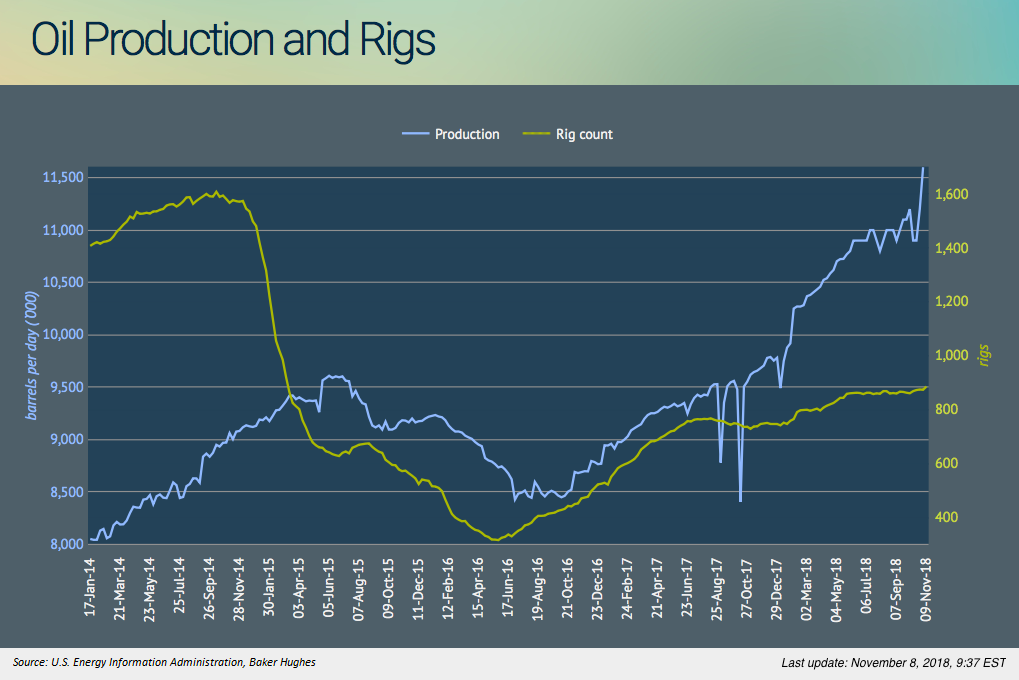 As always, we encourage you to submit your own article by clicking here, if you haven't already done so.
Disclosure: I/we have no positions in any stocks mentioned, and no plans to initiate any positions within the next 72 hours.
I wrote this article myself, and it expresses my own opinions. I am not receiving compensation for it. I have no business relationship with any company whose stock is mentioned in this article.