Real Estate Weekly Review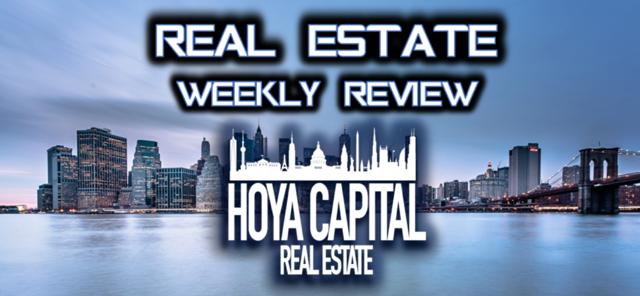 The most well-funded midterm election in US history produced results that were largely as expected, prompting a 'relief rally' in US equities, particularly in the more defensive and yield-oriented sectors including REITs. The S&P 500 (SPY) rallied more than 1% on the week while the 10-Year yield ticked lower despite hotter-than-expected PPI data. The general consensus is that the newly divided government - and resulting gridlock - will be positive for equity valuations by keeping downward pressure on interest rates and counteracting possible economic overheating.
The REIT ETFs (VNQ and IYR) jumped more than 3% on the week, led by residential REITs which benefited from the defeat of the highly controversial Prop 10 rent control initiative in California. Positive commentary from the NAREIT REIT World conference following strong third-quarter results has confirmed the upward trajectory in fundamentals that we've noted since early-2018. Data Centers were the lone sector in negative territory for the week.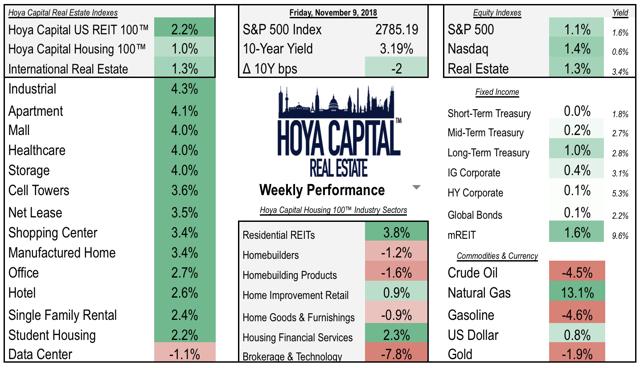 (Hoya Capital Real Estate, Performance as of 4pm Friday)
The homebuilder ETFs (XHB and ITB) finished the week lower by 1% after DR Horton (DHI) reported that new home orders were weaker than expected last quarter, citing softening demand from affordability challenges. Despite the volatility in October and some signs that the positive momentum in the US economy may be peaking, particularly in the housing sector, the Federal Reserve indicated that it was not backing down from its path of rate hikes. Rising mortgage rates, which have been a factor in the single family housing slowdown, hit seven-year highs this week.
The Housing 100, a broad measure of the US housing market, finished the week higher by 1%, led by strength in the residential REIT and housing financial services sectors. The real estate brokerage and technology sector was dragged down by disappointing guidance from Zillow (Z), which sent the stock plunging nearly 30% on the week. Investors gleaned that recent weakness in 'Premier Agent' program was symptomatic of both internal operational issues at the company as well as a slowdown in overall single family home buying and selling traffic. Redfin (RDFN) and RE/MAX (RMAX) each finished down more than 7% on the week. The Housing 100, which has historically been a leading indicator of inflation-adjusted home prices and rents, is down roughly 4% YTD.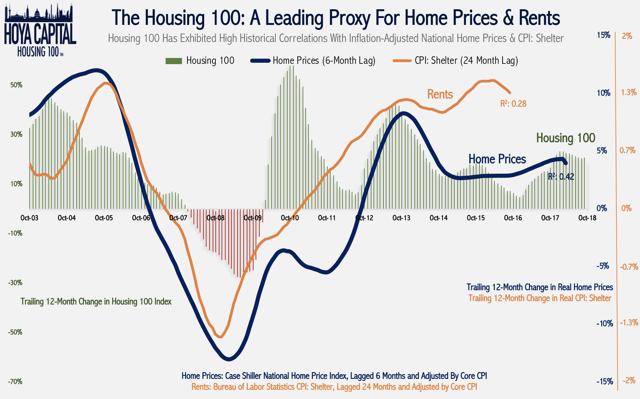 Real Estate Economic Data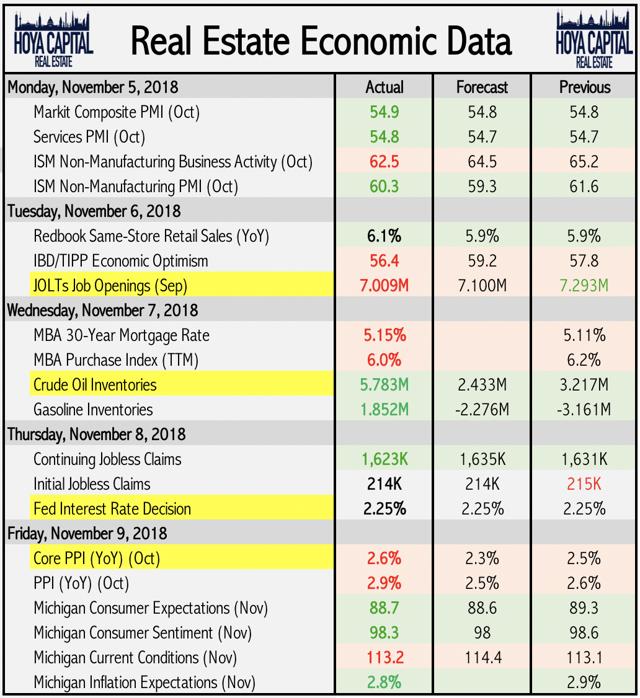 (Hoya Capital Real Estate, HousingWire)
Fed Hikes, Mortgage Rates Reach 7-Year High
As expected, the Federal Reserve kept short-term interest rates unchanged at 2.25% this week but indicated that it has not altered it's projected path of future hikes despite the recent period of stock market volatility and signs of softness in the housing market. The median forecast of the Fed's dot-plot indicates that the central bank plans to hike rates once more this year in December and then three more times in 2019 before topping out at around 3.5% in 2020.
While fixed mortgage rates have historically exhibited relatively weak correlation with the Federal Funds rate (and instead more closely tracked the 10-year yield), the continued flattening of the yield curve has amplified the effect of the Fed Funds rate on mortgage rates. The 30-Year fixed mortgage rate hit a seven-year high this week at 4.94%, up from a recent low of 3.42% in October 2016. We have continued to discuss that the Fed's role in triggering the last housing crisis is often underappreciated, but that a repeat of the last crisis appears extremely unlikely given the structure of the home financing market.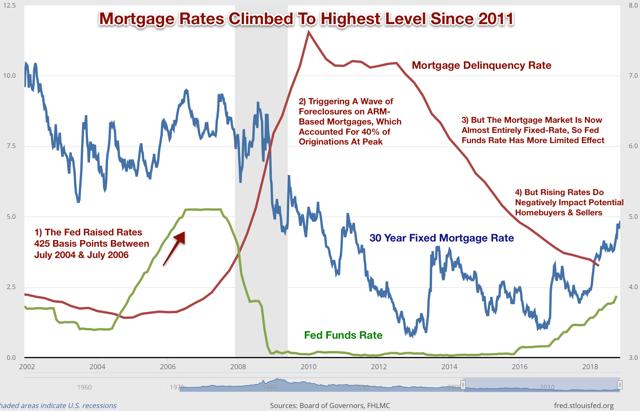 The negative effect of rising mortgage rates, higher prices, and lack of supply on homeownership demand has clashed with the positive tailwinds of reaccelerating economic growth. Mortgage applications for purchases have dipped in recent quarters as mortgage rates have climbed to post-recession highs. Mortgage demand has been sluggish throughout the post-recession period and mortgage standards have remained far tighter than in the bubble period.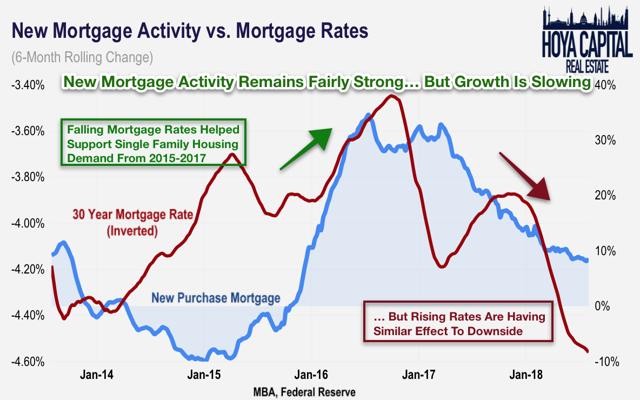 Adjustable-rate mortgages, which accounted for more than 40% of originations at the peak of the housing bubble in 2005, have accounted for less than 5% of originations since the end of the recession. Because the vast majority of the mortgage market is composed of long-term fixed-rate loans, rising mortgage rates should have limited effect on existing homeowners' monthly obligations, so a rise in the foreclosure rate appears unlikely. Rising mortgage rates do, however, negatively impact potential new homebuyer demand and put downward pressure on home values. A further moderation in home price appreciation from the 6-7% range to the 4-6% range is expected in 2019.
Oil Enters Bear Market, Downward Pressure on Inflation
Ultimately, movements in interest rates at both the long and short end of the yield curve are determined largely by inflation and forward inflation expectations. Just when it appeared certain that cost pressures were bound to rise throughout the year and effectively force the Federal Reserve's hand, the sudden pull-back in energy prices has thrown a curveball into this consensus view.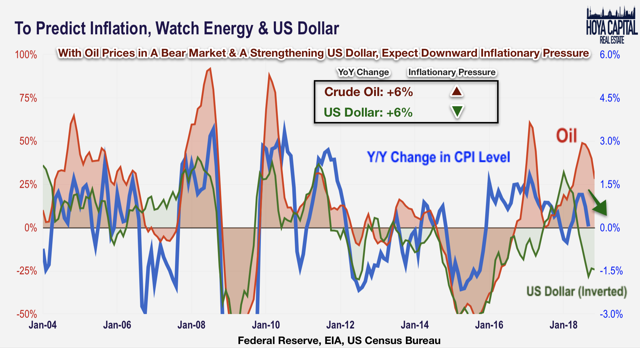 Historically, the path of inflation has been primarily determined by two critical variables: the price of energy and the trade-weighted value of the US dollar. Oil prices have plunged more than 20% from recent highs on concerns over slowing global growth and rising supply levels. The US dollar, meanwhile, has continued to strengthen relative to other currencies. Our models suggest that further upward pressure on inflation is far less likely than it was in late-summer when oil prices were up as much as 65% YoY.

The effect of the movement in oil prices will not begin to show up in the inflation data for several more months. October PPI data was warmer-than-expected, dragged higher by transportation and energy costs. Core PPI rose 2.6%, just shy of the 2.8% rate in June which was the highest since 2012. Despite data showing rising prices, inflation expectations have barely budged in 2018.
Real Estate Earnings Season Recap
Third quarter earnings season concluded this week in the real estate sector. REIT earnings were generally better-than-expected as nearly half of REITs beat estimates and more than 40% boosted full-year 2018 guidance. The apartment, office, and hotel sectors were the standouts this quarter. Just 15% of REITs missed third-quarter estimates and 10% of REITs reduced guidance with five of the seven coming from the shopping center sector.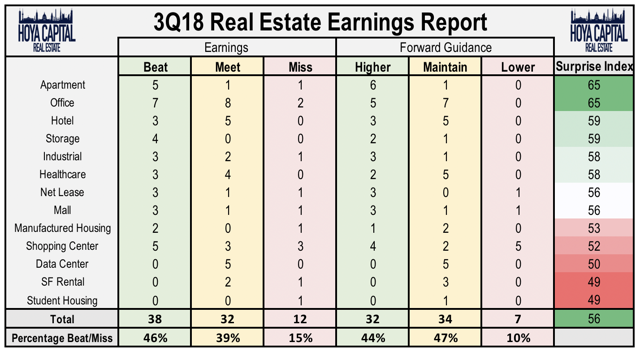 Following several years of robust construction growth, new development activity has tailed off in recent quarters, coinciding with a surprising reacceleration in economic growth, led by the resurgent labor markets. On an inflation-adjusted-basis, construction spending turned negative on a TTM basis in early 2018 for the first time since late 2011. Peaking supply growth, combined with accelerating demand growth has allowed REITs to regain their footing in 2018 after stumbling last year. Commentary from REIT World this week seemed to confirm the view that fundamentals should see a mild reacceleration into 2019 but that earnings growth will be limited by the continued NAV discount that makes external growth less accretive.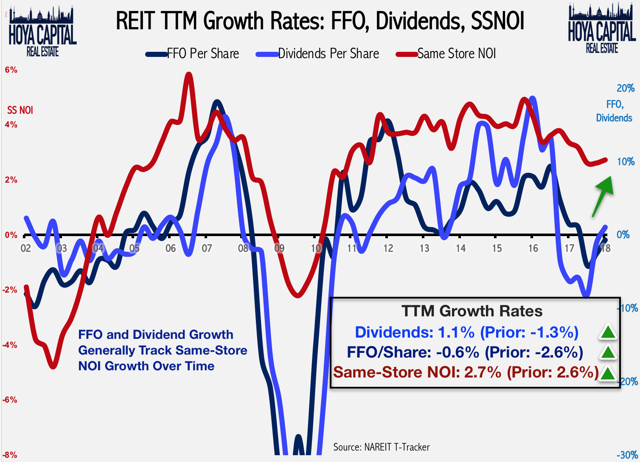 This week, we published our quarterly update on the apartment sector: Apartment REITs: Peak Supply, Rising Rent. 'Renter Nation' is alive and well. Rising mortgage rates and tax reform have led to softening demand at the margins for homeownership, offset by strengthening demand for rentals. The battle rages on between record levels of supply growth and robust demand growth. The defeat of Prop 10 in California, which would have allowed local municipalities to impose rent control, prompted a temporary sigh-of-relief from West Coast focused REITs like Essex (ESS), but the lingering possibility of rent control remains a long-term risk given the leftward political turn in the West Coast and Northeast regions.

2018 Performance
REITs are now lower by just 2% YTD on a price-basis, climbing back into positive territory on a total-return basis for the year. Despite the recent strong performance, REITs are still underperforming S&P 500 this year, which has returned 4%. Homebuilders are off by nearly 30% after rising more than 50% last year. The 10-Year yield has climbed 79 basis points since the start of the year, aided by the 6% climb in the price of crude oil and 30% rise in natural gas prices.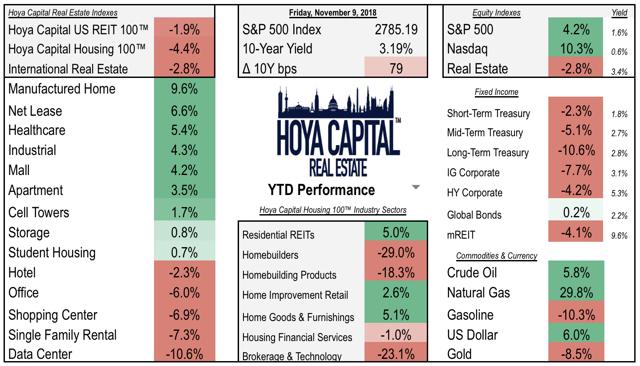 REITs and housing-related equities have outperformed the broader US stock market over the last 25 years. The NAREIT All-Equity REIT Index has delivered a 12.1% average annual return while the Fidelity Construction & Housing Fund (FSHOX) has delivered a 10.8% annual return since 1994. The S&P 500, meanwhile, delivered a 9.9% annualized rate of return during this period.
Bottom Line: Post-Election Rally Propels REITs
US equities rallied this week following Tuesday's midterm elections, led by yield-sensitive sectors including REITs. Results were as-expected with Democrats retaking the House but Republicans gaining Senate seats. The general consensus is that the newly divided government- and resulting gridlock- will be positive for equity valuations by keeping downward pressure on interest rates and counteracting possible economic overheating.
The Federal Reserve's plan to keep hiking interest rates was unaffected by October's stock market volatility, according to their latest statement. We question their view that rates are below 'neutral.' Homebuilders finished the week lower after DR Horton reported that new home orders last quarter were weaker than expected, citing softening demand from affordability challenges. Mortgage rates hit seven-year highs. Oil prices continue to decline, now down 20% from recent highs. Combined with the effects of the strong dollar, lower oil prices will put downward pressure on inflation and yields.
As earnings season wraps-up, be sure to check out all of our quarterly updates: Data Center, Manufactured Housing, Student Housing, Single-Family Rentals, Apartments, Cell Towers, Manufactured Housing, Net Lease, Malls, Shopping Centers, Hotels, Office, Healthcare, Industrial, Storage, and Homebuilders.
Please add your comments if you have additional insight or opinions. We encourage readers to follow our Seeking Alpha page (click "Follow" at the top) to continue to stay up to date on our REIT rankings, weekly recaps, and analysis on the real estate and income sectors.
Disclaimer: All of our research is for informational purposes only, always provided free of charge exclusively on Seeking Alpha. Recommendations and commentary are purely theoretical and not intended as investment advice. Information presented is believed to be factual and up-to-date, but we do not guarantee its accuracy and it should not be regarded as a complete analysis of the subjects discussed. For investment advice, consult your financial advisor.
Disclosure: I am/we are long VNQ, XHB.
I wrote this article myself, and it expresses my own opinions. I am not receiving compensation for it (other than from Seeking Alpha). I have no business relationship with any company whose stock is mentioned in this article.