"To everything there is a season,

And a time to every purpose under heaven:

A time to be born, a time to die;

A time to plant, and a time to pluck up that which is planted…"

(Ecclesiastes 3: King James Version of the Bible)
One does not have to be a Christian to recognize the wisdom of the above passage from Ecclesiastes. Timing is not everything perhaps, but it's certainly almost everything when big events transpire. In any case, it is clear that in the markets as well as in life, there are times to sow, and other times to reap. Recent futures market data suggest that markets are ignoring reality, as they always do right before a major reversal. Extreme positions were taken (long risk, short protection) right before the late January sell-off in the stock market. Futures contracts reflect investor mass psychology and commonly act as reverse barometers (cf. Paban Raj Pandey, 2018), as shown by huge net longs in risk ("greed") assets (e.g., e-Mini S&P 500 futures) before market corrections (Chart 1) and huge net shorts in protection assets (e.g. Volatility Index [VIX] futures) before "fear" rallies (Chart 2).
Chart 1: COT for Net Longs in e-Mini S&P 500 Heading into 2018 Initial Correction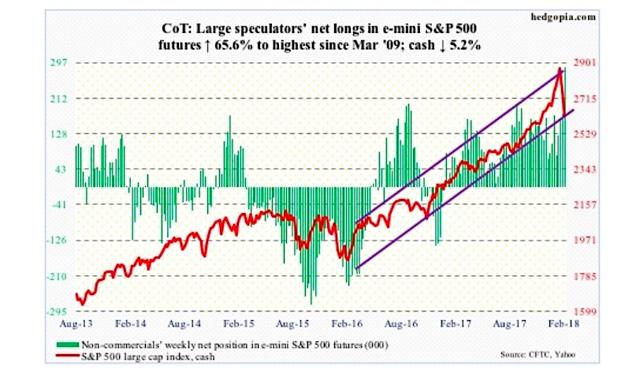 Chart 2: COT for Net Shorts in VIX Heading into 2018 Initial Correction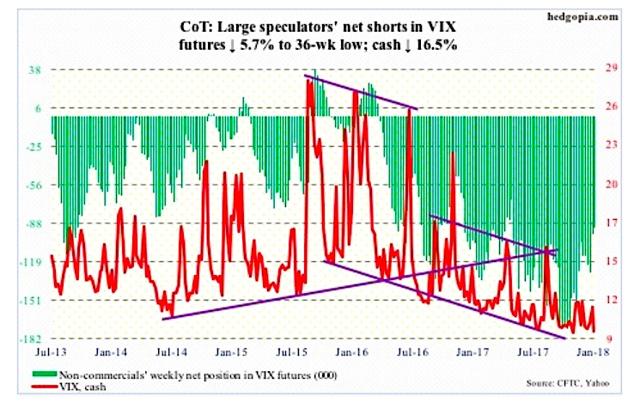 More recently, the Commitment of Traders ("COT") data indicated renewed high net longs in the e-Mini S&P 500 futures contract going into the October market correction (Chart 3). Once again, there was relatively high net short interest in VIX futures heading into the October "fear" rally (market sell-off), as shown by Chart 4. Likewise, the "COT" net shorts in the UST 10-Year Note (Chart 5) were at all-time record levels heading into the October stock market sell-off, although they've fallen off a bit since. During that October stock sell-off, the UST 10-Year Note (TNX) dropped in yield from 3.20% to 3.08%. That's not much, but then I don't think we're done with the draw-down either. In fact, no less a market analyst and long-term bull than Dennis Gartman (as quoted by Shawn Langlois, 2018) has just called for investors to short the stock market. Net longs on gold futures (Chart 6) also dropped all the way to zero heading into the October stock market drop, and were even briefly net short. Interestingly, there was a drop in gold prices, but the correlation with futures prices broke down a little, and prices are somewhat higher than the futures market would have predicted.
Chart 3: COT for Net Longs in e-Mini S&P 500 Heading into 2018 Fall Correction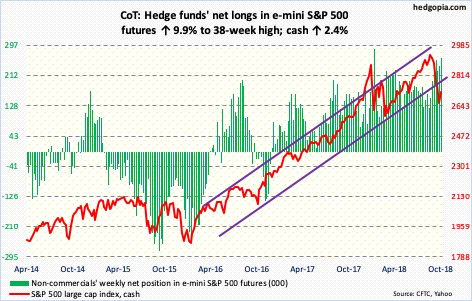 Chart 4: COT for Net Shorts in VIX Heading into 2018 Fall Correction
Chart 5: COT for Net Shorts in UST 10-Year Note Heading into 2018 Fall Correction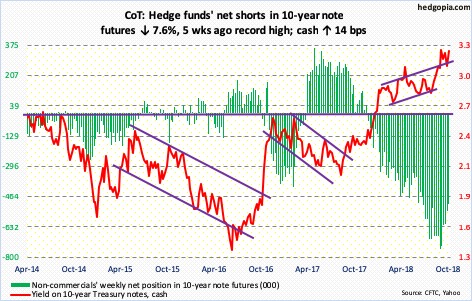 Chart 6: COT for Net Shorts in Gold Futures Heading into 2018 Fall Correction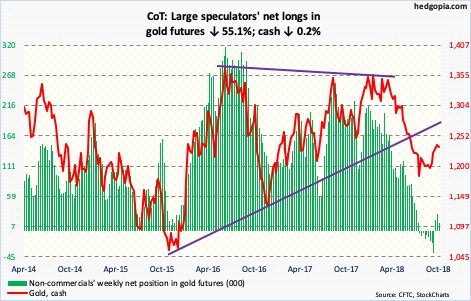 Turning to other data sources that reflect market sentiment, it is notable that margin debt recently reached an all-time high of about $675 billion, but has pulled back a bit since then (Chart 7). In fact, it may be rolling over, and history would suggest that if this is indeed the case, it is a harbinger of a bear market that would begin within a few months, as the chart clearly shows. Another interesting indicator is the volume of share buybacks, which is completely unprecedented (Chart 8), and double the level reached in 2007. It is estimated that it will reach a level of $1.3 trillion this year. This does not appear to be boosting stock returns as it did in previous decades (Mark Hulbert, 2018; Fangjian Fu & Sheng Huang, 2014), primarily because it is price insensitive for the most part. Much of the recent burst of activity is based on the recent federal corporate tax cuts, and corporations are gladly buying at record highs in a grossly overvalued market. This is obviously happening for other reasons than a perception that their stock is cheap.
Chart 7: Margin Debt near an All-Time High at $650 Billion and Possibly Rolling Over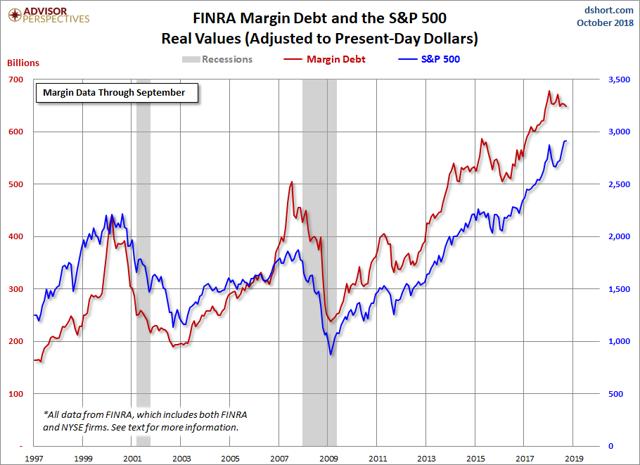 Chart 8: Share Buybacks at Unprecedented Levels and Double the Amount in 2007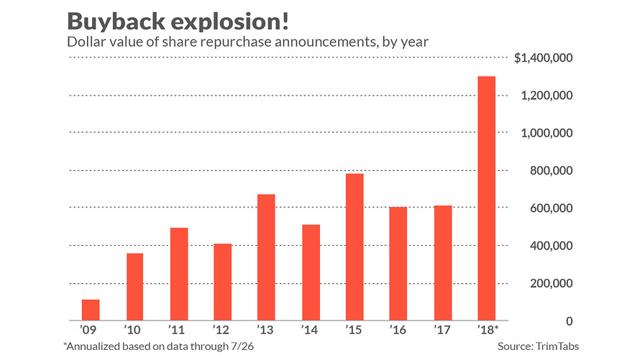 The discerning reader will note that Chart 9 (below) also shows a tremendous decline in share buybacks as a result of the market meltdown in 2008, with 2009 total buybacks coming in at a paltry $115 billion or so compared to some $600 billion in 2007 at the market high. These observations suggest a profoundly irrational pattern in buyback volumes, where the peak is reached right before a crash, and the trough is reached when prices are finally cheap. So I would argue, as would others, that this huge surge in buybacks is a counter-indicator for the long bull market, suggesting the end is fairly near. The loss of perhaps a trillion dollars in share buyback volume in the downturn that's coming cannot be a good thing (cf. Bruce Wilds, 2018), and may add substantially to the severity of the drop.
Chart 9: Share Buybacks 2005-2016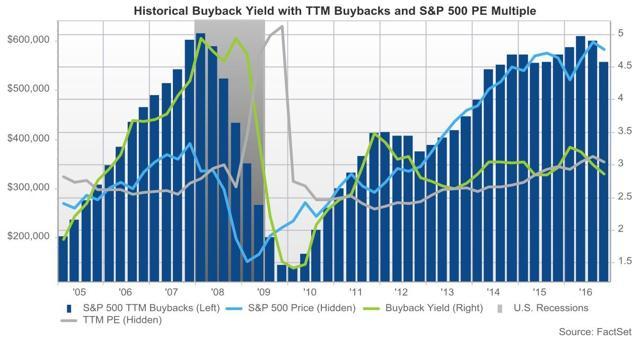 The CBOE Skew Index (SKEW) is an indicator that more people should use (Chart 10). It measures the size of tail risk for the S&P 500 (SPY), and is derived from the price of out-of-the-money put option protection. The SKEW usually ranges between 100 and 150, with values around 100 suggesting that the distribution of risk is normal with no large tail risk. A value near 150 suggests very substantial tail risk. A high of about 150 was reached in 1999 right before a bear market drop of 48%, and the SKEW reached a high of about 142 in late 2006 before the market peaked in October 2007; this was followed by a 57% meltdown in 2008-2009. So the recent spike to a SKEW reading of about 159 (Chart 11), an all-time record high, in August this year was a clear warning of very significant tail risk. The mere 10% decline that followed is not the drop that this tail risk implied; indeed, a much larger drop should be forthcoming. Investors cannot derive precise timing from this indicator, as the market lags it variably over a wide range, but it implies that we are not done with this draw-down.
Chart 10: CBOE Skew Index 1990-2018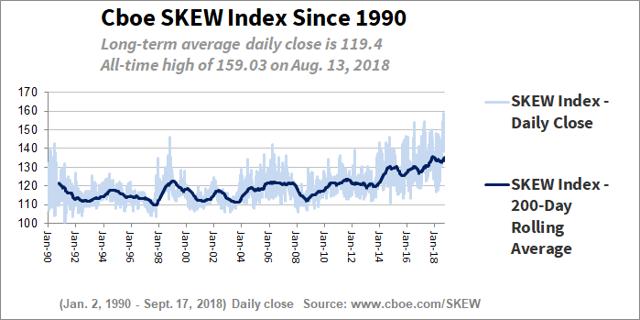 Chart 11: CBOE Skew Index Hits Record High Before Fall 2018 Correction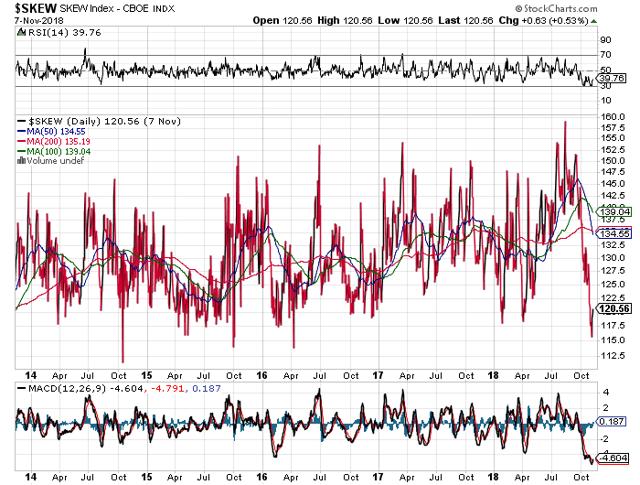 I would argue that all of the above data, taken together, suggest that the time for the bulls is ending, and the time for the bears is upon us. Investors should consider, if they haven't already done so, "pluck[ing] up that which [has been] planted." Given the current long-term sell-off from the January market high, the renewed sell-off from the October market high, and the state of certain national economies (e.g., China, Europe, Japan), it makes sense to invest some money in a gold fund like the SPDR Gold Trust ETF (GLD), but only as a short-term hedging trade, not a buy-and-hold position. The iShares Gold Trust (IAU) is an alternative ETF that may be safer for those who want to hold it for a somewhat longer period of time. But the safest form of gold in the event of a true financial apocalypse is physical gold. Also, for those discounting a possible near-term recession and bear market, some liquid alternatives like the Otter Creek Prof. Mngd. Long/Short Portfolio (OTCRX) could be held to protect assets in the event of a much sharper market draw-down associated with deteriorating economic data. Those in a more defensive frame of mind because of the expected eventual market slide should also hold some long Treasuries, in spite of bearish arguments to the contrary, as a stock market crash would be hugely supportive of bond prices: examples include the Wasatch-Hoisington Treasury Fund (WHOSX), and the iShares 20+ Yr. Treasury Bond ETF (TLT).
Disclosure: I am/we are long GLD, OTCRX, WHOSX, TLT.
I wrote this article myself, and it expresses my own opinions. I am not receiving compensation for it (other than from Seeking Alpha). I have no business relationship with any company whose stock is mentioned in this article.
Additional disclosure: Disclaimer: This article is intended to provide information to interested parties. As I have no knowledge of individual investor circumstances, goals, and/or portfolio concentration or diversification, readers are expected to complete their own due diligence before purchasing any stocks or other securities mentioned or recommended. This post is illustrative and educational and is not a specific recommendation or an offer of products or services. Past performance is not an indicator of future performance.