While the shares of Aehr Test Systems (AEHR) are off because of orders slipping into the current quarter and some others into the next fiscal year, we have little doubt the company is well positioned to benefit from a number of important growth markets.
Where we have reservations is how profitable that is going to be for the company, as their technical ability isn't very well reflected in earnings, so we can't recommend buying with conviction here.
Aehr Test System is a supplier to the semiconductor industry with testing equipment like their FOX and ABTS systems, and WaferPak and DiePak contactors. From the company presentation: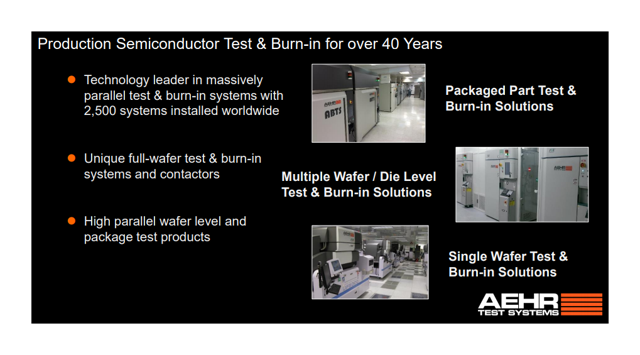 Here is how the company has been doing the last five years: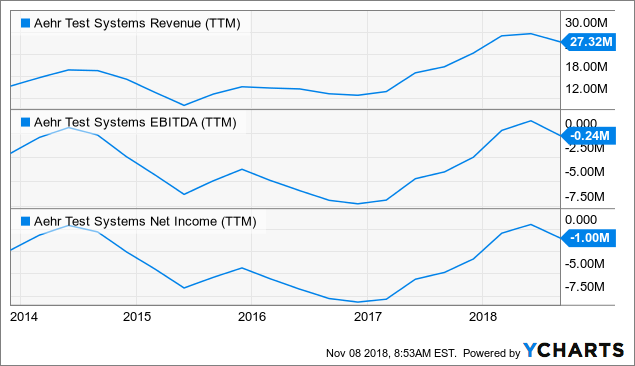 As you can see in the graph above, the company has rapidly expanded last year and operational metrics improved considerably, although the company still struggles to be profitable on a consistent basis.
You also see that the last quarter wasn't so good; in fact, it was pretty bad. This turns out to be a bit of a false alarm, as the company had two orders that were supposed to come into this quarter move into the next.
One of these orders for an upgrade to an existing FOX-XP system was already in backlog in Q1.
Still, there is something of a drag this year as the ABTS business experienced unusual strength last year that isn't going to repeat this year. On top of that, one of their lead FOX-XP customers was expected to start volume shipping in the second half of the fiscal year (which ends in May), but that has been pushed out a few months.
The result of that is that their guidance for fiscal 2019 has decreased a notch, from at least $35M management now expects revenue in the range of $30M to $35M, with GAAP profit between zero and $2.5M.
Some of its competitive advantage was best summed up by Barron's:
"A clear-cut winner in our view, will be Aehr. Currently, Aehr uniquely provides a wafer-level burn-in (as well as high-density singulated and packaged die) testing tool that Apple purchased initial tools for in fiscal 2016 (ended May) for about $7 million. The tool combines intellectual property that leverages Aehr's high-density, high-power testing bays for burn-in and test (Teradyne (NYSE:TER) is the closest competitor, but no elevated-temperature testing intellectual property (IP) as well as IP that deals with high-coefficient thermal-expansion mismatch between wafer and probe cards (closest competitor is FormFactor (NASDAQ:FORM); again, does not have probe cards suitable for elevated temperature testing). As a result of Aehr's technology, system original equipment manufacturers (OEMs) (such as Apple) and semiconductor OEMs (such as Texas Instruments (NYSE:TXN) cost basis for implementing the new semiconductor content (for Apple, associated with wireless charging and/or augmented reality) will likely be improved from utilizing the company's wafer-level burn-in technology as infant failure is weeded out earlier in the packaging cycle."
Protected by multiple patents: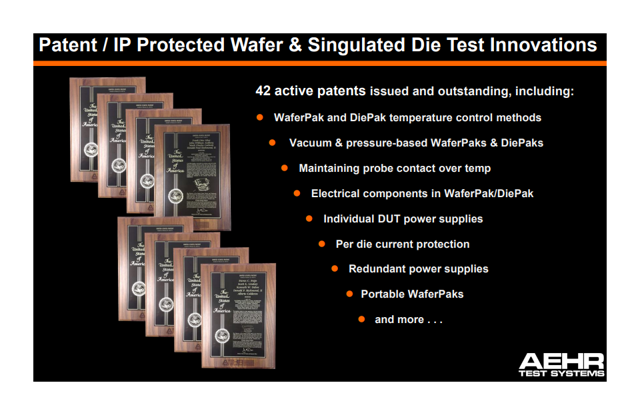 Growth drivers
The company has several secular tailwinds
Automotive
Silicon Photonics
Sensors
Memory
Consumables
Having fail-safe electronics in automotive is pretty self evident, as is the increasing electronic content in cars, which is an ongoing process: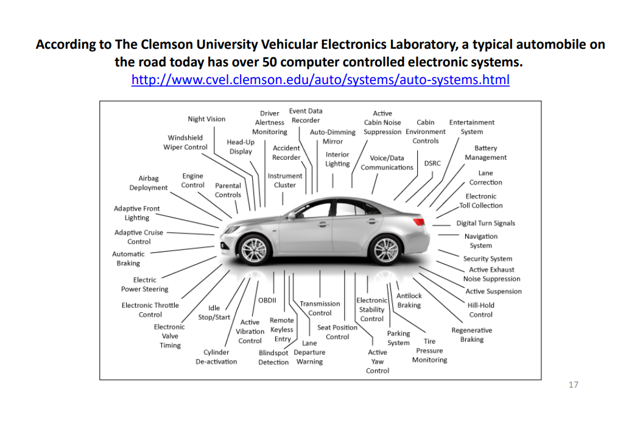 This illustration actually comes from a presentation of Data I/O (DAIO); its SentriX provisioning platform chases similar security concerns in the automotive sector. From the Q1CC:
"As we've highlighted before, the rapid automotive IC growth and sensors control, information and entertainment is a key market driver for Aehr Test. And as an example, the number of sensors per car is estimated to reach over 200 per car by the year 2020, which is representing a 34% CAGR."
From Data I/O Q3CC we also know that:
"Industry forecasts from leading automotive OEMs show about a 10% to 15% CAGR for semiconductor content in cars, and a larger increase of 30% to 40% compounded annual growth rate in the total market for flash memory in cars, the flash memory content growing to about 1 to 2 terabytes in the next several years. This content growth is being driven primarily by infotainment systems and other features in autonomous and connected cars."
So the need for flash memory in automotive is even growing significantly faster, and this seems to be a double boom for the company. First, the failure rate of flash is much higher than for many other type of chips, multiplied as they are stacked (Q1CC):
"And then, if you look at an eight die stack of a target high-end SSD target stack application, that would equate at package level to be in the 8% failure rate, which is a huge number when you think of the - the size of that market. That's really the basis by which we have talked about the move towards wafer level burn-in has and a very good ROI."
The latter isn't specific for automotive but compare that failure rate to the ones logic devices tend to have (30-70 part per million) and it's clear it's orders of magnitude higher.
Second, the company has good solutions (Q1CC):
"You can functionally test a flash wafer, but at a price point that is in order of magnitude higher than our FOX-XP Wafer little burn-in system, for example."
And (Q1CC):
"More and more devices are being demanded by applications, where the only way to address the need is by assembling multiple individual semiconductor devices in a single package. These can be the same devices such as Stacked flash or DRAM memories or completely different devices, where a mix of memories logic, high-performance analog in RF or microwave devices are packed together in a system in a package. We believe that we have great technology to test these devices with our ABTS and FOX product lines... But I don't think you understood, the spend is taking place on singulated dies. In other words, the screen out, the failure that's occurring, it's about 15 parts per million when they singulate the dies within the stack, because they're going into a stack and that 15 parts per million starts to really hurt once you stack them up."
Here are the testing options: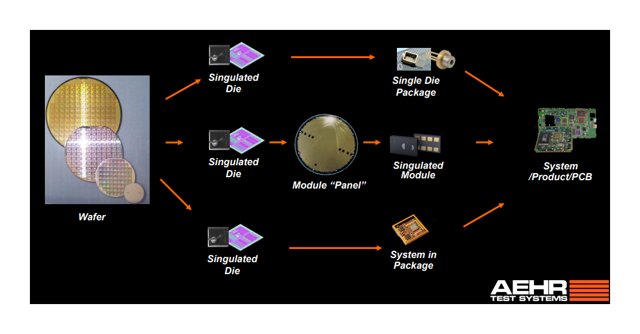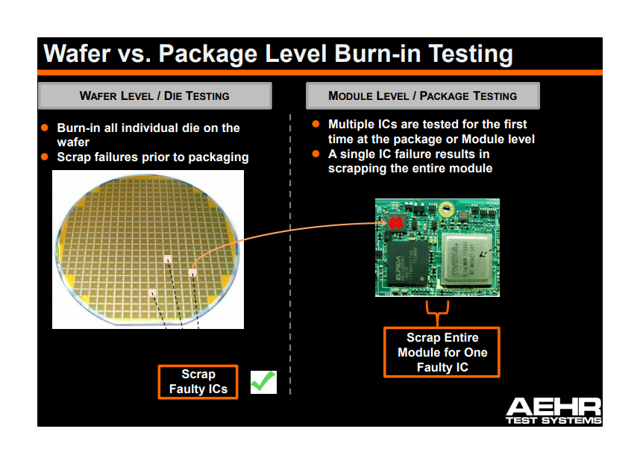 Their FOX-XP system: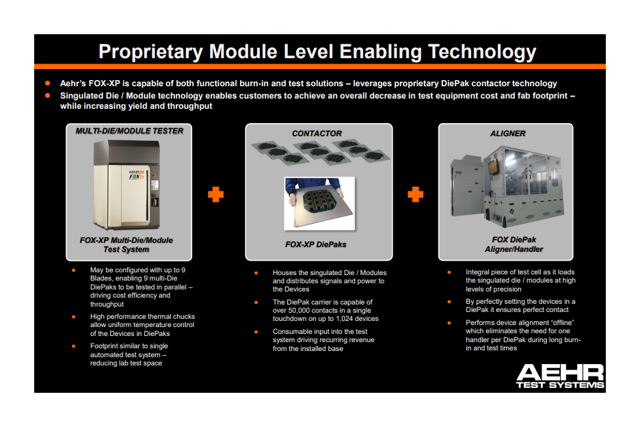 Another big opportunity is silicon photonics, a revolution which has long been announced, but with every decline in price, it opens up an order of magnitude larger market (Q1CC):
"And this integration, cost reduction, and manufacturing scale increases the available market from traditional long-haul applications all the way down to the data center server and data storage interconnect level."
Significant growth is prospected for the 5G market and data center and high-performance computing (a CAGR of 27% through 2024). The company's advantage (Q1CC):
"This unique capability of our DiePak products is particularly important to our customers, as it enables a single contact insertion rather than three. It shortens their cycle times and reduces wear and tear on the device pads on the bare die integrated circuit itself, which they said is a key feature of the entire solution... we believe that Aehr's FOX-XP system is a key enabler to meeting the integration and achieving the price points to allow significant manufacturing scale and cost reductions."
The company is already receiving significant orders for testing equipment here (like a $2.7M order for a single production FOX-XP multi-wafer system) with the prospect of more coming from this customer as they're increasing their capacity, and also from another leading silicon photonics customer.
Sensors is of course another opportunity, with these rapidly increasing in automotive, smartphones, industry, and IoT solutions. Just in automotive alone (Q1CC):
"And as an example, the number of sensors per car is estimated to reach over 200 per car by the year 2020, which is representing a 34% CAGR."
And with their growing installed base comes an ever growing demand for consumables (Q1CC):
"Our growing installed base of FOX systems leads to growth in our consumables business. During the first quarter, we booked $1.8 million for WaferPaks and DiePaks for use on our installed base of FOX test and burn-in systems."
Margins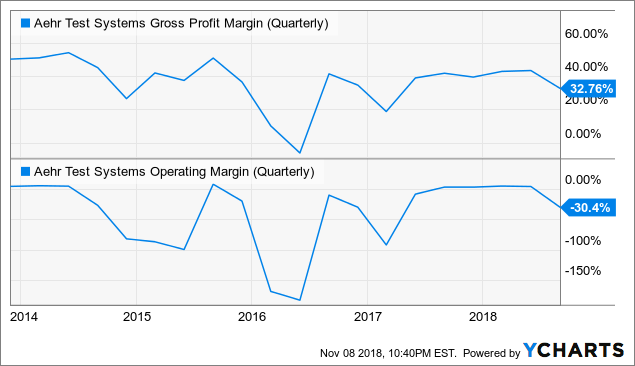 That operating margin looks rather scary, but these are GAAP figures and there was a considerable amount of negative leverage due to the two orders moving to Q2.
Operating expenses were $3M versus $2.7M last year and $2.9M last quarter. They are set to increase another 9% this fiscal year as the company is hiring new sales people to address the opportunities.
Cash
With the negative operating margins, cash flow could be a problem: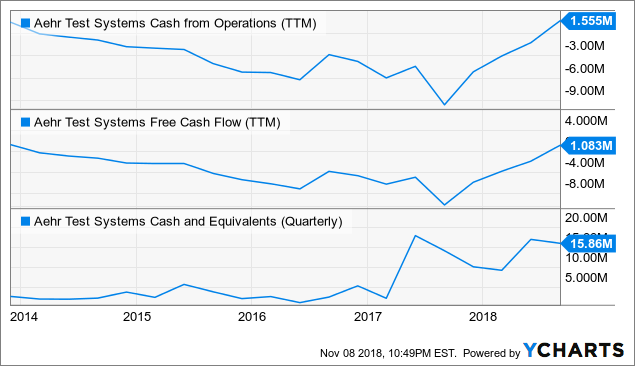 But the picture is actually better than we expected, with last year's revenue ramp improving things considerably. It's not surprising the share count has doubled in the last five years, given the losses. That is going to increase further as their debt will be converted in April 2019.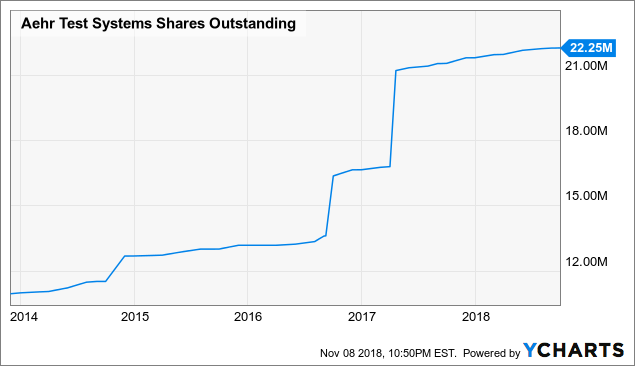 Risk
We were actually a little worried by the rapid decrease in backlog (Q1CC):
"Bookings in the quarter totaled $2.3 million and included $1.8 million and WaferPak and DiePak bookings. Backlog at August 31, 2018 was $6.1 million, compared to $8.4 million at the end of the preceding quarter and $15.2 million at the end of the first quarter of the previous year."
It's not an immediate risk, especially as management is forecasting a ramp in demand in the second half of the fiscal year.
Valuation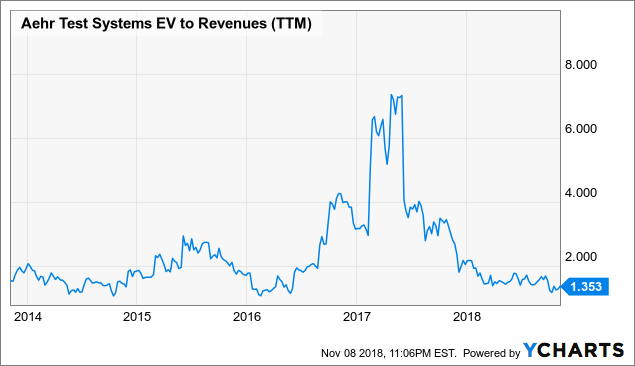 The one analyst following the company expects a penny a share in earnings this year, rising to 13 cents the next. The shares have fallen off quite a bit: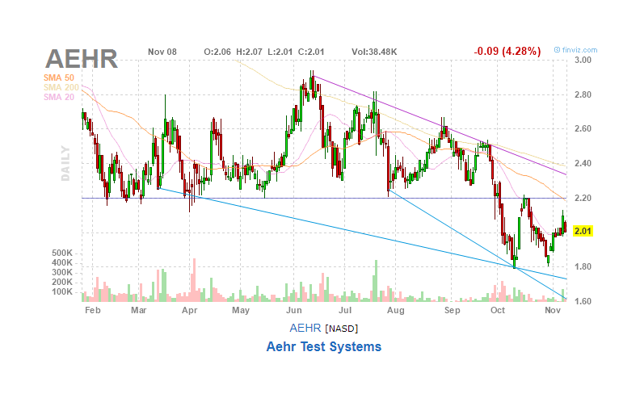 Conclusion
We have little doubt that the company has sophisticated solutions and multiple rapidly expanding market opportunities in front of it. Where we have doubts is the cash and profit generating capabilities of the company.
Things have certainly improved last year, but even then the company was able to earn just 7 cents a share for the year. Q1 this quarter is marred by the shift of orders to the next quarter, although management expects a strong back half of the year.
Even so, the year doesn't look to be particularly profitable as we have started with a 6 cents a share loss and the company will ramp sales cost as well.
Disclosure: I/we have no positions in any stocks mentioned, and no plans to initiate any positions within the next 72 hours.
I wrote this article myself, and it expresses my own opinions. I am not receiving compensation for it (other than from Seeking Alpha). I have no business relationship with any company whose stock is mentioned in this article.
Editor's Note: This article covers one or more microcap stocks. Please be aware of the risks associated with these stocks.