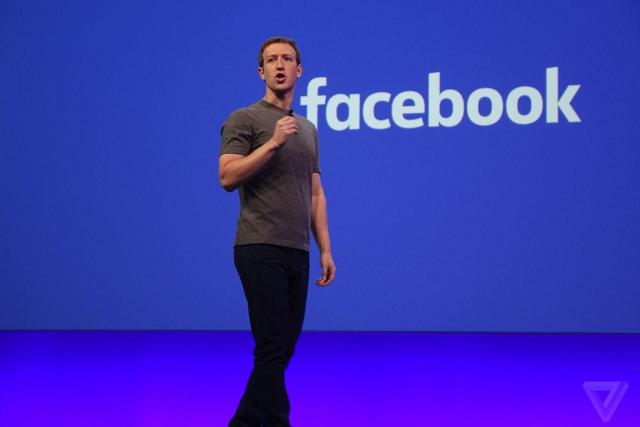 Source: Meshrepublic.com
Facebook's Evaporating Growth Story
Facebook (FB) has been an incredible growth story stock since the company went public in 2012. While Facebook priced its IPO at $38, shares hit a low of about $18 several months after trading began. However, since then, Facebook has been one of the top performing stocks due to its remarkable revenue and earnings growth prowess. In fact, Facebook appreciated by over 1,100% from peak to trough, going from a low of $18 to a high of $218 in roughly 6 years.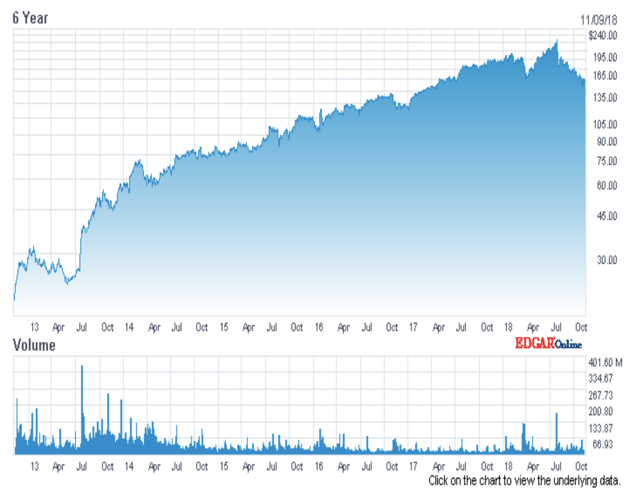 Source: Nasdaq.com
Unfortunately, it's been a downward slope ever since the stock peaked earlier this year. Facebook has been seemingly stuck around the $150 lately, about 30% off its highs. What's the problem? Slower growth, in fact much slower, especially earnings wise.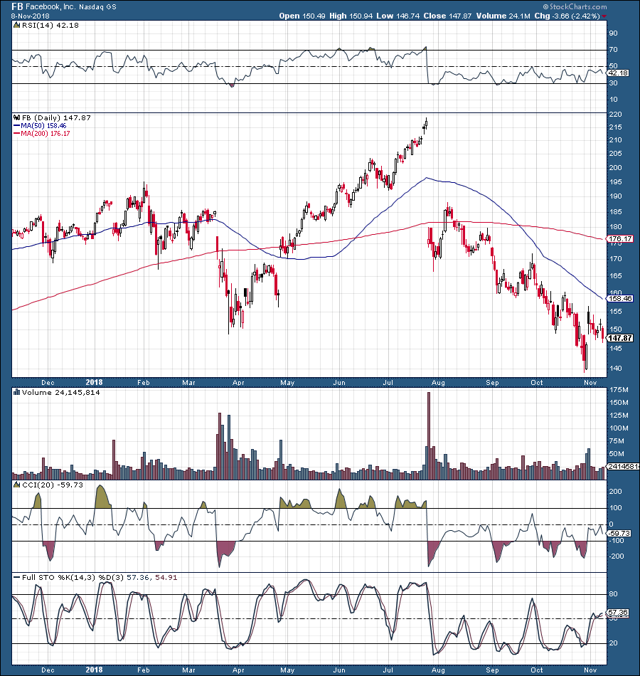 Source: StockCharts.com
The company's core and most profitable platform has reached an incredibly high penetration level, especially in its highly monetized regions. Additionally, revenue per user (RPU) growth has decelerated, and could be nearing a top in Facebook's most profitable geographic areas. Furthermore, the company's margins are being compressed due to increased operating expenses and other costs.
Therefore, in the short to intermediate term, Facebook's stock likely has very limited upside, and could move sideways, or even decline a bit lower from here. Nevertheless, longer-term shares should continue to move higher as moderate growth continues and operating expenses subside while the company grows into its mega market cap valuation.
This is not an end to the Facebook growth story, but likely a temporary pause in it. Once Facebook goes through its current transformational process, the company should transition into a more mature and more profitable enterprise, ultimately capable of producing steady growth and substantial profitability for shareholders.
Why the Stock Declined
30% is not an insignificant decline for a company like Facebook. In fact, it equates to a market cap decline of nearly $150 billion. The reason why the stock declined so much is because Facebook's growth problem became evident after the company's Q2 earnings announcement. Revenues came in lighter than expected, but more tellingly Facebook's DAUs missed estimates by roughly 50%. As a result, the stock cratered by more than 20%, and has been in a downward trajectory ever since.
Q3 Earnings: Growth Not Improving
One quarter does not necessarily make a trend, yet Facebook's latest quarter had an eerily similar undertone as Q2, solidifying its slowdown in growth.
Revenues came in lighter than expected by $50 million, $13.73 billion vs. estimates for $13.78 billion.
DAUs missed estimates by 20 million coming in at 1.49 billion vs. estimates for 1.51 billion.
MAUs also missed by 20 million coming in at 2.27 billion vs. estimates of 2.29 billion.
The company also said it expects to spend $18-20 billion on CapEx in 2019 vs. estimates for $17.29 billion.
While revenue increased by about 33% YoY, operating costs also rose sharply, as operating margin declined from 50% to 42% YoY.
EPS rose by just 10% YoY to $1.76 surpassing estimates of $1.47.
Facebook's Growth Problems Up Close and Personal
After delivering a second consecutive quarter of significantly lower-than-expected DAUs, it appears clear that Facebook's growth story is slowing down dramatically. DAU and MAU growth is not likely to return to 3% QoQ growth, as was the case for numerous quarters throughout past years.
After all, many markets appear to be fully or highly saturated with Facebook. Overall, the world market appears to be too saturated by Facebook to deliver any more growth than the modest 1.5% we've seen in the latest two quarters. Investors should get used to just 1-1.5% growth while it still exists.
Facebook Monthly Active Users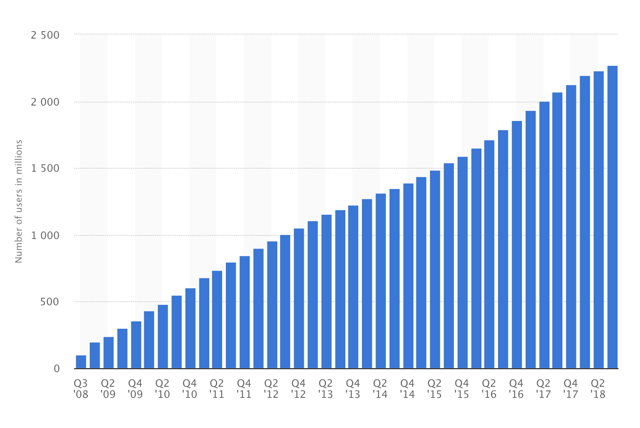 Source: Statista.com
In Facebook's most important and profitable market, the U.S. and Canada, segment DAUs and MAUs have been flat for three quarters now, and are at the same level they were at this time 1 year ago (185 million DAUs). So, one year, no growth in Facebook's most important geographic region.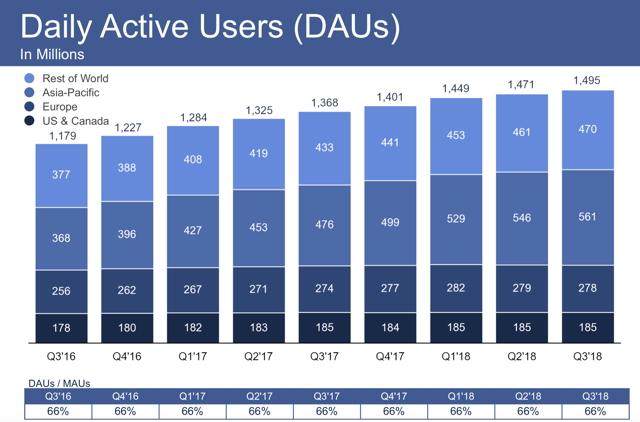 Source: Investor.fb.com
We can see a very similar phenomenon in Facebook's second most profitable geographic region, Europe, where growth has actually begun to decline. In fact, DAUs peaked in Q1 of this year at 282 million, and came in at just 278 million last quarter, a second consecutive sequential decline.
Essentially, all that is left for fueling user growth for Facebook is Asia Pacific and other parts of the world that bring in very little RPU relative to Europe and the U.S. Another factor to consider is that China is largely immune to Facebook, due to extremely popular social networking platforms offered by Chinese companies.
There is also the concern of Facebook becoming less popular amongst young people. Statistics show that young people find other platforms like Snap (SNAP) and YouTube (GOOG) (GOOGL) much more preferable to Facebook's core platform.
Favorite Platform to Spend Most Time on Amongst Teens in U.S.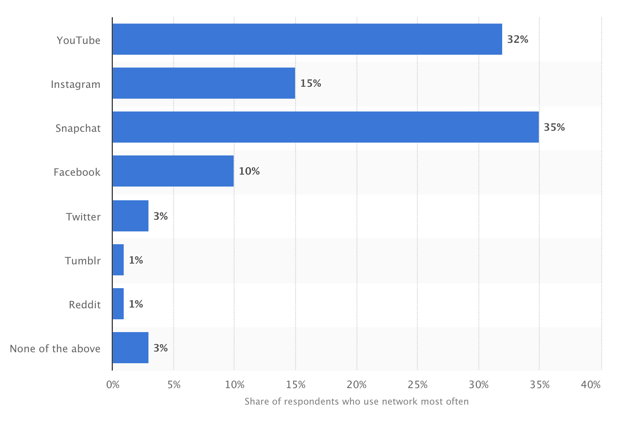 Source: Statista.com
A troubling stat is that out of 13-17 year olds, only about 6.8 million appear to use Facebook in the U.S. Moreover, amongst teenagers that use multiple social networking platforms in the U.S. 35% use SNAP, 32% use YouTube, 15% use Instagram, and just 10% use Facebook as their most frequently visited "social networking" site.
Facebook Users by Age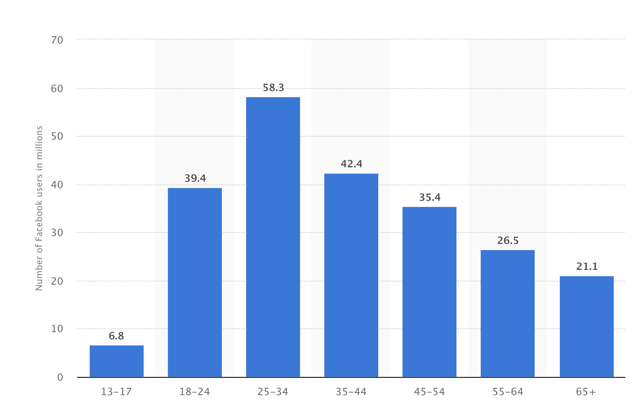 Yet, another element to consider is Facebook's relatively high RPU, which appears to be close to leveling. By far Facebook's most profitable geographic areas, U.S., Canada, and Europe, are about fully saturated as the user base has been largely stagnant for several quarters now. Additionally, RPU of $27 per user in U.S. and Canada, and Europe's relatively high RPU, appear to be reaching a plateau and will likely produce very limited growth going forward.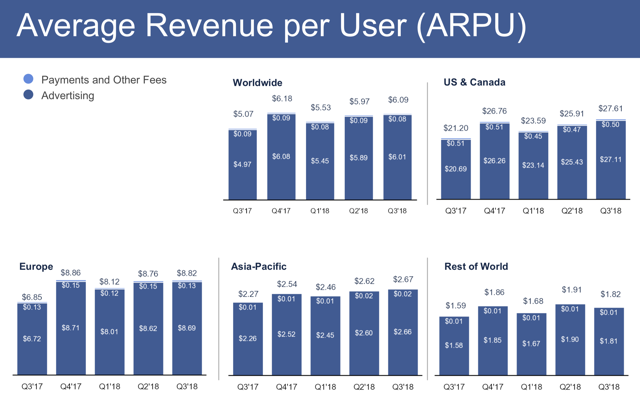 We've seen very little RPU growth lately in all areas relative to prior years. Some areas even show sequential RPU declines, suggesting that it is going to be increasingly difficult for Facebook to continue to squeeze out higher RPU going forward.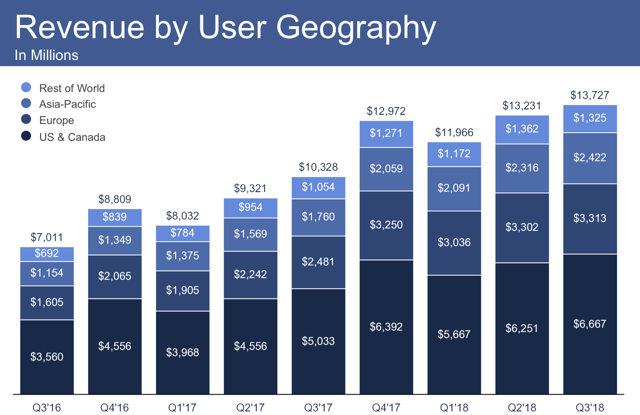 Therefore, revenue growth could slow down substantially, possibly to the mid or low teens level in 2020 and beyond. Also, do you know what will happen with RPU in a significant market downturn or a recession? Yes, RPUs will likely go lower, followed by Facebook's stock price.
Current Valuation: Fair to Slightly Overvalued Even
Right now, at $147 a share, Facebook is trading at around 19.9 times this year's projected earnings. Given that Facebook's EPS is only expected to advance by 1% YoY in 2019, the company is trading at around the same multiple, 19.7 times next year's earnings. However, revenue growth is projected to increase sharply, from about $55 billion to $69 billion in 2019, an impressive increase of about 25%.
So, how is it that revenues are set to increase by a substantial margin yet EPS is likely to be flat? It's all about the margin. We've seen that Facebook's operating margin has contracted dramatically YoY from 50% to 42%.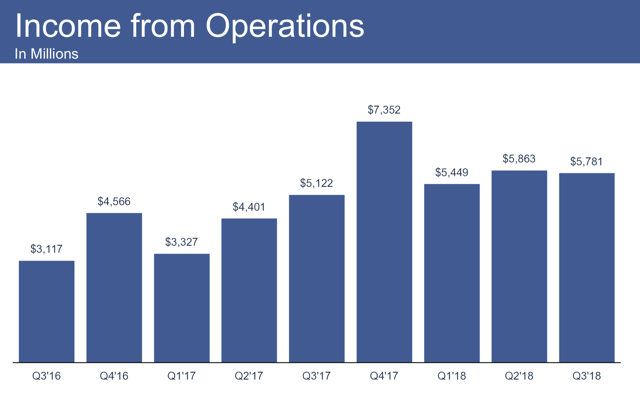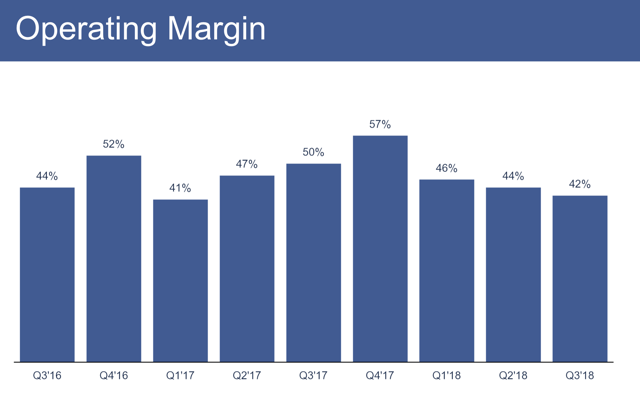 It appears that Facebook may have come too far too fast, and the company now needs to fill in various gaps with more human oversight. In general, it seems that Facebook needs to spend more money now to ensure that its businesses run smoothly, and to comply with all of the recently imposed and/or upcoming government requirements.
In fact, even 2020's EPS is projected to rise very modestly. The consensus is for $8.20, which translates to a 2020 PE multiple of roughly 18. A company trading at an 18 times 2020 multiple expected to grow EPS by fewer than 10% in 2020 does not appear particularly cheap now in 2018.
Nevertheless, Facebook is an extremely dominant market leader, a monopoly in the Western social networking world essentially. So, it deserves a little premium in its multiple. Also, the good news is that while Facebook's costs will likely weigh on margins and profits in the near and in the intermediate term, longer term the underlying costs are likely to mitigate with time. This implies that the upcoming rout in profitability could be more of a transient phenomenon than the start of a lasting trend.
What Will Reinvigorate Growth Going Forward?
With Facebook's core platform running out of available humans, the company's future largely depends on the continued growth and monetization of its other platforms. WhatsApp, Messenger, and Instagram don't offer nearly the same RPU possibilities as Facebook's core platform, yet the company will need to look towards these services for future growth. Instagram appears to be the big one as it is the one with the least number of users, thus most room for growth, and is also easiest to monetize effectively.
The Bottom Line
Despite Facebook's substantial slowdown in user growth, reduction in operating margin, and EPS stagnation, revenue is still expected to rise by 25% next year. With this kind of epic momentum, Facebook's current slump is likely more of a transitory phenomenon. The company is currently transforming into a mega-cap global enterprise capable of sustaining and growing multiple social networking platforms on a perpetual basis.
Yes, the company's revenue growth is likely to slow down after next year, possibly into the low teens even after 2020. However, by this time, Facebook is likely to have a much better infrastructure in place capable of supporting its businesses. This should allow the company to expand margins and create more profitability for shareholders.
In 2021, Facebook should have little problem delivering $10 in EPS. Coupled with a revenue and EPS growth rate in the teens, this makes Facebook's stock appear cheap at $147, roughly 14.7 times earnings. However, the problem is that 2021 is still several years away, so expect some volatility and sideways price action for a while in Facebook.
Thank you for taking the time to read my article. If you enjoyed reading my work please hit the "Like" button, and if you'd like to be notified about my future ideas, hit that "Follow" link.
Disclaimer: This article expresses solely my opinions, is produced for informational purposes only, and is not a recommendation to buy or sell any securities. Investing comes with substantial risk to loss of principal. Please conduct your own research, consult a professional, and consider your investment decisions very carefully before putting any capital at risk.
Want more? Want full articles that include technical analyses, trade triggers, trading strategies, portfolio insight, option ideas, price targets, and much more? To learn how to best position yourself for a rally in Facebook please consider joining Albright Investment Group.
Subscribe now and receive the best of both worlds, deep value insight coupled with top-performing growth strategies.
Enjoy access to AIG's top-performing portfolio that has outperformed the S&P 500 by 40% over the past year.
Take Advantage of the limited time 2-week free trial offer now and receive 20% off your introductory subscription pricing. Click here to learn more.
Disclosure: I am/we are long FB, GOOG, SNAP.
I wrote this article myself, and it expresses my own opinions. I am not receiving compensation for it (other than from Seeking Alpha). I have no business relationship with any company whose stock is mentioned in this article.