MannKind (MNKD) investors seem to have all arrived at the reality of the company missing its Afrezza sales guidance. The reality of a guidance miss was actually established about 2 minutes after guidance was initially given back in February, but it was not until management essentially ignored the matter on the latest call that some finally saw what was realistic all along.
Interestingly, the company did not say that it was pulling its guidance, so it seems to be hanging out in some form of limbo, a situation which is never good. That being said, my future articles as the year closes out will not include guidance charts, but will have some discussion of the matter on the projections section of the articles.
For the week ending November 2nd, Afrezza scripts came in at 616. This was essentially flat from the previous week as the company approaches the toughest part of the year in terms of script sales. Two major holidays and one minor holiday will be happening in the next 8 weeks.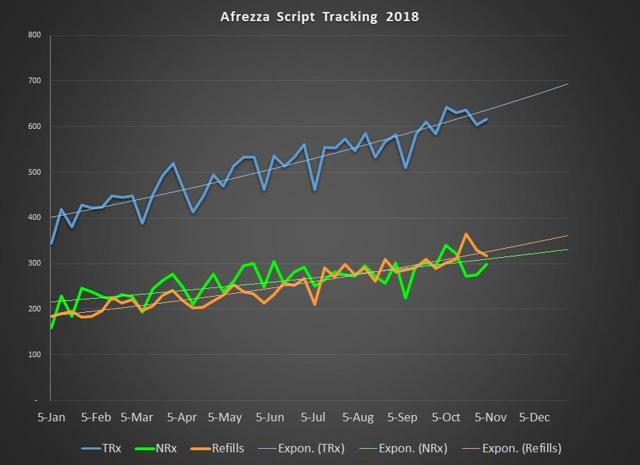 Chart Source - Spencer Osborne (based in part on Symphony Data)
Projections
As regular readers know, I have outlined projections for the full year. Those projections have seen modifications after each quarter, and for the most part, those modifications have been downward in direction. Simply stated, the sales growth of Afrezza has been much more modest than anticipated, even by myself. I started out the year outlining that $20 to $22 million in net Afrezza sales was a possibility, but not long into the year, it was clear that sales would be lower than $20 million. At this stage, it appears that net sales will come in somewhere between $16.75 million and $17.25 million.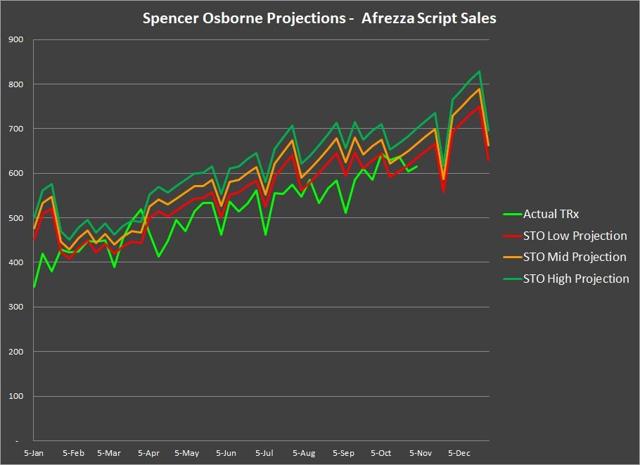 Chart Source - Spencer Osborne
In revenue projection, I have modified a few assumptions again based on what we have seen in the most recent quarter. The company is spending more money on gross to net deductions than it anticipated. The most recent quarter saw that number grow to 46% vs. the expectation of being 40% or below. I will discuss these dynamics further below.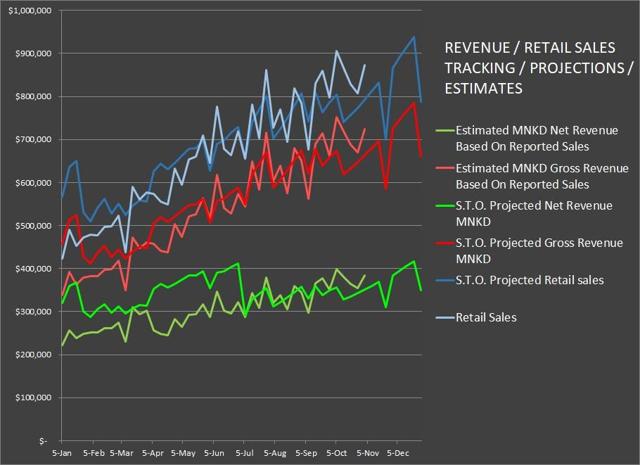 Chart Source - Spencer Osborne (based in part on Symphony data)
Revenues vs. Cost of Afrezza
This is a new section in the tracking I am offering readers. This is important because it helps investors better gauge what is transpiring and allows you to see through various talking points that may be presented.
An example of talking points is discussion of growth in revenue but ignoring growth in costs. Talking points are fine in general, because they help lay out a vision in the most positive light possible. That being said, a savvy investor looks beyond the talking points to what the numbers are really showing.
If I were to tell you that 2018 net revenue will be 84% higher than 2017, that would be good.
If I were to tell you that costs associated with Afrezza will be 33% higher than 2017, that would seem reasonable.
However, when you realize that the 84% represents $8 million and the 33% represents $21 million, the numbers are not so good. Simply stated, the company spent an additional $21 million to realize a gain of $8 million in net revenue. Now, in fairness, you oft need to spend money up front in order to set up the desired growth. The issue is that Afrezza has been in the hands of MannKind for quite some time. In the chart below, what I think is a critical metric is the gap which is widening between gross revenue and net revenue and the fact that the trajectory on the costs is stronger than that of gross or net revenue.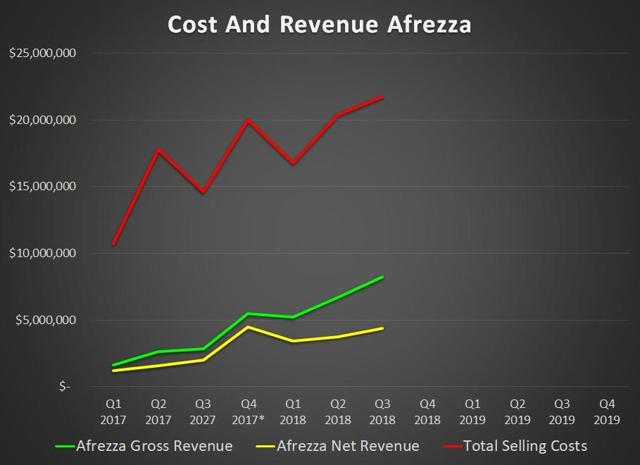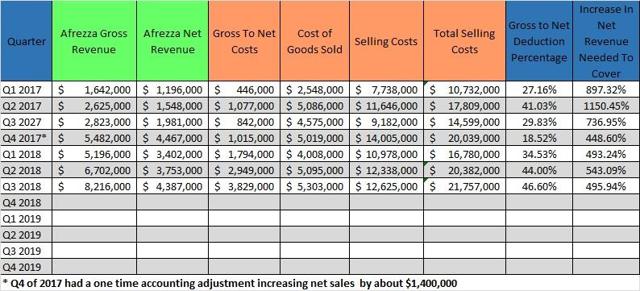 Source of Charts - Spencer Osborne (based in part on Symphony data)
There has been progress. In 2017 the growth needed to cover the costs was a lot bigger than it is today. That being said, there is still a long way to go. Net revenue would need to increase by a factor of 5 without increasing the selling costs in order to break even on this proposition. One issue is that in order to drive net revenue growth, it is very apparent that increased subsidies and increased marketing costs will need to happen. That may or may not be a wise thing to do. Essentially the company needs to be cautious in where it spends money, and higher losses for the sake of looking better in net revenue is not a move that a cash strapped company can afford to make.
Quarter-Over-Quarter Scripts
Quarter over quarter, scripts are showing a growth rate of 16.27%. This type of growth is less than ideal, and is certainly lower than what the company had guided to. The year-over-year are now below 50%, and as point of fact Q4 year-over-year comparisons will not be anywhere near as attractive as we were seeing earlier this year with apples to oranges comparisons. With the revenue lines per script being in a very stable range, the revenue growth on a quarter-over-quarter basis will be similar to what we are seeing in scripts.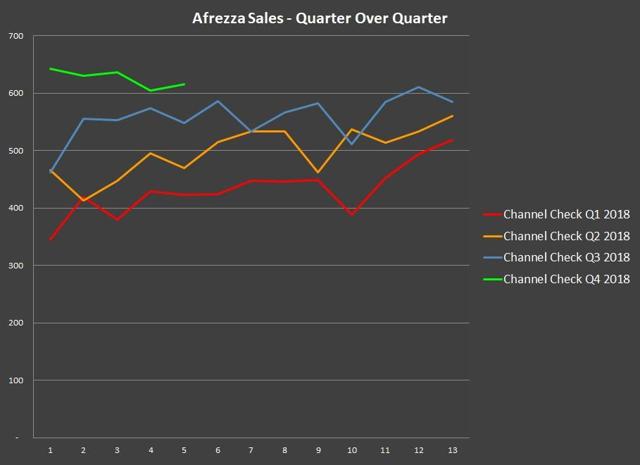 Chart Source - Spencer Osborne (based in part on Symphony data)
Year-Over-Year
One of the most interesting things in the year-over-year data is that the growth trajectory in 2018 is pretty much the exact same trajectory that was delivered in 2017. That is a 24-month period that would seem to indicate that seeing a ramp-up in trajectory will require some big changes in insurance coverage or big spending in marketing and subsidies.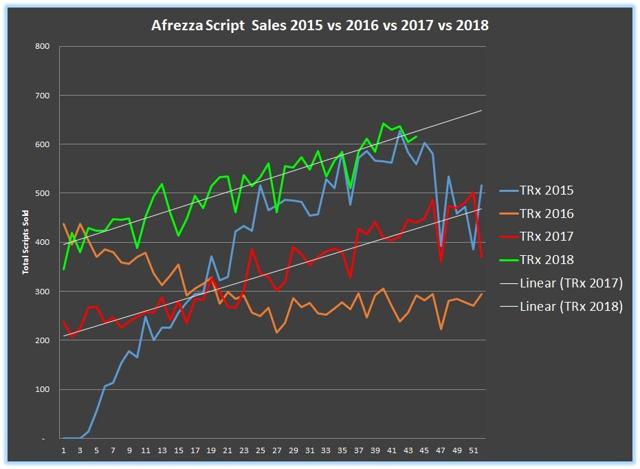 Chart Source - Spencer Osborne
Cash
It is somewhat humorous. My critics often state that I am focused on metrics that are narrow, and that I need to look at the longer term. Why is that humorous? Because if you do not have the financing to get to the longer term, the near term becomes even more critical. Simply stated, you must get through the near term in order to get to the longer term. The lack of any meaningful cash runway means that the company faces tough financial decisions on a daily basis. Do we invest $2 million into the pipeline or do we hire more sales reps? We just had sales reps quit. Do we spend money to replace them, or do we take the savings and sacrifice revenue growth trajectory?
The issue is that the lack of a meaningful cash runway means the company has very little leverage. The lack of leverage is abundantly clear in the recent United Therapeutics (NASDAQ:UTHR) deal where the price point was much lower than desired, and the terms favored United to an overwhelming degree. Even with $25 million in anticipated milestones from United in 2019, the company will still be in need of substantial cash.

Chart Source - Spencer Osborne (based in part on Symphony data)
Summary
Management has hinted at a slower-than-desired Afrezza growth, but did not take the bolder step of canceling its guidance. The statement that there are so many moving parts that giving guidance is not prudent is hollow at best. There are companies that have many more moving parts and can still give proper guidance and speak to it whether it is a hit or a miss.
As regular readers know, I have always been of the opinion that Afrezza would be better off in the hands of others and that MannKind could be more attractive as a pipeline generating company that can offer a compelling inhaled solution to big pharma on a partnership basis. This outcome seems more and more likely as time goes on.
Investors still need to watch the near term carefully, and monitor scripts as well as the cost of scripts. When someone tells you not to look at the item where 75% of the money is being spent, it is likely very wise to take that advice with about 22 shakers of salt. Like it or not, weekly scripts and more importantly what is being spent on weekly scripts are going to be the main factors in 2019 unless another partnership appears.
This remains a trader's equity that is range bound between $1.50 and $2.40. There is opportunity here to play the stock to cash in and out, or build a position in the company. Do not look for massive news, but be aware that there could be some announcements that will deliver temporary pops in the price. Stay Tuned!
Disclosure: I/we have no positions in any stocks mentioned, and no plans to initiate any positions within the next 72 hours.
I wrote this article myself, and it expresses my own opinions. I am not receiving compensation for it (other than from Seeking Alpha). I have no business relationship with any company whose stock is mentioned in this article.