"We both insist on a lot of time being available almost every day to just sit and think. That is very uncommon in American business. We read and think. So Warren and I do more reading and thinking and less doing than most people in business." - Charlie Munger
Our philosophy is embedded in opportunistic investing so we are excited in a bear market due to the bargain stocks that are available. In our continuous search for investment opportunities for Integrated BioSci Investing members, we found another company, Portola Pharmaceuticals (NASDAQ:PTLA), that is trading significantly below its intrinsic value. Portola recently reported its third-quarter earnings results which induced a rally. Specifically, the stock traded $4.08 higher to $23.14 for over 21% profit. The revenues and bottom line earnings improved substantially. In its early commercialization, the lead approved molecule (Andexxa) is already delivering highly promising sales. Nevertheless, Portola is expecting an FDA approval for Generation 2 Andexxa to power its next aggressive growth phase. And, we strongly believe that the good news will come to shareholders and patients on Dec. 31, 2018. With Generation 2 Andexxa approval, the revenues and earnings should be catapulted by multiple folds. In this research, we'll present an analysis of the latest developments and reaffirm our bull thesis on this growth stock.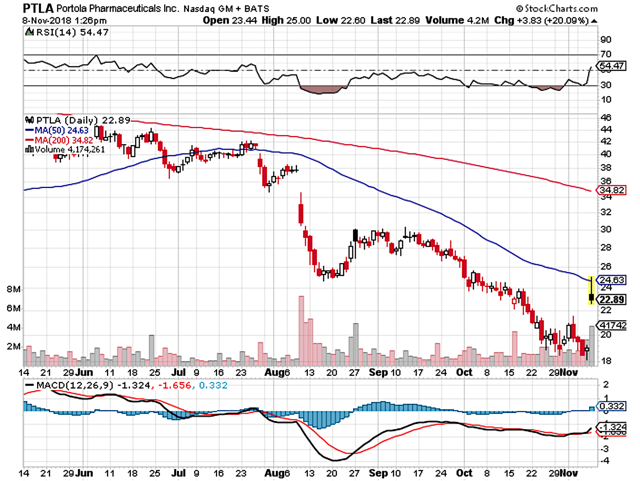 Figure 1: Portola chart (Source: StockCharts)
About The Company
As usual, we'll provide a brief corporate overview for new investors. If you are already familiar with the firm, we recommend that you skip to the subsequent section. Headquartered in South San Francisco, Portola is powering an enriched pipeline of the following superb medicines: betrixaban (Bevyxxa), andexanet alfa (AndexXa), and cerdulatinib. Andexxa and Bevyxxa are already approved and are in their early launch.
As the dual Syk/Jak kinase inhibitor, cerdulatinib is currently in the phase 2 study of patients with relapsed/refractory B-cell cancer (who have failed multiple treatments). Interestingly, cerdulatinib recently gained the Orphan Drug Designation from the FDA as a management for peripheral T-cell lymphoma.

Figure 2: Therapeutic pipeline (Source: Portola, adapted by Integrated BioSci Investing)
Assessment Of The Third-Quarter Earnings
As an earnings report reveals many important developments, we'll analyze the third-quarter earnings for the period that ended on Sept. 30. As follow, Portola posted $14.2M in revenues, thereby representing a 273% improvement from $3.8M for the same period a year prior. The improvement is due to the $7.7M in product sales from Andexxa. Bevyxxa sales came in flat with a net loss of $552K.
Additionally, the research and development (R&D) commitment for the respective periods logged in at $40.2M and $55.3M. It is understandable that R&D is lowered, as Andexxa and Bevyxxa are already approved rather than being in their Phase 3 trials. Hence, most R&D spending is related to the cerdulatinib Phase 2 trial as well as the Andexxa manufacturing.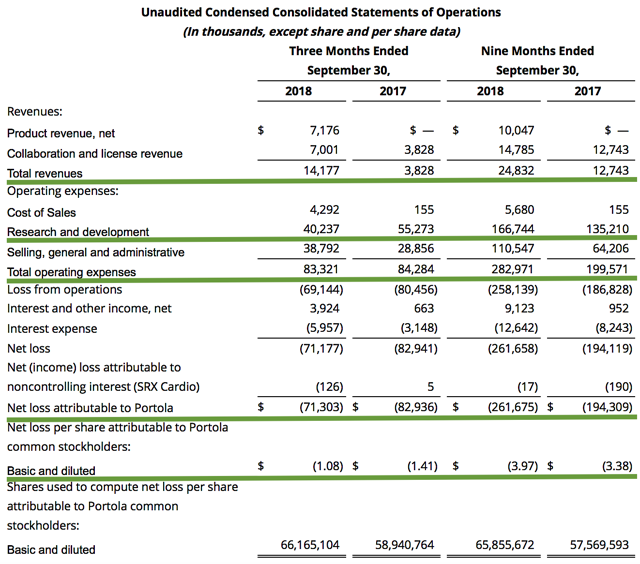 Figure 3: Key financial metrics (Source: Portola, adapted by Integrated BioSci Investing)
That aside, Portola registered $71.3M ($1.08 per share) in net losses versus $82.9M ($1.41 per share) declines for the same comparison. This represents a 23% improvement in bottom-line earnings. Investors should be cognizant that it is the norm for a relatively young bioscience company like Portola to incur significant losses for years prior to banking a net profit (due to the lengthy and low success rate of the innovation process). Notably, we expect that earnings will continue to improve as Andexxa sales will gain more traction. It is worthwhile to note that the upcoming FDA approval of the Generation 2 Andexxa will allow Portola to launch Andexxa on a large scale. And, it is reasonable to anticipate that the company will operate at a net profit after several years into Andexxa launch.
Pertaining to the balance sheet, there were $380.8M in cash, cash equivalents, and investments and thereby signifies a 28.7% decline from $534.2M. The lower cash position was due to the money committed to launching the approved drugs. Based on the $83.3M quarterly burn rate, there should be adequate capital to fund operations for the next year and another quarter prior to the need for additional financing. Nevertheless, it is likely that Portola will execute a dilutive financing in two quarters from now to strengthen the balance sheet.
Catalyst Tracking
Earnings aside, it is important for investors to keep tab of the ongoing developments for you to know what to expect from your business. That being said, we track pertinent catalysts in Table 1 below. In our view, the most important catalyst is the Prior Approval Supplement that Portola submitted to the FDA. In response, the agency set the Prescription Drug User Fee Act ("PDUFA") on Dec. 31, 2018.
If positive, this binary event will enable Portola to aggressively commercialize Andexxa which, in and of itself, will ramp up revenues by multiple folds. Another notable catalyst is the Committee for Medicinal Products for Human Use's ("CHMP") opinion on Andexxa which is scheduled for the first half of 2019. In addition, the new interim data reporting for the Phase 2a trial studying cerdulatinib should bring good news to shareholders and patients alike. Commenting on the stellar unfolding events, the President and CEO (Scott Garland) enthused:
"I am excited to join Portola at such a pivotal moment in the company's history. Having just completed my first month in role, I am very encouraged by the progress and momentum we've achieved since prioritizing Andexxa, including our preparations for the potential approval of Generation 2 supply in the U.S. and in Europe. The early feedback from our first full quarter of sales gives us confidence in the significant long-term potential for Andexxa, and we are now implementing our new focused strategy for Bevyxxa. I am also excited about the potential for cerdulatinib, which recently received Orphan Drug Designation. We have a number of critical milestones ahead that I expect we will achieve and we look forward to delivering our life-saving medications to more patients, and driving sustainable growth and value for shareholders."
Latest corporate developments

Clinical

Submitted Prior Approval Supplement ("PAS") to the FDA for a large-scale Generation 2 Andexxa manufacturing process. The PDUFA date is set for Dec. 31, 2018.

Cerdulatinib is granted the Orphan Drug Designation by the FDA for the treatment of peripheral T-cell lymphoma.

Other

The industry veteran Scott Garland came onboard as the new President and CEO.

Portola became a commercial-stage company with the ongoing Andexxa U.S. launch under the Early Supply Program.

The firm secured New Technology Add-on Payment ("NTAP") for Andexxa (Oct. 1, 2018).

The company implemented the new strategy for Bevyxxa commercialization in focusing on 10 Centers of Excellence to serve as a model for driving broader product adoption.

Outlook

We expect that Generation 2 Andexxa will be approved on Dec. 31, 2018. Thereafter, the company will execute a very aggressive launch.

The CHMP will provide an opinion on Andexxa in H1 2019.

New interim results of Phase 2a study for cerdulatinib will be presented at the 60th Annual American Society of Hematology ("ASH"). We anticipate that the data will be highly favorable.
Table 1: Catalyst summary (Source: Integrated BioSci Investing)
Quantitative Data Forecasting
As the approval of Generation 2 Andexxa is critical to the revenues and bottom line performance, we'll conduct a forecasting of its binary event. Leveraging our Integrated BioSci framework of "molecule analysis" - that took into accounts different scoring variables, including available trial data ("TDV"), comparative molecular analysis ("CMV"), structural design ("SDV"), clinical trial setups ("TSV"), and disease specificity ("DSV") - we prognosticated that there are over 65% chances that Generation 2 Andexxa will procure a positive regulatory outcome, thereby indicating a "more than favorable" reporting.
Notably, TDV factored substantially into this data forecast. Specifically, Generation 1 Andexxa is already approved and launched under the Early Supply Program; therefore, there is no reason the more advanced version, Generation 2 Andexxa, should not gain an approval. Under the excellent leadership of the FDA Commissioner (Dr. Scott Gottlieb), the regulatory hurdles are lowered nowadays to enable lifesaving therapeutics to reach more patients.
Regarding qualitative analysis, Generation 2 Andexxa scored "extremely high" for all variables. Andexxa is a novel product that serves extremely high unmet medical needs. Without the appropriate antidote (Andexxa), a patient who is bleeding can die. Taken altogether, the combinations of excellent trial results, extremely high scientific novelty, as well as unmet medical needs, should lead to approval.
Qualitative analysis for Andexxa

Scientific novelty (product differentiation)

Extremely high

Unmet medical needs (therapeutic demand)

Extremely high

Ease of regulatory approval

Extremely high
Table 2: Qualitative metrics assessment (Source: Integrated BioSci Investing)
We also present an analysis of all upcoming binary events in Table 3. Accordingly, all three events scored a 65% chance, thus indicating a "more than favorable" odds of success. As a result, we expect smooth sailing from the regulatory standpoints for Andexxa due to its superb data and prior approval. Already granted the Orphan Drug Designation by the FDA, the molecule cerdulatinib is special. With the orphan status, Portola can get reimbursed at a premium (i.e., around $140K annually) for cerdulatinib. In the prior research, we featured an analysis of the data that we recommend you to check for further details. And, we're confident of its chances of success in future trials.
| | | |
| --- | --- | --- |
| Molecule and event | Chances of success | Interpretation |
| Generation 2 Andexxa PDUFA | 65% | More than favorable |
| Andexxa CHMP opinion in H1 2019 | 65% | More than favorable |
| Cerdulatinib Phase 2a trial data reporting | 65% | More than favorable |
Table 3: Comprehensive forecasting (Source: Integrated Biosci Investing)
Valuations
Warren Buffett stated that two excellent analysts can assess the same company and come up with distinct figures. Hence, one should take valuation within its appropriate context. To minimize subjectivity, we employed the comparative market analytical method (of gauging similar firms to give investors a rough estimate of an investment's value). We usually check the Wall Street analysts' consensus estimate to obtain the market sentiment on a particular stock. That said, Wall Street puts a $50 price target ("PT") on Portola.
In the next step, we'll appraise Portola based on our estimated potential sales for Andexxa and Bevyxxa that take into account the 10 price to earnings (P/E) ratio, 66.1M shares outstanding, a 25% profit margin, and a 10% discount. Of note, we discounted this franchise by 10% rather than 35% because Generation 2 Andexxa is highly likely to gain approval.
Moreover, the potential sales are based on the estimated market as well as the differentiated nature of Andexxa and Bevyxxa that are discussed in the prior research. The total market for Andexxa alone should be around $4.1B. This figure is higher than our prior estimate due to the premium pricing of Andexxa. In specific, we arrived at $4.1B by multiplying the estimated 150K patients (who will benefit from Andexxa) with the $27,500 per gram wholesale price of Andexxa. Interestingly, the competing molecule (Praxbind) already generated $1.65B in 2016. As Andexxa is a stellar life-saving drug that is almost operating at a monopoly along with Praxbind, we expect it to ultimately reach similar sales as Praxbind. And, the complete results of our calculations are presented in Table 4 below.
| | | | | |
| --- | --- | --- | --- | --- |
| Molecule and franchise | Potential sales | Net earnings based on a 25% margin | PT based on 66.1M shares outstanding and 10 P/E | PT after 10% discounts |
| Andexxa and Bevyxxa | $1B | $250M | $37.80 | $34.02 |
| Andexxa and Bevyxxa | $2B | $500M | $75.64 | $68.97 |
| Andexxa and Bevyxxa | $2.5B | $625M | $94.55 | $85.09 |
Table 4: Valuation analysis (Source: Integrated BioSci Investing)
In the final step, we averaged the three PTs and thereby arrived at $62.06. Our PT is higher than Wall Street and represents a 168% upside from the current market quotation. If we take into account cerdulatinib, the PT is likely closer to the $80 PT that we initially ascribed to this company.
Potential Risks
For a small bioscience firm, the primary risk is whether the lead molecule will pass the clinical trial. If the drug fails to post positive data, the stock can tumble over 50%. Conversely, if the data reporting is positive, investors can expect the stock to be catapulted to the new high by similar (or greater) magnitudes. The aforementioned risk applies to cerdulatinib, of which we gave a 35% chances of a negative clinical binary. There is also the concern of negative regulatory outcome. There is a 35% chance of a failed PDUFA to occur on Dec. 31, 2018, and a negative CHMP opinion to play out in H1 2019. Furthermore, even if the aforesaid medicines are approved, they might not generate substantial sales due to market competition and other unforeseen variables.
Conclusion
In all, we maintain our buy recommendation on Portola Pharmaceuticals with a five out of five stars rating. And, we maintain our $80 long-term price target to be reached within two to three years. Amid the bear market that is hitting bioscience stocks, Portola is trading substantially below its true worth. The latest earnings report is a wake-up call that induced market bulls to run the share price further north. Even without cerdulatinib, Portola still has a 168% upside from its current market quotation. Looking ahead, we expect the next major pop to happen after Dec. 31, 2018 (the PDUFA date for Generation 2 Andexxa).
Our opinion is that Andexxa is the most valuable approved molecule. With approval, Portola will commence an aggressive launch for Generation 2 Andexxa that will unlock the most value for this investment. Bevyxxa and cerdulatinib will certainly add further value over time. A down market is a highly opportunistic time for investors to build shares in Portola to hold for the long haul. In all probability, this stock is most likely to make money for you if you are opportunistic and have a long-term oriented approach to investing.
Disclosure: I/we have no positions in any stocks mentioned, and no plans to initiate any positions within the next 72 hours.
I wrote this article myself, and it expresses my own opinions. I am not receiving compensation for it (other than from Seeking Alpha). I have no business relationship with any company whose stock is mentioned in this article.