Research has shown that stocks with high returns on capital outperform stocks with low returns on capital over long time horizons. Here are five high returns on capital stocks we are looking at. All companies sport five-year average return on assets that are double to quadruple the S&P 500's 7% and return on invested capital figures that are double or triple the S&P 500's 12.6% number.
| | | | | |
| --- | --- | --- | --- | --- |
| Company (Ticker) | 5YR Average ROA | 5YR Average ROIC | Projected Five Year EPS Growth (Annual) | Fwd P/E |
| Copart (CPRT) | 15.9% | 19.1% | 22% | 21 |
| British American Tobacco (BTI) | 19.1% | 22% | 10% | 11 |
| Fastenal (FAST) | 21% | 24.5% | 19% | 20 |
| VeriSign (VRSN) | 18.7% | n/a | 8% | 31 |
| FactSet (FDS) | 28.8% | 35.4% | 13% | 22 |
(Source: Morningstar.com)
Let's look at each stock a little closer to see what kind of competitive advantages each company has which can help determine how likely it is the company will continue to have high returns on capital. We'll also look at the price and earnings expectation for each company as well.
Copart
Copart is an auto auction and related services company that specializes in selling damaged vehicles. The company presents an interesting challenge when it comes to assessing their economic moat. In their 10-K, they disclose that insurance companies primarily consider the anticipated return, price (including additional services the company can provide), geography, and ability to handle large volumes of vehicles after natural disasters.
Given that their customers primarily shop based on price and factors closely associated with price and that the company faces significant competition, you would think there is no moat. However, as the company discloses, the biggest factor for insurance companies is how much they can recover at auction. It makes sense that the more people bidding at an auction, the higher the prices will go. It is likely that there is a network effect. As Copart grows, it creates a virtuous cycle. More insurance companies choose to go through the company because their auctions attract large numbers of bidders. More bidders go to Copart auctions because there is more volume going through those auctions.
With the highest projected forward earnings growth and a reasonable forward P/E, Copart might be worth a further look. If it does benefit from a network effect economic advantage, then ROICs should stay high.
Fastenal
Fastenal is a supplier of industrial and construction supplies through its store network on site. The business is highly competitive, but Fastenal's distribution network likely gives it a good edge on pricing. Indeed, the company discloses that pricing is one of the primary considerations for customers. The stock was down last year on fears of Amazon (NASDAQ:AMZN) entering the sector. However, it's unlikely that Amazon would be able to quickly replicate Fastenal's distribution network of almost 3,000 locations (both on site and public). The biggest drawback for Fastenal investors is that the company is cyclical and levered to industrial demand. While some companies on this list benefit from stable demand (e.g. BTI), Fastenal is at the mercy of the business cycle.
British American
British American is one of the largest tobacco companies in the world. I think most investors are familiar with the general trends that make tobacco an attractive investment. Despite declining smoking rates, tobacco companies have been able to raise prices to more than offset volume loss. Additionally, government regulations mean that it is virtually impossible for any new combustible tobacco products to hit the market. As a result, competition is severely limited. In the US, there are just three major players – Altria (MO), British American, and Imperial Brands (OTCQX:IMBBY) – along with small budget brand producer Vector Group (NYSE:VGR). Internationally there are just five major companies – Philip Morris International (PM), British American, Imperial Brands, Japan Tobacco (OTCPK:JAPAY), and China National Tobacco Corp.
The two biggest risks facing BTI are competition from e-cigarettes (specifically Juul Labs) and a ban of menthol cigarettes in the US. Due to a series of acquisitions, BTI is now the owner of what was Lorillard, which derived a majority of their profits from Newport Menthols. While the combination of British American, Reynolds American, and Lorillard means that today only about 25% of the company's sales come from menthol cigarettes, it's still the company most vulnerable to a ban on menthol. Given that it appears increasingly likely the FDA is heading towards trying to ban menthol cigarettes, the big question is what will Newport Menthol smokers do? Will they stay with Newport but switch to non-menthol? Will they try other brands by other manufacturers? Will they give up smoking altogether?
VeriSign
VeriSign is the domain registrar for .com and .net and operates the authoritative directory for both as well as for the .cc, .tv, .gov, .edu, .jobs, and .name domains. The source of the company's high returns are pretty obvious. It has a government (or quasi-government) granted monopoly from ICANN and the US Department of Commerce. This monopoly enables the company to earn hefty profits. Microsoft (MSFT), one of the most successful software companies in the world, earns about $267,000 in operating profit per employee. VeriSign with just under one thousand employees generates more than double that, $744,000 in operating profit for every employee. Because of VeriSign's steady growth and untouchable monopoly, the market seems to be valuing the company quite high at 31 times forward earnings. So long as VeriSign is able to keep its contracts, there shouldn't be an issue. The risks come from either the loss of any of its contracts, or the government or ICANN limiting how much it is paid.
FactSet
FactSet is a provider of financial information, services, and applications. The company's products are used virtually throughout the entire financial industry on both the buy-side and sell-side. Recently, the company has also begun to target commercial banking and compliance and regulatory markets.
While the portion of the business selling products to active asset managers (hedge funds, mutual funds, etc.) may not be as robust, the wide variety of products and services the company offers means that average sales volume has steadily grown.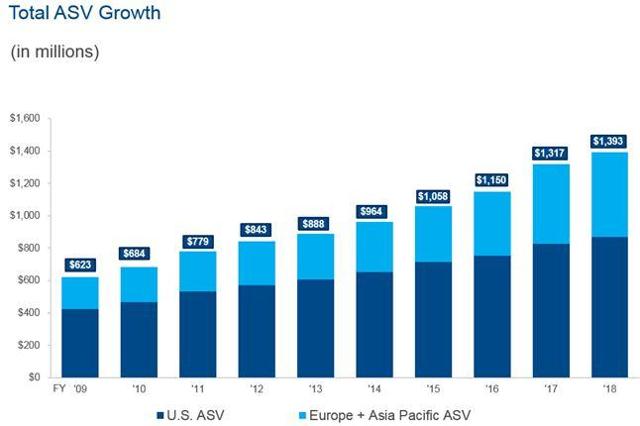 (Source: Company filings)
The company likely benefits from high switching costs as once a software platform is adopted and incorporated into workflows, it becomes more difficult to switch. The industry is somewhere between an oligopoly and intense competition. There are a fair number of competitors but not too many that they all can't be named – Bloomberg L.P., Refinitiv (formerly part of Thomson Reuters), S&P Global (SPGI), MSCI (MSCI), Morningstar (MORN), BlackRock (BLK), and RIMES Technologies Corp.
Summary
We think investors could justify adding any of these stocks to their portfolios so long as they are comfortable with the risks (e.g. menthol ban for BTI, more competition for FAST, etc.). You'll notice from the disclosure we don't have a position in any of them. While we don't think any of the stocks are bad, we simply have chosen to keep our portfolio as is for now. We certainly may be interested in some of the stocks in the future, particularly BTI after we find out what the FDA is planning. For other investors, lists like these, of stocks with high returns on capital and reasonable prices in relation to potential future profits, are a good place to start.
Disclosure: I am/we are long MSFT, SPGI, MO, PM.
I wrote this article myself, and it expresses my own opinions. I am not receiving compensation for it (other than from Seeking Alpha). I have no business relationship with any company whose stock is mentioned in this article.