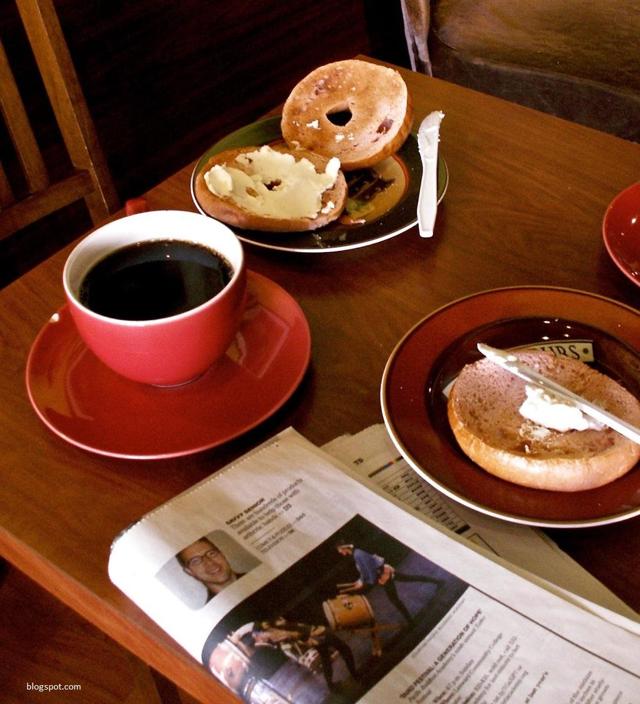 Welcome to another "morning after idea". From time to time I use this format to present my quick thoughts for a ticker already covered in greater depth with existing research released in my prior body of work here on Seeking Alpha. My scope is limited to my considered opinion after allowing the dust a few days to settle from a key event.
It doesn't take a long and ponderous dig through the 10-Ks of International Business Machines (NYSE:IBM) and Red Hat (NYSE:RHT) to detect the sweet smell of success or the pungent odor of a rotten deal. Here you will find a current fair value appraisal of each of the two companies, and my thoughts on why this is a shot in its own foot for IBM rather than a marriage made in heaven. Although I view this deal as strategic management at its worst, I expect it to be a very long and slow train wreck, with fatal damage taking years to appear. Therefore, I close by presenting some attractive covered option writing ideas for IBM with current market pricing at the time of release.
International Business Machines' values for YDP and for traditional metrics are as shown on this current appraisal chart. The P/S valuation is probably the best correlated of those and indicates a current fair value of $154.50. So, IBM is trading at what seems to be a bargain at this time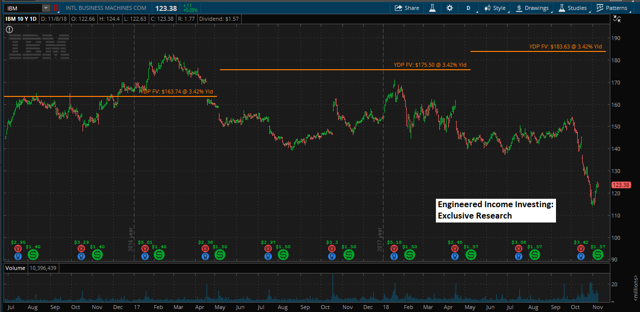 However, that may just be the market anticipating a poor performance with the slight smell of desperation going forward for IBM. The recent buyout of Red Hat, folding the Linux brand into its main arsenal, instead of simply continuing to treat Linux as a tool that IBM is well skilled in dealing with for its customers, may be cheapening the entire IBM brand. This may in fact be a deja vu moment for IBM ala its move to non-proprietary PC operating system and bus architecture. While that strategy certainly created a multi-trillion dollar industry for the world, it ultimately saw IBM largely wash its hands of the entire personal computer market.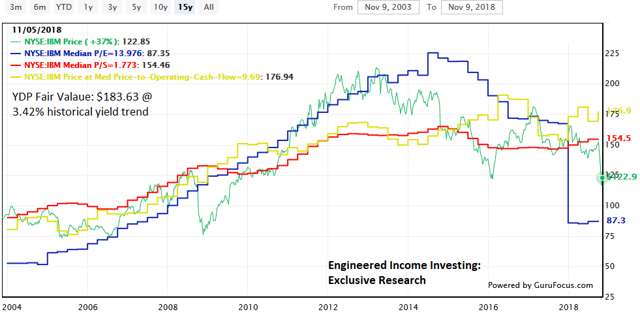 I am somewhat disturbed by IBM's recent $34 billion ($190.00 per share) purchase of Red Hat. Surely, IBM already has an intimate knowledge and high working ability with respect to Linux, both for itself and as a service to customers. So, just what the heck did they buy that for and why at such a price? I cannot find any way to justify the $73.32 (62.8%) premium over market that IBM has plunked down for RHT. Valuation based on both P/S and P/E metric ratios show good historical correlation to actual market price and thus can be considered proven as high confidence numbers. In the absence of clear and convincing synergies or other value added, IBM has simply overpaid. Beyond that, the imprimatur of IBM declaring Linux services such as Red Hat to be worth such a high premium sends the exact wrong message from Big Blue to the markets.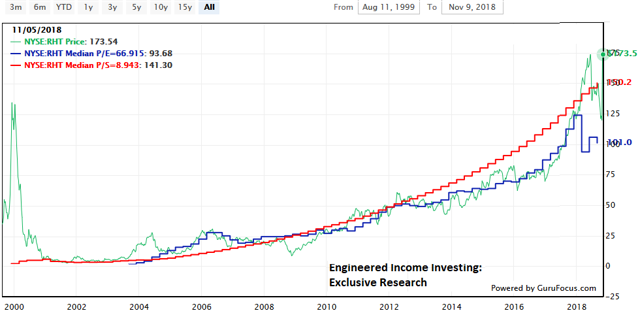 The synergies and leverage simply are not there. Perhaps IBM's own existing internal staff can handle the Red Hat workload and they plan massive layoffs. If that is the case, then they merely seed the future with all those Linux whiz kids to create their own boutique companies and come back knocking on the IBM door for their own outrageous buyouts a few years from now.
I can only conclude it was a defensive move to eliminate competition in the cloud space instead of simply competing for the Linux cloud space based on IBM's own internal Linux expertise. I find that, like paying ransom, this move will only encourage more kidnapping by other Linux service providers to rush into the space and force IBM to toss bags of cash at them also.
So, perhaps some short-term IBM investment strategies are worthwhile for now, but I am leery of IBM long term in this environment based on this very weak way they appear to be ready to address services in the open source O/S competition space.
Covered Option Opportunities:
Investors should keep a short-term focus. Investors not currently holding shares should consider writing the 70-day cash secured puts for $120.00 @ $3.10 premium for an annualized yield rate of 14.1%.
Those currently holding IBM should also maintain a short-term focus with flexibility. Consider writing covered calls for the 70-day 1/18/19 $135.00 strike @ $1.20 premium. This provides a 5.12% annualized yield rate. When combined with the 5.09% dividend yield, the total annualized rate is then 10.21%. If called away, the added intrinsic gain further boosts the yield return. Of course, if your share cost basis is above $135.00, then adjust your strike price upward accordingly.
Those willing to accept more market risk than the put writing idea might consider a buy-write with market leg of $123.38 and the covered call leg described above for the 1/18/19 $135.00 @ $1.20 premium for a net debit of $122.18. Annualized yield rate is 5.12%. Coupled with the dividend, total annual rate is 10.21%. If called away, the additional $11.62 (9.51%) intrinsic gain boosts the annualized yield by 49.6%, to a total yearly rate of 54.72% on the net $122.18 investment for a 70-day total holding period.

Closing Thoughts:
You can earn strong double-digit annual yield rates while sharply reducing (but never fully eliminating) market risk by using engineered income investing strategies. Stop chasing yield from high-risk stocks and ETFs. Engineer better yields with lower risk.
Thank you for taking the time to read this analysis. I welcome your comments and questions. If you find this article thought-provoking, please consider becoming a follower by scrolling back to the top and clicking the orange "Follow" link next to my name. This ensures you are notified of all my work as it is published and gives me feedback to know what readers find of interest.
I am not a licensed securities dealer nor certified financial advisor. The views here are solely my own and should not be considered or used for investment advice. As always, individuals should determine the suitability for their own situation and perform their own due diligence before making any investment.
Your subscription includes:
Exclusive access to E.I.I. Strategy, developed to boost cash income & yield from quality dividends while reducing (but never fully eliminating) market risk.
5+ monthly opportunities using specific strategies and trade pricing to enter/hold/exit according to value, including covered option writing. + dozens of quick look ideas.
Personal access to the winner of Seeking Alpha's prestigious Outstanding Performance Award.
Disclosure: I/we have no positions in any stocks mentioned, but may initiate a long position in IBM over the next 72 hours.
I wrote this article myself, and it expresses my own opinions. I am not receiving compensation for it (other than from Seeking Alpha). I have no business relationship with any company whose stock is mentioned in this article.