I wanted to take a few minutes on Saturday morning to remind readers here that calls for a "tactical rally" are not the same as fundamentals-based arguments for a longer-term bullish thesis.
Earlier this week, I penned something for this platform called, "The Pros Are Predicting An Imminent Squeeze Higher In Stocks - What Say You?" In it, I outlined the case for a move higher in U.S. stocks into year-end. That case relies quite a bit on a confluence of technical factors (e.g., re-risking from systematic strategies and hedge funds grabbing for exposure), buybacks and historical precedent following midterm elections.
As I tried to make abundantly clear, the fundamental backdrop is not particularly inspiring. Recent PMI data suggests the "synchronized global growth" narrative that helped underpin 2017's low vol. regime is in jeopardy of becoming antiquated thanks to ongoing trade frictions. Additionally, a waning fiscal impulse in the U.S. is set to collide with a Fed that's intent on staying the course, on the way to pushing financial conditions tighter. Finally, market participants are on edge about underperformance from tech, after the Nasdaq 100 (QQQ) posted its worst month since 2008 in October.
Growth worries were underscored on Thursday when the China Passenger Car Association reported Chinese auto sales fell for a fifth straight month as retail sales of sedans, multi-purpose vehicles and SUVs dove 13.2% in October. That may seem like an esoteric data point, but it's actually a big deal. Bloomberg makes clear just how disconcerting this is by reminding you that October's numbers "brought the world's largest market closer to its first annual drop in at least two decades."
The news adds urgency to looming questions about domestic consumption in China at a time when exports are expected to falter in the face of the tariffs. Earlier this month, liquor maker Kweichow Moutai (a market darling) fell by the limit after posting earnings that disappointed investors. That was the latest sign that the Chinese consumer might be faltering at the worst possible time. You can get a pretty good idea of how concerned investors are about this by simply looking at the performance disparity between the broad CSI 300 and the CSI 300 consumer discretionary index since June:

(Heisenberg)
China's October trade data came in better than expected on Thursday, but it's just a matter of time before it rolls over. When it does, China will need to lean on domestic consumption to bolster the economic outlook.
Meanwhile, an effort by Chinese officials to shore up sentiment in private companies backfired spectacularly on Friday, when bank shares plunged after Guo Shuqing, chairman of the China Banking and Insurance Regulatory Commission, said at least 1/3 of big banks' new loans should go towards bolstering private enterprise. That was seen by the market as a sign of desperation. Industrial & Commercial Bank of China dove 3.25%, the most since October 8 and the ninth worst day of 2018.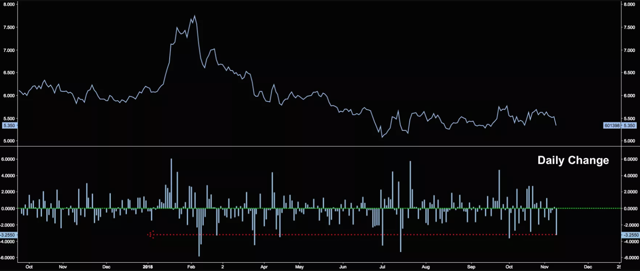 (Heisenberg)
In Hong Kong, the Hang Seng celebrated the one-week anniversary of the best day in seven years by posting its ninth worst day of 2018. In addition to sour sentiment on the mainland, city shares were dented by concerns about tech.
Speaking of tech, Friday was another day of underperformance for the Nasdaq. November is on pace to be the third month in a row that big-cap tech has lagged the S&P (SPY). That would be the longest such streak since 2013. The bottom line is that FAANG is in trouble. As I put it over on my site on Friday evening, the most crowded trade on the planet is starting to crack after a year that's seen a number of false starts, including the late March swoon tied to regulatory jitters and the late July stumble following Facebook's (NASDAQ:FB) earnings. If those episodes were dress rehearsals, this looks like the real deal.

(Bloomberg w/ my annotations)
Recent underperformance from those crowded trades has weighed heavily on hedge funds, and it's possible that what you saw on Friday (when the Nasdaq had its worst day since October 26) is folks attempting to get out ahead of redemption D-Day on November 15. I've spent a ton of time both here and elsewhere discussing how hedge funds were burned last month by their exposure to tech, growth (IVW) and momentum (MTUM) and also how they "low-ticked" that exposure at the worst possible time on October 29, an unfortunate development that may be forcing those funds to chase the market higher on days when stocks rally.
Broadly speaking, hedge funds had their worst month since 2011 in October and that's got the industry bracing for a possible wave of redemptions next week. This is an important dynamic and you should note that on Friday, Dan Loeb's 13-F revealed he exited Facebook entirely and slashed his stake in Netflix (NFLX) by a third. I don't want to dwell on this much further here as this is supposed to be a kind of 30,000 foot view of the market, but those interested in the full story can read it in "As Hedge Funds Face Redemption D-Day After 'Red October', Loeb Exits Facebook, Warns On Tech." The overarching point is that while it's possible that reflattening in the curve could help catalyze a rebound in slow-flation plays (like growth and tech), if we don't get that, it's going to be left to value (IVE) to carry the burden and it is by no means clear that the market is prepared for that.
Moving on to the Fed and tightening financial conditions, Thursday's Fed statement made no mention of recent volatility in markets. To be clear, nobody expected the Fed to explicitly acknowledge the volatility and indeed, it is likely that the FOMC saw the October selloff as helpful to the extent it helped tighten financial conditions. Here's the S&P with the Goldman Financial Conditions Index: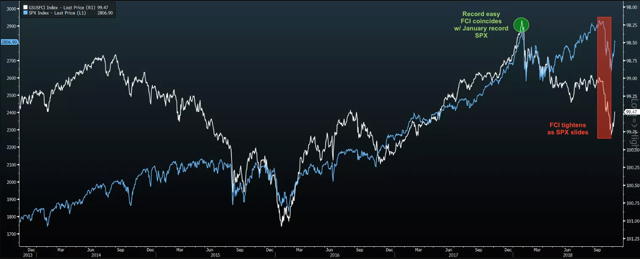 (Bloomberg, my annotations)
Remember, letting financial conditions tighten through the equity market channel has the potential to take some of the pressure off the Fed in terms of how many more hikes are necessary. You can see this in eurodollar calendars. EDZ8Z9 is back up to 50 bps of implied hikes for next year, after falling to just 39 bps late last month amid the stock slide, but we're still well below the ~60 bps implied in early October.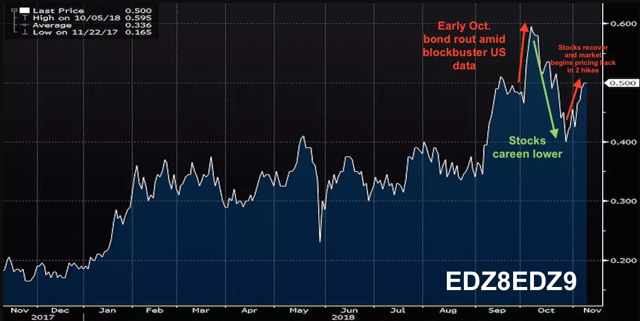 (Bloomberg, my annotations)
As the Fed sticks to the script, you should bear in mind that the overarching narrative is still one where conditions are getting tighter.
"Even with the +8.3% rally off last week's lows to yesterday's SPX highs, DO NOT be mistaken — we remain immersed within the 'financial conditions tightening tantrum' end-of-cycle phase," Nomura's Charlie McElligott wrote on Friday, adding that "U.S. 5Y real yields sit at highs since early 2009, corporate credit Baa-10Y yield spread is 45 bps wider off early February levels and the 90-day commercial paper-3M T-Bill spread has nearly tripled to +27 bps since early September levels." Here's a visual on that: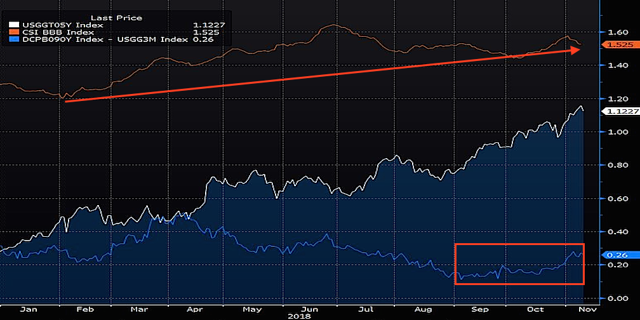 (Bloomberg)
In case it's not clear enough, my message to readers is that if you're inclined to chase the market higher into year-end, you should be apprised that while the conditions may be in place for a squeeze to the upside, the fundamental backdrop remains the same. Conditions are getting tighter, global growth looks to be decelerating and tech continues to look vulnerable.
All three of those factors are cause for concern, if not in the very near-term, certainly at the turn of the calendar year.
Disclosure: I/we have no positions in any stocks mentioned, and no plans to initiate any positions within the next 72 hours.
I wrote this article myself, and it expresses my own opinions. I am not receiving compensation for it (other than from Seeking Alpha). I have no business relationship with any company whose stock is mentioned in this article.