In this article, we examine the significant weekly order flow and market structure developments driving WTI price action.
04-09 November 2018:
As noted in last week's WTI Weekly, the aggressive price discovery of recent weeks to June 2018's key demand cluster, 64.40s-63.40s, implied possible potential for a self-similar buy response in this area following last week's stopping point low, 62.63s. Our primary expectation for price discovery lower was confirmed early week as selling interest at 64.10s and later 62.60s, drove price lower in sell-side continuation to 59.26s near Sharedata's average weekly range low target, closing the week at 60.19s.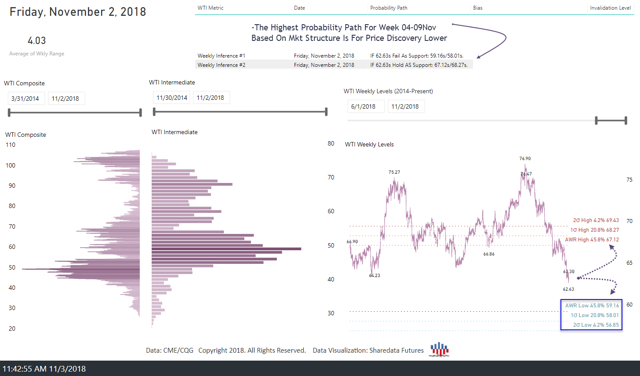 This week's auction saw buy-side rotation early week within last week's lower cluster, achieving the weekly stopping point high at 64.14s. Selling interest emerged there as buyers trapped. Rotation back through the range developed through Tuesday's auction as low volume selling interest emerged near 62.50s, driving price lower in a sell-side breakdown. Price discovery lower developed to 61.30s where low volume buying interest emerged, halting the auction as retracement back to the breakdown area, 62.50s-63s, developed into Wednesday's auction.
Selling interest emerged there in Wednesday's auction as buyers trapped amidst the development of a sell excess ahead of and during Wednesday's EIA release (+5.7mil vs. +2.4mil exp). Price discovery lower developed through Thursday and Friday's auctions as the market traded through Sharedata's average weekly range expectancy (403 ticks) achieving the stopping point low, 59.26s, near Sharedata's average weekly range low target, 59.16s. Buying interest emerged during Friday's London auction, halting the sell-side phase as balance developed, 59.26s-60.53s, into Friday's close, settling at 60.19s.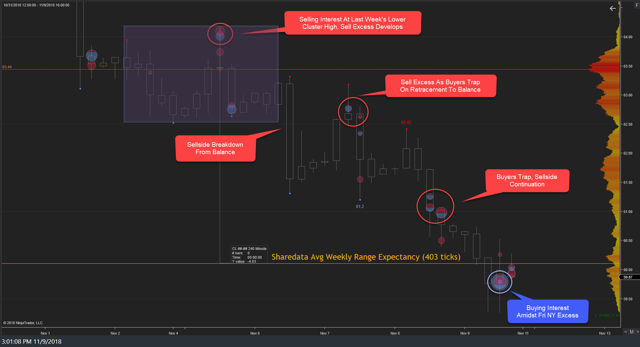 NinjaTrader
As noted last week, the failure of key support, 62.63s, near June 2018's major demand cluster, 63.40s-64.40s, would result in further aggressive sell-side price discovery. This was our primary weekly inference with Monday and Tuesday's order flow and market structure confirming this outcome. Price discovery lower developed through the back half of the week toward Sharedata's average weekly range low target which resided in February 2018's key demand cluster, 59.05s-58.05s.
Looking ahead, following this week's sell-side continuation to 58.26s, the market has auctioned to prior major demand from February 2018. The failure of the buy-side at prior key demand above, 63.40s-64.40s, represents major structural damage to the buy-side phase begun in June 2017 near $42/bbl in the intermediate (3-6 months) context. It should be noted that corrections in commodities are often more substantial than in equities. Given the significance and amplitude of the initial corrective phase from the high (approximately -22.90% as of this writing), the primary expectation would be for a self-similar buy response in this key demand area near term (2-4 weeks).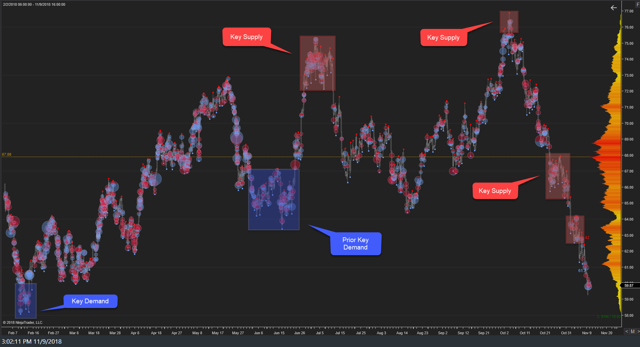 NinjaTrader
It is worth noting that based on the Commitments of Traders report, Open Interest (OI) increased modestly as the deleveraging trend within the WTI market has paused since late August 2018. Additionally, the Managed Money (MM) net long position which peaked in January 2018 at 495k contracts has currently declined to 160k contracts, the lowest MM net long posture since September 2017. MM short posture was increased (-83k contracts), the largest MM short posture since November 2017. The MM short posture trend now appears to be rising which in confluence with declining MM long posture implies potential for lower prices in the intermediate term. Without increasing MM long posture and substantially higher MM short posture, the market will struggle to develop a structural low. Additionally, given the typical seasonal price weakness of WTI through the December time frame, asymmetry in risk would remain to the downside based on the market generated data.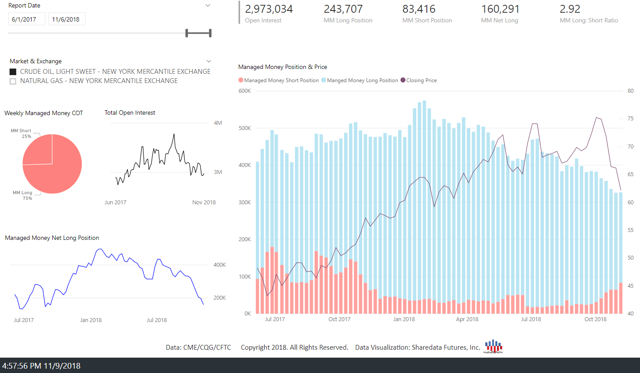 The market structure, order flow, and leveraged capital posture provide the empirical evidence needed to observe where asymmetric opportunity resides.
Disclosure: I/we have no positions in any stocks mentioned, and no plans to initiate any positions within the next 72 hours.
I wrote this article myself, and it expresses my own opinions. I am not receiving compensation for it (other than from Seeking Alpha). I have no business relationship with any company whose stock is mentioned in this article.