This article first appeared on Trend Investing on October 10, 2018; therefore all data is as of that date.
While the recent huge gold discovery in the Goldfields region of Western Australia by RNC Minerals [TSX:RNC] (OTCQX:RNKLF) made global headlines; what is not yet known so well globally is that another part of Western Australia is enjoying a modern day gold rush - in particular the Pilbara region. In this article I discuss both regions.
Two promising gold regions of Western Australia - The Pilbara and Goldfields regions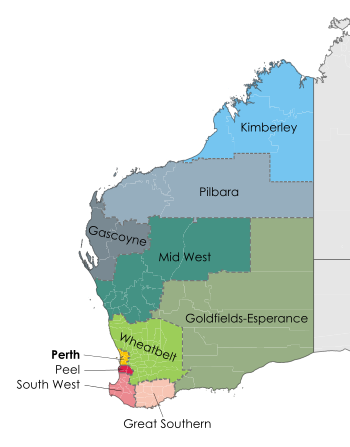 RNC Mineral's workers show of some of the huge nuggets discovered last month at Kambalda, near Kalgoorlie, Goldfields region Western Australia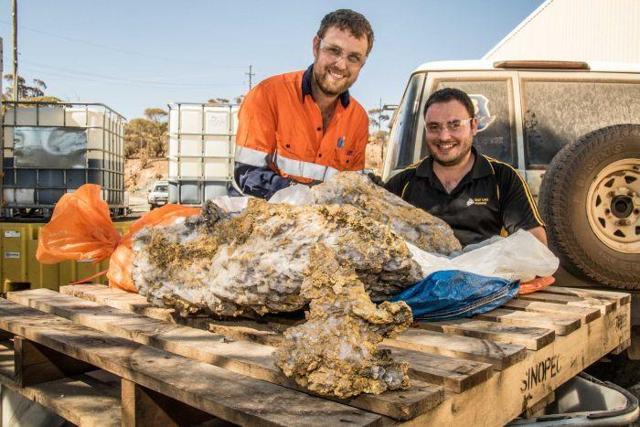 The Discovery Channel has even started a series "Aussie Gold Hunters" showing Mum and Dad prospectors having success. Of course, several corporations are also getting involved, as I discuss below.
Aussie Gold Hunters - The Discovery Channel series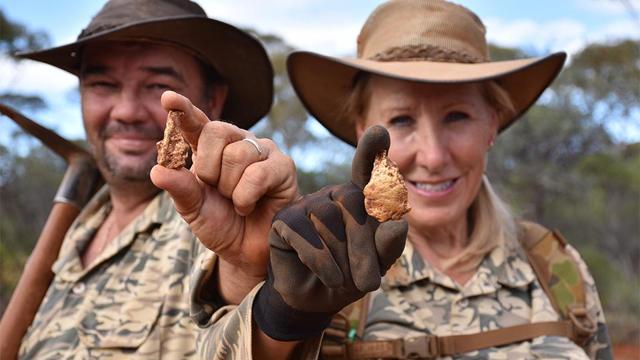 A brief history of Western Australian gold
It is wise to recall that Western Australia is home to some massive gold finds, especially in Kalgoorlie. For example the Golden Mile (one of the richest square miles on Earth), has produced more than 60 million ounces of gold and is still going. That is about $100 billion worth of gold. You can read more here. Part of the Golden Mile is the "Super Pit" which is ranked the 4th largest gold deposit in history.
The reason for the quick history lesson is to show that it is not implausible that another huge gold discovery will be made.
Kambalda gold district (Goldfields region of Western Australia)
RNC Minerals [TSXV: RNX] [GR: 5RN] (OTCQX:RNKLF) - Price = C$0.75
RNC Minerals (via their subsidiary Salt Lake Mining Pty Ltd.) owns the lease to mine below Gold Fields at the Beta Hunt gold mine in Kambalda Western Australia.
On September 9, 2018 RNC announced a massive high grade gold strike at their 100% owned Beta Hunt mine that made headlines globally as potentially the biggest size gold nugget ever found in recorded history. This was followed by other announcements extending the high grade gold strike zone by 200m and again by a further 340m. Meanwhile the latest estimate for this discovery stands at a minimum of 30-35,000 ounces of high grade gold from the initial development area only, with 27,000 ounces found so far. Given the geology and the fact this is the first time RNC has reached the Lunnon basalt gold strike zone, there is enormous potential for a major gold discovery.
RNC state:
The Father's Day Vein structure remains open both up dip and down dip and along strike to the north. High grade coarse gold remains highly visible in each of those faces. Production from this drift is now expected to be a minimum of 30-35,000 ounces gold worth CAD$46-$54 million at current gold prices.
One of the "record" sized nuggets recently pulled out of the Beta Hunt gold mine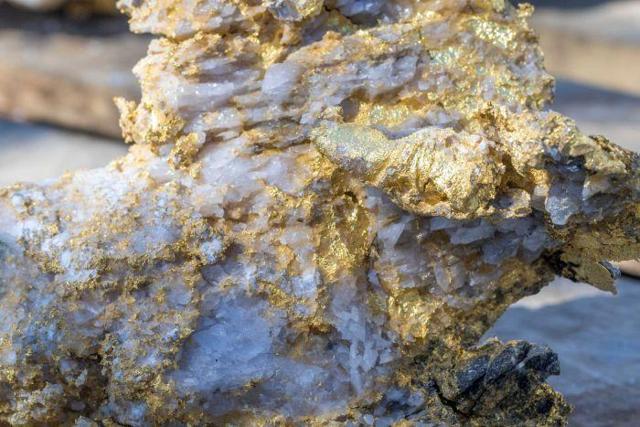 CEO Mark Selby stated in the most recent update:
With resumption of mining in the initial Father's Day Vein development area later this week, we will add additional production to bring expected total gold production from this area to 30-35,000 ounces. The cash flow from the initial ounces processed to date has allowed RNC to repay all of its debt facilities and, once the remaining gold shipments have been processed, will put the company into a substantial net cash position. The technical team continues to advance its work, having now extended the known sediment structures by a total of 540 metres from the Father's Day Vein structure to the 1250 Level of the mine (see Figure 4). The operational teams have begun jumbo development towards this targeted area. The team has also begun to analyze sediment opportunities in our Western Flanks shear zone. Their work has identified a number of additional targets, which we look forward to exploring in the coming weeks. RNC expects to provide final production results for the third quarter in mid-October.
The graph below highlights several key points:
Gold Fields owns the near surface lease, and below that is RNC Minerals lease (via their subsidiary Salt Lake Mining Pty Ltd).
The purple rectangles (high grade specimen gold targets) are thought to be where the gold mineralized shear target zone (orange) intersects the pyritic sediment layer (yellow) within the Lunnon basalt. Geologically it is thought that the gold would travel in a sulphide lava and precipitate when it hit the pyrite.
This means RNC Minerals has four major high grade target zones, and a good chance to find many multiples more than the recent estimated 30-35,000 Oz high grade find to date.
Beta Hunt Gold Mine cross section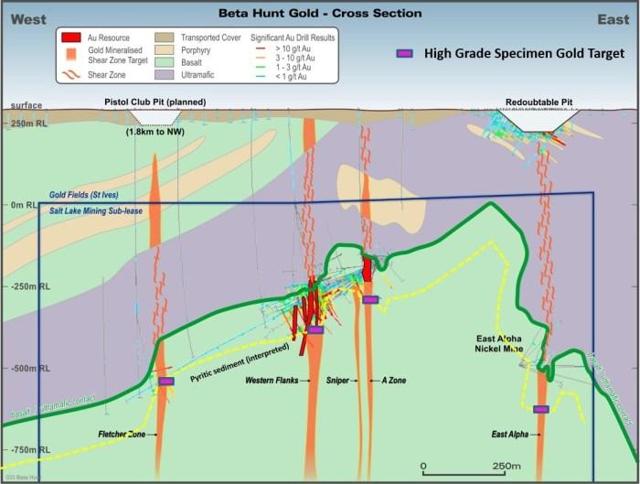 Note: The existing royalty obligations for Salt Lake Mining [SLM] at Beta Hunt are [i] Consolidated Minerals Pty Ltd, 3% of payable nickel (at a nickel price under A$17,500/t) or 5% (at a nickel price of A$17,500 or greater) until total royalty payments reach A$16 million; [ii] the Western Australian state government, 2.5% of recovered gold and nickel; [iii] Maverix Metals Inc.[CVE: MMX], 1.5 % of payable nickel less allowable deductions, 6% of recovered gold and 1.5% of recovered gold less allowable deductions; and [iv] Pala Investments Limited, 2.25% on nickel production commencing April 1, 2019.
RNC Minerals has a market capitalization of C$283m. Current analyst's consensus price target is C$0.73.
Gold Fields Limited [JSE: GFI] (GFI) - Price = US$2.51
Gold Fields is one of the world's largest gold mining firms, headquartered in Johannesburg, South Africa. Gold Fields is the biggest player in the Kambalda gold district. Gold Fields owns the Beta Hunt mining lease (upper section) and has produced more than 10 million ounces of gold at its St Ives operations at Kambalda, mining deposits around the Lake Lefroy salt lake for decades.
Gold Fields has a market capitalization of US$2.06b. Current analyst's consensus price target is US$3.24.
Lefroy Exploration [ASX: LEX] - Price = A$0.20
Lefroy Exploration has partnered with global major gold producer Gold Fields. Goldfields can earn up to a 70% interest in the project by spending A$25m on exploration over a period of six years.
The Lefroy Gold Project [West] is located 60km south of Kalgoorlie, covers 372km2 and lies adjacent to Goldfields multi-million ounce St Ive's Gold camp. Much of the project area is covered by the Lefroy lake systems which has historically presented challenges for the drilling of targets identified within salt lake systems. These challenges have been significantly reduced through the development, availability and affordability of drill rigs and access vehicles that can operate successfully all year round in salt lake environments.
Lefroy Exploration has a market capitalization of A$16m.
Gold nuggets found by Lefroy Exploration near Kambalda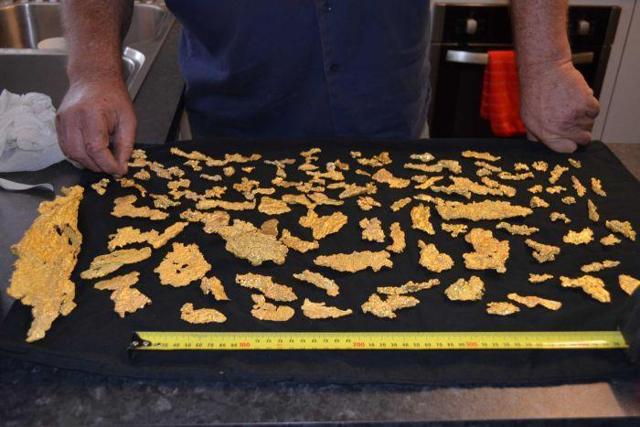 Pilbara gold district (Pilbara region of Western Australia)
In recent times miners have been increasingly finding the conglomerate-style gold mineralization in the Pilbara district, often near Karratha. One reason for the excitement is that the conglomerate gold is similar to that found in the rich Witwatersrand gold reef in South Africa, which is the world's largest gold district. It is estimated the 40% of all of the gold ever mined has come out of the Basin.
The tenements map below gives an idea as to the main players hunting for gold in Western Australia's Pilbara district. I discuss some of the main ones below.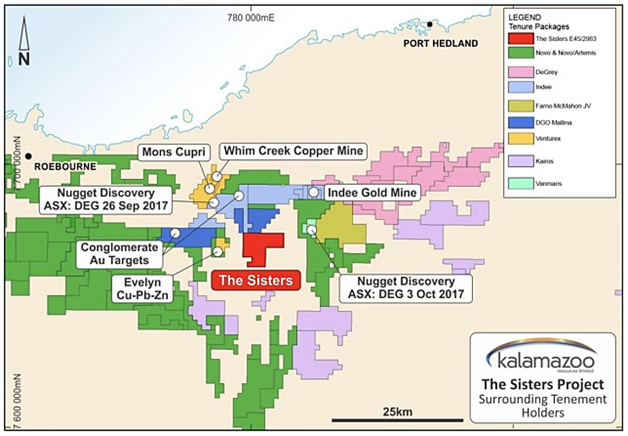 Novo Resources [CSE: NVO] [GR: 1NO] (OTCQX:NSRPF) - Price = C$2.65
Novo Resources strategy is to evaluate, acquire and explore gold properties. In total Novo has over 7,000 sq km in the Pilbara region around Karratha, and controls approximately an additional 2,000 sq km elsewhere in the Pilbara region. This makes Novo Resources the main player in the Pilbara gold scene.
Novo owns the approximately 10 square kilometer Beatons Creek tenements in Western Australia and has the right to earn a 70% interest in the approximately 1,800 square kilometer Pilbara Paleoplacer Gold Project (includes the Beatons Creek and Marble Bar paleoplacer gold projects) in Western Australia from the Creasy Group. They also have a joint venture [JV] with Artemis Resources (see below), and are earning into a 70% interest in four tenements owned by Pioneer Resources Ltd [ASX:PIO].
Novo Resources tenements (including JV tenements)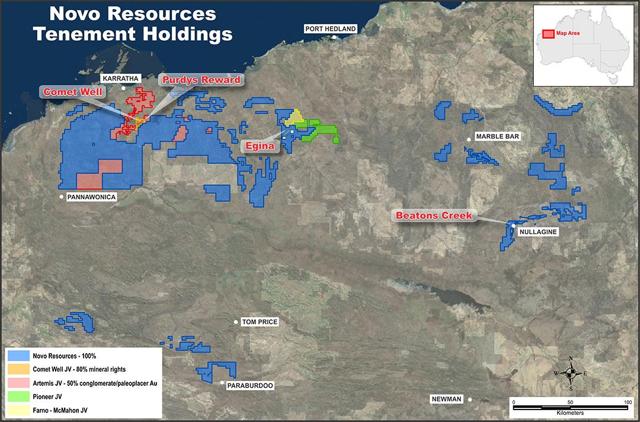 Novo Resources has a market capitalization of C$433m. Current analyst's consensus price target is US$3.24. You can view a company presentation here.
For investors wanting exposure to the Pilbara gold rush Novo Resources would be a core holding.
Artemis Resources [ASX: ARV] [GR:ATY] (OTCPK:ARTTF) - Price = A$0.17
Artemis Resources holds over 2,600km2 of tenements across the Pilbara and has the only available base metal and gold processing plant in the heart of conglomerate gold country. They also have base metals and cobalt.
With some of the tenements Artemis has teamed up with Canada's Novo Resources for mining conglomerate style gold only in a 50:50 JV. One of the most promising areas is known as Purdy's Reward which conglomerate gold has been found in abundance. The Pilbara gold rush really began in mid 2017 with Artemis Resources and Novo Resources discovering near-surface conglomerate-hosted gold nuggets at Purdy's Reward.
Artemis Resources Western Australia enormous tenements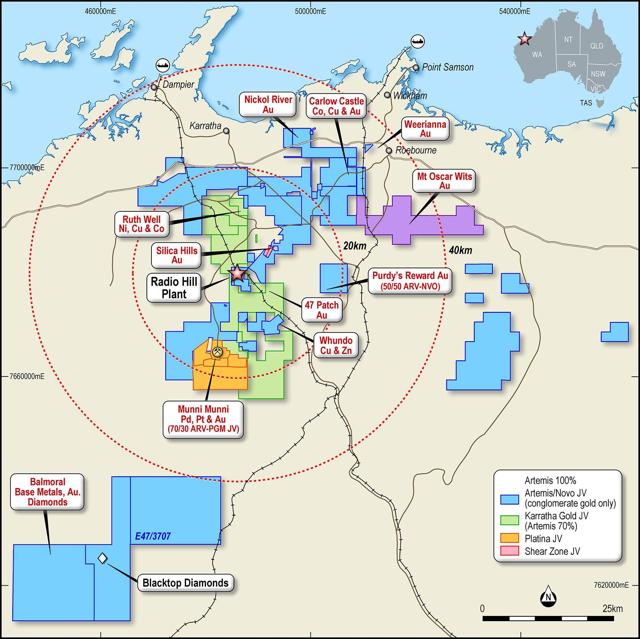 Artemis Resources has a market capitalization of C$111m. You can view the company presentation here.
I view Artemis Resources as one of the better valued plays due to their valuation, large land package with gold and base metals (Cu, Co), processing plant, and their JV deal with Novo Resources.
Pacton Gold [TSXV:PAC] [GR:2NKN] (OTCPK:PACXF) - Price = A$0.15
Pacton Gold is a well-financed Canadian junior with key strategic partners focused on the exploration and development of conglomerate-hosted gold properties located in the district-scale Pilbara gold rush in Western Australia. The Company currently controls the third largest conglomerate-hosted gold property portfolio totaling in excess of 2,800 km², and continues to aggressively review additional accretive acquisitions. Pacton Gold's projects are strategically located between Novo Resources and De Grey Mining.
Pacton Gold has a market capitalization of C$34m. You can view the company presentation here. Plenty of potential.
Kairos Minerals [ASX: KAI] [GR:YAJ] (OTCPK:MPJFF) - Price = A$0.03
Kairos Minerals owns the Pilbara Gold Project which includes 1,158 square kilometres of strategically located tenure across the East and Central Pilbara, which is highly prospective for conglomerate-hosted gold discoveries. The Company's 100%-owned Pilbara Gold Project includes a recently upgraded 643,000oz JORC Mineral Resource, 100km south-east of Port Headland. 486,000 oz of this resource estimate is contained within a single deposit, known as Mt York, where major drilling programs are continuing to expand the resource inventory.
At its 100%-owned Roe Hills Project, located 120km east of Kalgoorlie in WA's Eastern Goldfields, Kairos has an extensive exploration portfolio which is highly prospective for gold, nickel and cobalt discoveries. Recent drilling has confirmed widespread distribution of gold mineralization over an extensive strike length.
Kairos Minerals has a market capitalization of A$28m. Definitely one to watch, and I like that they have exposure to both the Pilbara and the Goldfields regions, as well as nickel and cobalt.
De Grey Mining [ASX: DEG] - Price = A$0.15
De Grey's 100% owned Pilbara Gold Project is located 60km south of Port Hedland in the Pilbara region of Western Australia, and covers an area of 980 sq km. The De Grey total mineral resource (2017) is 406,000 Oz of gold with average grade ~1.7g/t. De Grey Mining has recently been expanding their tenements in prospective locations as shown in the map below.
De Grey Mining's gold projects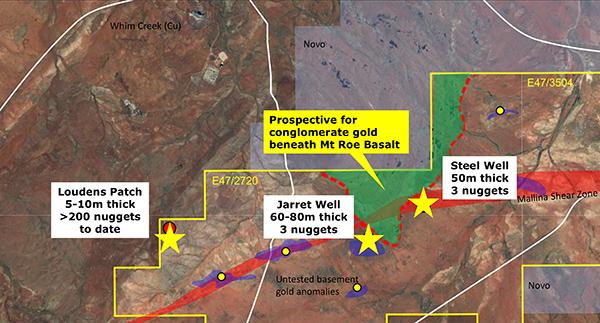 De Grey Mining has a market capitalization of A$54m. You can read more here. Good potential.
Other Pilbara region gold miners
Calidus Resources [ASX: CAI], Chalice Gold Mines [ASX: CHN], DGO Gold (ASX: DGO), Haoma Mining [ASX: HAO], Impact Minerals [ASX: IPT], Kalamazoo Resources [ASX: KZR], Marindi Metals [ASX:MZN], Rumble Resources [ASX:RTR], Venturex Resources [ASX: VXR].
Risks
Gold prices falling.
Conglomerate gold (whilst having nuggets) can have an irregular and patchy distribution. Large-scale bulk sampling helps to overcome this risk. This also means drill results alone to define a resource can be difficult.
The usual mining risks - Exploration risks, funding risks, permitting risks, production risks, project delays.
Management and currency risks.
Sovereign risk - Low in Australia.
Stock market risks - Dilution, lack of liquidity (best to buy on local exchange), market sentiment.
Further reading
A useful quote from the last article linked above:
Having visited the Pilbara recently and used a metal detector to find nuggets, Mr Sprott said he believed the region could host a gold resource of the same scale as Witwatersrand, from which more than a third of the world's gold has been mined. "We know conglomerate rock exists over a wide area of the Pilbara and we've discovered gold nuggets unlike any other nuggets in the world," he said. "We now need drilling and assays to test the grade and thickness of the mineralisation. "It's not yet conclusive but it's looking good." Besides Novo, Mr Sprott also recently made $5 million investments in Pilbara explorers De Grey Mining and Kairos Minerals.
Conclusion
Gold booms and busts have been a part of human history for centuries. Right now it appears that two locations in Western Australia are in the early stages of a gold boom.
The Beta Hunt underground high grade gold mine is at the epicentre of the Kambalda gold rush, whereas Purdy's Reward and several other gold discoveries in the Pilbara region also have huge potential.
My view for now is to invest smaller dollars into some of the companies that have large tenements in these regions, as well as some of the established players. Clearly Novo Resources would be a core holding. Given the rarity and price of gold, risk and reward are both high, therefore a diversified approach is best.
Finally with trade wars and the potential for inflation, it is perhaps a good time to add some gold miners to your portfolio.
As usual all comments are welcome.
Trend Investing
Thanks for reading the article. If you want to go to the next level, sign up for Trend Investing, my Marketplace service. I share my best investing ideas, latest trends, exclusive CEO interviews, chat room access to me, and to other sophisticated investors. You can benefit from the work I've done, especially in the electric vehicle and EV metals sector. You can learn more by reading "The Trend Investing Difference", "Recent Subscriber Feedback On Trend Investing", or sign up here.

My latest Trend Investing articles are:
Disclosure: I am/we are long RNC Minerals [TSX:RNX], Artemis Resources [ASX:ARV].
I wrote this article myself, and it expresses my own opinions. I am not receiving compensation for it (other than from Seeking Alpha). I have no business relationship with any company whose stock is mentioned in this article.
Additional disclosure: The information in this article is general in nature and should not be relied upon as personal financial advice.
Editor's Note: This article covers one or more microcap stocks. Please be aware of the risks associated with these stocks.