"A 60:40 allocation to passive long-only equities and bonds has been a great proposition for the last 35 years …We are profoundly worried that this could be a risky allocation over the next 10."
Sanford C. Bernstein & Company Analysts (January 2017)
"Bull markets are born on pessimism, grow on skepticism, mature on optimism, and die on euphoria"
Sir John Templeton
"Life and investing are long ballgames."
Julian Robertson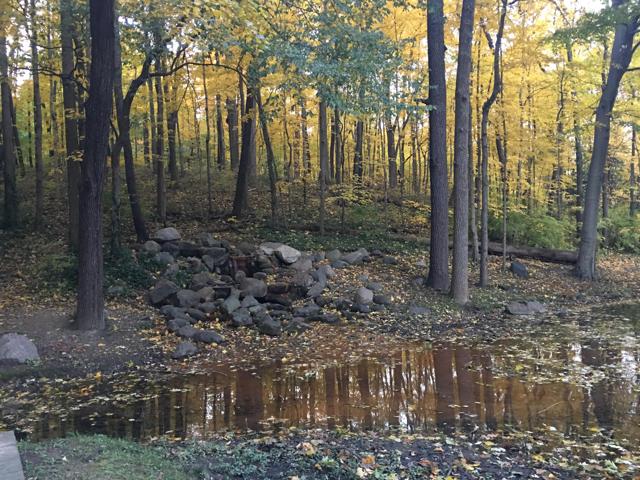 (Author's Photo)
Introduction
Almost a decade ago in December of 2009, Exxon Mobil (XOM), which has a well earned reputation as a long-term thinker in the energy space, purchased XTO Energy for $41 billion, snapping up a leading rival of Chesapeake Energy (CHK) and Southwestern Energy (SWN) in the production of natural gas, creating the largest natural gas producer in the United States, leapfrogging both CHK and SWN at the time.
The acquisition, which occurred less than a year into the burgeoning U.S. equity bull market, seemingly was a timely purchase by an energy major of XTO, which had declined as natural gas prices cratered following the 2007-2009 global financial crisis. Analysts had mixed responses at the time, but there was the prevailing sentiment that Exxon was jumping ahead of peer Chevron (CVX) in the race to claim the highest value long-term natural gas assets.
However, with the benefit of hindsight, natural gas prices were just in the early stages of what would become an epic bear market, and this bear market which actually ended in 2016 for natural gas prices, not long after I had published an article titled, "Natural Gas - The End Of The Secular Bear Market Is Near", which is recommended reading prior to this article, has dragged on even longer for natural gas equities, creating substantial opportunity for contrarian investors.
Investment Thesis
A decade bear market in natural gas prices has spawned structural demand drivers that have set the stage for a structural bull market in natural gas prices and natural gas equities.
A Nearly Decade Long Bear Market
Following a price peak of over $13 in 2008, and an even higher peak in late 2006 of over $15, natural gas prices declined abruptly, failing to recover alongside the U.S. equity bull market that began in March of 2009. While U.S. equities surged from their 2009 lows, natural gas prices were stuck in a parallel bear market for nearly a decade, and natural gas equities were bludgeoned to an even greater degree.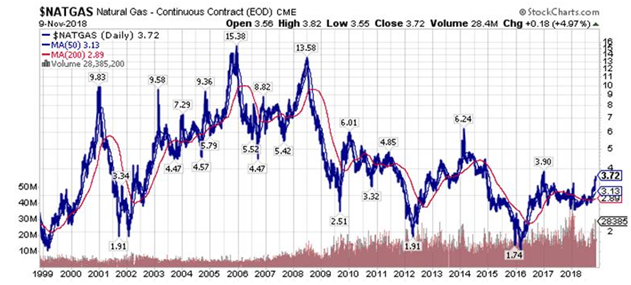 (Source: Author, StockCharts.com)
Looking at the chart above, it was easy to see Exxon's rationale at the time for purchasing XTO in December of 2009. I mean, natural gas prices, which have averaged roughly $4.80 the past four decades, had collapsed from a high over $13 in 2008, to a low below $3 in 2009. The purchase of XTO seemed like a bargain.
Prolific Production Growth Keeps A Lid On Prices
Ironically, the prolific growth of production of natural gas from shale plays over the past decade since XOM's purchase put a lid on natural gas prices. Specifically, natural gas production surged in Appalachia through direct dry natural gas production, via leading producers Antero Resources (AR), Cabot Oil & Gas (COG), Chesapeake Energy (CHK), CNX Resources (CNX), EQT Corp (EQT), Gulfport Energy (GPOR), and Southwestern Energy (SWN), and in the Permian, via associated gas production from companies like Pioneer Natural Resources (PXD), and Concho Resources (CXO).
In fact, $3, the former price floor, became the new price ceiling for dry natural gas prices.
Similar to interest rates, where "lower for longer" became the almost universally accepted mantra the past decade, almost every investor and speculator believed in "lower for longer" for natural gas prices.
Structural Demand Drivers Borne Out Of Low Prices
Low prices, and the almost universal belief in lower prices brought substantial structural demand drivers, where a lot was asked of natural gas, and to its credit, natural gas has delivered in spades.
Replace coal as the primary source of electricity generation? No problem.
Serve as the primary residential source of heating? Sure, already done, and this can continue unabated as housing construction recovers.
Attract industrial and chemical production from around the world, as cheap natural gas provided a feed-stock advantage? Of course, we can fuel this re-industrialization, including a pending Royal Dutch Shell cracker (RDS.A), (RDS.B) in the heart of Appalachia.
Serve as the foundation for pipeline exports to Mexico? Why not, we have the excess natural gas production, at least temporarily.
Last, but not least, provide liquefied natural gas to the rest of the world, first via a company, Cheniere Energy (LNG), that was designed to be a natural gas importer, at a time of higher prices? Yes, with pleasure, to the point that the United States is poised to become one of the dominant global LNG exporters.
Natural Gas Equities Pay The Price
Were natural gas companies rewarded as natural gas production surged and demand surged too over the past decade?
Not even close.
Here is a sampling of the carnage in a couple of top natural gas producers over the past decade, specifically the charts of Chesapeake Energy, which I profiled recently, Range Resources, which was an Appalachia natural gas pioneer, and Southwestern Energy, which has been a top-five natural gas producer for the past decade.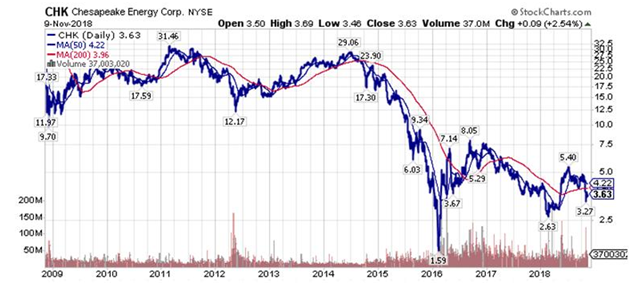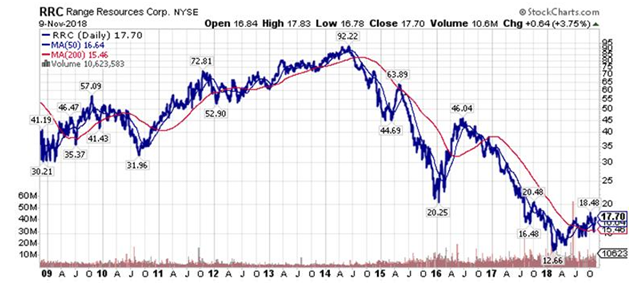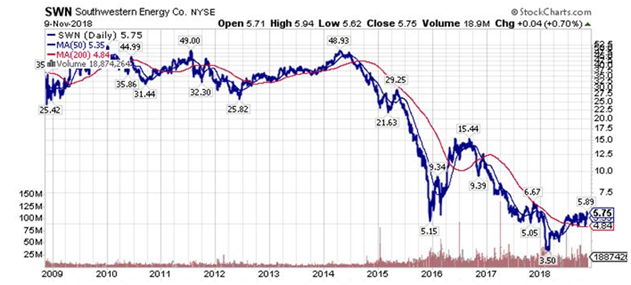 (Source: Author, StockCharts.com)
The relentless battering of their stock prices illustrated above drove the natural gas focused companies to collectively become more efficient operators.
Building on this narrative, David Einhorn, who previously shorted Pioneer Natural Resources, and who famously labeled the company "the motherfracker", in a critical presentation at the 2015 Ira Sohn Foundation Conference, said that the natural gas fracking companies were not on the same treadmill as the oil fracking companies. Said another way, they had better business models.
Did the market listen?
In a word, no.
Natural Gas Companies Even Believed In Lower For Longer
In a weird twist of fate, lower for longer prevailed to the point that even the natural gas companies themselves believed it, selling off previous prime legacy assets, as in the case of SWN's Fayetteville sale, CHK's Utica sale, and RRC's royalty sale, that could no longer compete for capital in the lower-price natural gas environment, potentially near the bottom of the cycle, becoming leaner, improving balance sheets, and positioning themselves to survive in a world of lower natural gas prices, dropping break-even prices to unheard of levels a decade ago.
And, then something funny happened.
Lower for longer was challenged.
Structural Demand Growth Outpaces Supply Growth
With the backdrop of the previous decade's bear market in natural gas prices firmly implanted in investors and end user's minds, structural demand growth has outpaced even robust supply growth in 2018, and natural gas inventories have declined at a record pace, sinking below five-year minimum levels, as the chart below shows.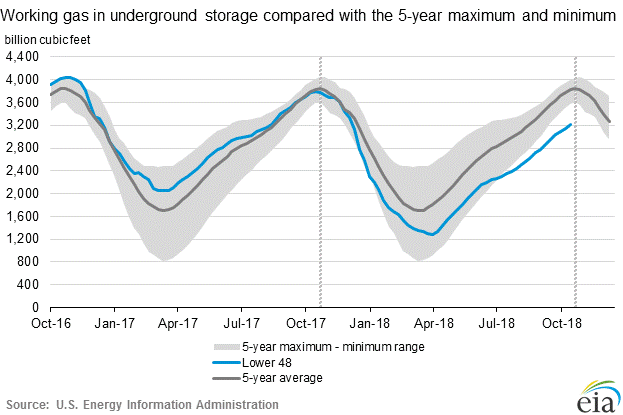 Sure, bears cited the favorable weather in 2018, claiming that roughly 300- 500 BCF of gas was depleted from storage because of favorable weather, but these same bearish investors seemingly ignore the fact that up to 2,000 BCF of natural gas was unused from storage in the historically warm U.S. winters of 2015/2016 and 2016/2017.
Adding to the narrative, with daily usage increasing, the days of storage is actually less than the total inventories shown above.
Natural Gas Prices & Natural Gas Equities Respond
For a long time, the market went along with the bearish angle, believing that increased pipeline takeaway capacity could provide an alternative storage solution, as the bears trumpeted repeatedly, then something started to change.
Starting in February of 2018, natural gas prices bottomed after their more than year long correction that began in late 2016. This secondary bottom cemented the secular bottom in natural gas prices that occurred early in 2016, alongside a broader secular bottom in commodity prices, as the monthly chart shows below.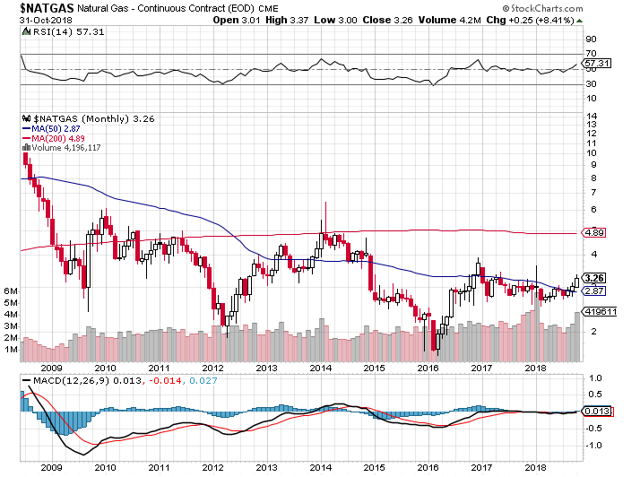 (Source: Author, StockCharts.com)
Quietly at first, natural gas prices began to rise, posting a monthly gain for the month of March of 2018.
Then, before long, natural gas prices had risen for 6 of the past 8 months, including a 8.4% gain in October of 2018, when the S&P 500 Index, as measured by the SPDR S&P 500 ETF (SPY) declined -6.9%, the Dow Jones Industrial Average, as measured by the Dow Jones Industrial Average ETF (DIA) declined -4.9%, and the Invesco QQQ Trust (QQQ), the previous star performer of 2018, declined -8.6%.
Read that again, for the month of October, when previous market leading stocks like Amazon (AMZN), Netflix (NFLX), Alphabet (GOOGL), Facebook (FB), and even Apple (AAPL) declined -20.2%, -19.3%, -9.7%, -7.7%, and -3.1%, respectively, natural gas prices gained 8.4%, the United States Natural Gas Fund (UNG) gained 7.5%, and Cabot Oil & Gas, and Southwestern Energy gained 7.6%, and 4.5% respectively.
October turned out to be just a harbinger of what was to come, as natural gas prices have exploded higher in November, rising over 13.3% last week alone, bringing YTD gains to 25.9%.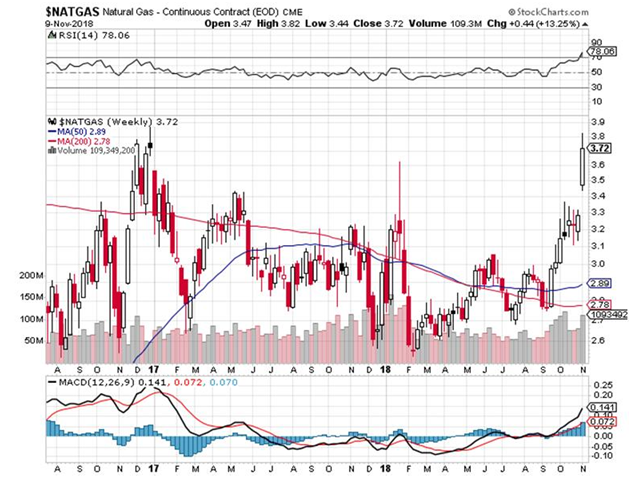 (Source: Author, StockCharts.com)
The price gain in natural gas was particularly notable last week, as natural gas prices closed materially above their winter 2017/2018 highs, and are now challenging their late 2016 highs.
Closing Thoughts
Where will prices go from here after making new multi-year highs?
Time will tell, but one thing is for certain, and that is lower for longer is no longer assured for natural gas prices.
Additionally, all of the daily focus on up to to the minute natural gas data, and the related trading of instruments like the VelocityShares 3x Inverse Natural Gas ETN (DGAZ), which remarkably traded 38.7 million shares Friday, November 9th, 2018, and the VelocityShares 3x Long Natural Gas ETN (UGAZ), which traded a more pedestrian 1.4 million shares on Friday, has obscured the bigger picture, which is potentially a burgeoning structural bull market in natural gas, and natural gas equities.
To close, perhaps Exxon Mobil, which is the second largest natural gas producer in the United States today behind EQT Corp, was correct in 2009 with their purchase of XTO.
Perhaps they saw the structural natural gas demand drivers, and they wanted to be positioned for long-term success.
Maybe they were just a decade too early?
Ironically today, after a nearly decade long bear market in natural gas, and natural gas equities, Exxon's $41 billion spent in 2009 on the purchase of XTO, un-adjusted for inflation, could buy a lot more in today's downtrodden natural gas equity market, and that price disparity, after a decade of company specific improvement, forced by the hand of the brutal bear market, is an investor's opportunity, in my opinion.
Thank you for taking the time to read this article,
WTK
For further perspective on how the investment landscape is changing, and for help in finding under-priced, out-of-favor equities with significant appreciation potential relative to the broader market, consider joining a unique community of contrarian, value investors that has thrived in 2016 and weathered the storm in 2017 to become closer as a collaborative team of battle-tested analysts. Collectively, we make up "The Contrarian," my premium research service.
Disclosure: I am/we are long AR, CNX, CHK, GPOR, RRC, SWN, and short spy as a market hedge. I wrote this article myself, and it expresses my own opinions. I am not receiving compensation for it (other than from Seeking Alpha). I have no business relationship with any company whose stock is mentioned in this article.
Additional disclosure: Every investor's situation is different. Positions can change at any time without warning. Please do your own due diligence and consult with your financial advisor, if you have one, before making any investment decisions. The author is not acting in an investment adviser capacity. The author's opinions expressed herein address only select aspects of potential investment in securities of the companies mentioned and cannot be a substitute for comprehensive investment analysis. The author recommends that potential and existing investors conduct thorough investment research of their own, including detailed review of the companies' SEC filings. Any opinions or estimates constitute the author's best judgment as of the date of publication, and are subject to change without notice.