Editor's note: Seeking Alpha is proud to welcome Guido Persichino as a new contributor. It's easy to become a Seeking Alpha contributor and earn money for your best investment ideas. Active contributors also get free access to the SA PRO archive. Click here to find out more »
I live in Italy. Five years ago I lost my job. I decided to deepen my knowledge of financial markets to create a source of alternative income. In Italy, we have just a few low-yielding mutual funds and exchange-traded funds (ETFs) with monthly dividend distribution, so I began to explore the universe of American investments.
I started looking at ETFs but along the way I encountered and discovered the "magical" world of closed-end funds or CEFs - an absolutely unknown entity in my country­ - and since then I have studied their features every day, reading books (the few published on this subject), articles, posts, blogs, anything that discussed closed-end funds.
The most useful resource I have found is a very interesting e-book by a valuable Seeking Alpha contributor, S D Sullivan from FaithfulStewardInvesting, Perpetual Income With Closed-End Funds. Sullivan's book has become the benchmark of my thoughts on the matter.
First of all, I tried to understand the mechanism on which CEFs are built and to become familiar with them as a whole, then I began to test some CEFs with the idea of building a portfolio for current income.
My portfolio turnover has been significant for the first three years, but this allowed me to assimilate what S D Sullivan states: "With just a basic understanding of how to set up and manage a closed-end fund portfolio, an investor can reap the rewards of that 'magic' called perpetual income."
Moreover, as Albert J. Fredman and George Cole Scott say in their book Investing in Closed-End Funds: Finding Value & Building Wealth - the Bible of CEFs - "there are sound reasons to have an entire portfolio in CEFs. . . . We want to emphasize that once you are a dedicated closed-end fund investor, you may want to hold nothing else." (1991 edition, pages 61-62)
I made CEFs the core of my portfolio. For a little more "spice," I added two exchange-traded notes or ETNs, which have a different tax treatment in Italy.
A Compass in the Ocean of Closed-End Funds
The first CEFs I owned were purchased with no selection criteria, and I actually encountered hard times with low quality CEFs when distributions were suddenly cut, in some cases even twice in a row. I bought those CEFs at discount, but that was a small consolation when my income was cut off and the discount remained the same.
From these experiences, I learned that CEFs on the whole are a world, but not all CEFs are interchangeable!
So I decided to sail to more safe harbors, but how could I select them?
I am not a technical analyst; I don't base my decisions on diagrams and charts. I do follow opinions on Seeking Alpha, but I developed a personal practical method that I have employed for two years with very satisfying results.
I discovered that building a portfolio could be easier using Morningstar Risk Rating and RiskGrades­, two instruments that can help individual investors like me to make more thoughtful and consistent decisions when investing.
Morningstar's CE Returns webpage contains a complete overview of closed-end funds available on the market. You can view all and sort them by rating, getting the full ranking of CEFs.
Nasdaq provides Risk Metrics in the form of RiskGrades, a risk assessment tool, for risk evaluation of every stock.
Using these two instruments, I invested in just seven or eight funds, rather diversified but all high-yielding. I believe that anyone building a CEF portfolio should at least refer to these instruments - a concept that I have not seen discussed in any of the books or articles I have read on CEFs.
Morningstar Risk Rating
"Morningstar risk ratings are based on the fund's past performance, the fund manager's skill, risk- and cost-adjusted returns, and performance consistency." (Investopedia) Morningstar offers many instruments for the attentive investor, ranging from statistics to portfolio composition of each fund, but the first criterion I consider when selecting a fund is the one-to-five star rating.
Investopedia warns that "The Morningstar ratings are intended to be a starting point for further research and are not buy or sell recommendations."
While this is absolutely true, a five-star rating and a one-star rating are not at all the same if you look at stars as indicators of efficiency and reliability.
I hold just five- or four-star funds. Of course, this choice exposes me at times to buy funds at a premium, but I don't see it as a setback when buying quality funds run by a good management, with a strong reputation and track record.
I hold stocks of very few selected funds:
Some of them are steady five-star funds, some periodically move from five to four stars and vice versa. (I don't have muni funds because there's no tax advantage in Italy).
Since I only deal in high-yielding funds, I need to have a good stomach for volatility.
Here is the 3-Year Trailing Standard Deviation for each fund: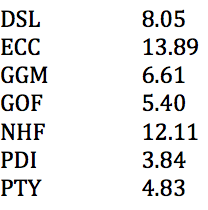 (Source: Morningstar)
Despite the volatility in these funds, I know (or I believe) that it is best to own quality funds, run by some of the best managers on the square. The team that defends my savings includes players like Jeffrey Gundlach (DSL), Scott Minerd (GGM, GOF), James Dondero (NHF), and Alfred Murata and Daniel Ivascyn (PDI, PTY).
What I need is a steady income, and for me their names matter more than buying a mediocre fund at discount, hoping to pull a rabbit out of a hat.
Latest Distribution History
Morningstar also provides a five-year distribution history, giving a rather precise idea of how the above-mentioned managers (and others) acted in the past to grant steady income distributions to stockholders.
All of my funds have made no distribution cuts since January 2016 (except for NHF, which cut from $0.24 to $0.20 in October 2016), with no or at least occasional return of capital, as illustrated in the following charts.

(Source: Morningstar)

(Source: Morningstar)

(Source: Morningstar)

(Source: Morningstar)

(Source: Morningstar)

(Source: Morningstar)

(Source: Morningstar)
As you can see, there was some return of capital (ROC) for DSL and PTY in 2017 and this year, no ROC for GGM and PDI, some for GOF just this year, and a big ROC for NHF in 2015 (but that was connected to the spin-off of NXRT). ECC has been the only one using every year some form of return of capital (it's not said whether constructive or destructive).
What is clear in these charts is the commitment of all managers to ensure a consistent performance of their funds in last five years. Of course, past performance may not be indicative of future results, but a respectable track record is a good starting point for steady income seekers.
RiskGrades
How do I weigh the load of the funds in my portfolio? As I previously mentioned, I simply use another useful tool: RiskGrades, a Risk Assessment Tool supplied by Nasdaq, which I can employ to measure my financial risk.
Using RiskGrades I can make a complete risk evaluation of every fund via stock analysis, applying it to my entire portfolio. I weigh my portfolio by owning more stocks of less volatile funds, compensating for the major risk with less exposure. This is one way to alleviate pain in downturn markets.
RiskGrades is available online for everyone to use. You just need to enter a ticker or a list of tickers in the small window on the right, click on the arrow and voilà, the analysis appears. The site also does a good job of explaining how RiskGrades works.
As of today, the data of financial risk for the seven CEFs in my portfolio are as follows: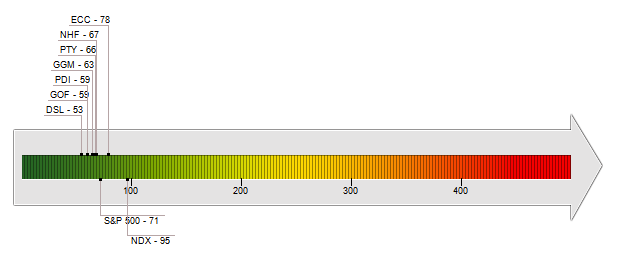 (Source: Risk Metrics)
With this understanding of my financial risk, I now weigh my CEF portfolio this way:

I averaged the prices in a rising market, beginning in December 2016. Starting these funds today would give me better prices except for PDI and PTY.
Such a portfolio is giving me a steady distribution of 10.24% (with very little or no return of capital), and could give around 10.50% income at today's prices.
Following this criterion I don't even worry about rebalancing, because it's inherent to my choices.
Is Discount Really So Important?
One of the basic principles of investing in closed-end funds is to buy at discount for creating value and adding potential price gain to current income. That's a "mantra" I do not follow most of the time.
Albert J. Fredman and George Cole Scott say, "we think [management] is the most important factor. . . . Then keep your eyes for an opportunity to buy at a discount."
I instinctively avoid CEFs with too significant a premium, for reasons dictated by common sense, but I absolutely do not discard CEFs quoting at a premium.
As of today, last actual discount and/or premiums for my funds are: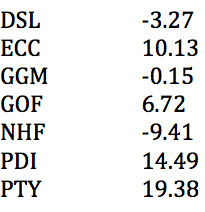 (Source: Morningstar)
DSL and NHF have historically quoted at discount; GGM varies from discount to premium. All other CEFs normally quote at a premium.
For me, relying on the management when buying active managed funds is more important than chasing a discount. Investing for "perpetual income" makes a "discount" irrelevant.
No euphoria, no panic, no rising interest rate worries, just a "boring" portfolio forever. And compounding when possible.
Bottom Line
Research CEFs.
Use the best tools available to investors: Morningstar Risk Rating and RiskGrades.
Consult the distribution history.
Don't just chase discounts.
Disclosure: I am/we are long DSL,ECC,GGM,GOF,NHF,PDI,PTY. I wrote this article myself, and it expresses my own opinions. I am not receiving compensation for it (other than from Seeking Alpha). I have no business relationship with any company whose stock is mentioned in this article.