Energy stocks have had a tough time in recent years, and have seriously lagged behind the S&P 500, as a sort of "old economy" vs. "new economy" dynamic plays out. The problem with this is that it casts real doubt over the price of oil, and if old linkages hold, crude oil could be headed much lower.
This week's chart came from a report on the outlook for crude oil prices, which also discussed the implications and valuations for energy stocks and MLPs.
The chart shows the WTI crude oil spot price vs. the relative performance (against the S&P 500) of energy stocks. The gap is stark.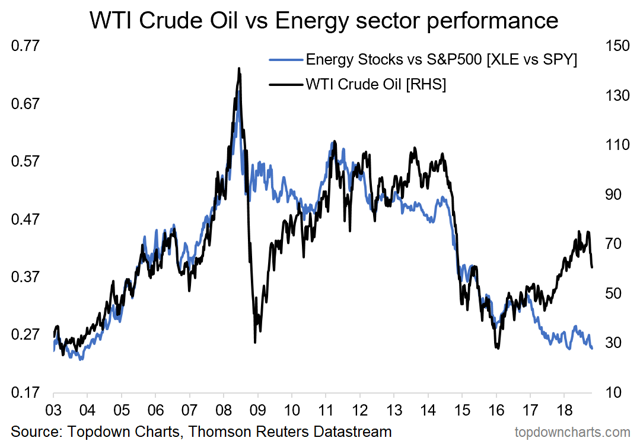 Specifically, as noted, we've got spot WTI crude oil prices, and the energy sector vs. the S&P 500 index (relative performance). For the relative performance line, I used the Energy Select Sector SPDR ETF (NYSEARCA:XLE) vs. the SPDR S&P 500 Trust ETF (NYSEARCA:SPY). The two series on the chart have a correlation of 0.8 and an R-squared of 65%, but anyone can see that there is a decent link between the two series.
The economic logic behind this link is sound also. It makes sense that higher energy prices will ultimately flow through to higher earnings and that stock analysts will discount this forthwith.
But it also makes sense that the energy sector stock analysts will likely also have a view on the oil price, so for example, when you get to previous extreme disconnects, it's not too much of a leap of logic to suggest that analysts were discounting the divergence. For example, with hindsight, back in 08/09, they were implicitly saying that the oil price was "too low" and in 13/14 that the oil price was "too high". Commercial hedging likely also plays a role.
As for the implications for the crude oil price, we can basically look at this chart and say it looks like bearish divergence - i.e. that the failure of energy stocks' relative performance to keep pace with the oil price is basically a vote of no-confidence in the current level of the oil price. Thus we should expect this gap to close by the oil price catching down, as it is starting to do.
So as the oil price breaks down, it's important to be wary of charts like this which paint out a possible scenario where oil goes as low as $30 (if you took that chart literally). But likewise the possibility for the gap to close from the other side, particularly as energy stocks look cheap.
Disclosure: I/we have no positions in any stocks mentioned, and no plans to initiate any positions within the next 72 hours. I wrote this article myself, and it expresses my own opinions. I am not receiving compensation for it (other than from Seeking Alpha). I have no business relationship with any company whose stock is mentioned in this article.