The State Of REITs: November 2018 Edition
Summary
The REIT sector produced a negative return for the second straight month.
Large-cap REITs outperformed their smaller peers in October.
Self-storage REITs led all property types, while Timber lagged.
CIM Commercial Trust was the best-performing REIT in October, while Wheeler REIT had the worst performance.
After a rough September and October, REITs are now trading at a staggering 11.4% average discount to consensus NAV.
REIT Performance
After a rough September (-2.54% total return), the REIT sector performed even worse in October (-3.91% total return). However, the disappointing performance of REITs was actually less dismal than that of the broader market, which generated even larger negative returns in October. REITs outperformed the S&P 500 (-6.94%), DJIA (-5.07%) and NASDAQ (-9.20%). Based on the outperformance of large-cap REITs in October relative to their smaller peers, the market-cap weighted Vanguard Real Estate ETF (VNQ) had a notably higher total return (-2.93%) than the average REIT (-3.91%). The REIT selloff of September and October was fueled largely by fear that the Fed will not slow its pace of quarterly rate hikes. Solid REIT earnings and the reduction of legislative uncertainty post-election, however, could serve to somewhat calm market volatility. If investors begin putting more of their money back into the market, will the tremendous 11.4% discount to NAV be enough to attract more investment into the REIT sector? Which REIT property types are currently best positioned to outperform as money comes back into REITs? In this monthly publication, I will provide REIT data on numerous metrics to help readers identify which property types and individual securities currently offer the best opportunities to achieve their investment goals.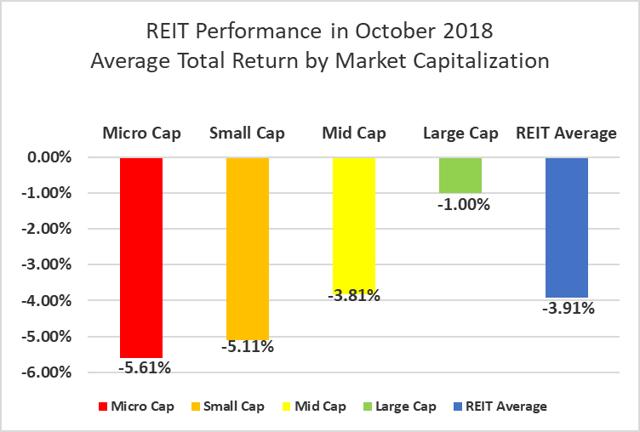 Source: Graph by Simon Bowler of 2nd Market Capital, Data compiled from SNL.com. See important notes and disclosures at the end of this article.
During the first three quarters of 2018, large-cap REITs averaged a total return well below that of micro-cap, small-cap and mid-cap REITs. However, this flipped in October as large-cap REITs weathered the selloff rather well (-1%), unlike their smaller peers that saw dramatic declines in share price (from -3.8% to -5.6%). There was a strong positive correlation between market cap and total return in October. Although REITs of all sizes are down thus far in 2018, large-cap REITs now have the highest (least negative) YTD total return and small-cap REITs have the lowest.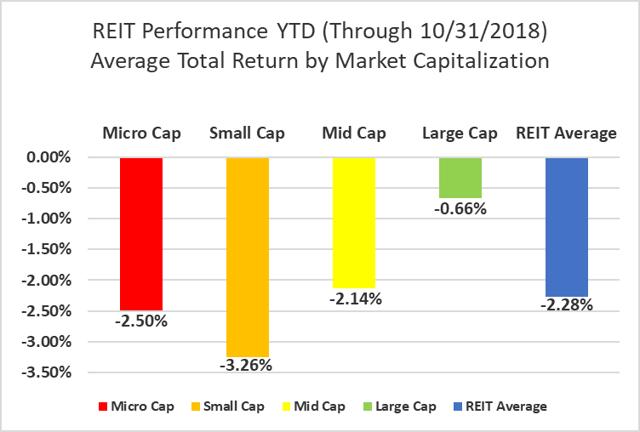 Source: Graph by Simon Bowler of 2nd Market Capital, Data compiled from SNL.com. See important notes and disclosures at the end of this article.
Only

4 out of 20 Property Types Yielded Positive Total Returns in October
After a weak September (-2.54% total return) in which only 25% of REIT property types averaged a positive return, the REIT sector performed even worse in October (-3.91%), with only one fifth of property types in the black. Although the total return spread between the best and worst performing property types was less than 10% in August and September, the spread jumped to 18.33% in October, showing a spike in variance. Self-storage (+4.32%) and Land (+0.71%) led, while Timber (-14.01%) and Data Centers (-11.92%) lagged. All 5 Self-storage REITs were in positive territory, ranging from 2.38% (LSI) to 8.16% (NSA), whereas all 4 Timber REITs were negative, ranging from -8.51% (RYN) to -21.47% (CTT).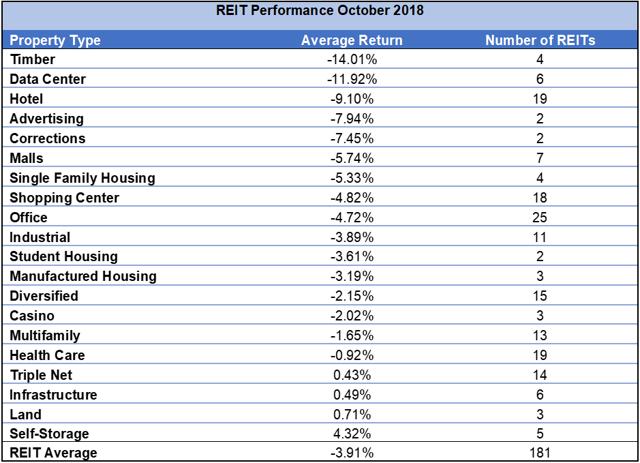 Source: Table by Simon Bowler of 2nd Market Capital, Data compiled from SNL.com. See important notes and disclosures at the end of this article.
Despite negative returns for 75.6% of REIT securities in October, the number of property types that averaged a positive YTD total return held steady at 11 out of 20 through October. Hotel REITs plummeted 9.10% after reports that US hotel RevPAR declined by 0.3% in September, snapping a 102-month growth streak. This selloff may have been an overreaction, however, given the particularly difficult comp of September 2017, when occupancy rates in Houston had spiked due to displacement from Hurricane Harvey. 2017 hurricane displacement also led to difficult comps in Orlando, Tampa, Atlanta and Dallas. With the exception of Houston, US RevPAR grew at 0.4% in September.

Source: Hotel News Now
Timber REIT pricing continued its freefall in October, having fallen from the best-performing property type at the end of April (7.18%) to the worst at the end of October (-18.66%). Despite a disappointing return in October (-3.61%), Student Housing is now the top-performing property type thus far in 2018 with a 10.68% average total return, although virtually all of this strong return can be attributed to the acquisition of Education Realty Trust by Greystar Real Estate Partners LLC. The price of Education Realty Trust soared upon the announcement in June, resulting in a 21.7% YTD return by September 19th when the acquisition closed. The only remaining Student Housing REIT, American Campus Communities (ACC), has only generated a modest outperformance with a -0.33% return.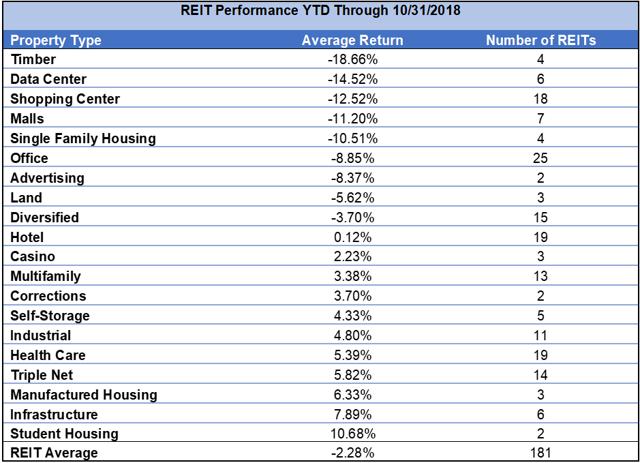 Source: Table by Simon Bowler of 2nd Market Capital, Data compiled from SNL.com. See important notes and disclosures at the end of this article.
The REIT sector as a whole saw the average P/FFO decrease from 16.2x at the end of September to 15.6x at the end of October. Malls (9.2x) and Hotels (9.9x) continue to trade at the lowest average FFO multiples, while Single Family Housing (23.9x) and Manufactured Housing (21.9x) are the highest. Infrastructure (17.9x) saw average multiple expansion of 60 bps, surpassing the falling multiples of Data Centers (17.4x), which saw average multiple contraction of 240 bps.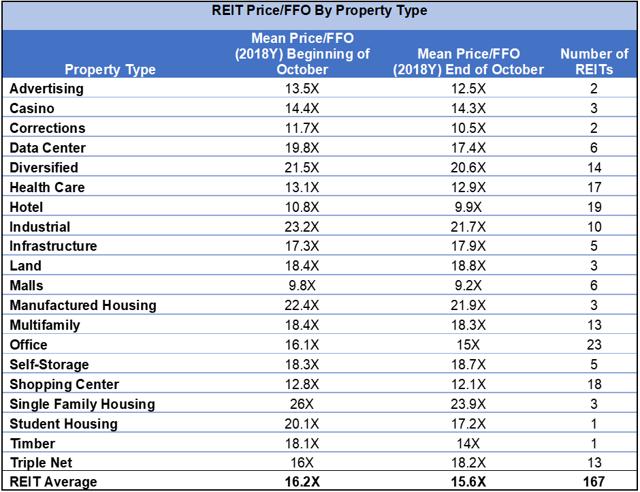 Source: Table by Simon Bowler of 2nd Market Capital, Data compiled from SNL.com. See important notes and disclosures at the end of this article.
Performance of Individual Securities
CIM Commercial Trust (CMCT) was one of the 5 worst-performing REITs of September, but it rebounded nicely with the best total return in October (22.18%) after announcing a proposed recapitalization that is projected to increase public float from 4% to 94%. In addition to dramatically increasing trading volume, this recapitalization would make CMCT eligible for inclusion in several indexes. Wheeler REIT (WHLR), which was already the worst-performing REIT of 2018 at the end of September, continued its freefall in October with another massive negative return (-23.28%). Wheeler REIT now has a dismal -67.10% YTD total return, wiping out about 2/3 of the price of the common shares the last 10 months. 2 of the 5 worst performers in October were Timber REITs, CatchMark Timber Trust (CTT) with a -21.47% return and Weyerhaeuser (WY) with -16.44%.
For the convenience of reading this table in a larger font, the table above is available as a PDF as well.
Source: Table by Simon Bowler of 2nd Market Capital, Data compiled from SNL.com. See important notes and disclosures at the end of this article.
Dividend Yield
Dividend yield is an important component of a REIT's total return. The particularly high dividend yields of the REIT sector are, for many investors, the primary reason for investment in this sector. As many REITs are currently trading at share prices well below their NAV, yields are currently quite high for many REITs within the sector. Although a particularly high yield for a REIT may sometimes reflect a disproportionately high risk, there exist opportunities in some cases to capitalize on dividend yields that are sufficiently attractive to justify the underlying risks of the investment. I have included below a table ranking equity REITs from highest dividend yield (as of 10/31/2018) to lowest dividend yield.
For the convenience of reading this table in a larger font, the table above is available as a PDF as well.
Although a REIT's decision regarding whether to pay a quarterly dividend or a monthly dividend does not reflect on the quality of the company's fundamentals or operations, a monthly dividend allows for a smoother cash flow to the investor. Below is a list of equity REITs that pay monthly dividends ranked from highest yield to lowest yield.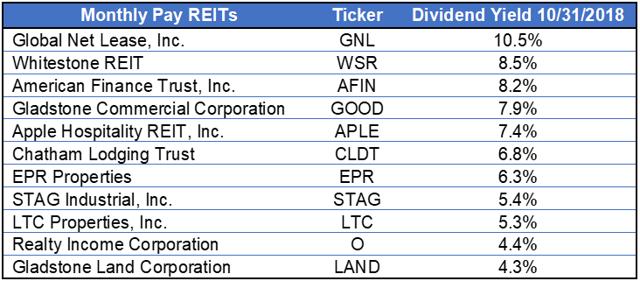 Source: Table by Simon Bowler of 2nd Market Capital, Data compiled from SNL.com. See important notes and disclosures at the end of this article.
Valuation
As of the end of October, REITs are trading at a median discount to NAV of 11.4%, which is significantly steeper than the 6% discount at the end of September or the 3.4% discount at which REITs began the year. Industrial and Casino REITs saw their median price/NAV fall from a premium to a discount during October. The already sizeable NAV discount of Mall REITs grew even larger during October (from -19.8% to -28.3%). Malls continue to trade at the largest median NAV discount of all property types. After falling 8.85% in September and another 21.47% in October, CatchMark Timber Trust became the first Timber REIT on the Top 10 Discounts to NAV list in 2018. Although nearly all property types saw a drop in their price to NAV, Data Centers were the only one with a double-digit decline (beginning the month at -5.9% and ending at -16.2%). Healthcare and Self-storage are the only property types that currently trade at a median premium to NAV.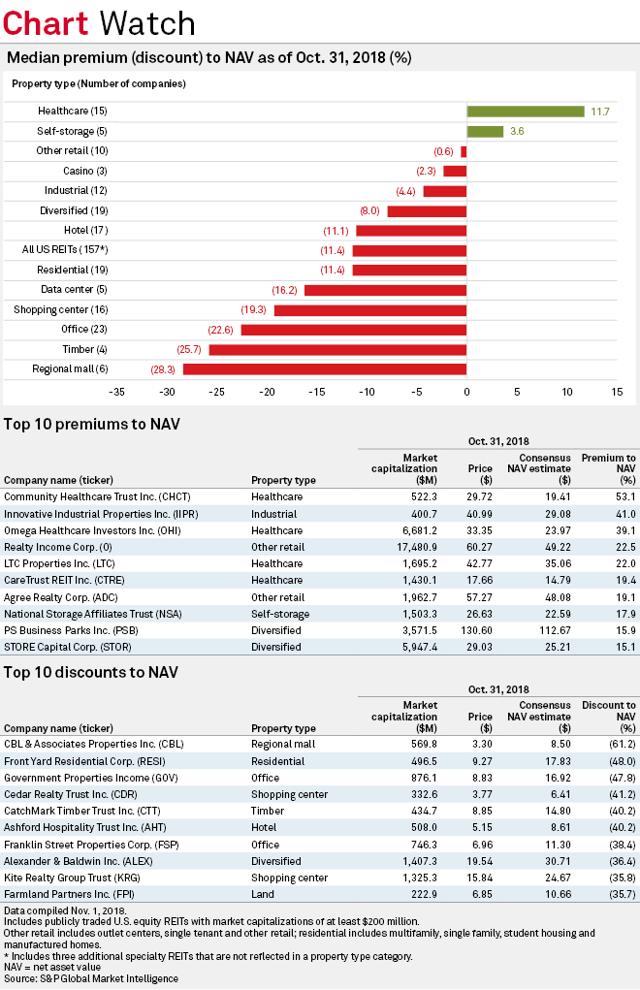 Source: SNL.com and S&P Global Market Intelligence. See important notes and disclosures at the end of this article.
Takeaway
The double-digit discount to NAV at which REITs now trade presents a great opportunity, including an attractive arbitrage. Retail and institutional investors can buy shares in strong companies at an attractive discount to their fair value. Additionally, REITs and private equity companies can now acquire deeply discounted REITs at a price below what it would cost to acquire comparable properties in the private market yet still well above the price at which the shares are currently trading. This arbitrage presents the opportunity for win-win M&A activity that is highly lucrative for both the acquirer and the shareholders of the acquisition target.
Given the growing strength of the US economy and the strong earnings reported by REITs this quarter, it is highly unlikely that the underlying fundamentals of the REIT sector will substantially decline in the near future. As a result, this is a terrific environment in which to initiate REIT investment. Over time, many REITs will likely see their share prices appreciate back toward their NAV. If a REIT's share price declines further, however, the odds of that REIT receiving a takeout offer could increase. Historically, acquisition targets have typically seen their share prices increase rapidly toward the implied per share purchase price. Investors have the opportunity to target either well-managed REITs that are temporarily trading at unjustifiably low multiples (ex: Iron Mountain (IRM) at 14.4x P/FFO vs. Data Centers 17.4x) and are likely to appreciate back toward fair value or to target deeply discounted REITs that are likely to receive takeout offers (ex: New Senior Investment Group (SNR) at 6.0x P/FFO vs. Healthcare 12.9x). A thorough analysis of REIT data and industry trends will give active investors the opportunity to outperform ETFs.
Editor's Note: This article covers one or more microcap stocks. Please be aware of the risks associated with these stocks.
This article was written by
Simon Bowler is the Chief Communications Officer at 2nd Market Capital Advisory Corporation, a Wisconsin-registered investment advisor specializing in the analysis and trading of real estate securities. Simon and his team are fiduciaries with over 50 years of collective experience as professional REIT analysts and asset managers.
They lead the investing group
Portfolio Income Solutions
where they convey REIT investment ideas through access to their actively managed portfolio, continuously updated spreadsheets, and extensive analysis. Stock selections in Portfolio Income Solutions utilizes discount to fair value, price dislocations, and arbitrages to achieve enhanced return potential.
Learn more
.
Analyst's Disclosure: I am/we are long IRM & SNR. I wrote this article myself, and it expresses my own opinions. I am not receiving compensation for it (other than from Seeking Alpha). I have no business relationship with any company whose stock is mentioned in this article.

2nd Market Capital and its affiliated accounts are long IRM and SNR. I am personally long IRM. This article is provided for informational purposes only. It is not a recommendation to buy or sell any security and is strictly the opinion of the writer. Information contained in this article is impersonal and not tailored to the investment needs of any particular person. It does not constitute a recommendation that any particular security or strategy is suitable for a specific person. Investing in publicly held securities is speculative and involves risk, including the possible loss of principal. The reader must determine whether any investment is suitable and accepts responsibility for their investment decisions. Simon Bowler is an investment advisor representative of 2MCAC, a Wisconsin registered investment advisor. Positive comments made by others should not be construed as an endorsement of the writer's abilities as an investment advisor representative. Commentary may contain forward looking statements which are by definition uncertain. Actual results may differ materially from our forecasts or estimations, and 2MCAC and its affiliates cannot be held liable for the use of and reliance upon the opinions, estimates, forecasts and findings in this article. Although the statements of fact and data in this report have been obtained from sources believed to be reliable, 2MCAC does not guarantee their accuracy and assumes no liability or responsibility for any omissions/errors.
Seeking Alpha's Disclosure: Past performance is no guarantee of future results. No recommendation or advice is being given as to whether any investment is suitable for a particular investor. Any views or opinions expressed above may not reflect those of Seeking Alpha as a whole. Seeking Alpha is not a licensed securities dealer, broker or US investment adviser or investment bank. Our analysts are third party authors that include both professional investors and individual investors who may not be licensed or certified by any institute or regulatory body.