Three of my last four articles have been out of the norm for me. I return in this piece to what might be considered my bread and butter: A Due Diligence Dive.
There are a number of perspectives I considered that have not been discussed in the many SA articles I perused during my research. While I provide the action I will take after weighing these Bull/Bear arguments, I trust I will have given you additional information with which to make your own investment decision.
The Bear Roars
FedEx (FDX) has a free cash flow problem, and it has been growing progressively worse. Aside from the obvious concerns that negative FCF brings, the continual deficit has resulted in the company using debt to fund share buybacks and dividend payouts. Take a look at the two charts below.
| | | | | | | |
| --- | --- | --- | --- | --- | --- | --- |
| | 2018 | 2017 | 2016 | 2015 | 2014 | 2013 |
| Cash from ops | $4.67 | $4.93 | $5.7 | $5.36 | $4.26 | $4.69 |
| Capex | $5.6 | $5.1 | $4.8 | $4.34 | $3.53 | $3.38 |
| Free cash flow | ($0.93) | ($0.20) | $0.90 | $1.02 | $0.73 | $1.31 |
$'s in billions
FDX's fiscal year ends on 5/31 every year
Source: Annual report, 10-K
(Via SA contributor Brian Gilmartin CFA)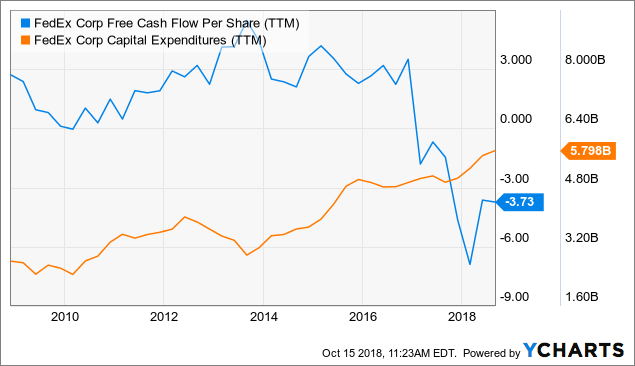 (Via SA contributor Discount Fountain)
As my thesis progresses, you will find that I am not particularly concerned about FCF at this juncture. While I hope to provide data that might assuage your concerns, for greater insight regarding this problem, I refer you to a recent article by SA contributor Julian Lin.
Debt Has Increased Markedly
The company's debt levels have more than tripled in the past five years to $16.5 billion today (it should be noted that roughly $15.2 billion is long-term debt). Meanwhile, FedEx's cash stash has dropped by nearly 20%, from $4.0 billion at the end of FY18 to $3.3 billion at the end of FY19.
FedEx's credit ratings from Standard & Poor's and Moody's are BBB/Baa2. These ratings represent the lower end of investment level debt.
While discussing debt, I should add that FedEx has a reasonable pension funding level of 89.5%, an improvement over last year's funding level of 82.8%.
The Trade War With China
FedEx management stated that recently imposed tariffs have cost the company 10% of its business in China. It should be noted, however, that China only provides about 2% of the company's revenues. As this article progresses, I will make the argument that a second front opened by the current administration on Chinese trade could result in a significant net positive for FedEx.
Increased Fuel Costs Depress Profits
A search on this topic reveals numerous headlines from years past in which subpar quarterly results are explained, in part, by increased fuel costs. An investor with an ear to the ground in the oil sector should weigh projected changes in oil prices when considering an investment in FedEx.
It is important to note that the company has a fuel surcharge which ranges from 4.75 to 8.5 percent of the total cost of a shipment. Of interest is that negative and/or positive revenue fluctuations lag the actual changes in fuel costs by two months, so be aware of this when weighing quarterly results.
FedEx Has An Aging Air Fleet
FedEx's fleet has an average age of 22 years. Considering it boasts the ninth largest fleet in the world, replacing those aging aircraft represents a huge future capex cost.
Where does FedEx rate in relation to commercial airlines? Take a look at the stats below.
At first glance, these comparisons are daunting; however, I dug a bit deeper. For example, the US Air Force's fighter fleet's aircraft are an average of 27 years old.
Furthermore, older Air Force aircraft have a higher readiness rate. The B-52s, which have an average age of fifty-two years, have a readiness rate of 72 percent. In contrast, the much newer F-22s and CV-22s have readiness rates of 67 and 56 percent, respectively.
As I continued my quest, I discovered that Delta embraces the practice of selectively investing in older aircraft rather than increasing capex for newer models. It seems that there are those that believe maintenance costs for older aircraft are a better investment than shelling out enormous sums to update a fleet.
There is data that supports this strategy. A recent study by RAND supports that position well, indicating newer aircraft actually require as much or more maintenance as older models. While this seems counterintuitive, the data is convincing.
The Amazon Effect
I will readily admit that I tire of writing about the "Amazon Effect." It is ironic that I have never held Amazon (NASDAQ:AMZN) shares, yet I have profited greatly through stocks that have been "affected."
Want proof? Roughly a year ago, I wrote three articles in rapid succession concerning companies that were considered endangered by Amazon's entry into their space.
I doubled my investment in W.W. Grainger (GWW) when Amazon failed to disrupt that enterprise, (yes, I sold at the top). I more than doubled the S&P's gain with my Walgreens (WBA) shares, and I've experienced about a 50% gain with Kroger (KR).
Remember how Amazon was going to take over the prescription drug industry while simultaneously decimating Kroger, Walmart (WMT) and a dozen or so other grocers by purchasing Whole Foods?
I'm not belittling those that are invested in Amazon. I'm stating that Amazon can't crush every industry represented in the S&P 500 simultaneously.
Consider this, Deutsche Post DHL Group (DHL) is the world's largest postal service and international courier service company. Following enormous investments, DHL's US operations lost nearly $1 billion in 2007 alone. After a decade of working to establish a US domestic express delivery service, the company conceded defeat. Has a DHL delivery driver been at your doorstep recently?
Recall the fact that FedEx has the ninth largest air fleet in the world? FedEx currently owns well over 400 aircraft and leases hundreds more. Amazon? That company has a fleet of 29 recently purchased aircraft with an average age of 24.1 years.
To replicate FedEx's global reach, Amazon would have to be capable of reaching 92% of global GDP in 1-2 business days. Amazon would need to invest in nearly 700 aircraft, 180,000 motorized vehicles and be capable of delivering 14 million shipments per day.
Just as Amazon can't topple Kroger or Walgreens without spending many billions in capex and many years of effort, Amazon can't destroy FedEx.
Of course, one must consider the possible loss of Amazon as a customer. FedEx's largest client constitutes 3% of sales, and Amazon isn't that customer.
A Bull's Eye View
Take a look at the two charts below. They answer the question, "What have you done for me lately?"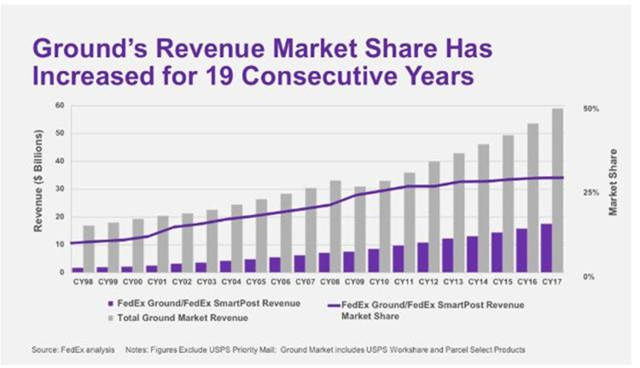 (Chart: 2018 Roadshow Presentation)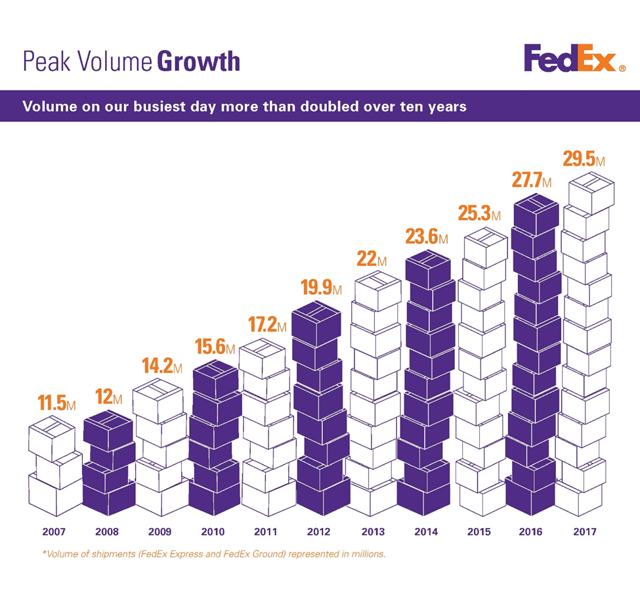 The above are graphic illustrations of the dynamic, growing nature of FedEx's business.
Recent Initiatives
The company has teamed with Walgreens, Kroger, Walmart, and others to allow customers to pick up and drop off prelabeled packages at retail stores. This means 80% of Americans are now within nine minutes of a FedEx hold location.
FedEx recently expanded US ground operations to six days a week. I believe this initiative will improve FedEx's competitive position in the e-commerce market while resulting in minimal additional capex.
Tax Benefits
Changes in corporate tax rates resulted in an estimated $1.1 billion in savings.
TNT Acquisition Costs Are Rapidly Waning
In 2016 FedEx acquired TNT Express, a Dutch delivery services company. Unfortunately, a massive cyber-attack on TNT's IT system resulted in $300 million in unanticipated costs to FedEx.
Integration expenses of $470 million in 2018 are projected to total $450 million in 2019 and should decline to $200 million in 2020. Due in part to TNT, FedEx anticipates an operating income improvement of $1.2 to $1.5 billion in 2020, compared to the current fiscal year.
An Insider Made The Largest Purchase Since 2012
Tricia Griffith, named a director of the logistics company in March, purchased 1,000 FedEx shares for $225.16 each through a living trust on Oct. 17. Totaling $225,156, it marks the largest stock purchase by a FedEx insider on the open market since August 2012.
E-commerce Will Boost FedEx Growth
The chart below represents the anticipated growth trajectory of e-commerce through 2022.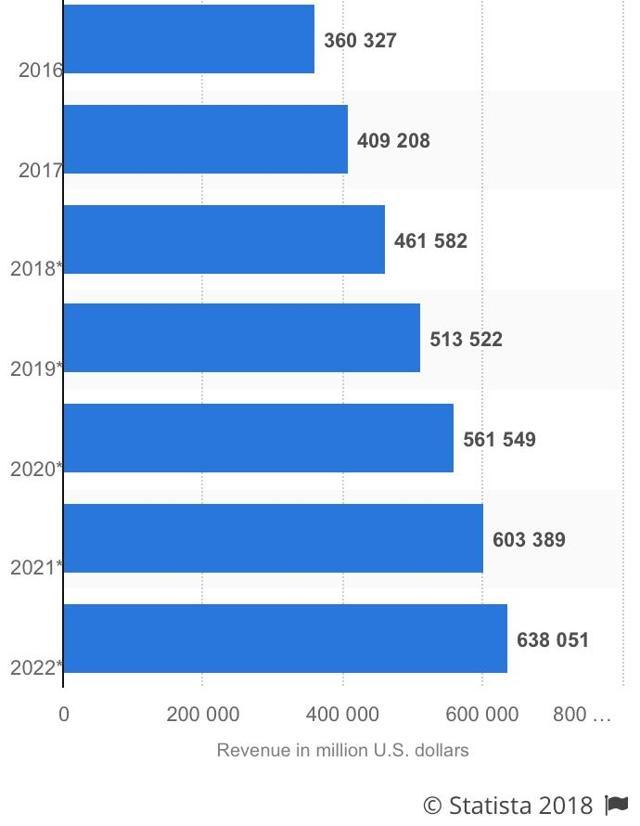 FedEx is well positioned to benefit from the marked growth in e-commerce. The company currently ranks as the second largest fulfillment company, behind Amazon. Additionally, the FedEx provides services to many of the largest e-commerce fulfillment companies in the US. For example, Red Stag, the fifth largest fulfillment service company relies largely on FedEx for delivery of oversized and heavy products.
Speaking Of E-commerce
The Trump administration recently announced the prospective withdrawal of the US from the Universal Postal Union (UPU), an international organization connecting global postal services. Trump's pronouncements on the topic indicate he believes the US is subsidizing Chinese e-commerce by providing postal rates below that offered to US companies.
Sixty percent of the lightweight packages covered by the UPU are low-cost items from Chinese companies. In many cases, returning the items to China (those costs are not borne by UPU) results in a fee that is greater than the cost of the merchandise.
For example, an item weighing one pound that is shipped from China to the Midwest would cost less than $2. To ship a package of equal weight from Miami to Cincinnati cost $6.70.
Of importance to our analysis is that FedEx and United Parcel Service (UPS) are not eligible for the profit-sharing terminal fees that USPS receives through the UPU.
Consequently, both companies have been unable to compete in the last-mile shipping market. Should the administration move ahead with the proposed changes in the UPU, this could provide a lucrative opening for both companies. Furthermore, this would likely increase fulfillment orders in the US as it will result in an increase in business for small US-based e-commerce companies.
Moat And Management
FedEx possesses a reasonable moat based on network effect, cost advantages, and efficient scale. The company boasts a solid management team. For example, FedEx acquired TNT after the Euro weakened considerably and at a price significantly lower than UPS had offered in its aborted attempt to acquire the same company a year earlier.
Valuation
Argus, CFRA and Morningstar have a fair value for FedEx of $290, $260.51, and $260, respectively.
Credit Suisse and Barclays have target prices on the shares at $307 and $310, respectively.
My personal assessment determined the company trades at a deep discount when comparing price/book and price/sales and a reasonable discount when considering price to projected earnings and price/cash flow.
FedEx has a PEG of 1.52 and a forward PE of 13.18 versus the current PE of 19.54.
Dividend Metrics
The company has a current yield of 1.13%. The payout ratio is less than 16%, while the dividend coverage ratio is roughly 630%.
The dividend is safe, and I believe it will grow at a high rate for the foreseeable future. The three-year growth rate is nearly 34%, and the ten-year growth rate is nearly 20%.
Where Do I Stand On A FedEx Investment?
A perusal of my bear arguments indicates I believe FedEx headwinds are manageable. I consider the company a buy for the following reasons.
I believe the company will benefit greatly by the expansion of e-commerce.
The company has a solid management team and possesses a durable moat.
FedEx operates as a duopoly in the US and as an oligopoly on the international level.
Although the current yield is lower than I prefer, I believe the company is a strong dividend growth candidate.
The company is valued at a level that provides a margin of safety.
With the above in mind, I made an initial investment on 11/05/18 for $223.24 per share. I also intend to sell puts for FDX at a strike price yet to be determined
Why FedEx Over UPS?
I believe FedEx shares offer a significantly better valuation than UPS stock. I see the fulfillment aspect of the businesses as the primary mover of shares moving forward. Considering FedEx is the number two fulfillment business, while UPS ranks seventh, I believe the former company can take better advantage of upcoming developments in that space.
While UPS offers a better yield, that company's payout ratio is much higher. I project similar yields on current cost basis in approximately five years.
One Last Word
If you found this article of value, I ask that you follow me by clicking "follow" at the top of the page, across from my picture. I would also greatly appreciate it if you clicked "like this article" at the end of this article. I wish you the best of luck in your investments.
Disclosure: I am/we are long FDX. I wrote this article myself, and it expresses my own opinions. I am not receiving compensation for it (other than from Seeking Alpha). I have no business relationship with any company whose stock is mentioned in this article.
Additional disclosure: I AM A RETAIL INVESTOR AND HAVE NO FORMAL TRAINING AS AN INVESTMENT ADVISOR. THIS RESEARCH IS FOR INFORMATIONAL AND EDUCATIONAL PURPOSES ONLY. NOTHING CONTAINED HEREIN SHALL CONSTITUTE A SOLICITATION, RECOMMENDATION OR ENDORSEMENT TO BUY OR SELL ANY SECURITY OR OTHER FINANCIAL INSTRUMENT.