After the initial Amarin (NASDAQ:AMRN) REDUCE-IT study results were published last month, I wrote an article suggesting that the company could be a buyout target for as much as $45 per share. However, in that article, I noted that I was taking the company's preliminary trial results at face value and that an important caveat remained with the release of the company's full clinical trial results, which took place over this past weekend.
Since the publishing of that article, Amarin stock has moved from about $14 per share to about $22 per share, appreciating about 61% in value as the market began to realize the potential for the drug, should there have been no questions about it. However, after reviewing the company's full trial data this afternoon, it leads me to believe more that the market may discount the share price from here and less that the company is a potential merger and acquisition target.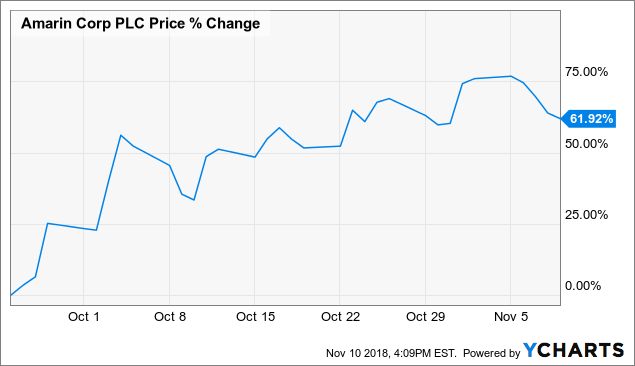 I want to preface this by saying that I'm not an expert in biotechnology, and I read people like Matthew Herper and Adam Feuerstein on a regular basis to try and mash together the worlds of investing and biotechnology. Matthew Herper was one of the first to release a write-up regarding the company's full trial results published on Saturday in this article that he wrote for Forbes. As part of his due diligence, he consulted with six cardiologists to get an opinion on the data released by the company. Five of these cardiologists apparently had serious concerns with the company's mineral oil placebo - namely that the effects of mineral oil may have inadvertently skewed the way the data for Vascepa was presented. In a similar trial, the article notes, AstraZeneca chose to use corn oil, not mineral oil, as a placebo.
"It is a potential factor for driving the results that may result in an exaggeration of the benefits compared to what would be seen if there was a [true] placebo," said Steven Nissen, chairman of cardiology at the Cleveland Clinic, in the Forbes article.
"This has caught most of us by surprise," said Harlan Krumholz, the Harold H. Hines, Jr. Professor of Medicine at Yale University, in the Forbes article.
What does this mean to people that aren't biotechnology experts? It means that the placebo, which is supposed to be inert and do nothing, may not have been inert in this case. In his article, Herper asks:
But what serious bothered five of the six cardiologists I spoke to was that the mineral oil had not behaved as a placebo at all. In other studies of cardiovascular drugs, blood test results on placebo do not budge. That's not what happened here. Patients who received mineral oil saw their levels of low-density lipoprotein, the bad cholesterol, increase 10% to 84 milligrams per deciliter, 6% more than in the Vascepa group, according to the New England Journal of Medicine paper. What's more, other blood test results used by cardiologists also went in the wrong direction.

These changes were included in a supplement to the scientific paper, but not in the study itself. Levels of c-reactive protein, a measure of inflammation that is used to help calculate heart risk by some doctors, increased from 2.1 milligrams per liter to 2.8 milligrams per liter, a 30% increase. Could the placebo be causing some heart problems or strokes, making Vascepa look better than it really is?
While it remains to be seen what comes as a result of this additional data, the initial suggestion of having to potentially examine Vascepa in a new trial with a different placebo casts doubtful cloud on top of what appeared to be an extremely bright future for the drug.
Given that the investing world had started to price Amarin in a fashion that considered a multibillion dollar total addressable market for the drug, there is a significant chance that the market discounts this looming caveat over the coming week. In other words, the stock was priced closed to perfection heading into this data release, and the data was less than perfect. From here, AMRN may become more of a speculative bet as biotechnology experts try to determine whether or not the drug is going to hit any roadblocks with the FDA or with potential pharmaceutical partners. Certainly, this may cast a shadow on the company as a target for a potential buyer, which was a scenario that I thought was not only likely, but inevitable, had Saturday's data raised no additional questions. A month ago, I noted that these caveats could be binary in nature:
There is still more than a month before the company is expected to report these results, making it a crucial piece of information that still needs to be decided on by the market. That doesn't mean I don't believe the stock will run in its absence, as I do believe it's a possibility that the stock could value the company over $5 billion while we wait for this additional information. However, from there, shareholders and potential investors should be aware that I believe this to be a binary style piece of information that could single-handedly make or break a case for a serious company buyout.
As investors, the potential negatives to this newly discovered caveat needs to be considered seriously and discounted appropriately. I currently have no position, but that was only as luck would have it - I had options expiring last week that I had planned to roll out prior to the data, but forgot to. Sometimes, it's better to be lucky than smart.
Disclosure: I/we have no positions in any stocks mentioned, and no plans to initiate any positions within the next 72 hours. I wrote this article myself, and it expresses my own opinions. I am not receiving compensation for it (other than from Seeking Alpha). I have no business relationship with any company whose stock is mentioned in this article.