"A 60:40 allocation to passive long-only equities and bonds has been a great proposition for the last 35 years …We are profoundly worried that this could be a risky allocation over the next 10."
Sanford C. Bernstein & Company Analysts (January 2017)
"Bull markets are born on pessimism, grow on skepticism, mature on optimism, and die on euphoria"
Sir John Templeton
"Life and investing are long ballgames."
Julian Robertson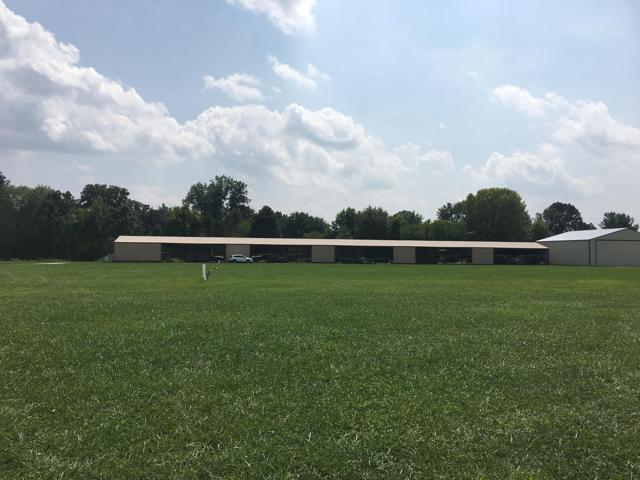 (Author's Photo)
Introduction
Quick question, when you first get on Seeking Alpha, or any investment site for that matter, what are the types of articles that you see? For your answer, think in your head, and please use the comments section below this article to respond.
Personally, as an investor and speculator with over 25 years of active trading experience, I am surprised by the repeated and prevalent nature of four investment strategies/categories.
For purposes of this article and discussion, I am going to use the terms trend following traders, ETF traders, buy-and-hold forever investors, including passive investors and dividend growth investors.
Conspicuously absent is a focus on traditional value investing, in my opinion, and I will show why this is the case.
What does this mean?
Out outcome is that the crowded trades could unwind. On this note, look around if you are in a too popular investment. Chances are that if everyone agrees with you, that is the case.
Investment Thesis
Investors have crowded into the winning strategies of the past decade, inevitably overcrowding the room, ignoring value investing, and creating the potential for a series of messy exits.
Trend Following Traders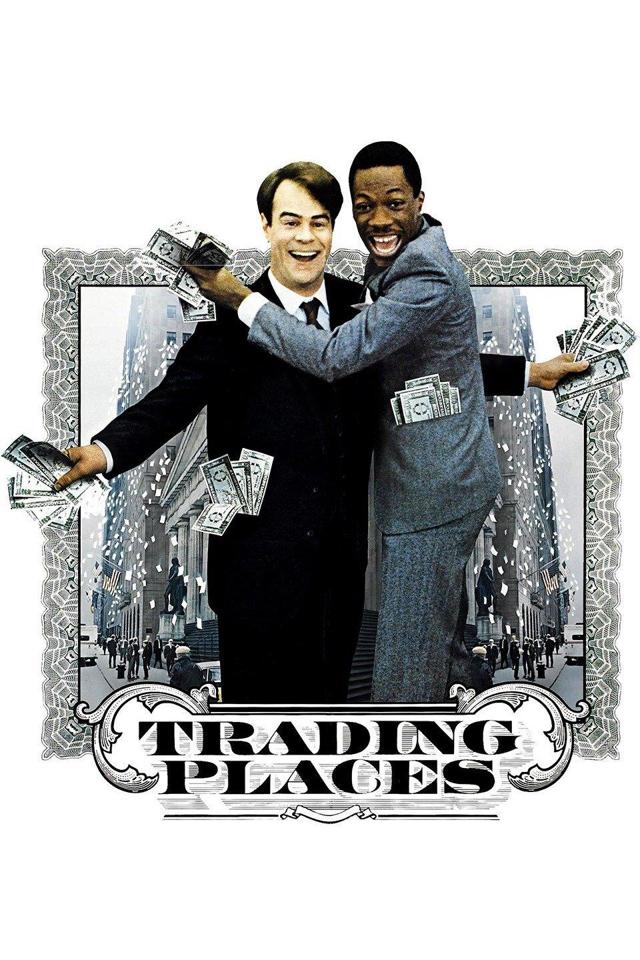 This broader category really encompasses two separate sub-classes.
First, are the trend following traders from the famous Turtle Trading lineage (read the link for a fascinating background), the premise of which sounds like the script for Trading Places, specifically that anyone can be taught to trade using a fixed set of rules.
Ironically, 1983 is the year that both commodity traders Richard Dennis and William Eckhardt held the turtle experiment, and Trading Places premiered, so this was clearly an active topic of discussion during this time-frame.
Back to the topic at hand, the following excerpt from Investopedia's linked page listed above is a good mental exercise and good summary of the thought process behind the trend following philosophy.
Finding the Turtles To settle the bet, Dennis placed an ad in The Wall Street Journal and thousands applied to learn trading at the feet of widely acknowledged masters in the world of commodity trading. Only 14 traders would make it through the first "Turtle" program. No one knows the exact criteria Dennis used, but the process included a series of true-or-false questions; a few of which you can find below:

The big money in trading is made when one can get long at lows after a big downtrend? It is not helpful to watch every quote in the markets one trades? Others' opinions of the market are good to follow? If one has $10,000 to risk, one ought to risk $2,500 on every trade? On initiation one should know precisely where to liquidate if a loss occurs?

For the record, according to the Turtle method, 1 and 3 are false; 2, 4, and 5 are true. (For more on turtle trading, see Trading Systems: Run With The Herd Or Be The Lone Wolf?)
Trend following investment strategies have clearly been successful, with clear takeaways for almost all investors and speculators, and they have clearly been adopted by many traders.
However, given the widespread adoption of trend following strategies, including the proliferation of computer algorithmic application of these strategies, which is the second sub-sector, could trend following be a crowded strategy?
If so, what is the impact?
Perhaps it could be a historically, systematically overvalued market, with a few notable pockets of exception, that would never have reached the heights it did without the prevalence and wide-spread adoption of trend followers?
Perhaps the result of too many trend followers is higher bouts of volatility, such as the two 10% corrections in the S&P 500 Index, as measured by the SPDR S&P 500 ETF (SPY) this year, that ultimately lack the historical significance of past corrections, simply because these are crowded trades being unwound?
Said another way, perhaps there are so many trend followers today, that this creates a sideways market, with concentrated near-term volatility, that constantly whipsaws trend following traders.
Summarizing, I think there is a case to be made that the market price action, including heightened volatility this year and systematic overvaluation in the past decade, is a direct symptom of too many trend followers.
Time will tell, but this is something to monitor, from my perspective, as if any of these observations are true, the reversal, whenever it happens, will have enormous price consequences, as trend following engages in the reverse price direction.
ETF Traders
If you want oil exposure, what is your first thought?
Do you think you should find an undervalued oil company, maybe a large-cap like Exxon Mobil (XOM), Chevron (CVX), Schlumberger (SLB), maybe an undervalued independent producer like Occidental Petroleum (OXY), or Devon Energy (DVN), maybe a driller like Transocean (RIG) or Diamond Offshore (DO), or perhaps an undervalued, out-of-favor company like Chesapeake Energy (CHK), which I recently profiled?
Or do you gravitate to an energy ETF like the Energy Select SPDR Fund (XLE), the SPDR S&P Oil & Gas Exploration ETF (XOP), or the VanEck Vectors Oil Services ETF (OIH)?
Even more relevant to the discussion are funds like the United States Oil Fund (USO) or the United States Natural Gas Fund (UNG), which offer direct, often short-term, exposure to oil and natural gas.
The problem with ETF trading, from my vantage point, is not the instrument, though there are certainly some very dangerous ETFs, as we found out earlier this year, with the ProShares Short VIX Short-Term Futures ETF (SVXY). Rather, is the holding period of these aforementioned ETFs, in my opinion, as many investors have used ETFs to over trade. Personally, I can tell you from experience, the most costly mistakes I have ever made, have been not buying and holding the significantly undervalued investments that I have been able to successfully identify, inclusive of my own significant mistakes in identifying value investments.
Thus, the problem with ETF traders, from this market historian's perspective, is that they over trade, and trading is hard by its nature. On this note, really there is a small percentage of investors and speculators that can trade actively successfully, so the ETF over-trading is benefiting someone else other than the investor, the brokers like Schwab (SCHW), E-Trade Financial (ETFC), or TD Ameritrade (TD), the high frequency traders or other middlemen, really anyone but the retail investor.
Buy-And-Hold Forever Investors, Including Passive Investors
On the opposite side of the spectrum of the active ETF traders, are the buy-and-hold forever investors, including the passive investors.
The strategy of buying-and-holding forever has some very attractive qualities, as I have detailed previously.
However, the problem today is not the strategy, but in its application, from my perspective as a market historian, specifically the buy-and-hold strategies employed by FAANG investors, and older passive investors, who are closer to drawing down their passive investments.
Specific to the first concern, we have a whole generation of investors who have only know a bull market in the popular growth equities, notably the seemingly invincible, particularly if you have only been investing the last decade, FAANG equities.
The fact is that Facebook (FB), Amazon (AMZN), Apple (AAPL), Netflix (NFLX), Alphabet (GOOGL), and their cohorts like NVIDIA (NVDA), Tesla (TSLA), Salesforce.com (CRM), Microsoft (MSFT), Intel (INTC), and the list goes on, have had a fantastic decade of returns carried by the rising tide of U.S. growth equities.
However, the same statement could be said in 1999 for many technology companies, and even the best of these companies struggled for the next 15 years or so to get back to where they were at their prior peaks.
Specific to the second concern, meaning older passive index investors, have I shown this chart before?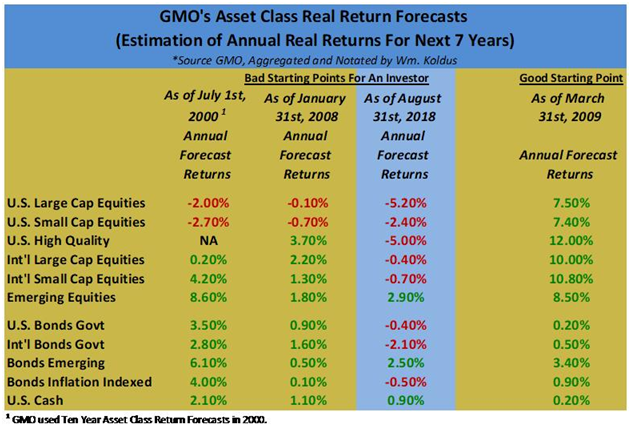 (Source: WTK & GMO)
For a background, read this previously published article.
Long story short, it is not a good time to be an index investor, at least from my perspective, as U.S. equity and bond valuations remain historically stretched.
DGI Investors
Unquestionably, the most prevalent category on Seeking Alpha, and probably on the internet, is dividend growth investing.
This is natural, as dividend growth strategies have outperformed the past two decades, encompassing two dramatic stock market draw-downs.
In fact, after the 2007-2009 U.S. stock market meltdown, the U.S. Federal Reserve, and other central banks actively provided incentive for investors to rotate out of short-term fixed-income investments to chase yield, which directly benefited dividend growth equities, by holding short-term interest rates at the zero bound level for a record amount of time.
Of course, DGI stalwarts today should note that the Fed is reversing course, removing the incentives to be out of short-term cash-like investments.
Dividend growth investors come in many flavors, including those that invest in Dividend Champions, or Dividend Aristocrats, which include companies like 3M (MMM), AT&T (T), Coca-Cola (KO), Colgate Palmolive (CG), Johnson & Johnson (JNJ), Procter & Gamble (PG), and Walmart (WMT), all of whom have raised their dividends for 25+ consecutive years, and those that invest in popular real estate securities that have a history of raising their dividends, like Realty Income (O) or Simon Property Group (SPG).
Whatever the specific flavor of dividend growth investing, the problem is that dividend growth investing, because of its performance and popularity, has created an extremely excessively valued group of companies, as companies and investors alike are provided unnatural incentives to increase dividends at all costs.
The end result is that when dividend favorites have a dividend cut like we have seen in recent years with Kinder Morgan (KMI), still the largest natural gas pipeline operator in the United States, the equity exodus of dividend growth investors is unmistakable looking at a long-term chart.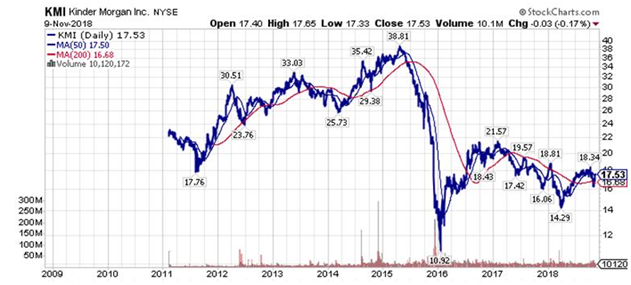 (Source: Author, StockCharts.com)
Looking at the chart above, you tell me when Kinder Morgan cut its dividend?
Want another example?
Look at the long-term chart of General Electric (GE).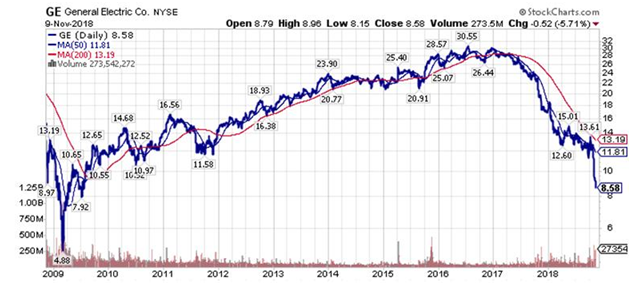 (Source: Author, StockCharts.com)
Take a guess when dividend growth stopped at GE?
If the collapse could happen in KMI shares, which again was the largest pipeline owner and operator in the United States, or if the collapse could happen in GE shares, which was not that long ago the largest market capitalization company in the United States, what makes you think your favorite dividend growth company is safe?
Really, looking at the charts above, the difference in KMI shares from their prior peak is only sentiment, as KMI is a stronger business today, from my perspective, than when they cut their dividend.
GE is a more complicated story, in my opinion, but at its root, the decline in GE shares is about a stock going from in-favor to out-of-favor, and the above examples show that it can happen to the biggest, and (formerly) best companies.
Takeaway
It is no secret that there have been distinct in-favor investment strategies today, and value investing has distinctly been out-of-favor. Graphs like the following illustrate this point eloquently, and succinctly.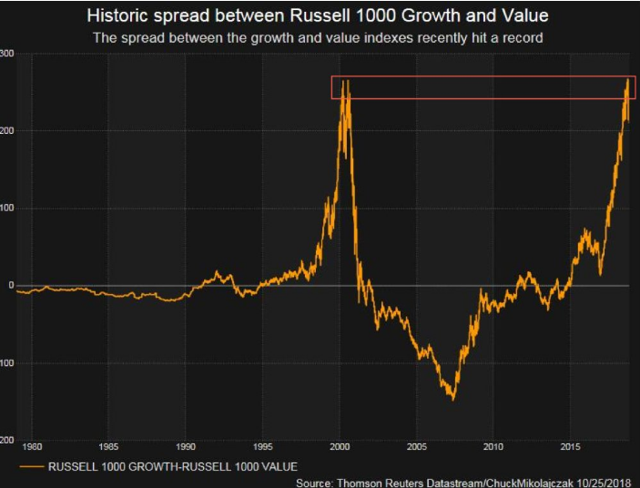 (Source: Thomson Reuters/Chuck Mikolajczak)
Interestingly, the chart above makes the comparison to 1999 again, and the parallels are unmistakable for those with an objective eye.
The aftermath of the current extremes, specifically the crowded trades and investment strategies discussed in this article, is that there is going to be an epic reversion to what has been out-of-favor, and that is value investing.
Thus, while finding and identifying value investments that will compound capital today over time is extremely difficult, as they are concentrated in one out-of-favor sector, at least from my perspective, and are perpetually held to the mat, as capital flows go to where they have been treated best recently, and over the past decade, the pendulum will eventually swing the other way, and when it does, much like the past extreme in 1999/2000, the move will be spectacular.
Ultimately, when the dam breaks, we will exit the current era of crowded investment strategies, and enter a golden age for active investors.
Disclaimer: Every investor's situation is different. Positions can change at any time without warning. Please do your own due diligence and consult with your financial advisor, if you have one, before making any investment decisions. The author is not acting in an investment adviser capacity. The author's opinions expressed herein address only select aspects of potential investment in securities of the companies mentioned and cannot be a substitute for comprehensive investment analysis. The author recommends that potential and existing investors conduct thorough investment research of their own, including detailed review of the companies' SEC filings. Any opinions or estimates constitute the author's best judgment as of the date of publication and are subject to change without notice.
For further perspective on how the investment landscape is changing, and for help in finding under-priced, out-of-favor equities with significant appreciation potential relative to the broader market, consider joining a unique community of contrarian, value investors that has thrived in 2016 and weathered the storm in 2017 to become closer as a collaborative team of battle-tested analysts. Collectively, we make up "The Contrarian," my premium research service.
Disclosure: I am/we are long CHK, AND SHORT SPY AS A MARKET HEDGE. I wrote this article myself, and it expresses my own opinions. I am not receiving compensation for it (other than from Seeking Alpha). I have no business relationship with any company whose stock is mentioned in this article.