Gold bulls have recently been given several "gifts" lately in the form of bullish supporting developments for the yellow metal. Yet the metal has so far been unable to benefit from any of them, instead falling victim to a recent surge in the dollar's value. In today's report, we'll discuss the continued problem of gold's currency component, which is preventing the bulls from consolidating their control over gold's short-term trend. We'll also focus on what this could mean for gold's intermediate-term (3-9 month) prospects.
Late last week, gold investors received a three-fold gift in the form of a synchronized global equity market decline, which normally would have increased safe-haven demand for the metal. Meanwhile, on Thursday, the U.S. Federal Reserve kept its benchmark interest rate unchanged - another positive factor for gold since higher rates can undermine gold demand. Gold bulls also had in their favor the outcome of the U.S. midterm elections which saw the Democrats regain control of the House of Representatives. Prior to the election, many gold analysts believed that if the Democrats won the House, it would favor a weaker dollar and therefore, a higher gold price.
Those weren't the only things gold has had in its favor last week, however. Long-time readers of this report will recall my previous discussions of what I refer to as gold's Five Factors which have historically ensured a strong performance of the metal's price. To reiterate, the technical factors which tend to support an extended gold rally are:
The gold price being above its rising 15-day moving average.
Silver's price confirming gold by doing the same.
Gold showing relative strength vs. the S&P 500 Index.
A strengthening crude oil price.
A weak U.S. dollar index.
It takes a clear majority of those five factors to be in sync in order for gold to really have a strong performance. Four out of five, or five out of five, is preferable. Three supporting factors out of five are acceptable in a gold bull market, but it's of questionable reliability in a bear market. The first three of those five factors have lined up in support of the bullion's price in recent weeks, but that's not good enough in a bear market (which gold has been in for some time). The end result is that despite all the positive political and technical developments in gold's favor recently, gold is still subject to the dominant influence of the dollar. And the dollar's strength is sucking the air out of the inflation bellwethers like oil and gold.
The last two factors in the above list are the main reasons why gold has struggled to rally. Let's look at the trend for crude oil, for instance. Keep in mind that a rising oil price is one of the single most important barometers for commodity price inflation for money managers. When fund managers and institutional investors see oil prices on the rise, they'll look for ways to extend their commitments to other assets which benefit from a weakening dollar. The most obvious of these beneficiaries is gold, which is definitely an inflation-sensitive asset.
With oil being arguably the most sensitive barometer of near-term inflationary pressures, a sustained rise in the oil price normally paves the way for a tradable rally in the gold price. The fact that the oil price had a strong rally in September undoubtedly served to benefit the gold price. In fact, the oil price did what it normally does by leading the yellow metal. Gold was late in joining the oil price rally, but it did finally follow suit in October (see gold futures chart below).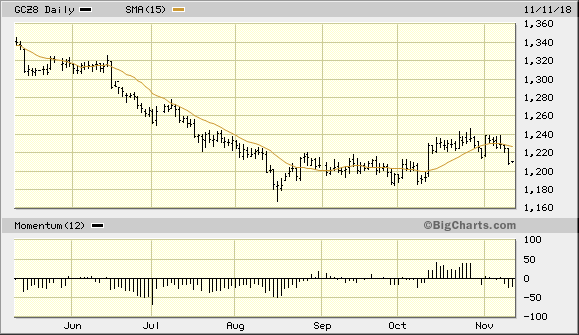 Source: BigCharts
Unfortunately, the oil rally didn't last long and succumbed to the persistent strength in the U.S. dollar index. The oil price has fallen non-stop since October, and the spillover impact on the gold price was once again delayed. Yet, as you can see in the December crude oil graph shown below, oil's recent weakness has been too great for gold to completely ignore. After last week's poor showing, spot gold prices are now down 1.6 percent for the latest week.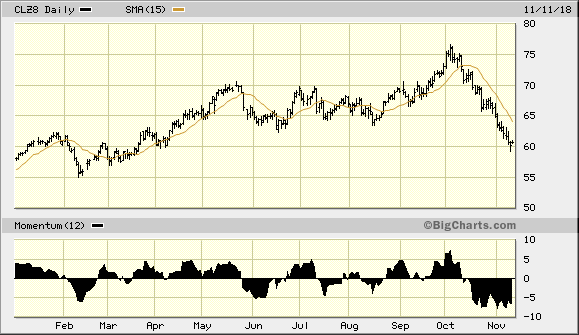 Source: BigCharts
For all of last week's developments which normally would favor higher gold prices, the market ignored them as the gold price saw its biggest drop since August. The primary culprit for gold's disappointing performance on Friday was, again, the latest rally in the U.S. dollar index (DXY). The dollar index neared a 16-month high and completely undermined the other bullish factors mentioned above. The dollar's latest rally also served to underscore my continued emphasis on gold's currency component weakness being the central reason why investors shouldn't get too excited about the metal's short-term prospects. My expectation has been for a lateral trading range to continue in the gold price in November. But even this outlook could be undermined by continued strength in the greenback.
Shown here is the Invesco DB US Dollar Index Bullish Fund (UUP), which is my favorite tracking ETF for the dollar. It demonstrates why gold has been held captive in its trading range since August despite an admirable rally attempt last month. UUP remains above its rising 15-day and 50-day moving averages, confirming that the dollar's immediate term (1-4 week) and interim trends are still rising. And as we all know from experience, a rising dollar will always create significant headwinds for gold.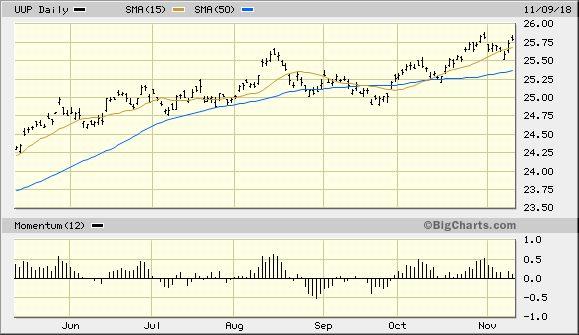 Source: BigCharts
As long as the dollar's immediate-term trend is still up, gold investors should remain on the defensive and wait before taking on significant new long positions in the yellow metal. We should see UUP drop below its 15-day and 50-day MAs to let us know that the near-term trend has turned decisive in gold's favor. As long as the dollar index and dollar ETF remain above both trend lines, the gold bulls will have a hard time making any headway.
Not all hope is lost for gold's intermediate-term outlook, however. The fact that global equities are suffering from recurring bouts of increased volatility bodes well for gold safe-haven demand. The persistent strength in the U.S. dollar is the result of global investors still treating the dollar as the safe haven du jour for parking their cash, but history shows that once the initial fear surrounding a stock market decline wears off, investors frequently turn to gold as another safety anchor during global turmoil. We've seen this pattern repeat several times in the last 10 years, including most recently in the wake of the late 2015 stock market panic. Keep in mind that at that time, the dollar was also in a relative strength position versus equities during the panic phase. By the time the panic lifted, however, the dollar weakened while gold strengthened as investors reassessed gold's safe-haven value during a time of uncertainty. I expect a similar outcome to the current global market turmoil in the coming months.
Meanwhile, the iShares Gold Trust (IAU) remains still within its recent trading range after last week's setback. IAU signaled a technical breakout in early October by closing above the pivotal $11.60 level and returning above its rising 15-day moving average. This confirmed an immediate-term buy signal for IAU based on the rules of my trading discipline. I remain long IAU despite the latest stock market surge and subsequent loss of safe-haven demand for gold. I suggest that IAU traders monitor the $11.37 level (the Aug. 23 closing low) closely from here, as this is my recommended initial stop-loss (intraday basis) for this trading position. A violation of $11.37 would put me back on the sidelines for the immediate term. My conclusion based on recent market developments is that gold and the gold ETF should at least remain above the August low if global market volatility persists.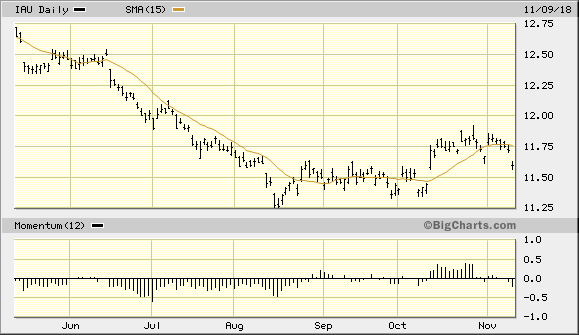 Source: BigCharts
Once global market volatility has diminished, the U.S. dollar index should weaken and gold should eventually benefit from the positive developments mentioned earlier in this report. Until that happens, though, the gold price will likely remain subdued in the immediate term. My expectation is for gold to remain in a lateral trading range in November or until the gold bulls can consolidate enough strength to force a decisive breakout above the $1,240 level in the December gold futures contract. For now, the gold ETF remains on a speculative buy for short-term-oriented traders only.
Disclosure: I am/we are long IAU.
I wrote this article myself, and it expresses my own opinions. I am not receiving compensation for it (other than from Seeking Alpha). I have no business relationship with any company whose stock is mentioned in this article.