AutoNation (AN) is one of the biggest auto retailers in the US. This makes the stock an incredibly interesting trading vehicle for one of the most cyclical consumer products imaginable: cars and trucks. The most recent third quarter earnings show that sales are down. The only thing that kept bottom line profits up is the lower tax rate. Even though the company missed big on sales, one could say that the weakness is no surprise, given the slowing consumer sentiment trend. All things considered, I think this stock is not a buy at these levels as risks are rising across the board.

Source: Autonation
Weakness Across The Board
America's largest automotive retailer reported EPS of $1.24 in its third quarter. This is in line with expectations of $1.25 and 15% higher compared to Q3 of 2017 when EPS was at $1.08. Sales on the other hand missed estimates by a wide margin as you can see in the graph below. Sales totaled $5,349 million versus expectations of $5,571 million. In other words, sales declined on a quarter-on-quarter basis while analysts expected an improvement. Sales are also down 2% on a year-on-year basis.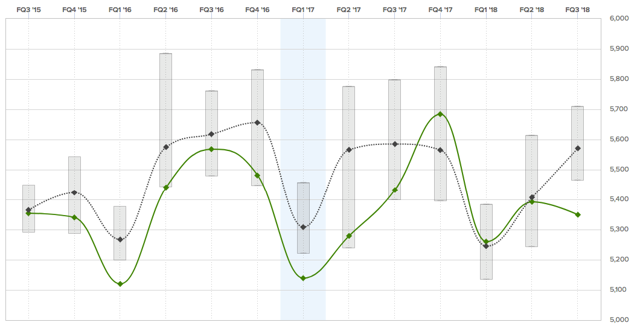 Source: Estimize
Third quarter same-store gross profit totaled $838 million compared to $824 million in Q3 of 2017. Same-store used vehicle gross profit was up 6% compared to Q3 of 2017. Used vehicle same-store retail growth came in at 3%. The divergence between used and new vehicles is something I already pointed out in an earlier article based on the current inflation trend which causes used car prices to improve.
Sales Have Peaked
That said, the current sales weakness is nothing new. Both sales and operating income did peak in 2016. Back then, we saw an economic bottom which lasted until the first quarter of this year. Auto retail completely ignored this trend. AutoNation is not the only company that is suffering from falling sales. At his point, we see that sales have not gone anywhere since 2016 while operating income is back at 2013 levels.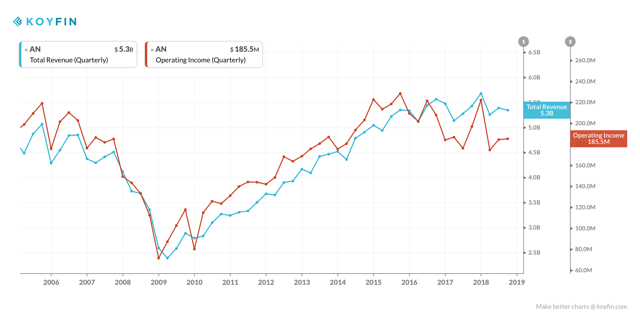 Something is hurting the company's income. One reason why income is suffering is the current inflation trend. AutoNation's SG&A expenses as a percentage of gross profit was 73.2% in the third quarter, which is a 140 basis point increase over the past 12 months. These rising costs are the result of two things. First of all, Hurricane Michael which damaged the company's Ford store in Panama City FL. The other factor is the pressure on new vehicle margins (input costs).
This was enough for the company to lower full year SG&A guidance.
Additionally, we no longer expect a flat year-over-year SG&A to gross profit for the full year 2018 due to expenses related to Hurricane Michael, pressure on new vehicle margins, and continued investment in our Customer Care Brand Extension initiatives.
Note the ugly trend of EBITDA and profit margins as the graph below shows. This is not what you want to see when analyzing an auto dealership. Note that profit margins are rising due to tax cuts.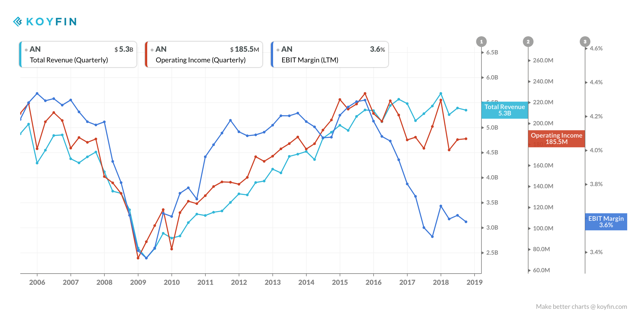 Essentially, the only thing that saved the company's bottom line is the lower income tax provision as I just mentioned (table below).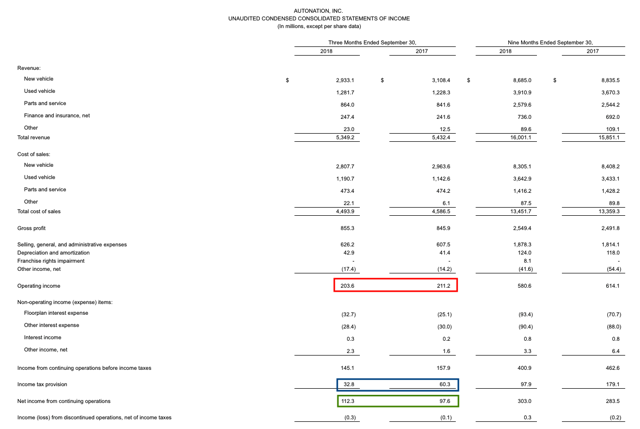 Source: AutoNation Q3/2018 Earnings Release
The third quarter effective tax rate was 22.6%. However, the company expects some headwinds in the fourth quarter due to negative adjustments including market fluctuations on certain income tax items.
It also does not help that motor vehicle and parts dealers are witnessing declining sales growth since 2016. At this point, growth is likely to go negative for the first time since the recession.

And, it's not just AutoNation. Other retail stocks are suffering as well. Note that AutoNation started to lose ground at the same time when retail stocks (XRT) started to underperform the S&P 500 (SPY) after being steady outperformers since the end of the recession.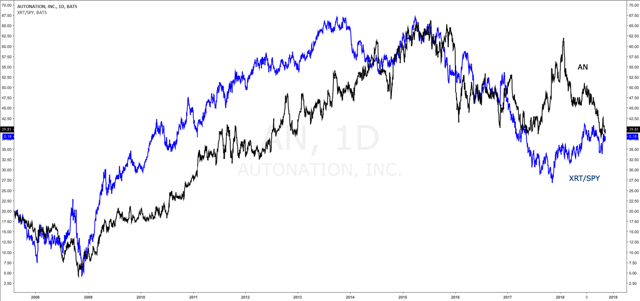 Source: TradingView
I am convinced that this is no coincidence as consumer expectations are likely going to get worse from this point on. University of Michigan consumer sentiment has lost some ground of the past few months and has almost certainly peaked close to record levels. And given the high correlation between the stock price performance of AutoNation and consumer sentiment, one has to acknowledge that we might not be out of the woods yet. It could even get worse.
Takeaway
AutoNation is a well-run auto retail company. The stock has rewarded investors with tremendous capital gains since the recession. However, the rising consumer sentiment trend seems to have ended along with general economic growth. We also see that declining sales are worsened by rising input costs and falling margins.
The stock price has gone sideways since 2017 after falling below $40 between 2015 and 2017. At this point, the stock is finding some support around $39. Even though I am not shorting the stock, I would not bet on a strong recovery from current levels. I even think the current support line might be broken over the next few weeks as the odds for a successful consumer trade are falling as sentiment keeps weakening.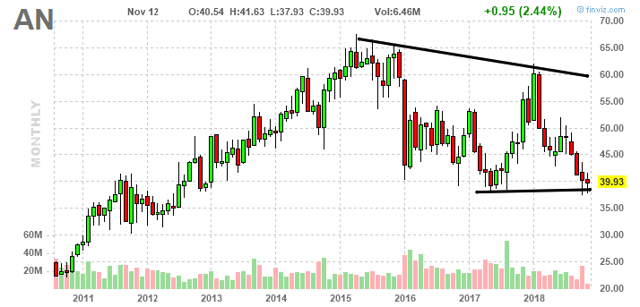 My advice is to stay away from AutoNation. We will get much better entry prices when consumer sentiment and general economic growth are gaining momentum to the upside.
I'll keep you updated!
Thank you for reading my article. Please let me know what you think of my thesis. Your input is highly appreciated!
Disclaimer: This article serves the sole purpose of adding value to the research process. Always take care of your own risk management and asset allocation.
Disclosure: I/we have no positions in any stocks mentioned, and no plans to initiate any positions within the next 72 hours. I wrote this article myself, and it expresses my own opinions. I am not receiving compensation for it (other than from Seeking Alpha). I have no business relationship with any company whose stock is mentioned in this article.