Southwest Airlines' (LUV) stock hasn't been having a good fourth quarter. Among its U.S.-based, low-cost peer group, LUV is the only name to have suffered a double-digit decline since the start of October. At the core of the underperformance seems to be a 3Q18 all-around beat reported on October 25 that was ill-received by investors.
But do the company's recent results and outlook properly justify the 15% share price drop observed over the past six weeks?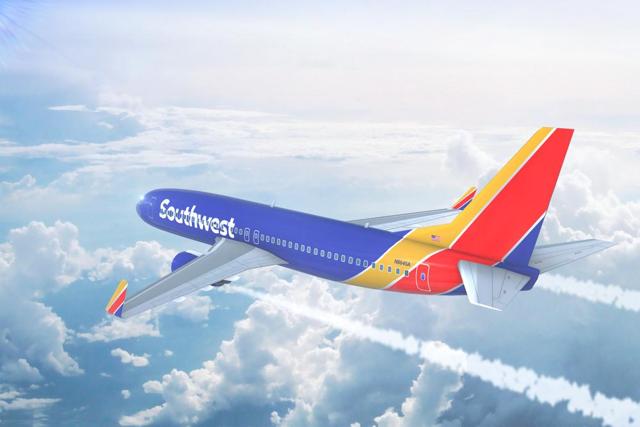 Credit: AviationCV
A closer look at the results
Regarding the third quarter, revenues of $5.58 billion represented a welcome YOY increase of 5.3% that was the highest of the past five quarters. The solid top-line results happened despite 2,200 flight cancellations due to weather-related events in 3Q18, which both helped to lift operating revenue per ASM (available seat mile) while at the same time putting pressure on total traffic - revenue passengers carried grew 2.5%, but in a descending YTD trend. Overall, in regards to passenger activity and per-unit revenues, the key metrics looked good enough for my taste.
Further down the P&L, Southwest delivered CASM (cost per ASM) ex-fuel growth of only 0.6%, a good reading considering the nearly 3% increase in RPM (revenue passenger miles) and an indication of competent cost management. Fuel, not surprisingly, ate into the company's profits, with the average unhedged price per gallon having increased 35% YOY. Still, and in part due to the company's trademark fuel hedging strategy that cut the impact of the per-gallon price increase in half, GAAP op margin of 14.3% dropped YOY by only about 150 bps -significantly better, for example, than Delta's (DAL) 300-bp margin deterioration recorded in the third quarter.
As the summarized P&L below indicates, Southwest's 3Q18 net earnings improved noticeably YOY despite the fuel cost headwinds - also largely the result of lower tax expenses and a lower outstanding share count.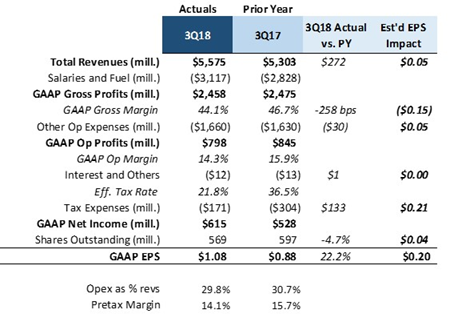 Source: DM Martins Research, using data from company reports
Cheaper for a good reason?
With the results of the quarter looking solid (EPS of $1.08 beat consensus by two cents) and a satisfactory 4Q18 outlook that included low single-digit growth in RASM and possibly flat CASM ex-fuel, it is hard to find good arguments to justify the stock's harsh selloff. JPMorgan (JPM) blamed skepticism over future margin improvement, while other financial analysts were caught scratching their heads. I believe that, with crude oil having taken a sharp turn lower in early October (see light sweet crude oil futures graph below), investors may be shifting their airline sector investments towards less hedged players in the space, focusing more on capturing shorter-term upside to earnings.

Source: Yahoo Finance
To me, none of these justifications hold much water. I continue to find Southwest one of the best airline stocks to invest in, considering (1) the company's more predictable, therefore less risky fuel cost management policy; (2) superior operational performance that takes the form of one of the best occupancy rates in the sector; (3) the industry-high margin profile that may not present many opportunities for improvement, but that should continue to help Southwest generate large quantities of cash flow even in less-than-ideal macro environments; and (4) a pristine balance that reflects the only net cash position in the industry.
The difference, in my view, is that now the stock is starting to look very cheap. LUV trades at a 2019 earnings multiple of only 11.1x and PEG of 0.8x (see chart below) that is starting to resemble more a "Big 3"-type valuation profile. Given the fundamentals, I don't believe this stock deserves to be trading at such depressed multiples, and believe LUV looks like an enticing long-term investment at $52/share.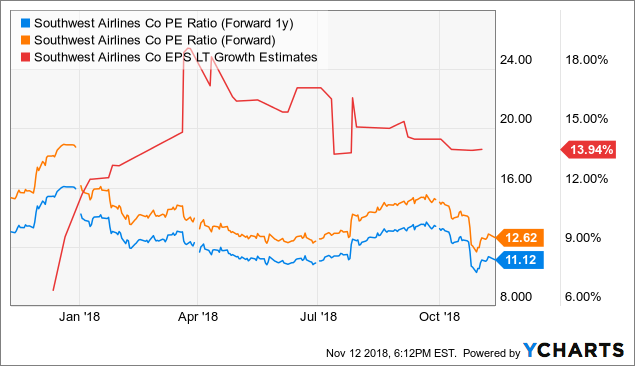 Note from the author: I have just concluded a study on the U.S. airline sector, and shared my findings first - along with my working Excel file containing all the details - with my Storm-Resistant Growth group. To access all the premium material and dig deeper into how I have built a risk-diversified portfolio designed and back-tested to generate market-like returns with lower risk, join the Storm-Resistant Growth community. Take advantage of the 14-day free trial, read all the content written to date and participate in the discussions.
Disclosure: I am/we are long LUV, DAL. I wrote this article myself, and it expresses my own opinions. I am not receiving compensation for it (other than from Seeking Alpha). I have no business relationship with any company whose stock is mentioned in this article.