For the last five years, BlackBerry (NYSE:BB) has been attempting to transition away from the smartphones it was so well known for and become a provider of, among other things, security software for the enterprise.
This transition has not been easy, just ask any of the BlackBerry longs. Traders like myself have done okay with momentum and other technical trades, but holding the stock has been trying.
Seeking Alpha's own Bill Maurer has been beating the acquisition drum for what seems like years. And for good reason. BlackBerry is sitting on a pile of cash ($2.259B in cash and short-term investments.)
The other item that really needs to be considered at this point is mergers and acquisitions. After that major legal win with Qualcomm (QCOM), management said it could use the cash to help grow the business from external sources. It hasn't done so in the roughly 18 months since, and CEO John Chen made the following statement regarding M&A (as well as buybacks) on the recent conference call.
Source: Bill Maurer, Seeking Alpha
BlackBerry in talks to acquire security firm Cylance: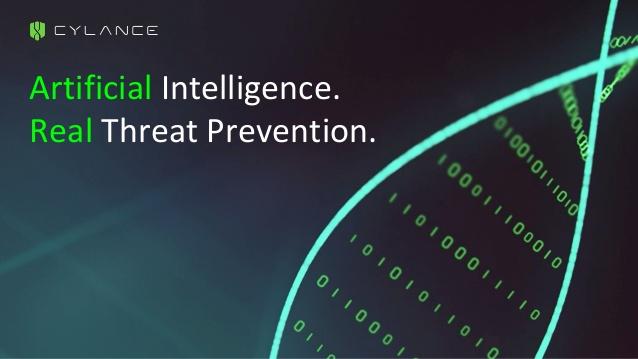 On Friday, we learned that BlackBerry was in talks to acquire the privately-held security software firm Cylance for somewhere on the order of $1.5B.
This acquisition would put a huge dent in BlackBerry's available cash, but unlike some of BlackBerry's past acquisitions1,2, I think this one has legs.
Cylance is a provider of endpoint security:
Cylance® recently announced that it had surpassed $100M in trailing 12-month GAAP revenue in 2017. This represents 177% year-over-year growth due to the unwavering and fanatical support of over 3,800 enterprise customers.
Source: Cylance
Like BlackBerry, Cylance provides endpoint security. Unlike BlackBerry, Cylance provides antivirus/antimalware, where BlackBerry's endpoint security focuses more on application configuration/installation/policy, and sandboxing/security.
BlackBerry® Unified Endpoint Manager (BlackBerry® UEM) delivers complete endpoint management and policy control for your diverse and growing fleet of devices and apps.

Part of the BlackBerry® Enterprise Mobility Suite, it allows you to securely manage your endpoints on premise or in the cloud. With BlackBerry UEM Cloud, you can manage devices, enterprise apps including BlackBerry Dynamics apps, and secure content with all the benefits that come with software as a service (SAAS).
Source: BlackBerry
Until now, antivirus/antimalware has been the missing components of BlackBerry's UEM offering.
What makes Cylance different is it develops antivirus programs and other kinds of computer software that prevent, rather than reactively detect, viruses and malware. Cylance executives have stated that their mission is to block computer viruses or malware before they have an effect on a user's computer.1
I purchased the five device license subscription for USD$69.
Being a computer scientist myself, I wanted to better understand the Cylance product and how it works in a practical sense, as marketing documents rarely give you the whole picture.
As you may expect, the whole purchase experience was really quite straightforward. Installation was just as easy. You start by creating an account which then initializes your online control panel.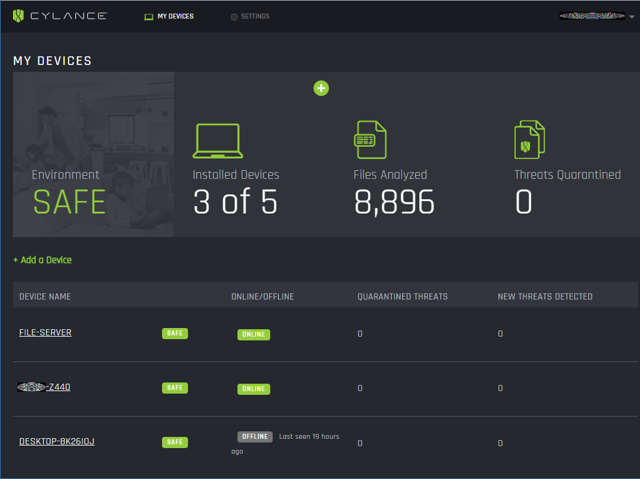 As seen here in the web-based control panel, I have added three of my five allowed devices.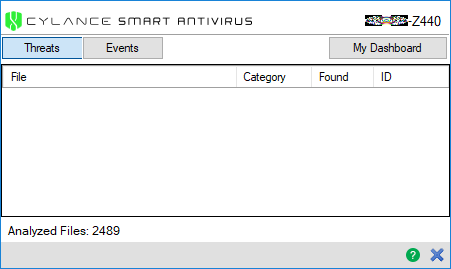 One of my concerns over the product was that Cylance claims to be Artificial Intelligence-based (AI), and does not do the otherwise simple virus "signature" checks supported by most antivirus products. However, Cylance is indeed doing some sort of static file analysis, be it signature-based, or otherwise.
I have on the order of 100K files on this particular computer, and Cylance has been crunching away for the last 20 or so hours with no end in sight. I'm not surprised really, as it's probably 8-12 TB of data.
My next check was to verify Cylance's claim that it uses up only 1-3% of a computer's processing power, which is much less compared to standard endpoint security systems.
On my HP Z440, here is what Cylance was consuming in this first pass static analysis of my hard disk contents (plus whatever live executable monitoring it is doing):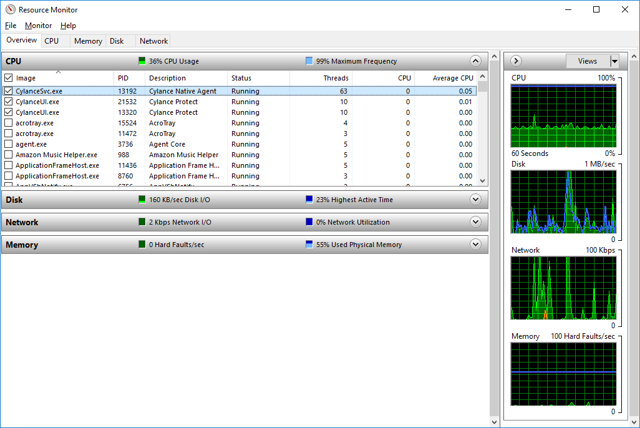 As you can see, my total CPU usage is at 36%, but CylanceSvc (the Cylance background service) is only averaging 0.05% of CPU usage. I can recall times when running Windows Defender when my computer was almost unusable due to the excessive CPU usage.
So far, so good.
So far, the product functions as claimed without impacting overall computer performance. In addition, my concern that Cylance may miss malware already on my computer is somewhat mitigated by its complete analysis of static files. I would still like to better understand exactly what it is looking for in the static files, but it's at least doing something!
How this dovetails with BlackBerry's UEM offering:
One of my bearish compadres made these astute observations:

Source: Denis III
These concerns were echoed by at least a couple others. Yes, there are oodles of virus scanners, but the competition is narrowed significantly by the way in which Cylance works (AI) when compared to legacy antivirus/antimalware systems. Also, I touched on some of the performance issues of other scanners above.
But this I believe, is not the deciding factor. The synergistic melding of BlackBerry's UEM and Cylance's product provides enterprises one-stop-shopping for their UEM needs.
In EMM-UEM, only three companies are outpacing or keeping pace with the growth of the overall market. The biggest winner is obviously Microsoft (NASDAQ:MSFT), having moved from a position of zero importance just five years ago to a point where it is poised to become the dominant player, having the massive advantage of being able to package its basic EMM with MS365 and other SW products. VMware-AirWatch has been in first place for close to three years running, while BlackBerry (with help from its acquisition of Good) has managed to stay within striking distance of the lead.
Source: Gio Danisi, Seeking Alpha
And with Global Unified Endpoint Management market 2018-2022 to reach $7.06 billion growing at a CAGR of 38.2% 1, there is plenty enough pie to go around.
BlackBerry UEM licenses are device-based licenses that allow organizations to use BlackBerry UEM features. To use other BlackBerry enterprise products, such as blackberry 2FA, BlackBerry Enterprise Identity, and BlackBerry Workspaces, with BlackBerry UEM, customers need to purchase separate licenses for those products. This product structure would suggest that the antivirus/antimalware capabilities would be a separately licensed component of the overall BlackBerry UEM offering.
Without knowing how pricing will work if this acquisition goes through, we can only speculate based on the pricing I got on my 5 device license: USD$69/5 = $13.8 per device. Keep in mind though, this was for a consumer license, an enterprise license could modify pricing through bundling, etc.
Without knowing how many BlackBerry UEM licenses there are, we use the following to estimate the number of licenses sold in Q2:
For Q2, we've seen estimates on various investor sites suggesting that BB signed perpetual licenses worth anywhere from $12 to $24m1
BES12 annual subscriptions for BlackBerry® 7 OS devices are also available at $23/year and $40/year.2
If we assume the bulk of these licenses to be UEM licenses, and take the average estimate of license revenue of $18m and divide it by maybe $25 per year per license, we get 720,000 licenses for the quarter. 720,000 licenses * the $13.8 price tag I slapped on Cylance's security software, we get something on the order of $9.93 million additional revenue per quarter. If BlackBerry can continue to maintain growth of 720,000 licenses per quarter, then we are looking at something like:
Year 1: (4 * 720,000) * $13.8 = USD$39.74400 million
Year 2: (8 * 720,000) * $13.8 = USD$79.48800 million
Year 3: (12 * 720,000) * $13.8 = USD$119.23200 million
Year 4: (16 * 720,000) * $13.8 = USD$158.97600 million
etc.
Granted, there are a lot of assumptions here, but I believe the numbers to be in the ballpark. Keep in mind, this model does not include consumer licensing outside the UEM offering. (Like I purchased.)
Investor takeaway:
The acquisition of Cylance's security offering would dovetail perfectly with BlackBerry's existing Unified Endpoint Management solution and would add a much-needed checkbox item to the product. Enterprises will appreciate the "completeness" of the story as well.
BlackBerry's platform and reach into the enterprise will provide Cylance's technology visibility very hard to attain by a standalone company.
Stumbling blocks include but are not limited to: the deal falling apart, the Cylance developers leaving the company to find another startup, etc.
But in the end, BlackBerry had to do something, and I feel this was BlackBerry's best and possibly last hope.
If your investment thesis is based upon BlackBerry's continued and expanded leadership in Unified Endpoint Management, then I think BlackBerry is a speculative buy below $10 before a definitive deal is reached, and a buy after the deal is announced up to and including $11 or thereabouts. Beyond that, we will reassess as more information becomes available with respect to Cylance's licensing.
Invest Accordingly.
If you enjoyed this article and would like to be notified when I publish again, please click "Follow" next to my name.