Midstream traded up this week, participating pari passu with the broad rally in utilities and broader equities. Midstream earnings were impressive again (especially ET, LNG and TRGP), the Colorado Proposition 112 was voted down, and natural gas prices spiked. Those positive factors helped midstream trade well in the face of deteriorating oil prices.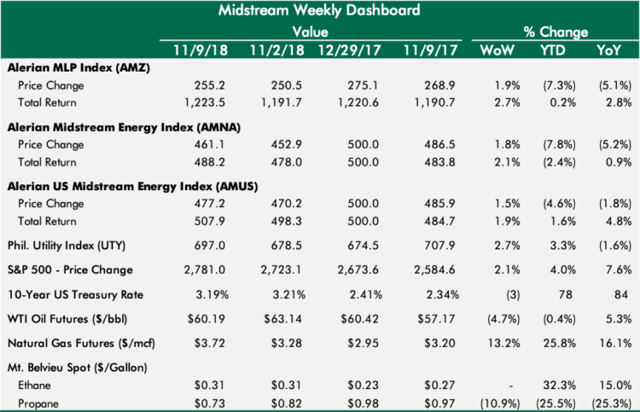 U.S. oil prices declined for a 5th straight week, settling negative on Friday for a 10th straight down day, which hasn't happened since 1984. Oil prices hit a 4-year high on October 3rd. Since then, oil prices have declined more than 20%, entering bear market territory. Midstream has held up relatively well, producing -6.8% over that same time.
Likewise, over the historic 10-day losing streak, midstream has traded up 3.3% while oil prices declined 10.9%. The last 10 trading days have coincided with very strong results for midstream companies, which have left investors wanting better performance from midstream than we've seen.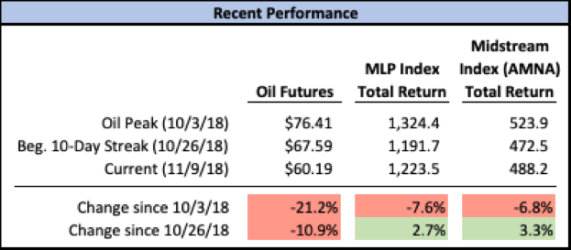 Wednesday saw a big positive move for stock prices of Colorado-exposed midstream companies after the rejection of Proposition 112. But Midstream actually underperformed the S&P 500 on Wednesday (AMZ +1.3% vs. S&P 500 +2.1%), which was disappointing given the election result had a direct positive impact on several large MLPs. Midstream actually had a better day Monday than Wednesday in the run up to the election.
MLP Longs, Cargo Shorts
I'm no fashion expert, but to me MLPs these days are like cargo shorts.
A small, but very dedicated crowd owns them.
Those who own them swear by them, and can't understand why other people don't like them.
They were really popular a long time ago.
They can be quite useful if used properly.
People who don't have them today, don't tend to think about them.
I guess that makes upstream MLPs like fanny packs or trucker hats? And maybe FANG stocks are the fleece vest, which may have "jumped the shark" with an article in the Wall Street Journal this summer.
We have just 34 trading days left this year (13% of the year). Without a sharp reversal in energy sentiment broadly (i.e. higher oil prices), we can probably expect similar apathy towards midstream through year-end. Midstream companies are out of the penalty box with those who follow the space, but awareness and interest beyond remains challenged. But we're almost back to January, typically the time of year when a few window shoppers will give midstream a fresh look, and we can build on that.
And Another One… IDRs In Minority
Another major MLP announced a simplification this week. The pace of simplification has accelerated in 2018 with FERC (EEP/SEP, DM, BWP, WPZ) and after ETE/ETP's announcement in August. Almost all of the MLPs with pure play general partners have now announced simplifications (WES, ENLK, AM, ETP, TEP). The simplification spotlight now turns to those who have yet to simplify, like EQM, DCP, PSXP, SHLX, CQP, NBLX, etc. After the pending deals close, less than 10% of the market cap of the U.S. midstream universe still has IDRs. Those with IDRs are going to find it difficult to attract investors going forward, even harder than it usually is for MLPs.
Winners & Losers
The Colorado names were big movers up this week among MLPs, specifically WES, NBLX and DCP. Wes also announced simplification. NS traded well on Monday and Tuesday after posting solid results. CCLP led all MLPs after reporting results this week. SRLP was down more than 20% after pausing distribution growth and reporting weaker than expected results. SRLP had been consistently growing its distribution in obscurity since IPO. ENLK was the biggest MLP in the bottom 5, hurt by weaker outlook from Devon on SCOOP in 2019.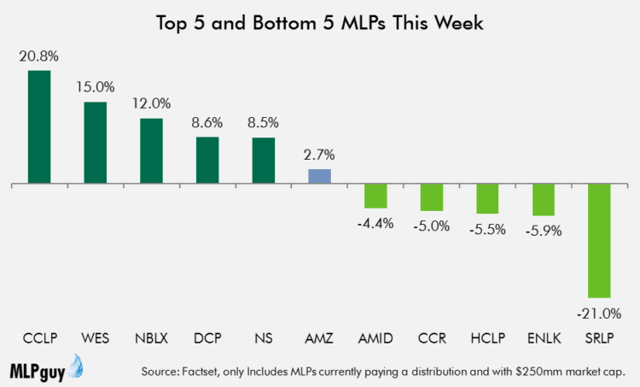 CEQPtraded well this week and returned to the top of the YTD leaderboard. SHLX escaped the bottom 5 this week, and the remaining bottom 5 members have all declined 30%+, including distributions.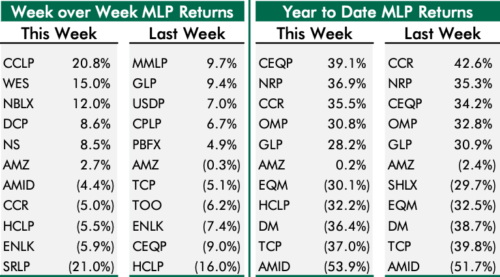 Midstream Corporations & General Partners
WGP-OLD, TGE and SEMG all traded well on Wednesday after Colorado's Proposition 112 was voted down Tuesday. TGE held up the rest of the week to lead the group, WGP sold off after announcing simplification and SEMG sold off hard on weak 3Q results. Cheniere had another strong quarter of results and traded better than average.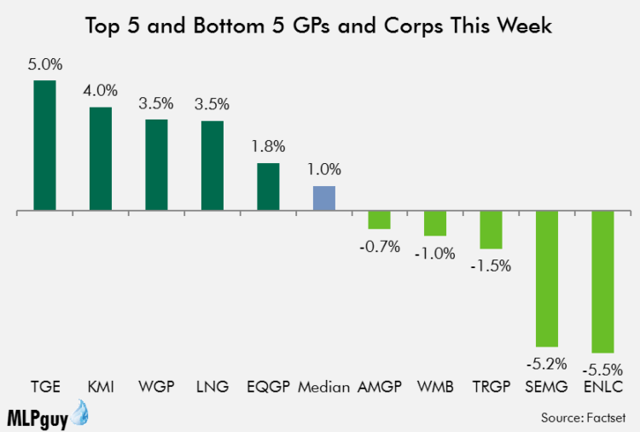 ENLC sold off on concerns about Devon slowdown in the SCOOP and continued its decline since the simplification announcement. TRGP had strong results but finished the week negative. KMI made it a second straight week near the top, perhaps helped by general association with natural gas (which didn't help WMB much this week). LNG reclaimed the 2nd spot on the YTD leaderboard.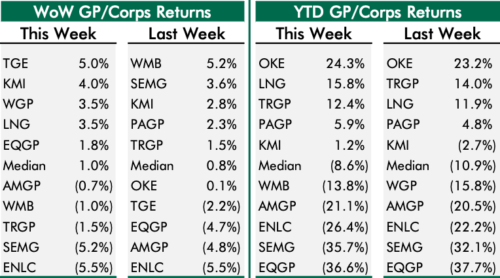 Next week, this group of stocks gets bigger with the addition of ETRN and Altus Midstream.
Canadian Midstream
Canada outperformed all other midstream again this week and has held up remarkably well over the last 5 weeks as oil prices have declined making oil prices in Canada less than $20/bbl due to lack of pipeline capacity. GEI and IPL reported strong results and outperformed, while Keyera (OTC:KEYUF) reported weak 3Q results and underperformed for a second straight week.
TRP underperformed all week and notably on Friday after the Keystone XL setback reported Thursday night. There was some sell-side analyst table pounding on the progress ENB has made this year on a number of overhang issues early in the week that helped ENB this week.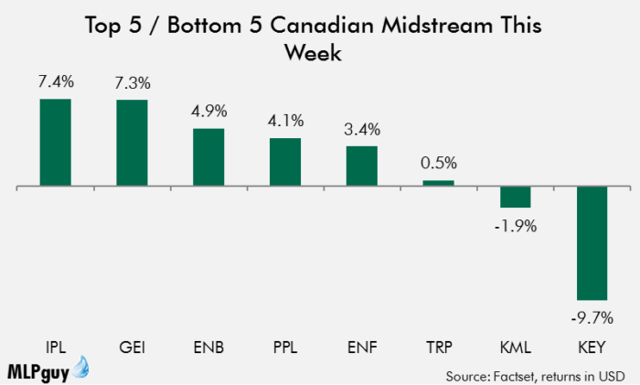 The YTD leaderboard got a bit shaken up this week. Keyera took over the bottom spot, neck and neck with TRP. GEI broke above 20% YTD returns again pulling way ahead. ENF closed its simplification transaction and will no longer trade after this week.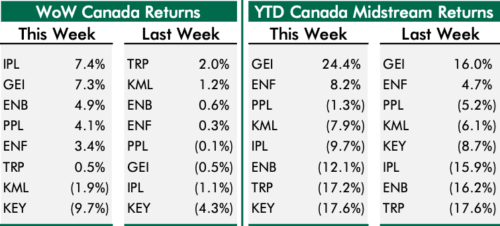 News Of The (Midstream) World
News flow was heavy this week: One of the few remaining major simplifications in the sector was announced (WES/WGP), and it came with a mega drop-down. There was also a minor drop-down and a very minor, but notable equity offering that traded well in the after-market. Also, another 315,000 bbls/d of fractionation capacity was announced for the Mt. Belvieu facilities of the major NGL players.

Capital Markets
Oasis Midstream (NYSE:OMP) priced public offering of 2mm units at $20.00/unit, raising $40mm in gross proceeds (press release)

Overnight offering, priced at 9.7% discount, and traded up 5.2% from pricing in the following session
Proceeds from the offering to be used to fund a portion of the drop-down acquisition announced Thursday
MPLX priced $2.25bn of Senior Notes (press release), including:

$750mm of 4.80% senior notes due 2029 at 99.432% of par
$1.5bn of 5.50% senior notes due 2049 at 98.031% of par
GasLog Partners (NYSE:GLOP) priced offering of 4.0mm units of its 8.5% Series C Cumulative Redeemable Perpetual Fixed to Floating Rate Preferred Units at $25.00/unit, raising $100mm (press release)
Growth Projects/M&A
Anadarko (NYSE:APC) announced the sale of its remaining midstream assets for $4bn to Western Gas Partners (WES), with $2bn in cash proceeds and the balance to be paid in new Western Gas equity (press release)

According to management, the purchase price represents a 9.5x multiple of 2019 estimated EBITDA
APC's midstream assets are largely associated with its US onshore oil plays in the Delaware and DJ basins
Western Gas Equity Partners (WGP) also announced the merger with WES that will eliminate IDRs

WGP will acquire all of the outstanding units of WES and substantially all of the WES common units owned by APC in a unit-for-unit, tax-free exchange
The closing of the merger is subject to WES unitholder approval and is expected to close in 1Q 2019
WES unitholders will receive 1.525 WGP units per WES unit, a 7.6% premium to prior closing price
WGP expects to generate 1.2x+ coverage and distribution growth of 6-8% in 2019, and expects to grow distributions 6-8% in 2020 and 2021 with coverage of over 1.3x
Magellan Midstream (NYSE:MMP) and Navigator Energy announced the launch of an open season for a potential Cushing-to-Houston crude oil pipeline (press release)

The potential pipeline is expected to have an initial capacity of at least 250,000 bpd with the ability to expand further
Enterprise Products (NYSE:EPD) announced projects to provide an additional 55,000 bpd of fractionation capacity at existing facilities in TX and LA (press release)
Energy Transfer (ET) announced plans to construct a seventh NGL fractionation facility in Mont Belvieu, TX (press release)

The 150,000 bpd fractionator is fully subscribed and is scheduled to be in operation in Q1 2020
ET also announced it will expand the current fractionation facility, Lone Star, by adding a new 352-mile pipeline
Targa Resources (TRGP) announced plans to construct two new 110,000 bpd fractionation trains in Mont Belvieu, TX which are expected to begin operations in Q1 and Q2 of 2020 (press release)
EnLink (ENLK) announced Cajun-Sibon III, a project to expand takeaway capacity from the Mont Belvieu NGL hub to ENLK's fractionation facilities in Louisiana (press release)

ENLK also announced an open season for the expansion of its Cajun-Sibon NGL pipeline system (press release)
Cheniere Energy (LNG) announced a 24-year LNG sale and purchase agreement with Polish state-owned company PGNiG for 1.45 Mtpa on a delivered ex-ship basis (press release)

Deliveries will begin in 2019 and the purchase price for LNG is indexed to the monthly Henry Hub price, plus a fee
Sempra (NYSE:SRE) and IEnova announced they have signed three heads of agreements with Total S.A., Mitsui, and Tokyo Gas for the full export capacity of Phase 1 of the Energia Costa Azul liquefied natural gas (ECA) project located in Baja California, Mexico (press releases)

SRE also signed a memorandum of understanding with Total which contemplates Total potentially contracting up to 9 Mtpa of LNG offtake from Cameron and ECA
Oasis Petroleum (NYSE:OAS) announced dropdown of certain midstream interests to Oasis Midstream Partners (OMP) for $250mm (press release)

OMP will purchase 15% interest in Bobcat DevCo and 30% interest in Beartooth DevCo at a price that represents 6.75x 2019 EBITDA
Keyera (KEY-CA) announced a 50/50 JV with Wolf Midstream to develop a pipeline that would bring NGLs from the Montney and Duvernay developments in Alberta to Fort Saskatchewan (press release)
Other
A Federal judge in Montana blocked TransCanada's (TRP-CA) Keystone XL Pipeline (Reuters)
Colorado's Proposition 112, which would have created a 2,500-foot drilling setback for new oil and gas development, did not pass (Denver Post)
Sanchez Midstream Partners (NYSEMKT:SNMP) cut its distribution by 66.7% to $0.15/unit

SNMP was down 41% Friday as a result
In Memoriam
Raymond Plank, founder of Apache, passed away this week at 96 years old. He is credited with creating the first ever Master Limited Partnership in 1981. In his words, he "was the first to create and enter the MLP field - and the first to leave it." It is worth taking a spin through his Wikipedia page, his obituary in the New York Times or his memoir A Small Difference to review a life well-lived as a WWII pilot, entrepreneur, industry titan and philanthropist.
Editor's Note: This article discusses one or more securities that do not trade on a major U.S. exchange. Please be aware of the risks associated with these stocks.