Time To Revisit The Bullish Thesis For Apple?
Riding on the decade-long fine run in the shares of Apple Inc. (NASDAQ:AAPL), I believe many investors have declared their love affair with the Cupertino, California-based company to be eternal. Even with the recent slump, the share price is still a whopping 36 percent higher than its 52-week low, and a few dollars above the psychologically important $200 price handle. Investors who have taken profit early in the past two years and planned to get back into the stock upon a "correction" are likely to have been left ruing missed chances.
On the other hand, the relatively steady rise in the valuation of Apple has apparently lulled many faithful investors into complacency. Articles on Seeking Alpha are also predominantly bullish. Therefore, I think it is time for me to add a certain dose of caution based on some recent developments that are rather concerning. Perhaps listening to Jazz singer Andy Fite's The Shine is off the Apple has led me to revisit my bullish thesis for Apple. I wonder if he was referring to the company in his song.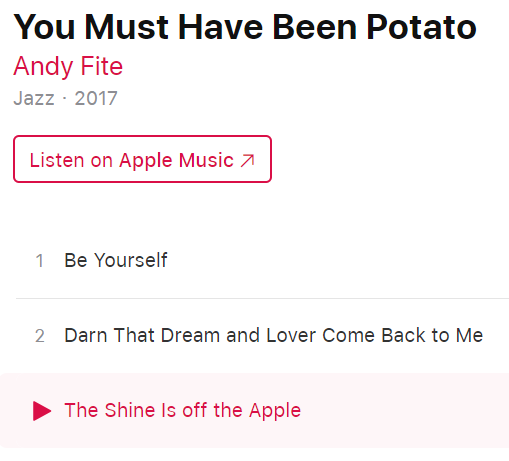 Source: Apple iTunes
Still A Bull But A Pragmatic One
In February last year, I wrote my initiation article on Apple (one of my early pieces on Seeking Alpha), noting that "despite the currency woes and political turmoil in Brazil, India, Turkey, and Russia, Apple achieved new all-time revenue records in those countries". I concluded with the following (an extract; emphasis added):
"... We should also remember that the ecosystem is expanding, and the earlier Apple can get users ensnared into the family, the faster they would purchase the next device to maximize the functionality between Apple products. Tim Cook gushed about the Homekit and I personally am very satisfied with the intuitiveness of Apple products. We should be expecting Apple to adopt the India playbook to its advantage when entering or entrenching its position in other emerging markets. Long-term investors should be patient for the seeds planted in India and other targeted markets to grow and bear fruits. The best days for Apple lie ahead."
Half a year later, I wrote another article defending Apple's pricing for its iPhone X, providing several supporting factors. For instance, I argued that part of the cost of an iPhone should be considered a fee for enabling the use of associated Apple products such as the Apple Watch. In addition, the high price tag contributes to the exclusiveness of iPhone ownership that served as part of the allure in the first place and, therefore, should be maintained as such. I ended with the statement:
"It would be a mistake to bet against Apple thinking the company has made a faux pas on the pricing of the iPhone X".
More than a year has passed and I have come across disturbing developments that have knocked the shine off the Apple story.
Indications Of A Slowdown In iPhone Demand
Analysts are coming out in full force downgrading their outlook for iPhone demand. As I was preparing and even while writing this article, I kept coming across new updates of yet another bearish note from Wall Street. For instance, reports first emerged that Apple had canceled its production ramp for the XR model on low sales. Later in the week, reports of disappointing iPhone XR sell-through dragged down the stocks of related suppliers. Accumulating inventories were cited as an indication of weak sales.
Subsequently, analysts were also found to be bearish on demand for the other models. Longbow Research estimated iPhone order cuts of 20% to 30% mainly for the XR and XS Max based on its internal checking. As if to prove their point, the analysts also moved on to downgrade its suppliers, left, right, and center. I explore and discuss the underlying reasons for the softer demand in the following sections.
Is Apple Increasingly Challenged To Attract Talent?
Apple has seen its employee count rise substantially in the past decade, as the company expands its workforce to serve more customers and create new products, among other activities. In fact, the employee count has risen by 36 percent in the past five years. It is presumably an easy task for the HR to recruit talents, given that Apple has been regarded as a top company to work for, even before it became the first company to claim the coveted title of being the first trillion-dollar company by market capitalization.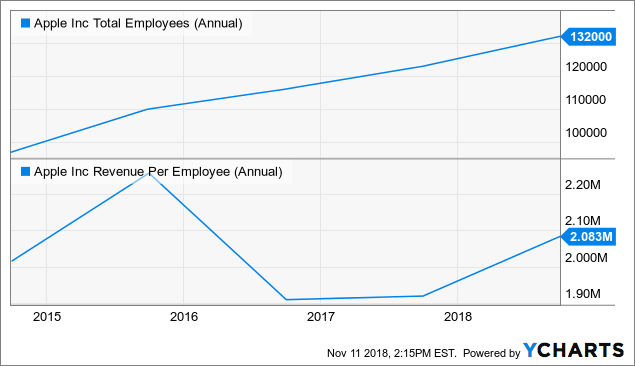 Nevertheless, with the staff strength swelling, it would not be surprising that the task to hire people possessing the passion to work at Apple, not just with the right skill set, is getting more challenging by the day. For instance, there are indications that employees are getting less enamored with Tim Cook than in the past. In a recent Glassdoor survey where employees ranked the top 100 CEOs, Apple CEO Tim Cook saw his rank on the annual list falling to 96, down from 53 a year ago. Glassdoor noted that this was the biggest fall for a tech CEO on the list. It is noteworthy that two years ago, Tim Cook was ranked within the top ten positions at number eight.
The survey results did not reveal anything disastrous. However, with the job market tight and options aplenty for job seekers, it would be uncertain if Apple can continue to attract top talents in increasing number to maintain its competitive edge. In addition, if the Apple story is now changing to a reliance on services and by extension, its ecosystem, rather than a focus on innovation, then its engineers might seek their fulfillment at other pastures.
To rub salt to its wound, Elon Musk had also previously said that Apple was the "Tesla graveyard," suggesting that employees who could not succeed at his company went to work at Apple. On the other hand, employee satisfaction at Amazon (AMZN) is reportedly "soaring".
Apple Is Lagging Behind In Innovations
It is possible that a drop in employee quality has resulted in Apple apparently losing its innovation leadership. Samsung Electronics (OTCPK:SSNLF) (OTCPK:SSNNF) announced last week it is developing a foldable phone that has been expected to be ready for commercialization in March next year. In fact, as early as April this year, there were already reports of the world's third largest phone maker, Huawei, having signed deals with suppliers to prepare parts for its version of foldable phones. Huawei is not alone. Other Chinese phone companies, Xiaomi (XI) and Oppo, were also rumored to be preparing for their own foldable phones targeted for a 2019 launch.
It has been a while since we heard Apple introduce something as radical as this. Many of the new features such as FaceID and dual cameras made available on the new iPhones are already present in prior models of other phone makers. Elon Musk, CEO of Tesla (TSLA), has also inserted himself into the debate. He implied that Apple has stopped coming up with products that would "blow people's mind", and it is making fewer "great products".
The danger of such a development is the vicious cycle of over-achievers disgruntled with the slower pace of innovation and deciding to leave for competitors, while at the same time, the company finds it harder to attract new talent to fill replacement positions and new vacancies. The undesirable consequence is Apple struggles to deliver superior products necessary to drive the sales growth the market is accustomed to.
Economic Slowdown And Cheaper But "Value-For-Money" Alternatives Hamper iPhone Growth
Even before the downgrading of iPhone demand expectations in the past few days, there were actually signs of consumer preference changes in promising markets for Apple. For instance, in India, the pricing of the iPhones has made them out of reach for the majority of the population. The situation is made worse due to import duties levied on the iPhones, making the final price tag more expensive to local buyers in a market where the disposable income is much lower to begin with. Furthermore, the consumers do not benefit from the phone subsidies in the manner like wireless carriers in the U.S. do. This has led to phone buyers turning to cheaper Chinese alternatives instead.
Perhaps nobody is clearer on an impending slowdown in sales of iPhones than the company executives themselves. This could explain why they are doing away with the reporting of unit sales.
Smartphone Adoption Reaching Saturation?
Mobile phone sales growth is expected to slow with the initial waves of smartphone adoption behind us. As Apple celebrated the 10th anniversary of the first iPhone launch, we are reminded that the vast majority of the developed world population already has smartphones. At the same time, as mentioned earlier, the promising markets of India, Africa, and China have been well served by Chinese and Indian phone makers with offerings at a fraction of an iPhone cost and yet equipped with advanced features.
Despite falling behind in innovation, Apple has insisted on a premium pricing strategy. Even as the iPhone remains the phone of desire for many, the prevalence of competitively priced alternatives meant smartphone users would find it very hard to justify buying an iPhone for their next upgrade. This leaves Apple with a highly challenging growth opportunity. In addition, smartphone owners are continuing to hold onto their phones for longer, further decreasing the pool of replacement purchases.
The cost of chasing the latest smartphones has become increasingly prohibitive, with each new model set at a higher absolute dollar value, even if the percentage increase is held stable due to the ever higher base. On the other hand, income levels might not have climbed as fast as the price increases.
Is The Services Segment Really The Panacea For Apple's Slowing Hardware Growth?
The revenue from services has seen rapid growth in the past few quarters and I have also written on the huge potential from the segment. Nevertheless, in the pursuit of margins as demanded by the market, app developers are wising up to the possibility of avoiding the App Store ecosystem. Most notably, video streaming provider Netflix (NFLX) has been reported to be working on a system that would direct new users to sign up for its subscriptions independent of its apps that run on Apple devices. The motivation for such a move is the avoidance of the typical 30 percent commission paid to Apple.
It is easy to dismiss Netflix's effort as something of a serious threat, given that a similar move by Spotify three years ago did not leave a lasting impact on Apple's App Store growth. Nevertheless, with the gross margins for App Store estimated at around 90 percent, any loss in app revenue can be painful to the bottom line.
As shareholders expect ever better results from their investments, company executives would be pressured to seek ways to minimize leakages of their margins. The commission payments to Apple would stick out like a sore neck, particularly if Netflix is successful in its related endeavors.
To make matters worse for Apple, the practice of pocketing cuts of app earnings demanded by Apple and Google (GOOG) (GOOGL) has also attracted the attention of regulators. The U.S. Supreme Court is slated to hear a case involving Apple's App Store fees in its next term.
Investor Takeaway
Apple's moat is still intact in my opinion, with its strong base of passionate and loyal fans and superior quality products. However, looking at the company's prospects from a critical angle, there are emerging chinks to its shiny armor.
I am also concerned about recently reported incidents of quality issues from its iPhone X and 13-inch MacBook Pro products. Nevertheless, I have avoided discussing the impact as it's hard to determine the prevalence of the problems without an official statement.
I can imagine fellow Seeking Alpha contributor, David Pinsen, doing a follow up with an article titled "In Case Apple Loses Its Shine" or similar. David is adept at using options to limit the downside of either a long or a short strategy.
For investors in general, there is a need to evaluate if this dip is indeed a buying opportunity or time to stay away.
What's your take? Are you bullish or bearish? All thoughts, criticisms, and compliments are welcome in the comments section. For further reading, my write up on Nvidia: Headwinds On The Horizon might be of interest to you.
Author's Note: Thank you for reading. If you would like a refreshing take on stocks that you own or are interested in, try looking here. Besides US companies, I cover a number of Asian stocks as well. If you wish to be informed of my new ideas on Seeking Alpha via email so that you have time to read them before the articles get locked behind a paywall, please select "Get email alerts" when accessing on a desktop computer.