Tech sector weakness was blamed for Wall Street's losses on Monday, but an even bigger culprit has been weighing on the market lately. In today's report, we'll look at what is arguably the biggest area of softness for U.S. equities of late, namely China. I'll explain that while U.S. stocks remain vulnerable in the immediate term to China-related weakness, the U.S. market is poised to establish a final low this month before rallying in December.
Technology stocks were the downside leaders on Monday, helping to erase more than 500 points from the Dow Jones Industrial Average (DJIA) as tech bellwethers Amazon (AMZN) and Apple (AAPL) lost about 5 percent apiece. Apple's decline since peaking over a month ago is fueling nervousness among many participants who view the stock as a leading indicator for the overall tech sector. The Nasdaq Composite Index meanwhile fell 2.8 percent to close at 7,200 on Monday. The benchmark S&P 500 Index (SPX) surrendered 2 percent to close at 2,726.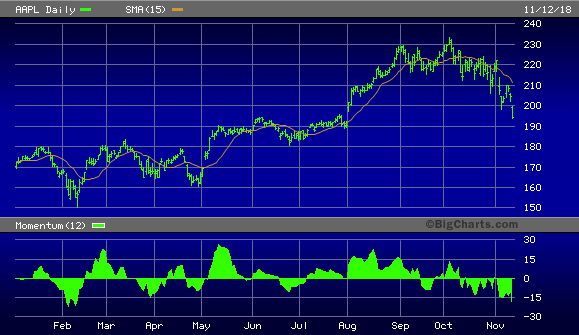 Source: BigCharts
There's no denying that tech sector weakness has been a major driver behind the revival of broad market volatility. In the last three trading sessions, we've seen the number of Nasdaq-listed stocks making new 52-week lows increase from an abnormally high 90 (on Nov. 8) to a dangerously high 176 on Monday. Meanwhile, only 30 Nasdaq stocks made new 52-week highs in the latest session.
The fact that tech stocks making new lows continue to outpace the new highs is a sign of dwindling demand, as well as being a sign that the market remains vulnerable to additional selling pressure in the immediate term. The historical norm for Nasdaq new lows is less than 40, which indicates a healthy market condition. Remarkably, there hasn't been a single day of sub-40 new 52-week lows on the Nasdaq since July 20.
Things aren't much better on the big board right now, either. The number of NYSE stocks making new 52-week lows for Monday rose to 130, the highest number since Oct. 31. The same problem which has plagued the Nasdaq in recent weeks continues to plague the NYSE, namely a surplus of stocks making new lows versus new highs. Accordingly, stocks on both exchanges will face additional selling pressure in the coming days while the October lows in the major indices will likely be tested.
Shown below is the daily graph showing the cumulative trend in NYSE new 52-week highs minus new lows. This is my favorite indicator for measuring the stock market's overall path of least resistance, for it reflects the incremental demand for equities as measured by the new highs and lows. As I've emphasized in recent reports, until this indicator reverses its decline, investors should remain defensive and be exceptionally selective. Participants should also refrain from buying with both hands until the selling pressure as reflected in the new highs-lows has significantly diminished.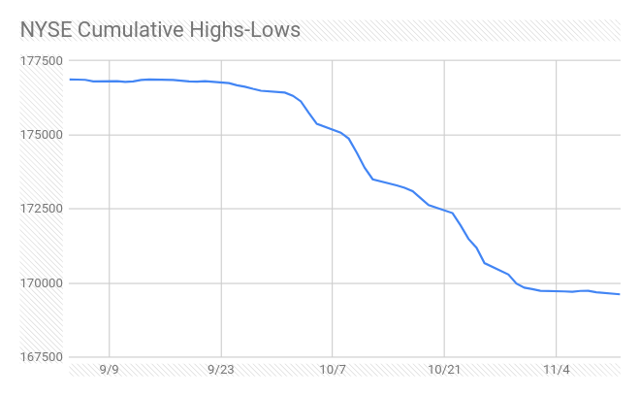 Source: WSJ
It's not just the tech sector which is driving the latest flare-up in U.S. equity market weakness, however. As I previously suggested, China's latest woes are also contributing to the selling pressure. There are so many China ADRs on the U.S. exchanges that the decline in China's stock market is having a spillover impact.
Shown here is China's benchmark Shanghai Composite Index, which is experiencing a bear market. China's stock market decline preceded the weakness in the U.S. equity market by several months. However, the acceleration in selling pressure in China at the start of October was clearly a major catalyst for the October plunge in U.S. stocks which followed a few days later.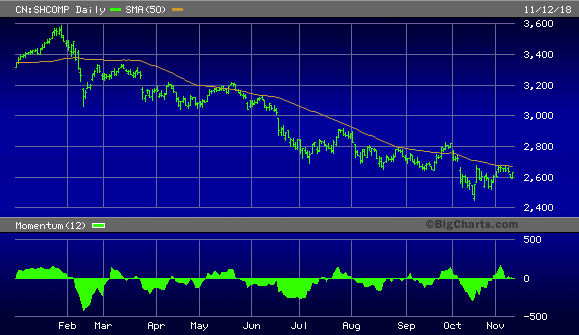 Source: BigCharts
It's not difficult to see why Wall Street has moved in sympathy with China's extreme weakness recently. Due to China's pivotal role as an engine behind global economic growth, any weakness in that country - real or perceived - is bound to have an impact on U.S. investors' allocation decisions. Recent concerns over the U.S.-China trade tariff dispute have also fueled the recent increase in global market volatility.
It hasn't helped soothe investors' nerves that auto sales, a widely watched indicator of China's economic strength, fell for a fourth consecutive month in October. Auto sales are down 13 percent year over year, an unmistakable sign of economic weakness.
The country has also pulled back on infrastructure spending in recent years as China's debt burden has significantly increased. Adding to its woes, China's foreign exchange reserves hit an 18-month low as the yuan currency has shed 10 percent of its value to the U.S. dollar since February. Once again, the trade war has been widely blamed for the recent increase in China's capital outflows. A reflection of China's currency weakness can be seen in the following graph of the WisdomTree Chinese Yuan Strategy Fund (CYB), which is my favorite yuan proxy. Here the yuan ETF is compared with the U.S. Dollar Index (DXY) for perspective.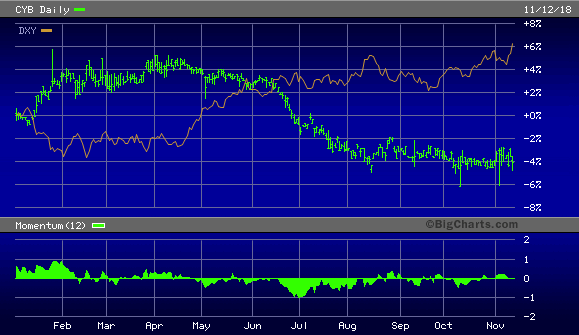 Source: BigCharts
Keep in mind that a weak currency is a classic barometer of a country's economic weakness. While the dollar index is reflecting the strength of the U.S. economy, China's currency is clearly reflecting a struggling domestic economy. This tale of two currencies is one proof that China stands to lose more from the trade war than the U.S.
While the U.S. has greater immunity to the negative impacts of the trade war, that doesn't mean it's completely immune from China's weak stock market. As I've demonstrated here, there is already evidence of spillover weakness into the U.S. equity market from China's recent stock market spill. However, I don't expect China's problems to create significant trouble for the U.S. financial market. The fact that U.S. equities were able to ignore China's bear market for most of this year is one reason for this expectation.
It was only when Wall Street became hyper-sensitive to the internal selling pressure that had built up among interest rate-sensitive securities in September that investors began reacting to China's troubles. This suggests that once traders' rate-related fears have been completely alleviated, the U.S. stock market should return to normalcy. I anticipate this will happen by December, which is historically one of the best months for stocks.
Moreover, if the U.S. economy was truly vulnerable to China's economic weakness, it should be reflected in the value of the U.S. dollar. Instead, the greenback has gone from strength to strength in recent months. This tells us that the market doesn't expect a China-related economic setback.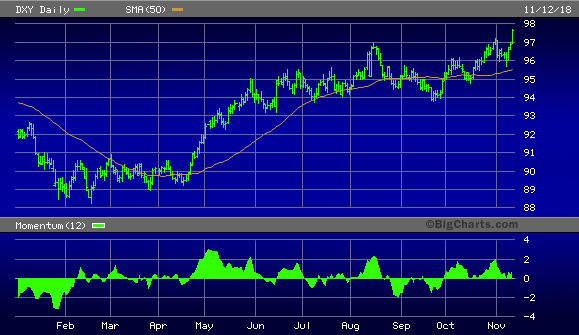 Source: BigCharts
The most likely outcome to the U.S. stock market correction which began in October is a re-test of the October lows in the major indices. A re-test of the lows is typical in most corrections, and the fact that there was never any sign of capitulation among the bulls at last month's bottom is an anecdotal reason for expecting the S&P 500 Index (SPX) to test its Oct. 29 closing low before this correction has completely run its course.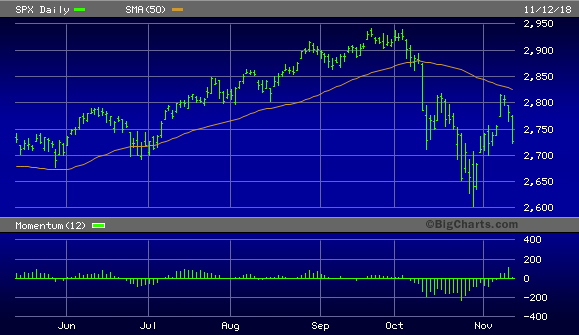 Source: BigCharts
In the meantime, investors can maintain longer-term investment positions to the stock market via ETFs and outperforming individual stocks in strong sectors. This includes, in particular, the healthcare and consumer staples sectors, both of which have shown relative strength versus the S&P 500 Index in recent months. With earnings growth still on a positive trajectory, the probability is strong that the large cap major averages will continue to trend higher in the coming six months.
Disclosure: I am/we are long IHF, XLP. I wrote this article myself, and it expresses my own opinions. I am not receiving compensation for it (other than from Seeking Alpha). I have no business relationship with any company whose stock is mentioned in this article.