Last year, it was cryptocurrencies, this year it is marijuana, and next year it is going to be uranium. The price of uranium is going to explode. It has already recently gone from $20 to $29 a pound.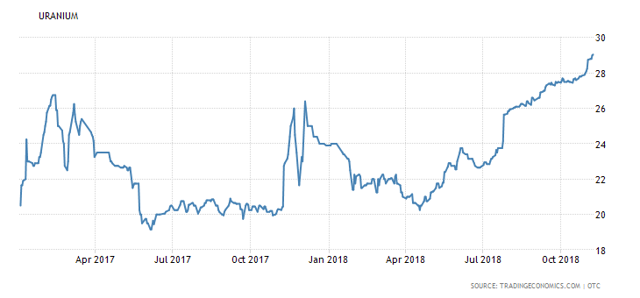 Hopefully, this does not mean nuclear bombs are going to be exploding, but the fact is that Japan is finally putting many more nuclear plants back online after the Fukushima incident. Nine reactors have restarted as opposed to five last year (Source - UEC Presentation 2018). Two are under construction, twenty-six have applied for restart, and twelve reactors are planned and proposed. A large number of new nuclear plants are planned for China (179) and India (42). Even Saudi Arabia is planning on going nuclear.
The US government has finally realized that for 2018, less than 2 (two) percent of national uranium consumption is supplied by American companies. In 2017, less than 5% of US annual demand, which is 50Mlbs, was produced in the US. In fact, the American uranium industry over the last twenty years has practically been wiped out due to agreements with Russia regarding the disposal of nuclear warheads and the policy of Kazakhstan aimed at gaining a larger market share of the global uranium market. This government-owned company produced ever larger amounts of uranium with the purpose of eliminating competition and succeeded in gaining 40% of the market. The problem with this policy was that reserves were deleted, and now the newly privatized uranium company is going to float an IPO in London, probably in January, in order to raise money for exploration. This is a new development.
It was just not profitable to sell uranium at $20 a pound even if production costs in Kazakhstan were very low. The result was that uranium was a bear market for the last decade and a disaster in the US for the last twenty years. However, the price has recently gone up from $20 a pound to $29 a pound. This should serve as a signal that something is changing in the uranium market. It just did not happen by chance that Kazakhstan and Cameco (NYSE:CCJ) decided to decrease production of uranium in the face of increased global demand. Cameco shut down the important McArthur River/Key Lake mine in Canada as a part of its programme to help shore up the price of uranium besides the fact that $20 a pound was too low a price to justify keeping the mine open. Cameco now buys uranium on the spot market in order to respect long-term contracts. That is something entirely new. Energy companies usually make long-term contracts with suppliers and lock in the price for five to ten years. Only a small proportion of the uranium actually sold is bought on the spot market. There are many long-term contracts that will be expiring in the next few years, so energy companies will have to make new contracts at higher prices. This means that demand will soon increase substantially while supply will not.
It is also something new that global production is plummeting while reactor demand for uranium is increasing. Production peaked in 2016 at 162 Mlbs but fell to 154 Mlbs in 2017. Projected production in 2018 is only 136 Mlbs while 2018 reactor demand is 191 Mlbs. This could mean that the US might be squeezed out of some of its uranium supplies, which are foreign supplied.
In fact, the US government ordered a study of the uranium market, a 232 Petition on Imports of Uranium Products that Threaten National Security, and the DOC report and recommendation are due by mid-April 2019. The President is going to have to take a decision within 90 days of receiving the report. The plan of requiring that 25% of US uranium consumption should be supplied by American companies will mean that the price is going to rise significantly for companies producing in the US. The nuclear aircraft carriers and nuclear submarines require nuclear fuel as do the ninety-eight American nuclear power plants. Depending on foreign imports of uranium has become a strategic issue.
The need for electricity is going to increase rapidly as electric cars become more numerous. The source of the electricity for cars is going to have to come from somewhere. Nuclear energy will be needed to supply all that current to recharge car batteries. So, the demand for nuclear energy is going to increase, and that means that the demand for uranium, obviously, is going to increase. Assuming that 25% of US demand has to be supplied by US production, it is easy to see that US uranium prices are going to increase sharply.
In this context, one has to consider that it takes about seven years to get a uranium mine permit or rather get all the different permits necessary. Moving radioactive material around requires a large number of permits and is fairly complicated. This means that it is not possible for companies to get new mines started quickly. Uranium Energy Corporation (NYSEMKT:UEC) is one of the few American uranium companies that are ready to take advantage of the newly developing situation in the uranium market. This company has mines and a production facility in Texas that is fully permitted and ready to start production as soon as the price is attractive. It also has a fully permitted project in Reno Creek in Wyoming that can start production very quickly. This would make it possible for the company to produce four million pounds a year.
Because of the bear market in uranium, the share price of Uranium Energy Corporation is quite low. This is partially due to the company raising $20 million by selling shares. This means that the company has the cash to get production going quickly as well as sufficient means to acquire more reserves. The company has followed an interesting policy of acquiring uranium exploration companies that spent a lot of money on exploration and then ran out of funds. By buying thanks to a judicious policy of offering shares and a little bit of cash the company has been able to amass reserves upwards of 100 million pounds of uranium. It is not every company that succeeds in buying up companies for a few cents on the dollar.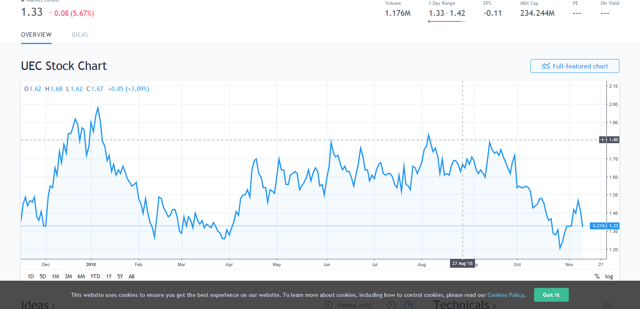 UEC Stock Price and Chart - TradingView
This strategy has turned out to be successful. One should also note that the management team at Uranium Energy Corporation is made up of people that have years and years of experience in the uranium market. Amir Adnani, the CEO, has a proven track record in building natural resource companies. The chairman is Spencer Abraham, a former US Secretary of Energy. Scott Melbye, Executive Vice President, has 34 years of experience in the uranium field. Robert Underwon, VP of Production, has 35 years of uranium experience. Clyde Yancey, VP of Exploration, has been looking for uranium for over 35 years while Andy Kurrus, VP of Resource Development has over 30 years of experience with uranium exploration in the United States. Having a strong management team is a good argument for acquiring the stock.
The Uranium Energy Corporation stock is closely followed by various analysts, and one finds upon reading analysts' reports that the company is poised to become an important player in the uranium sector. Investors looking for something in the energy sector would do well to consider making UEC a part of their portfolio.
Disclosure: I/we have no positions in any stocks mentioned, and no plans to initiate any positions within the next 72 hours. I wrote this article myself, and it expresses my own opinions. I am not receiving compensation for it (other than from Seeking Alpha). I have no business relationship with any company whose stock is mentioned in this article.
Additional disclosure: Disclaimer: This article expresses solely the author's opinions, is produced for informational purposes only, and is not a recommendation to buy or sell any securities. Investing comes with risk to loss of principal. Please always conduct your own research and consider your investment decisions very carefully.