Homebuilder Rankings Overview
In our Real Estate Rankings series, we analyze each of the commercial and residential real estate sectors. We rank each homebuilder based on both common and unique valuation metrics, presenting investors with numerous options that fit their own investing style and risk/return objectives. We update these rankings every quarter with new developments.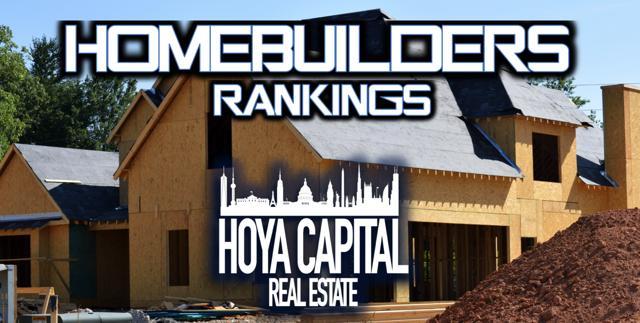 We encourage readers to follow our Seeking Alpha page (click "Follow" at the top) to continue to stay up to date on our REIT rankings, weekly recaps, and analysis on the REIT and broader real estate sector.
Homebuilding Sector Overview
The homebuilding sector (ITB and XHB) is a highly competitive and fragmented industry. The top ten largest builders account for roughly a quarter of the total new home sales, but this concentration has intensified since the recession. In our Hoya Capital Homebuilder Index, we track the ten largest homebuilders, which account for roughly $55 billion in market value: D.R. Horton (DHI), Lennar (LEN), PulteGroup (PHM), NVR (NVR), Toll Brothers (TOL), KB Home (KBH), Meritage (MTH), M.D.C. Holdings (MDC), Taylor Morrison (TMHC), and TRI Pointe Group (TPH).

Homebuilding segments can be roughly split into four categories: entry-level, move-up, luxury, and retirement. As construction and regulatory costs have risen, homebuilders have shifted their focus towards higher-end units which command high-enough margins to offset these increased costs. There has been renewed investment over the last year on the entry-level segment amid concern over the impact of tax reform on the upper-tier segments. According to the Census Bureau, the average new home price was $377,200 in September 2018 while the median price was $325,200. As we'll discuss shortly, size and scale are a critical factor for homebuilders.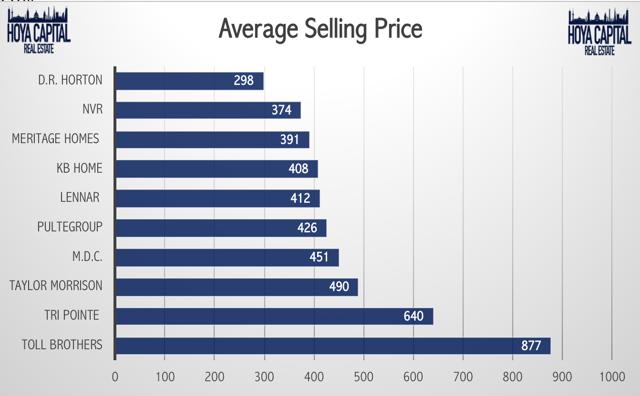 Homebuilding is really two distinct businesses, each with different risk/return characteristics: 1) Land Development; and 2) Home Construction. Historically, homebuilders have been overweight in the land development business, holding hundreds of millions of dollars worth of unused land on their balance sheet and going through the multi-year permitting to get the land ready for single family development. Large builders have increased their use of land options since the financial crisis, which reduces risk and increases return on equity, but comes at the expense of slightly lower margins. Like a long duration bond, long-term land holdings tend to be sensitive to changes in economic expectations, but skilled developers effectively get paid a 'premium' to hold and develop lots themselves. Above we detail the approximate use of land options for each homebuilder relative to owned lots.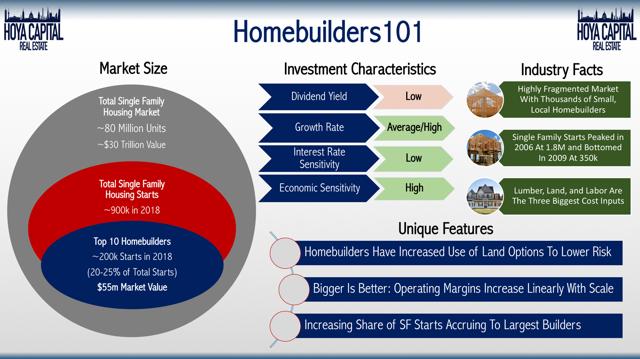 By nearly every metric, single-family housing markets remain significantly undersupplied. The United States has been under-building homes since the early 1990s, and that trend of underbuilding has intensified dramatically since the housing bubble burst in 2008. Adjusting for population growth, the US is building homes at a rate that is less than 50% of the post-1960 average.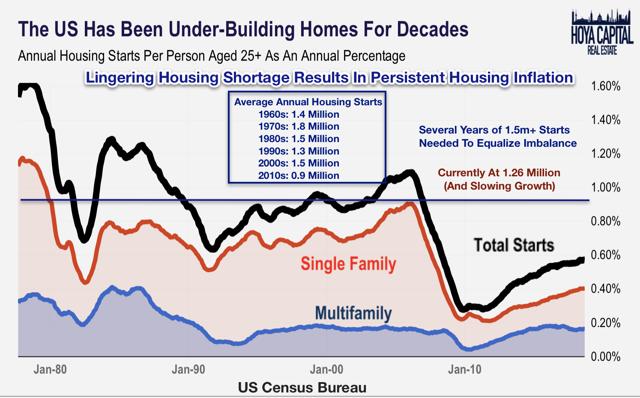 While robust economic growth and rising consumer confidence normally translate into rising home sales, single family sellers face headwinds including rising mortgage rates, affordability challenges, changes to the tax code that weaken homeownership incentives, and strong competition from the high-end rental markets. Existing home sales data, which account for roughly 90% of total home sales, are lower by more 1% on a TTM basis but new home sales remain higher by 9% on a TTM basis. At the national level, average home prices of both new and existing home sales have moderated since early 2018 across most metrics.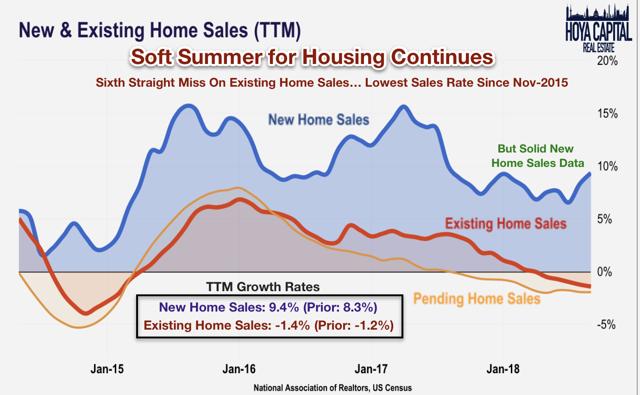 An increasing share of single family starts has accrued to the largest public builders. At roughly 900k, total single family starts remain far below the peak-levels of 2006, which topped 1.8M. Access to capital markets (or lack thereof) was the primary reason that the larger builders were able to survive during the housing collapse and thrive in the aftermath while smaller builders went bust. A decade after peaking in 2007, there are now more than 50% fewer single family homebuilders.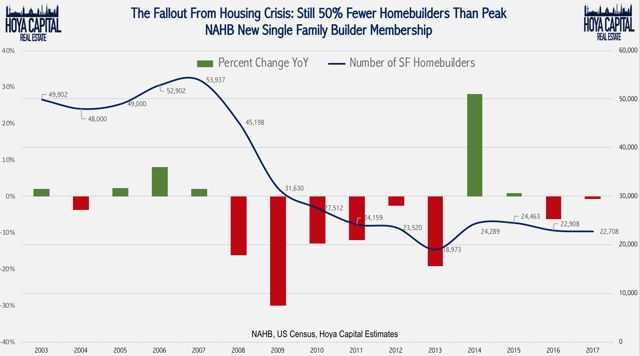 Recent Stock Performance
Fourteen months ago as homebuilders were a consensus "top-pick" in many Wall Street research departments amid a 50% surge, we discussed our negative view on homebuilders in Homebuilders Surge Despite Housing Unaffordability. We noted that, while mortgage rates remained relatively low at the time, that an uptick in rates had the potential to derail the recovery as potential first-time buyers were already effectively "tapped-out" with record levels of student debt, among other headwinds to first-time buyer demand.
We are negative on the homebuilding sector relative to consensus. Restrictive zoning (NIMBY), rising construction labor costs, and buyer affordability issues will continue to hold back the recovery.
Homebuilders rallied into the end of 2017 following that bearish call, but 2018 has been far more challenging as those headwinds discussed came to fruition. After surging more than 70% last year, the sector has dipped nearly 30% YTD, the weakest of the seven housing sub-sectors in the Hoya Capital Housing 100 Index and significantly underperforming the S&P 500 (SPY). In contrast, residential REITs (REZ) have climbed nearly 6% as rental rates have firmed-up after several years of declining growth, an indication that the rental sectors are absorbing the otherwise soft demand in the single family ownership markets.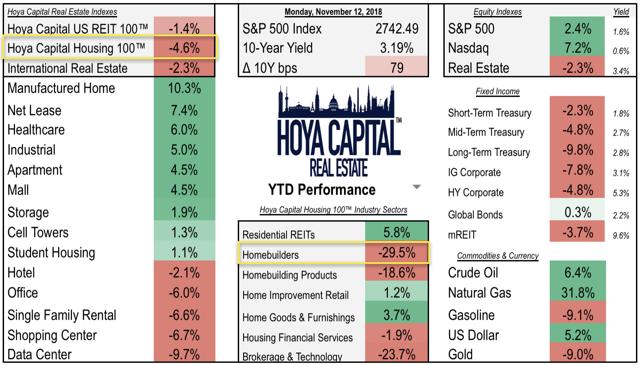 Dragged down by rising mortgage rates, continued concerns regarding housing unaffordability, and anxiety about the impact of rising construction costs, homebuilders have yet to catch their stride this year amid several fits and starts. Only one builder, MDC, is down by less than 10% so far this year while seven of the ten are down by more than 30%.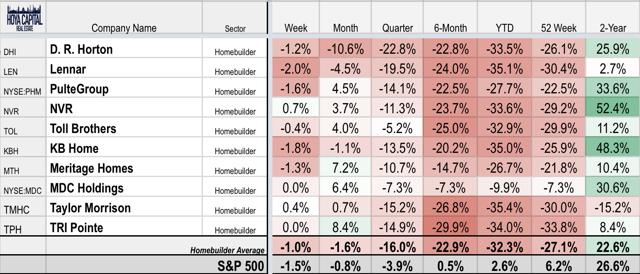 For the reasons that we'll discuss below, we now have a more favorable outlook than consensus on the homebuilding sector but note that the recovery will remain choppy and could indeed be derailed by an overly-aggressive Federal Reserve or an unexpected surge in inflation expectations.
Recent Fundamental Performance
Homebuilders delivered relatively solid results in the third quarter, but there were just enough 'cracks in the armor' to support and amplify the bearish view that the single family housing sector may indeed be stalling out just when it was finally catching gear. More than 50,000 homes were delivered over the last quarter, a solid 13% jump over the same period last year. However, the more closely-watched forward-looking metrics- order growth and selling price- were disappointing, particularly among the smaller builders. Excluding DR Horton and Lennar, who recorded solid 11% order growth, the other eight builders actually reported negative year-over-year order growth, on average.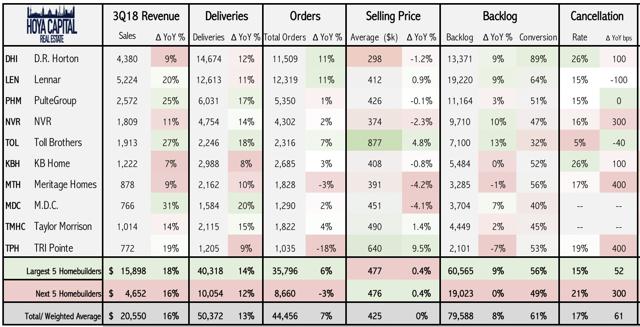 At $425k, the average selling price for new homes from these ten homebuilders was essentially flat from last year, continuing a slowdown from the first quarter's rate of 5% and the peak of more than 12% in 2014. This rate of home price appreciation continues to lag the 5-7% rate of appreciation for existing homes as the "new home premium" as shrunk in since 2015. Rising values on existing homes, along with cheap financing from low mortgage rates, have been critical in allowing these builders to remain competitive and offset rising construction costs.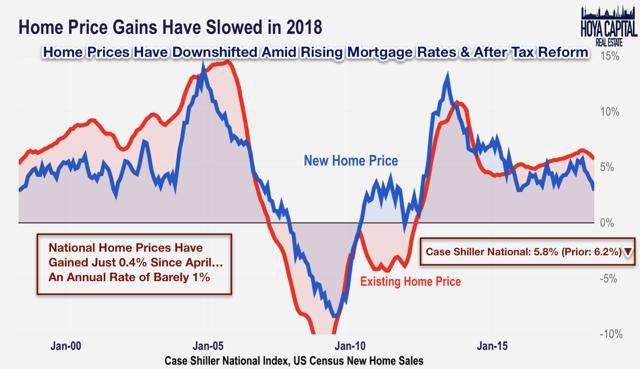 Homebuilding is a tough, capital-intensive business where size and scale are critical determinants of operating performance. Illustrating the operating leverage inherent in the homebuilding business, operating margins have improved steadily over the last several years as home sales increased. Improved SG&A margins offset rising construction costs and helped to push operating margins above 12% for the first time since the recession.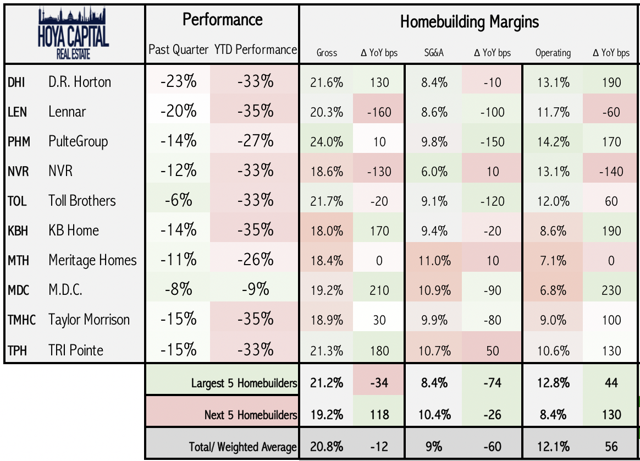 We continue to see a significant bifurcation between the larger and smaller homebuilders. Even within our index, which only includes the largest ten builders in the country out of a pool of more than 20,000 total single family builders, the critical importance of scale becomes clear through the wide gap in operating margins, which declines linearly with size. It's reasonable to assume, given the linear trend in the data, that small private builders are having a very difficult time breaking even given these tough economics. As a result, we believe that an increasing share of starts will accrue to the publicly-traded homebuilders with the scale necessary to achieve an adequate return.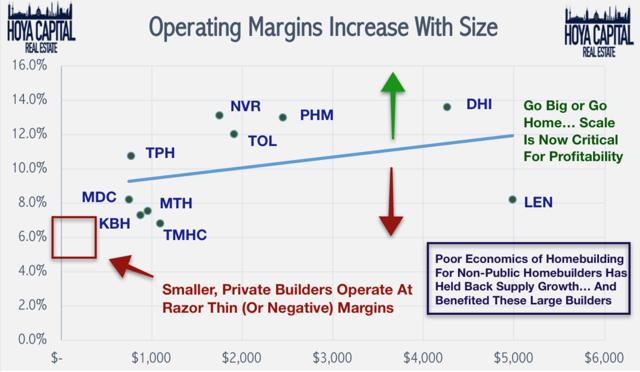 With construction costs rising and largely out of the control of builders, analysts have put increased scrutiny on overhead margins. For years, these homebuilders have touted that overhead is a primarily fixed cost that should improve considerably with increased home sales. While SG&A margins have improved modestly in recent quarters, they remain stubbornly high for many builders.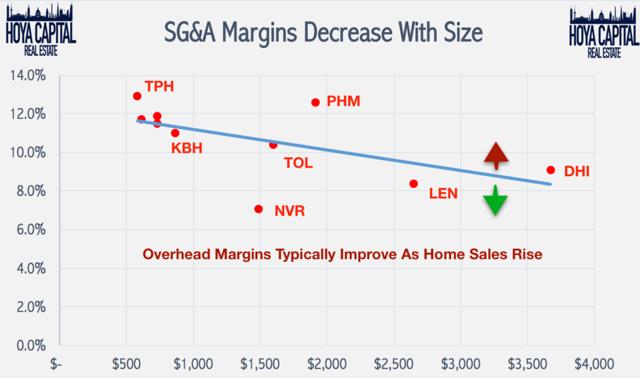 Earnings Call Highlights
While quarterly results were actually fairly decent as a whole, particularly for the larger builders, it was the post-earnings commentary that really spooked investors and analysts. There was a notable shift in tone this quarter with words like softening, shifting, moderating, and slipping being used to describe the previously robust, accelerating housing recovery. We note the earnings call highlights below.
From the DR Horton earnings call:
Market conditions really over the last four, five weeks have been pretty choppy… Maybe a little momentum is slipping.
From the Lennar earnings call:
The increases in new and existing sales prices over the past years, together with the general migration of interest rates upward, have caused a pause in the progression of the housing recovery.
From the Tri Pointe earnings call:
We have experienced a significant shift in buyer motivation. Anticipating that we may have reached an affordability threshold near the end of the last quarter, we made some adjustments to pricing to stimulate demand.
From the Taylor Morrison earnings call:
75% to 85% of buyers that are in a home with a rate that's somewhere in the low to high 3's... What we don't know is: how quick do buyers adjust this time?
From the KB Homes earnings call:
The lack of a tax write-off on a real estate tax is a real driver. You have to get back up to higher price points for that to impact their taxes.
Relief In Sight: Lumber & Lending
The "Four L's" of homebuilding has bedeviled homebuilders in 2018: lumber, labor, lending, and land. The combination of a reacceleration in economic growth, trade disputes, and immigration policy has pushed construction costs higher by more than 6% compared with last year. For much of 2018, rising energy prices put further upward pressure on inflation expectations and have all but forced the Federal Reserve's hand in raising short-term interest rates. With the yield curve as flat as it's been since the last recession, mortgage rates have moved in lockstep with the recent hikes in the Fed Funds rate.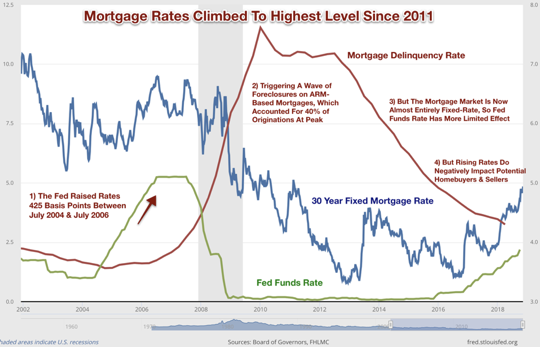 Relief may be in sight, however, for at least two of those key components: lumber and lending. Lumber prices surged in early 2018, a result of concerns over NAFTA talks, supply shortages from expectations of robust homebuilding demand, and rail transportation bottlenecks. All three of those constraints have eased considerably over the last quarter, sending lumber prices plunging more than 50% back down to levels last seen in early 2017. Labor costs, however, continue to tick higher as immigration policy put further pressure on the lingering worker shortage. On their earnings call, Toll Brothers noted lumber prices will improve margins in 2019, but "cost creep" on labor and other materials will offset some of those gains.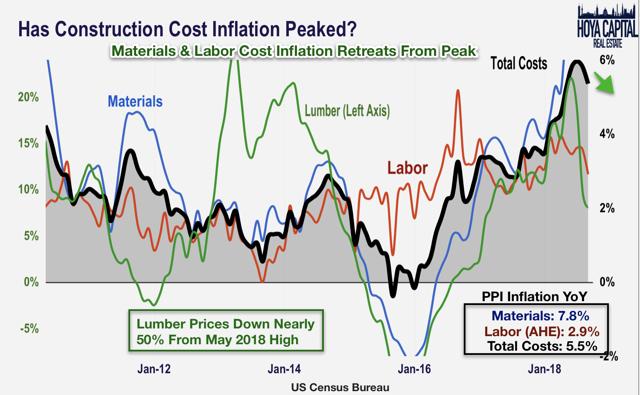 Ultimately, movements in interest rates at both the long and short end of the yield curve are determined largely by inflation and forward inflation expectations. Just when it appeared certain that cost pressures were bound to rise throughout the year and effectively force the Federal Reserve's hand, the sudden pull-back in energy prices has thrown a curveball into this consensus view. Historically, the path of inflation has been primarily determined by two critical variables: the price of energy and the trade-weighted value of the US dollar. Oil prices have plunged more than 25% from recent highs on concerns over slowing global growth and rising supply levels. The US dollar, meanwhile, has continued to strengthen relative to other currencies. Our models suggest that further upward pressure on inflation is far less likely than it was in late-summer when oil prices were up as much as 65% YoY.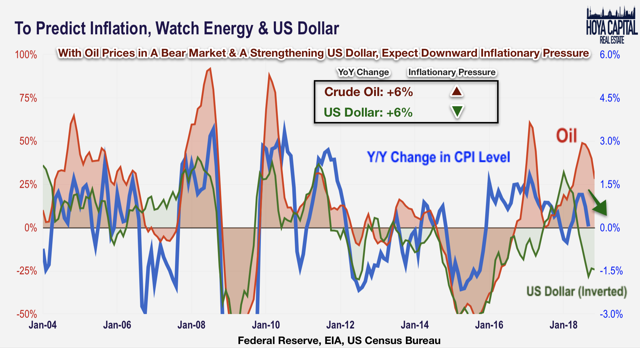 The implications of declining oil prices, we believe, could be significant for homebuilding demand through their effect on inflation and ultimately mortgage rates. We were decidedly more bearish than consensus on the homebuilding sector since late 2017 but believe that if recent trends in oil and lumber persist, we think that further upside in mortgage rates is unlikely absent a significant policy mistake by the Federal Reserve. Fundamentals suggest that a decline in the 30-Year rate back to the mid-4's is certainly a possibility over the next several months if the recent decline in oil prices persists. In our view, a decline in mortgage rates back to the mid-4's would remove the most significant headwind to single family housing demand.
The Bull and Bear Thesis for Homebuilders
Housing demand and household formation have historically exhibited a strong correlation with economic growth, which has inflected favorably in 2018. The US economy has added 20 million jobs since the depths of 2009 and last month, wage growth exceeded 3.0% for the first time since the recession. Even more importantly, demographics suggest a significant increase in demand for single-family housing, based on historical trends of homeownership preference. The average age of a first-time home buyer is 32-42 years old, a cohort that will grow by more than 1.5% per year through 2025.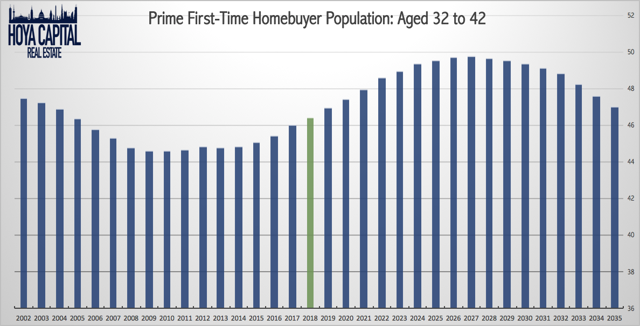 A significant factor in this sustained undersupply has been the downright dismal economics of new home construction. Homebuilding operating margins average barely 10% for the largest builders and decrease to under 5% for small private builders. For that reason, size and scale have become a critical competitive advantage for large homebuilders. Below we discuss the five reasons that investors are bullish on homebuilders.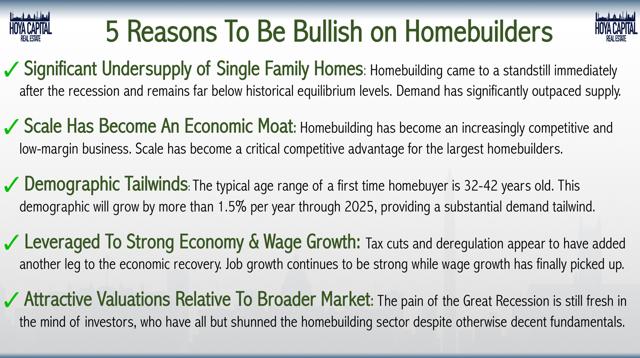 While favorable demographics and the strong economic backdrop seem to forecast robust demand for single-family homes, survey data and homeownership data indicate that millennials remain stubbornly out of the ownership markets. The combination of unaffordability and negative attitudes towards homeownership are key constraints that are unlikely to abate in the near term. A recent Freddie Mac survey noted several key trends that are helping to support rental demand including an increase in renter satisfaction to near-record levels and an increasingly favorable view towards renting as the most affordable housing option. 78% of tenants believe that renting is more affordable than owning, up significantly this year.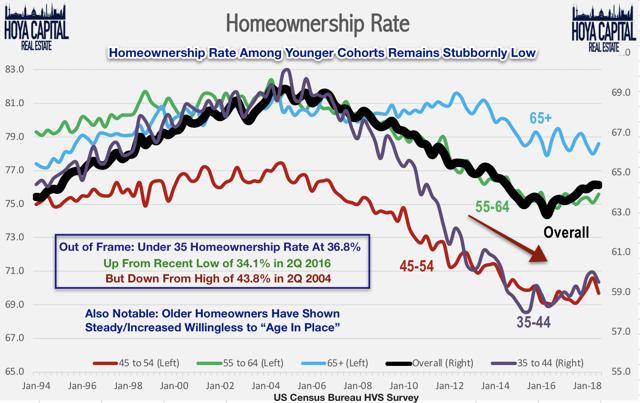 We continue to discuss the implications of rising home prices and mortgage rates on the broader housing markets. Rental rates have risen far more modestly over the last five years compared to home prices. Using our Buy vs. Rent index, we see that for the average household, renting appears to be the superior economic value relative to homeownership and this spread continues to widen as home price appreciation has nearly tripled the rate of rent growth over the last year.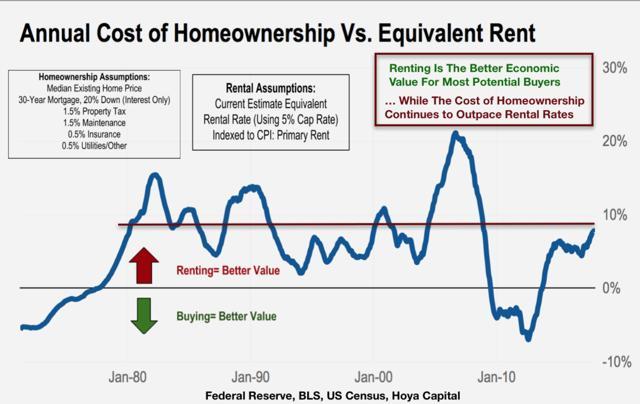 Rapidly rising construction costs have further pressured the already razor-thin operating margins for homebuilders. Even as there may be a significant shortage of housing as a whole, regulatory constraints and high land costs prevent new single family homes from being priced competitively for all but the higher-income earners. Further, whether fundamentally justified or not, homebuilder valuations have become increasingly more interest rate-sensitive in recent years. Below we outline the five primary reasons that investors are bearish on homebuilders.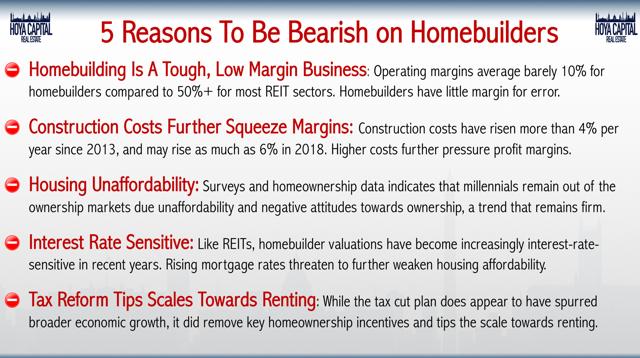 Valuation of Homebuilders
The 2018 sell-off in homebuilders has pulled down most valuation metrics to their lowest level since the housing crisis. A notoriously cyclical industry, homebuilders have historically traded at discounted valuations to the broader US equity sectors. From 1991 to 2016, homebuilders have traded for an average forward P/E of 10-12x. After the recent decline, homebuilders now trade at a 9x forward PE and appear to be attractive given the positive economic growth outlook. We translated the P/E ratio to the Free Cash Flow metric that we use for REIT sectors. We note that homebuilders trade at discounted valuations to the REIT sector. Homebuilders are trading at an average Price to Book Value ratio of just 1.3, the lowest level since 2008.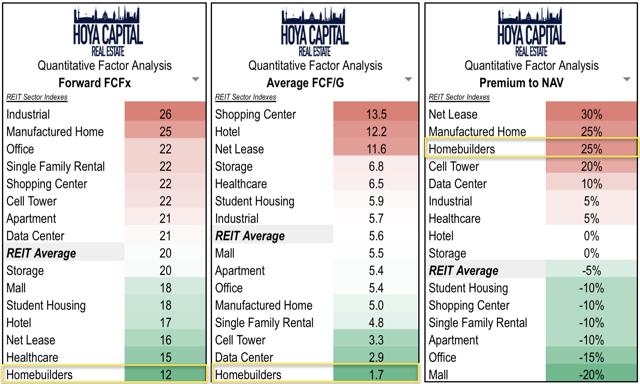 While REITs are known for their healthy and predictable dividend yields, homebuilders generally pay little or no dividends and instead plow back all of the available cash flow into development. Homebuilders pay a dividend yield below 1%, shy of the nearly 4% yield paid by the average REIT.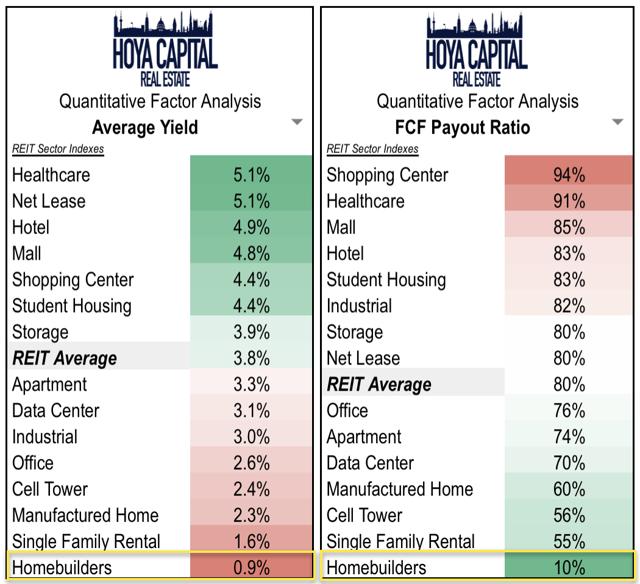 Despite their high growth rates and low dividend yields, homebuilders have become increasingly interest-rate-sensitive over the past several years. If homebuilders were lumped into the REIT sector, however, homebuilders would still be among the most "growthy" real estate sectors.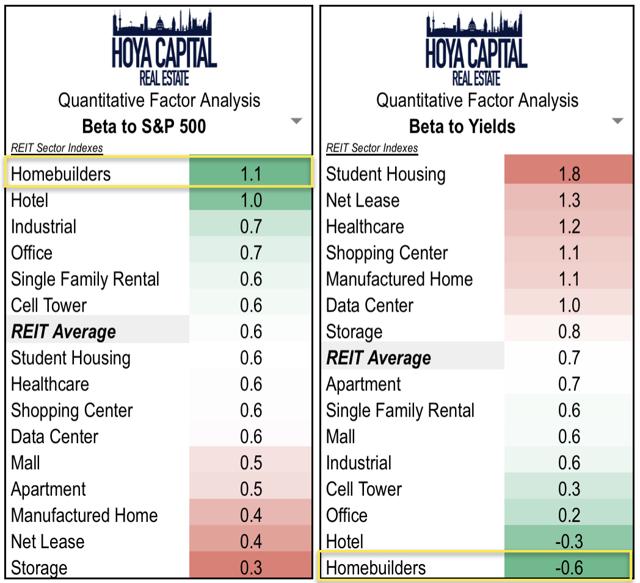 Bottom Line: Relief In Sight
Homebuilders are having their worst year since 2008, plunging 30% this year amid signs that the housing recovery has slowed or outright stalled. The issue: lumber, labor, lending, and land. The positive effects of robust economic growth and favorable demographics have been offset this year by the negative effects of rising mortgage rates and reduced homeownership incentives from tax reform.
"Affordability" was mentioned more than 100 times in quarterly earnings calls. First-time buyers, a focus for many builders, are the most sensitive segment to rising monthly mortgage payments. Relief may be in sight, at least for lumber and lumber costs. Lumber prices have retreated 50% from 2018-highs. The plunge in oil prices should indirectly pull down mortgage rates. By most metrics, housing markets remain significantly undersupplied after a dearth of new construction over the last 30 years. There remains a long growth runway for operationally efficient builders.
Be sure to check out all of our reports to see how each sector stacks up: Data Center, Manufactured Housing, Student Housing, Single-Family Rentals, Apartments, Cell Towers, Manufactured Housing, Net Lease, Malls, Shopping Centers, Hotels, Office, Healthcare, Industrial, and Storage.
We encourage readers to follow our Seeking Alpha page (click "Follow" at the top) to continue to stay up to date on our REIT rankings, weekly recaps, and analysis on the real estate and income-focused sectors.
Disclaimer: All of our research is for informational purposes only, always provided free of charge. Recommendations and commentary are purely theoretical and not intended as investment advice. Information presented is believed to be factual and up-to-date, but we do not guarantee its accuracy and it should not be regarded as a complete analysis of the subjects discussed. Independent of the disclosed investment positions, Hoya Capital Index Innovations manages the Hoya Capital Housing 100 Index, (Bloomberg: HOUSING) an index composed of the 100 companies that collectively represent the performance of the US residential housing market. For investment advice, consult your financial advisor.
Disclosure: I am/we are long VNQ, XHB, SPY. I wrote this article myself, and it expresses my own opinions. I am not receiving compensation for it (other than from Seeking Alpha). I have no business relationship with any company whose stock is mentioned in this article.