Renren (NYSE:RENN) reported earnings yesterday.
For 4Q11
Net revenue: $32.8 million, +57% y/y
Online advertising revenue: $15 million, +66% y/y
Online game revenue: $12 million, +39% y/y
Nuomi revenue: $2.7 million
Gross margin: 70.4%
Operating loss: $19.7 million, compared to $2.3 million operating profit in 4Q10
Net income: $44.3 million, compared to net loss of $33.9 million in 4Q10. The positive net income was due to $50.9 million gain on sales of marketable securities
Non-GAAP income: $48.2 million, compared to $5.2 million in 4Q10
For FY2011
Net revenue: $118 million, +54% y/y
Online advertising revenues: $59.6 million, +86% y/y
Gross margin: 78%
Operating loss: $30 million compared to $7.7 million operating income in 2010
Net income: $41.3 million
Non-GAAP income: $49.7 million
What I liked: Stronger Growth Than Facebook; Mobile To Be The Next Catalyst
Monthly active user growth still outshines Facebook (NASDAQ:FB) in the US on a year-over-year basis.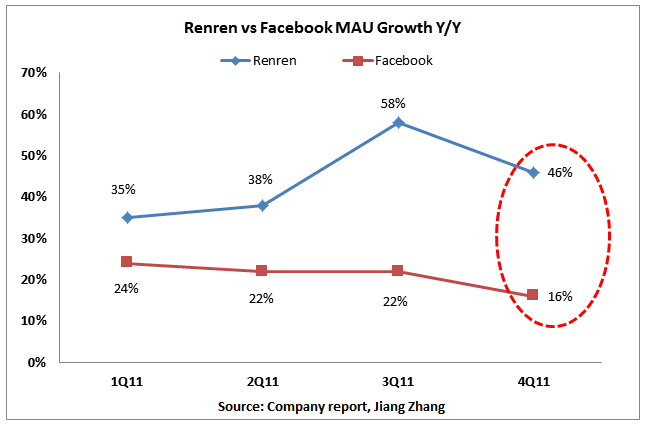 Over the past quarter, Renren also saw stronger user engagement, which was 7.4 hours per user per month compared to 7 hours per user per month in Q3, and allowed advertising revenue to continue to exhibit robust growth as advertisers begin to realize the value behind social ad model. The top five advertising clients for Renren over the quarter were from IT, consumer goods, auto, apparel, and baby care.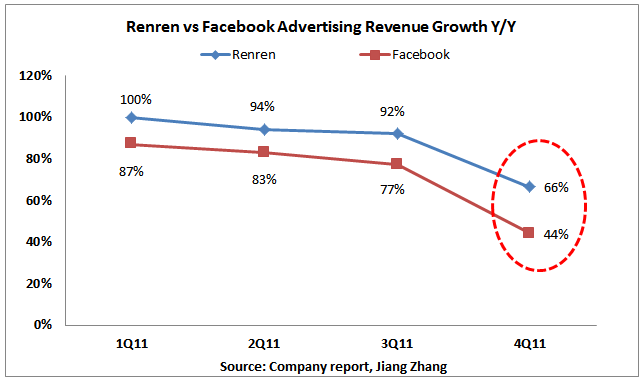 Finally, management indicated that the company will continue to invest in mobile as social networking enters the "mobile-centric era". Traffic to social networking sites is increasing in China due to rising penetration of smartphones. Over the quarter, Renren's mobile penetration was 38% and 60% of mobile users access Renren via smartphones, and the numbers will likely climb as LBS and mobile games continue to play vital roles to driving mobile traffic.
What concerned me: Declining Nuomi margin and monthly unique log-in user growth
Nuomi's gross margin continues to decline, which could indicate weakness in commission rate.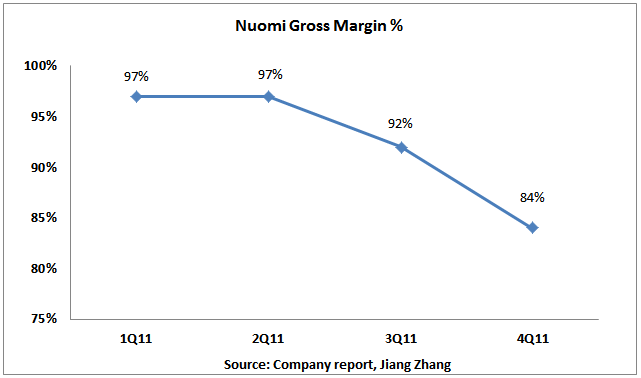 However, encouraging signs began to emerge in China's group-buy industry in which 3,000 group-buy sites are currently operational compared to over 6,000 in the middle of last year, indicating industry consolidation is taking place. Nuomi is currently operating in 55 cities across China and will deepen its penetration by leveraging the synergy with Renren, HTC Daren mobile handset and Focus Media's (NASDAQ:FMCN) interactive LCD screens.
Despite solid year-over-year growth in monthly unique log-in users, growth on a quarter-over-quarter basis was nil.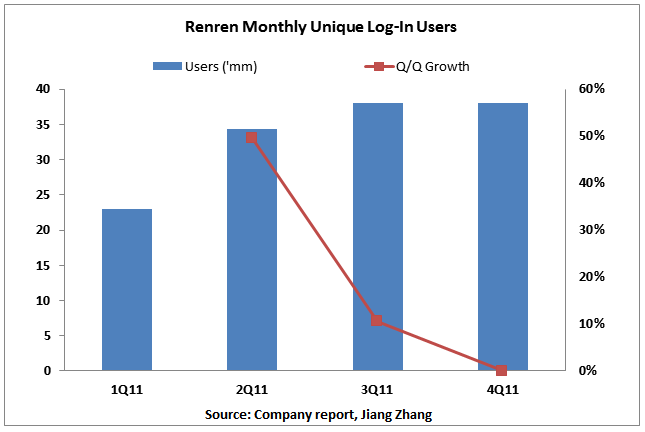 Disclosure: I have no positions in any stocks mentioned, and no plans to initiate any positions within the next 72 hours.