The Consumer Price Index for All Urban Consumers (CPI-U) increased 0.3% in October on a seasonally adjusted basis, the U.S. Bureau of Labor Statistics reported today. Over the last 12 months, "headline" inflation rose 2.5%.
Although a monthly number of 0.3% is a brisk pace for inflation, the October result matched the consensus estimate, as did the 2.5% year-over-year number, so the markets shouldn't see much of a reaction. U.S. inflation has been fairly mild for most of 2018, after a 0.5% bump in January.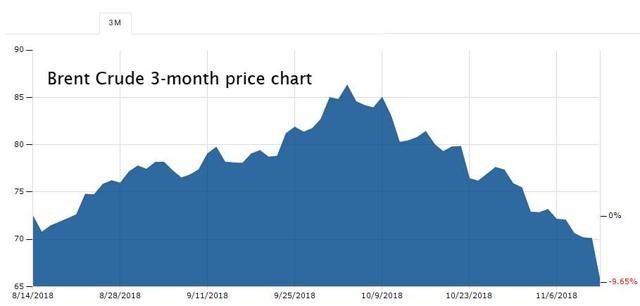 The BLS noted that a 3.0% increase in the gasoline index was responsible for more than one-third of October's seasonally adjusted increase. Gasoline prices are now up 16.1% year over year, but crude oil prices have been falling sharply since early October, so this trend could get a short-term reversal. Fuel oil prices were also up sharply in the month, 3.7%.
Also on the upswing were prices for used cars and trucks (up 2.6%), shelter (0.2%) and medical care services (0.2%). Food prices, however, declined 0.1% and are up only 1.2% over the last 12 months. (This is another trend that could reverse in the short-term, as major food-makers have announced price increases in recent weeks.)
Core inflation - which strips out food and energy - rose 0.2% in October (matching the consensus estimate) and is up 2.1% over 12 months (below the consensus of 2.2%). The data present a mixed bag for inflation watchers, but the overall impression is that inflation remains in the moderate zone.
What this means for TIPS and I Bonds
Holders of Treasury Inflation-Protected Securities and U.S. Series I Savings Bonds are also interested in non-seasonally adjusted inflation, which is used to adjust the principal balances of TIPS and set future interest rates for I Bonds. For October, the BLS set the inflation index at 252.885, an increase of 0.18% over the September number.
For holders of TIPS, this means that principal balances will adjust upward 0.18% in December, continuing a five-month string of low-to-moderate inflation adjustments. Here are the new December Inflation Indexes for all TIPS.
For holders of I Bonds, the October number is the first of a six-month string that will determine the I Bond's new inflation-adjusted interest rate, to be reset on May 1, 2019. Here is the trend over the last seven months:
What this means for future interest rates
Both headline CPI and core remain above the Federal Reserve's target of 2.0%, although the Fed prefers to monitor the price index for personal consumption expenditures (PCE), which was running at 1.99% through September.
October's 0.3% inflation increase was the largest monthly gain since January. But falling oil prices could moderate inflation in coming months, possibly counterbalanced by rising food prices. All in all, it's a wash.
I would expect the Federal Reserve to hold to its plan to raise its Federal Funds Rate by 0.25% in December, to a range of 2.25% to 2.50%. But the picture for 2019 is cloudy, depending on continued economic growth.
For investors
As short-term rates continue to rise, consider putting your cash-like investments in:
High-quality, high-safety money market funds like Vanguard's Federal Money Market (MUTF:VMFXX), currently yielding 2.13%, just below the current 4-week Treasury's 2.24.%
Of course, 4-week Treasurys are a simple investment to set up and reinvest at TreasuryDirect. Auctions are every Monday; invest one-quarter of your funds each Monday and then roll them over. The yield of 2.24% will rise quickly to match any Fed increase.
Other option is the 13-week Treasury, currently yielding 2.38%. It will rise with Fed increases, but a little more slowly with the longer-term rollovers.
In the one-year range, I still prefer the 1-year Treasury, currently yielding 2.72%, higher than most bank CDs and free from state income taxes.
Disclosure: I/we have no positions in any stocks mentioned, and no plans to initiate any positions within the next 72 hours. I wrote this article myself, and it expresses my own opinions. I am not receiving compensation for it (other than from Seeking Alpha). I have no business relationship with any company whose stock is mentioned in this article.