"A 60:40 allocation to passive long-only equities and bonds has been a great proposition for the last 35 years …We are profoundly worried that this could be a risky allocation over the next 10."
Sanford C. Bernstein & Company Analysts (January 2017)
"Bull markets are born on pessimism, grow on skepticism, mature on optimism, and die on euphoria"
Sir John Templeton
"Life and investing are long ballgames."
Julian Robertson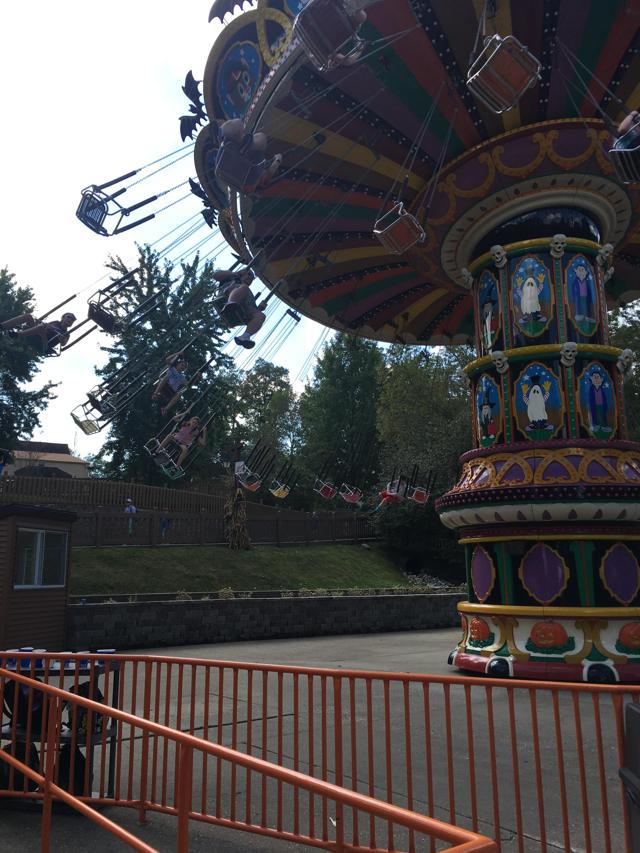 (Author's Photo)
Introduction
For a majority of the current bull market in U.S. equities, it has paid to leave your mind, and calculator, at the door if you wanted to have a good time at the party.
Valuations have generally not mattered, relative or absolute, and bottoms-up analysis has been eschewed in favor of broad macro trades or concentrated ETF bets.
This has all been amplified by fund flows, to the point that value investing has felt as out-of-favor as Buffett felt in the late 1990s.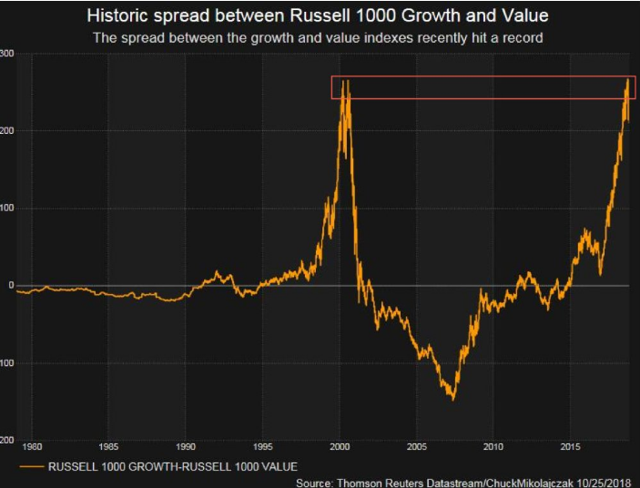 (Source: Thomson Reuters/Chuck Mikolajczak)
This bubbling cauldron of misplaced investment analysis and miss-allocation of capital came to a rampant boil in 2007, when the S&P 500 Index, as measured by the SPDR S&P 500 ETF (SPY), melted higher, gaining every month on a return basis in calendar 2017, in one of the least volatile years for the U.S. equity markets on record.
Fortunately, this insanity, this sullying of capitalism could not continue, because by definition, something that's unsustainable has to end, and ended it has, not with a silent whimper, but rather with a flourish, and through these ending flourishes, the unwinds of crowded trades, the slow beginnings of a return to reality have taken shape in 2018, through a series of market events that we will investigate below.
Investment Thesis
The financial markets are slowing returning to normal, one burst bubble at time, paving the way for an epic reversion to the mean trade between what is in favor and what's out of favor.
Peak Of Alice In Wonderland
There are so many things that have happened during the past decade that are indescribable from they eyes of a 25 plus year market participant, and through the eyes of a market historian, it is hard to find a place to start.
I have spent a lot of time chronicling this through my writing the past several years, and I will be grateful for this writing to be able to look back on this unique period of market history and to have these memoirs.
With that reflecting out of the way, let's pick up in 2017, near the end of this mania that gripped the U.S. markets for the past decade, when the S&P 500 Index went up every month on a total return basis, as shown in the chart below.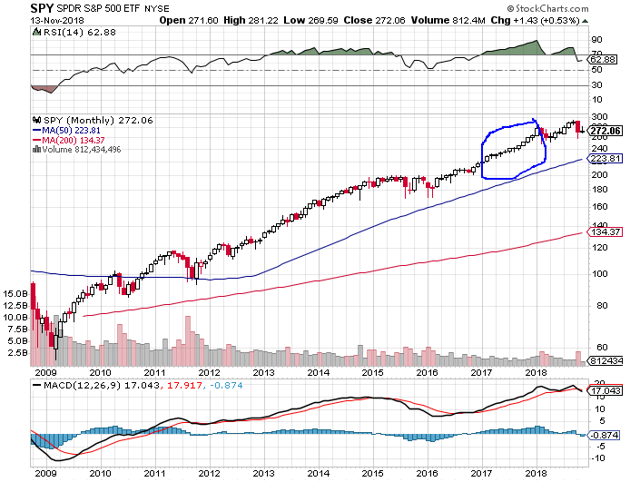 (Source: Author, StockCharts.com)
Looking at the chart above, the price action in the S&P 500 Index during the duration of this bull market was remarkable, particularly how long it stayed overbought.
The S&P 500 peaked in terms of momentum in January of 2018, as shown in the chart above, and from there, the story started to change, chapter by chapter.
Short Volatility Trade Implodes - January/February 2018
For most of the current U.S. equity bull market, being short volatility was a moneymaker, and various stories, including the tale about the Target (TGT) manager making millions, gaining traction in the canon of market participants.
Like most things too good to be true, or even all good things, this good fortune shorting volatility came to an abrupt end, as shown by the ProShares Short VIX Short-Term Futures ETF (SVXY) below.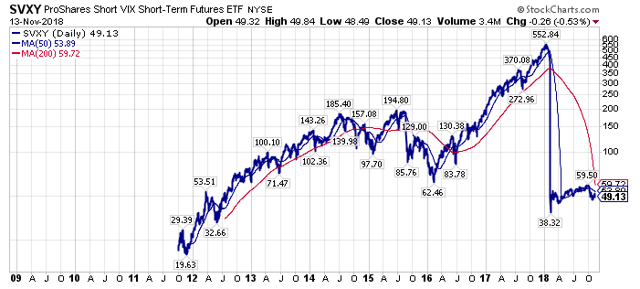 (Source: Author, StockCharts.com)
In The Contrarian we were actually long the ProShares Ultra Vix Short-Term Futures ETF (UVXY) through June calls, but even though this was a successful trade, it was anything but easy, and the better call would have been to own puts on SVXY.
Long story short, the crowded short volatility trade was unwound in one fell swoop.
Long-Term Bonds - A Slow Unwind All Year
Since 2016, I have consistently written, publicly and privately, about the bursting of the bond bubble, and lo and behold, it is happening in slow motion, as shown by the chart below of the iShares 20+Year Treasury Bond ETF (TLT).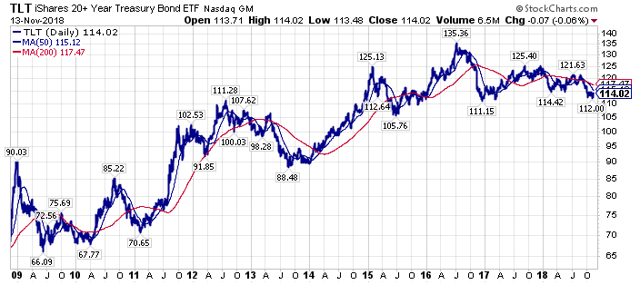 (Source: Author, StockCharts.com)
TLT is down -8.1% this year, including a -2.9% decline during the month of October, during which SPY lost -6.9%, the SPDR Dow Jones Industrial Average ETF (DIA) lost -4.9%, the Invesco QQQ Trust (QQQ) lost -8.6%, the iShares MSCI EAFE ETF (EFA) lost -8.2%, and the iShares MSCI Emerging Markets ETF (EEM) lost -8.8%.
Basically, bonds went down when everything else did, and that's unusual, but that describes the price action of longer-term bonds this year, which have been in a slow unwind from what I feel was an extremely crowded trade.
FAANG Loses Its Momentum & Mojo - July Through October 2018
Facebook (FB), Amazon (AMZN), Netflix (NFLX), and Alphabet (GOOGL), (GOOG) are all below their respective 200-day moving averages, and Apple (AAPL) has been wounded too, with AAPL shares very close to breaching their 200-day MA.
(Source: Author, StockCharts.com)
Looking at the charts above, the long-term returns for FAANG during the current bull market have been fantastic, however, that's why they are a crowded trade. Everyone has wanted a piece of the action.
Year to date, FB, AMZN, NFLX, GOOGL and AAPL shares have returned -19.4%, 39.5%, 53.4%, -0.5%, and 15.3%, respectively, so the sky is not falling, at least collectively, yet all of these stocks are materially off from their 2018 highs.
Building on the narrative, when is the last time all of the FAANGs were below their 200-day moving averages?
I would have thought 2015/2016, but FB was a holdout there, so there really seems to be a change in character in the market. Or said another way, another crowded trade is unwinding.
Oil Craters - October Through November 2018
Remember all the calls for $100 oil?
While I'm an oil bull longer term, and I'm even a bigger fan of out-of-favor energy equities, as I'm very bullish on commodities in general, the long oil trade did seem crowded, and the under-performance of oil related equities, including the VanEck Vectors Oil Services ETF (OIH), which was near its 2016 lows, even when oil was recently at its highs, was a warning sign, with the benefit of hindsight.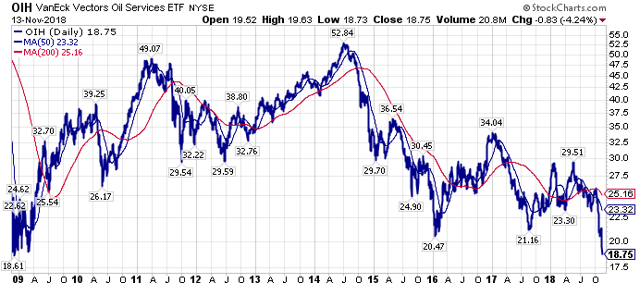 (Source: Author, StockCharts.com)
How did this resolve?
Well, OIH, which is down -28.0% year-to-date in 2018 through the market's close on Tuesday, November 13th, broke support, and closed below its 2016 lows.
What about oil?
Well, oil has been down a record straight 12 days, as measured by the United States Oil Fund (USO).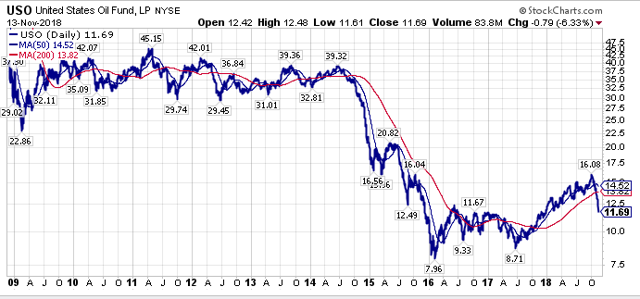 (Source: Author, StockCharts.com)
$WTIC crude oil, which was up by over 25% year-to-date in early October, is now down -7.8% as I write this post. What a difference a little over a month makes!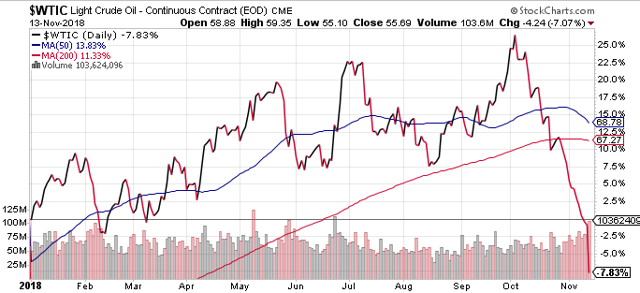 (Source: Author, StockCharts.com)
Longer-term, both $WTIC oil and $BRENT oil are in uptrends.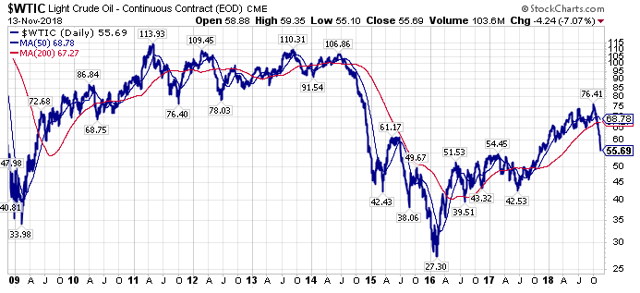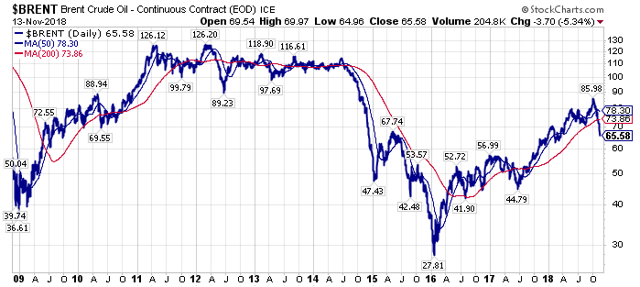 (Source: Author, StockCharts.com)
While the longer-term uptrends are still intact, it's clear that there has been an unwind of a crowded trade.
Short Natural Gas Trade Meets Its Maker - October Through November 2018
One of the most reliably short trades for the duration of the current bull market has been short natural gas, shown by the charts of the United States Natural Gas Fund (UNG), which normally suffers from contango decay.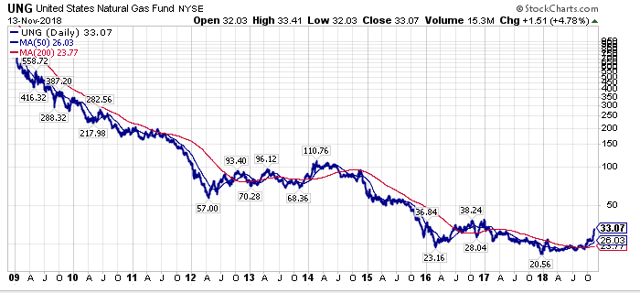 (Source: Author, StockCharts.com)
Look at the far right of the above chart. Something changed.
Now look at just the natural gas price chart.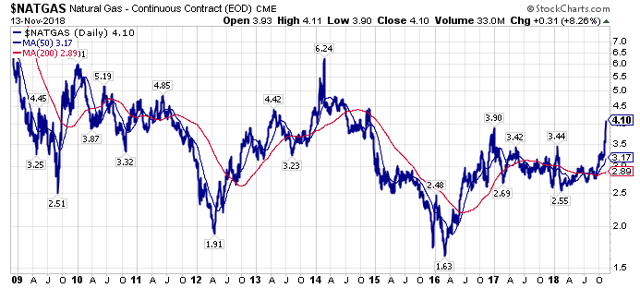 (Source: Author, StockCharts.com)
How has that crowded short trade worked out lately in natural gas?
One More Crowded Trade To Go
I can think of several smaller crowded long trades, including the long real estate trade, exemplified by the popular iShares U.S. Real Estate ETF (IYR) and the equally popular Vanguard Real Estate ETF (VNQ), and I expect the crowded trade in real estate securities to burst as longer-term interest rates continue to ratchet higher.
The big remaining crowded trade, however, is in the S&P 500 Index.
Remember the monthly chart of SPY shown earlier.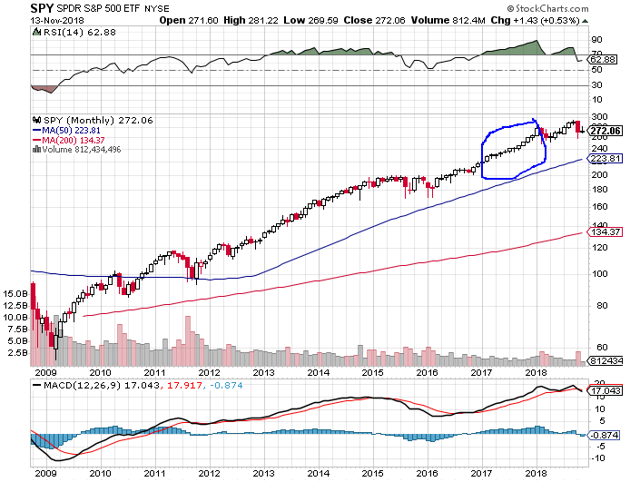 (Source: Author, StockCharts.com)
Look how long SPY was overbought for in the top panel above. It should be clear that the broader stock market has been overbought for a substantial period of time.
And it should be clear that the two roughly 10% corrections in 2018, no matter how bad they felt, have not yet been an unwind of perhaps the ultimate crowded trade, fueled by passive, value insensitive inflows.
In a recent article, I explored why there has been such a persistent bid in the broader U.S. stock market in my examination of the popularity of trend following.
This is what I specifically wrote:
However, given the widespread adoption of trend following strategies, including the proliferation of computer algorithmic application of these strategies, which is the second sub-sector, could trend following be a crowded strategy?

If so, what is the impact?

Perhaps it could be a historically, systematically overvalued market, with a few notable pockets of exception, that would never have reached the heights it did without the prevalence and widespread adoption of trend followers?

Perhaps the result of too many trend followers is higher bouts of volatility, such as the two 10% corrections in the S&P 500 Index, as measured by the SPDR S&P 500 ETF this year, that ultimately lack the historical significance of past corrections, simply because these are crowded trades being unwound?

Said another way, perhaps there are so many trend followers today, that this creates a sideways market, with concentrated near-term volatility, that constantly whipsaws trend following traders.

Summarizing, I think there is a case to be made that the market price action, including heightened volatility this year and systematic overvaluation in the past decade, is a direct symptom of too many trend followers.

Time will tell, but this is something to monitor, from my perspective, as if any of these observations are true, the reversal, whenever it happens, will have enormous price consequences, as trend following engages in the reverse price direction.
Wrapping up this section, has the S&P 500 Index been a crowded trade?
I think the unequivocal answer is yes.
The bigger question is when and how it will unwind, and how? Meaning fast and viscous, or slow and persistent?
Closing Thoughts
If this were a horror movie, where a group of friends were dying off one by one, the other friends would be scared.
That analogy applies to crowded trades today, meaning if you happen to be in a crowded trade, you should feel scared, as some part of the market, maybe a computer algorithm for all we know, is hunting crowded trades.
Crowded trades can go on for a long time. Just look at the S&P 500 Index shown in the monthly chart in the above article. However, the longer a crowded trade goes on, the more vicious, and/or persistent the unwind will be.
How will the current unwinds evolve?
Time will tell, however, every investor needs to be aware if they are in a crowded trade, and I can think of one big crowded trade left in the market right now.
What about you reading this article? Where are the crowded trades today?
On that note, thank you for taking the time to read this article.
Ultimately, when the crowded trades unwind, we will exit the current era of crowded investment strategies, and enter a golden age for active investors.
Disclaimer: Every investor's situation is different. Positions can change at any time without warning. Please do your own due diligence and consult with your financial advisor, if you have one, before making any investment decisions. The author is not acting in an investment adviser capacity. The author's opinions expressed herein address only select aspects of potential investment in securities of the companies mentioned and cannot be a substitute for comprehensive investment analysis. The author recommends that potential and existing investors conduct thorough investment research of their own, including detailed review of the companies' SEC filings. Any opinions or estimates constitute the author's best judgment as of the date of publication and are subject to change without notice.
For further perspective on how the investment landscape is changing, and for help in finding under-priced, out-of-favor equities with significant appreciation potential relative to the broader market, consider joining a unique community of contrarian, value investors that has thrived in 2016 and weathered the storm in 2017 to become closer as a collaborative team of battle-tested analysts. Collectively, we make up "The Contrarian," my premium research service.
Disclosure: I am/we are short SPY AND LONG TLT PUTS. I wrote this article myself, and it expresses my own opinions. I am not receiving compensation for it (other than from Seeking Alpha). I have no business relationship with any company whose stock is mentioned in this article.