Summary
In February 2018, I observed the cannabis stocks were transitioning from the first stage of the bull market to the second stage. I said investors should adjust their portfolio strategy.
I explained my view that the stock market and cannabis stock market cycle can be separated into three stages:
1. The first is the bull market dynamic phase, which is an uptrend with few corrections.
2. The second stage is the trading phase during which prices still rise but at a slower overall rate of gain and increased volatility.
3. The third stage is the bear market that is a downtrend with few rallies of any size. Bear markets are shorter than bull markets and do not give back all of the previous bull market gains.
Today, I think it is clear that we are in stage two, and we may be transitioning into stage three or the Bear market. I realize the "B" word might strike fear into the heart of investors, but don't let it happen. This is nothing more than another transition that implies a different set of policies that should guide your investment strategy.
Let's quickly review and update the market cycle and the three stages I define.
The Market Cycle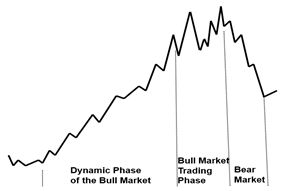 The entire market cycle is divided into three parts. The first is the bull market defined as a time when stock prices are generally rising. The bull market is further separated into two sections: the Dynamic Phase and the Trading Phase. The final stage is the bear market, which is an extended period of price declines. Here are some points to remember:
The bull market lasts three to four times longer than the bear market. That is why successful portfolio managers tend to be optimists. Since the market is rising most of the time, being positive means you will be right most of the time.
Although bear markets don't last as long, the rate of price decline is more rapid, and for investors, the experience is more frightening.
Third, the bear market typically does not surrender all the gains made in the preceding bull market. That is why long-term charts of the Dow Jones Industrial Average and other market indexes rise over time. The long-term return on common stocks in the U.S. and Canada has been around 9%+ per annum assuming reinvested dividends.
Also, it is worth noting that although I am using one standard model for a market cycle, each one is unique. The length and the rate of change will be different from cycle to cycle.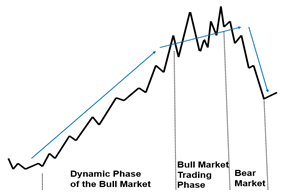 The next chart illustrates the trends in each phase:
In the Dynamic Phase of the bull market, the rate of return is the highest. This is the phase where buy and hold works best.
During the Trading Phase, the corrections become larger and more frequent, but the returns remain positive. In the Trading Phase, the opportunities for higher profit from trading exist. As I said in the original report, during the Trading Phase, more new issues are brought to market. This is the stage at which many new companies are underwritten as the investor appetite for speculative stocks is higher.
The bear market decline is often steeper and shorter. However, as I said in my first report, this is the stage at which investors feel the greatest stress. As behavioral science has established in recent years, "loss aversion" means for most people, it is better not to lose $1 than to make a $1. Some studies show that you need a profit of $2 to offset the psychological effect of a $1 loss.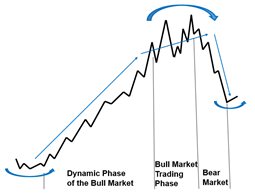 A key message is the roll-over to the next phase is not instantaneous. In fact, in a way, the Trading Phase is the transition from a Dynamic Phase to a Bear Market. So if we consider we are currently about to roll over from the Dynamic Phase to the Bear Market, the actual Bear Market could still be a year off. Of course, it could come sooner than that.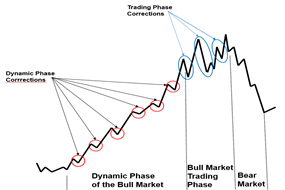 The characteristics of each phase dictate how you should manage your investments.
In the Dynamic Phase, prices are predominantly upwards. When corrections or setbacks occur, they tend to be relatively brief, and the declines are small. For larger markets such as the New York Stock Exchange and the Toronto Stock Exchange, corrections on the major indexes will not often go over 5%, and they need to approach 10% before anyone worries. In the more volatile cannabis sector, this is likely more like 10% and 20%, respectively. This is the time to buy as much as you can and hold on. For now, that time has passed.
In the Trading Phase, corrections in the overall markets will frequently exceed 10%, and for cannabis stocks, that should translate into 20% or more. The markets are more volatile and corrections more frequent. For portfolios, it is a time to take some profits on strength and nibble at stocks on weakness. If you buy less and sell more, you will build cash over time. Readers will probably recognize these features in the cannabis stock market over the previous nine months and hopefully you have accumulated some cash.
Bear markets using a rule of thumb definition for the major markets is a decline in the leading indexes of over 20%. Cannabis stocks are considerably more volatile, so the decline might be 40% to 50% during a bear market.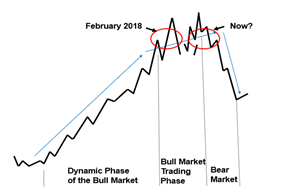 In February 2018, I reported that we were in the transition from the Dynamic Phase to the Trading Phase (oval to the left). Now I think we are in transition from the Trading Phase to the Bear Market. Note that I am still not trying to forecast the market. So I use a large oval instead of a small dot to identify where we are. However, I am willing to go so far as to say I think we are still in the cannabis bull market and the trend over the short term will be positive. However, the cannabis group has experienced some sharp fluctuations and so we have to adjust.
On Seeking Alpha eight months ago, I suggested readers build some cash in portfolios. If you follow me on The Cannabis Report Model Portfolio, you will see I have 25%+ cash. Given the recent drop in cannabis stocks, which I think is still volatility on the downside in the Trading Market, I am looking at a couple of new stocks that have come down a lot in price that will be very attractive at current levels. If I buy a couple of new names and reduce my cash to 10% to 15% in the short run, the plan will be to raise the cash to around 35% in the next rally.
What's Next?
We are close to the bottom of a sharp correction in the cannabis stocks. Since the middle of October, the Marijuana North American Index is down 29%, the Canadian Cannabis Composite Index is down 29% and the New Cannabis Ventures Global Cannabis Stock Index is down 26%. By our definition, this qualifies as a correction in the Trading Phase of the cannabis stock market cycle.
Could this turn into the Bear Market? It's possible. The fact of the matter is the cannabis stocks need an "event" to spur a recovery. We think the odds favor such an event. There have been many rumors of another major outside-the-industry investment into one of the leading cannabis stocks such as Aurora Cannabis (NYSE:ACB) or Aphria (NYSE:APHA). Finally, it is rumored that President Trump will propose a new policy toward cannabis that will make medical cannabis legal in the U.S. and allow states to determine local policies on recreational marijuana. So there is a reasonable likelihood of a positive event in the next six months.
Although the odds favor a positive event, in my view, there are a couple of potential clouds on the horizon. These are longer-term issues.
Although the next Canadian federal election is still a year away (October 21, 2019), the pro-cannabis Liberal Government has fallen behind the anti-cannabis Conservatives in the latest polls. Although it is almost inconceivable that it has happened, Prime Minister Justin Trudeau has frittered away a massive amount of political goodwill, and it is possible he could lose the next election. When I asked Vic Neufeld, Chief Executive Offer of Aphria, what would happen if the Conservatives win the next election, he provided an opinion with which I agree. Neufeld said:
The Liberal Prime Minister has behaved in a way that could explain the poll result. But his actions and the polls could change in a year.
In any case, Neufeld said he did not believe a Conservative government will revoke legalization. Subsequently, Andrew Scheer, the leader of the opposition, said in an unconvincing manner that a Conservative government will not make cannabis illegal again.
In my opinion, if the Conservatives maintain or increase their lead in the polls as we move toward Canada's next federal election, that will be reflected negatively in the cannabis stocks. If the Conservatives are elected, investors will not wait around to find out what the new government will do. They will probably sell in the days immediately leading up to and following the election. This could be a bear market triggering event.
Another issue in my mind is the potential for a scandal to hit the cannabis group. Given the massive amount of capital that has been raised and spent by cannabis companies, the potential certainly exists. As I talk to people in the industry, the number of rumors floating around out there reminds me that where there's smoke, there is fire, and the more smoke there is, the more likely there is a fire. Obviously, a scandal will upset the fragile optimism of investors and send the market lower.
Recommended Company Updates
This report is a follow-up to my original Seeking Alpha article Where are We In the Cannabis Stock Market Cycle published in February 2018.
Back then I concluded we were transitioning from the Dynamic Phase to the Trading Phase of the cannabis stock market cycle. For the past eight months, we have seen the characteristics of the Trading Phase that I described: greater volatility and a lower rate of return. I think it is fair to conclude we are now firmly entrenched in the Trading Phase of the cycle.
Looking at the cannabis stocks today, I think we are still in the Trading Phase but also transitioning into the Bear Market. I see several factors that could trigger the next rally in the Trading Phase including a unilateral move by President Trump to legalize medical marijuana in the new year or another investment into a Canadian major Licensed Producer by big pharma, alcohol or non-alcoholic beverage company or tobacco.
Looking further ahead toward the end of 2019, I can also see events that could trigger a Bear Market Phase. The most serious is the possibility that the Canadian Federal Liberal Party could lose the next election to the staunchly anti-cannabis Conservative government that has actually moved ahead in the latest poll. The other factor I can foresee is a major scandal which almost seems inevitable given the billions of dollars that have been raised and is being spent in the industry.
Between now and then, whenever that may be, portfolios should continue to raise cash. I advised this in the February report, but it wouldn't surprise me if many investors haven't raised cash yet. Well, it's not too late. As we move ahead, take advantage of any price rallies to take some profits to hold as cash. In the Cannabis Report Model Portfolio that I run, I have followed my own advice and have around 27% in cash.
As the market has corrected recently, I will use some cash to add to stocks that have dropped in price. In the next rally, I will take some profits and expect to end up with 30%+ in cash. I will continue forward buying on dips and selling on bounces until by next fall, the cash position should approach a defensive 50% or so.
Here is an update on the stocks I have been covering here on Seeking Alpha: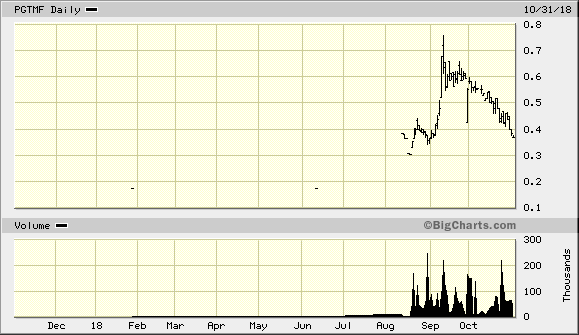 Ascent Industries (OTC:PGTMF) [CSE:ASNT] is licensed to produce cannabis and extracts and has applied for a controlled drugs license. In the U.S., ASNT is licensed for production, processing and wholesale distribution of cannabis in Oregon and Nevada. Operations currently include facilities in these areas. I have favored ASNT since it went public in August 2018. However, I held off writing it up on Seeking Alpha because the shares shot up in price. Recently, ASNT reported a problem of a record-keeping nature in a recent inspection by Health Canada that has suspended certain of its licenses. The situation is expected to be rectified shortly. At that time I plan to make a more complete report.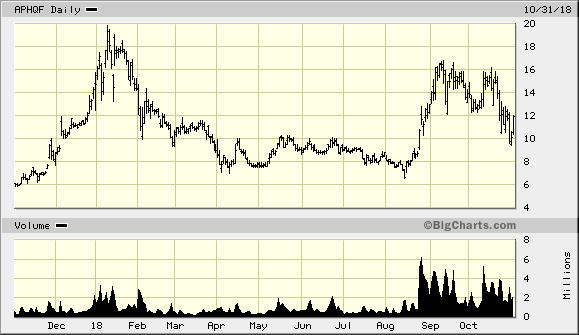 Aphria is one of the "big three" Canadian cannabis companies. Aphria has distinguished itself with above-average financial results and is about to become the third Canadian Licensed Producer to list on the New York Stock Exchange. In addition, it is probably one of the top two takeover targets of the cannabis group. A frequent rumor is Altria (NYSE:MO) buying a minority stake in the company. I recently heard Chief Executive Office Vic Neufeld speak in Frankfurt, Germany, and I am convinced management remains solid. It seems good things are in store for APHQF (or APHA) when it begins to trade on the Big Board.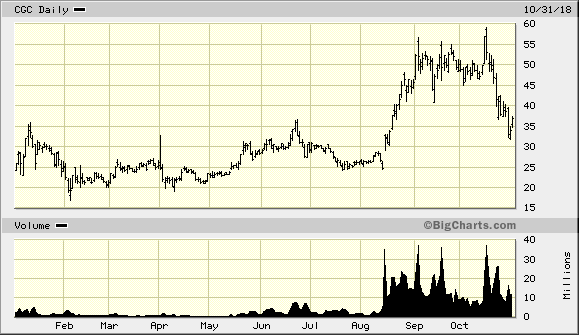 Canopy Growth (OTC:CGC) remains one of my picks in the Licensed Producer group. In my original Seeking Alpha article in late 2016, I referred to CGC as an "ETF Surrogate" and I stand by that two years later. CGC set the cannabis world on fire a year ago when Constellation Brands (NYSE:STZ) purchased a 9.9% interest in CGC in the first major cross-industry investment into the cannabis industry. Then, in August 2018, STZ invested another U.S. $4 billion into CGC raising its interest to 38%. CGC has been a constant industry leader including the move to international markets. Given it has a giant war chest, CGC is likely to continue in its leadership role.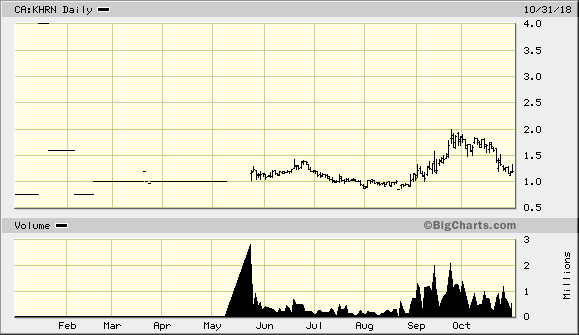 Khiron Life Sciences (OTCQB:KHRNF) [TSXV:KHRN] operates in Colombia as a vertically diversified cannabis company with plans to become a dominant force in Latin America. The local cost structure will make KHRN one of the lowest cost producers of high-quality medical cannabis. KHRN is diversifying horizontally initially into Chile. It has diversified vertically acquiring medical clinics in Bogota (ILANS) and launching a CBD-based cosmetics line, Kuida, targeting the specific needs of Latin American women. Recently, Vicente Fox, former president of Mexico and CEO of Coca-Cola Mexico, joined the Board. When the current exercise of $1.20 warrants is completed, I expect the stock to rebound smartly.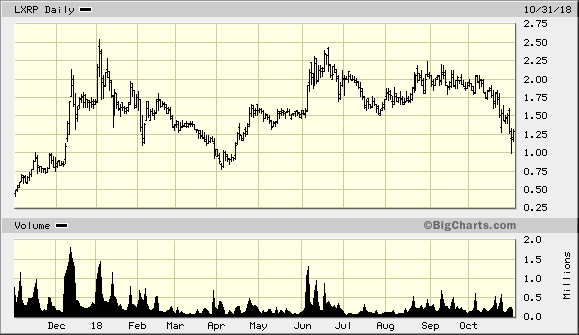 Lexaria Bioscience (OTCQX:LXRP) has significant potential because it out-licenses a disruptive and cost-effective technology, DehydraTECHTM, that promotes healthier administration methods, lower overall dosing and higher effectiveness of ingestible drugs and other beneficial molecules such as CBD, THC, nicotine, certain vitamins and nonsteroidal anti-inflammatory drugs. What separates LXRP from its competitors is a portfolio of patents and patents pending in over 40 countries. In addition, the benefits of DehydraTECHTM have been established in a number of scientific clinical trials with humans and animals. LXRP has the potential to sign an agreement that will launch it into an entirely new level.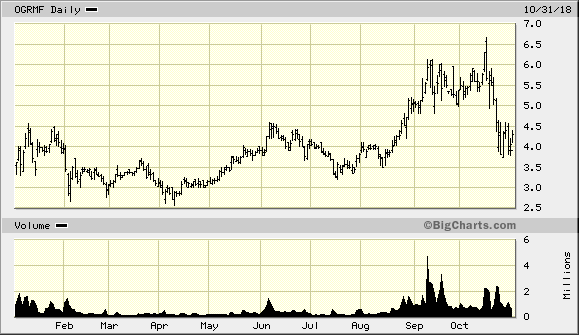 Organigram (OTCQX:OGRMF) is a licensed producer. OGRMF is one of the lowest-cost Canadian producers at under $1.00 per gram. With its organic certification reinstated, around 10% of its output will again be organic. In addition, it has funded an aggressive international growth plan that should establish it in markets around the world. Because the stock is comparatively undervalued, OGI is a name that always comes up when takeover targets are mentioned. This likelihood has probably increased since the stock has declined in the recent correction. With strong management, OBRMF is a relatively low risk investment in the cannabis space.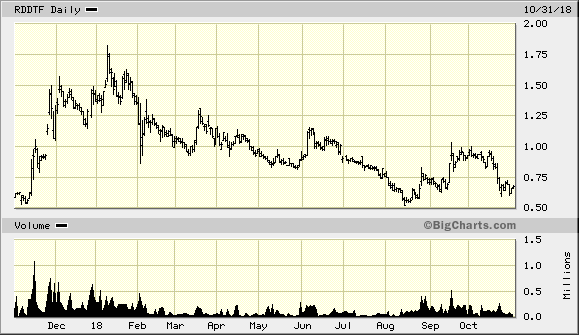 Radient Technologies (OTC:RDDTF) uses its core technology, Microwave Assisted Processing, or MAP, to produce extracts from cannabis providing substantially higher yields and purity when compared to competitors. Aurora Cannabis is an investor in RDDTF and is ACB's initial "Extraction as a Service" customer. Other Canadian licensed producers have also become clients of RDDTF. In addition, RDDTF's technology can be used to extract CBD from hemp. I believe oils and extracts is a very high-growth sector in the high-growth cannabis industry. I look on RDDTF as a lower-risk, junior company operating in a high growth area of the cannabis industry.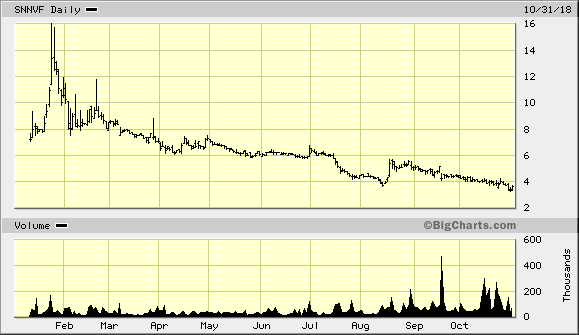 Sunniva (OTCQB:SNNVF): The market has put SNNVF in the penalty box for being too aggressive in its estimates on the completion of the California campus and the timing and financing of construction in Canada. To me, however, as long as SNNVF continues to fulfill its milestones, the timing becomes less important. The plan to spin out the Canadian assets is still in place and the timing is looking better and better considering what is going on in the U.S. I have hitched my star to management, and I think that will prove to have been the right thing to do.
Conclusion: I conclude the recent correction is part of the Trading Phase and not the Bear Market for cannabis stocks. If that is correct, the case can be made for buying any of these stocks. For more cautious investors, I think companies such as Aphria, Canopy Growth, Organigram, and Radient fit the bill. For investors who are more focused on higher returns with greater volatility, Khiron and Lexaria are the way to go. Sunniva is a somewhat smaller, developing company, but I think its market action during the recent correction is a strong indication that it is oversold. So SNNVF offers an attractive combination of higher upside potential with less downside risk from current levels. Finally, Ascent Industries is an attractive, well-managed company, and once the issues with Health Canada are resolved, I would be an aggressive buyer.
Disclosure: I/we have no positions in any stocks mentioned, and no plans to initiate any positions within the next 72 hours. I wrote this article myself, and it expresses my own opinions. I am not receiving compensation for it (other than from Seeking Alpha). I have no business relationship with any company whose stock is mentioned in this article.
Additional disclosure: I have options to buy 150,000 shares of KHRN that I received in consideration of work done for the company prior to going public. I do not receive compensation from the company at this time.
Editor's Note: This article discusses one or more securities that do not trade on a major U.S. exchange. Please be aware of the risks associated with these stocks.