Though it has global reach, Liechtenstein-based VP Bank AG (OTCPK:VUPPF) is a small-cap private bank little-known outside of the Central European principality. For investors seeking a growth opportunity in an obscure and undervalued finance stock with some risks, VP Bank AG may be the answer.
Given how under the radar this stock is, some introduction is necessary. Founded in 1956 and headquartered in Liechtenstein's capital, Vaduz, VP Bank AG is a private bank which provides asset management services and investment advice for private individuals and intermediaries in Liechtenstein, Switzerland, and worldwide. In addition, they also are involved in trading activities, in lending business, and in money market activities and interbank activities.
VP Bank's operations are not confined to Liechtenstein, however. They have a global presence, operating in the British Virgin Islands, Hong Kong, Luxembourg, Russia, Singapore and neighboring Switzerland, among other areas.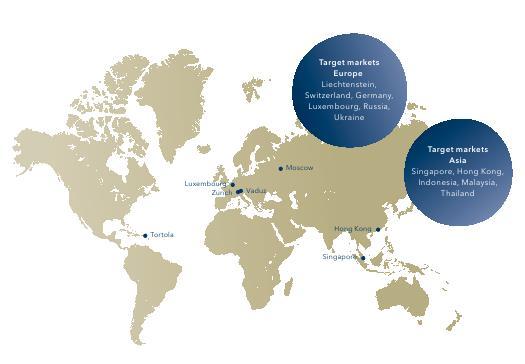 Image taken from VP Bank 2017 Annual Report.
For all its global reach, however, it was changes within its home market that caused upset not only for VP Bank, but for the National Bank of Liechtenstein (OTC:LCHTF) and for the privately-held LGT Bank as well. Indeed, Liechtenstein's banking sector is in recovery from the tiny principality's decision in 2014 to sign up to global financial disclosure standards and thus shed the unsavory reputation it had garnered as a tax haven. The country's banks were thus required to stop doing business with clients unwilling to be upfront about their tax arrangements.
This led to an exodus of clients for the bank. In an interview with Bloomberg in July, CEO Alfred Moeckli stated that a third of VP Bank's clients had left, most of whom were European and all to do with the new financial disclosure standards. However, Moeckli also stated that:
We have this all behind us, so we can now look forward and don't have this tax compliance issue of our clientele any more...
Going forward, VP Bank are hoping to capitalize on the growing number of high-net-worth clientele in Asia. According to Capgemini SE (OTCPK:CAPMF) (OTCPK:CGEMY), the Asia-Pacific is the top ranked region globally in terms of the assets high-net-worth individuals, or HNWIs, hold - from 2016 to 2017 the population of HNWIs in the Asia-Pacific region rose 12.1% to 6.2 million, and HNWI wealth rose 14.8% to $21.6 trillion.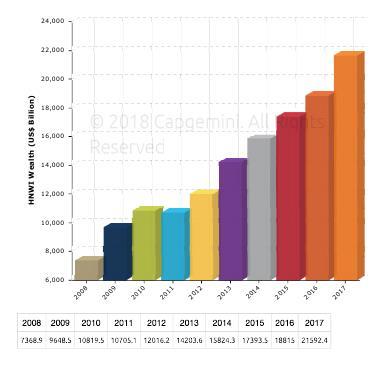 Chart showing Asia-Pacific HNWI Wealth growth from 2008 to 2017, from Capgemini SE.
By comparison, Europe's HNWI population only grew 7.3% to 4.8 million and HNWI wealth grew 7.8% respectively. Small wonder that VP Bank is looking to Asia as a growth opportunity, particularly China, whose market Moeckli told Bloomberg the bank are "looking at various possibilities" of tapping into.
That is not to say that there are not risks in this strategy, however. The ongoing trade war between the U.S. and China creates huge volatility on the financial markets, and the most recent accusation the U.S. made against China of stealing patents will do little to quell this situation. VP Bank have taken note of this situation, however, remarking in their recent semi-annual report that:
The danger of an escalating trade war has gripped financial markets. Sentiment fluctuates between hope and anxiety, and trends on major financial exchanges are accordingly volatile. This situation is not likely to change measurably in the months ahead. VP Bank Group's business activity will be marked by this challenging market environment.
VP Bank are well-placed to thrive within the "challenging market environment" that they acknowledge. The company has total assets of 12.6 billion CHF ($12.49 billion) against total liabilities of 11.7 billion CHF ($11.6 billion), which leaves it with equity of 900 million CHF ($892.37 million). With long-term debt worth 430.11 million CHF ($426.26 million), and cash-on-hand worth 3.27 billion CHF ($3.24 billion), VP Bank are in a stable financial position. Small wonder that Standard & Poor's awarded VP Bank an investment grade rating of 'A', upgraded from 'A-' in May.
VP Bank also benefit from being headquartered in Liechtenstein, a stable and open economy with strict banking regulations which receives most of its foreign direct investment into its banking and financial services sector. While VP Bank may look to Asia for future growth, and will be subject to the volatility that this entails, they are buffetted by their position as the largest independent bank in Liechtenstein, one of the wealthiest countries in the world with a AAA credit rating.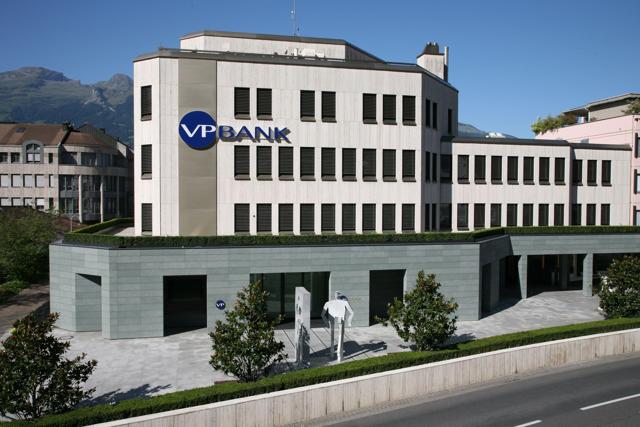 VP Bank headquarters in Vaduz, Liechtenstein. Image taken from lie:zeit.
In spite of its solid financial position, safe domestic regulatory framework, and potential growth opportunities in Asia, VP Bank is not a stock that income investors are likely to look favorably upon in light of its 2014 dividend reduction. That is unfair, however, as the decision for Liechtenstein to sign up to global financial disclosure standards - a one-time event - has caused the dividend cut, and in any case it is standard practice for many European countries to have dividend payments correlate with profits - i.e. if profits are low, the dividend payment will be lower, and if profits are high, the dividend payment will be higher. A look at net income figures and dividend payments over the past five years show how the company has performed since 2014.
| | | | | |
| --- | --- | --- | --- | --- |
| Year | Net Income (CHF) | Net Income ($) | Dividend (CHF) | Dividend ($) |
| 2013 | 38.7 million | 38.5 million | 3.50 | 3.48 |
| 2014 | 20.0 million | 19.9 million | 3.00 | 2.98 |
| 2015 | 64.1 million | 63.76 million | 4.00 | 3.98 |
| 2016 | 58.0 million | 57.7 million | 4.50 | 4.48 |
| 2017 | 65.8 million | 65.46 million | 5.50 | 5.47 |
The dividend - which is paid annually - has increased consecutively since 2014, and with a payout ratio of 51.34% and positive cash flow per share of 13.33 CHF ($13.22), VP Bank should be able to sustain stable, albeit fluctuating, dividends going forward. That is the company's declared policy:
The aim is to generate a steady stream of dividend payments. Providing the Tier 1 ratio is above 16%, between 40% and 60% of Group profits is paid out to the shareholders.
With a 3.52% dividend yield, VP Bank offers prospective income investors an excellent opportunity with the promise of great potential growth.
That leads now to what is fair value for VP Bank. Currently VP Bank trades on the SIX Swiss Exchange (under the ticker VPBN) with a price-to-earnings ratio of 13.32, which is considerably lower than the stock's five-year average P/E of 17.45. It is also lower than the commercial banking sector average of 14.53 and the S&P 500 (SPY) average of 22.92. Furthermore, its price-to-sales ratio of 2.44 is lower than the commercial banking sector average of 2.65, and its price-to-book ratio of 0.82 is lower than the sector average of 1.30. This suggests that VP Bank is undervalued, but by how much?
Earnings per share over the past twelve months were 9.61 CHF ($9.56), and EPS growth is expected to increase 11.4% annually going forward. Using an 11% discount rate - the stock market average - I calculate fair value for VP Bank AG to be 219.81 CHF ($218.66). The stock is thus undervalued by 30%.
Prospective investors should be aware of two factors, however: while VP Bank does trade on the Pink Sheets under the ticker VUPPF, these shares have not been authorized by VP Bank itself. The only shares that VP Bank issue directly are Class A registered shares, which trade on the SIX Swiss Exchange, and Class B registered shares, which are not listed but "spread among the population of the Liechtenstein population." For dividend investors, this will necessitate some extra paperwork, but the dividend withholding tax is only 4% even if said paperwork isn't completed, so you aren't going to be hugely soaked if the extra paperwork seems like too much hassle.
The second factor to be aware of is that the average daily volume of shares in VP Bank is 12,700. The low turnover is largely due to the make-up of ownership and the low profile the bank has as an investment opportunity. 59% of VP Bank stock is held by private firms (35%) institutional investors (22%), and individual insiders (2%). The remaining 41% is held among the general public. In short, this is an investment for long-term buy-and-hold investors - day traders should steer clear.
In summary, VP Bank is not without risks in its Asia-Pacific venture, but the risks are minimal when you factor in: its safe regulatory environment of stable, prosperous Liechtenstein; its profitability, which took a one-time hit with the global disclosure agreements but is otherwise unimpaired; the potential growth it can derive from the Asia-Pacific region; its steady dividend policy; the fact that it currently trades at a significant discount to fair value. If you are happy to navigate the hurdles involved in buying the stock directly on the SIX Swiss Exchange, and are prepared to commit for the long haul, VP Bank could prove to be a smart investment at this time.
DISCLAIMER: The author is not a financial professional and accepts no responsibility for any investment decisions a reader makes. This article is presented for information purposes only. Furthermore, the figures cited are the product of the author's own research and may differ from those of other analysts. Always do your own due diligence when researching prospective investments.
Disclosure: I/we have no positions in any stocks mentioned, and no plans to initiate any positions within the next 72 hours. I wrote this article myself, and it expresses my own opinions. I am not receiving compensation for it (other than from Seeking Alpha). I have no business relationship with any company whose stock is mentioned in this article.
Editor's Note: This article discusses one or more securities that do not trade on a major U.S. exchange. Please be aware of the risks associated with these stocks.