Looking for strong distribution growth in the high-yield space? Coupled with good trailing coverage and robust forward distribution coverage guidance? How about rising EBITDA guidance? And maybe a side of fries and a milk shake with your order?
The fact is, you can have it all with Oasis Midstream Partners LP (NASDAQ:OMP), a one-year old MLP whose management has reaffirmed its guidance for 20% annual distribution growth through 2021. (Well, maybe not the fries and milk shake, but with those rising quarterly payouts, you can even afford to add a burger or two into the mix at your local DQ.)
OMP has delivered an impressive total return of 14.81% since we first covered it on 6/19/18. Indeed, it has outperformed the benchmark Alerian MLP ETF (AMLP) and the S&P 500, which were both in the red for this time period, by a wide margin. And that's in spite of falling from just below $24 in late August, to $20.00 recently, in the wake of falling crude oil prices, and a secondary offering of 2M units in early November '18.

With its recent price decline, OMP is now significantly below analysts' lowest and consensus price targets. This seems like a "baby with the bathwater" scenario to us, with OMP 16.6% below the lowest $24.00 price target, and 23% below the $23.00 average price target: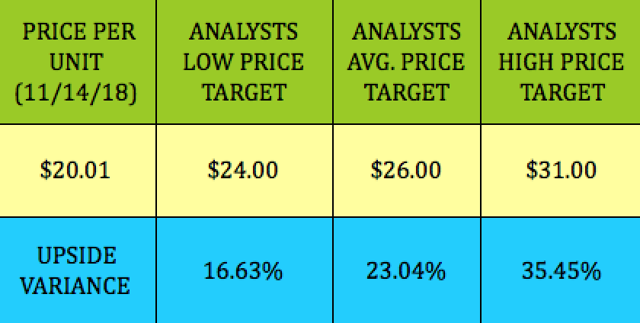 Profile:
The parent/GP of OMP is Oasis Petroleum (OAS), which owns a 68.6% interest in OMP. There are three developments companies - "Devcos," which OMP owns varying amounts: Bighorn, Bobcat and BearTooth. OMP was founded in 2013, IPO'd in late September 2017, and is based in Houston, Texas.
OMP's assets are focused on the Williston basin, and it generates most of its revenues through 15-year, fixed-fee contracts for providing crude oil, natural gas and water-related midstream services for OAS. However, there's room to grow in another basin also: Parent OAS also now owns acreage in the Delaware Basin - 34 core locations with potential upside to 56 locations.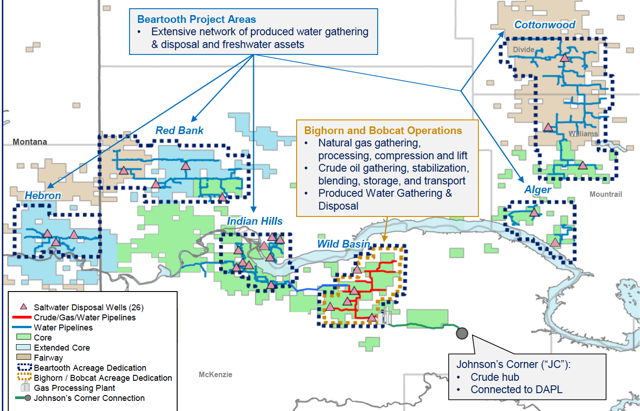 (Source: OMP site)
Parent Company Stats:
OAS has put together a good performance for discretionary cash flow, which exceeded its capex in 2015-2017, and is expected to do so in 2018.

(Source: OAS site)
OAS also has one of the highest operating margins in its peer group, and its management has skin in the game, with compensation tied to company returns: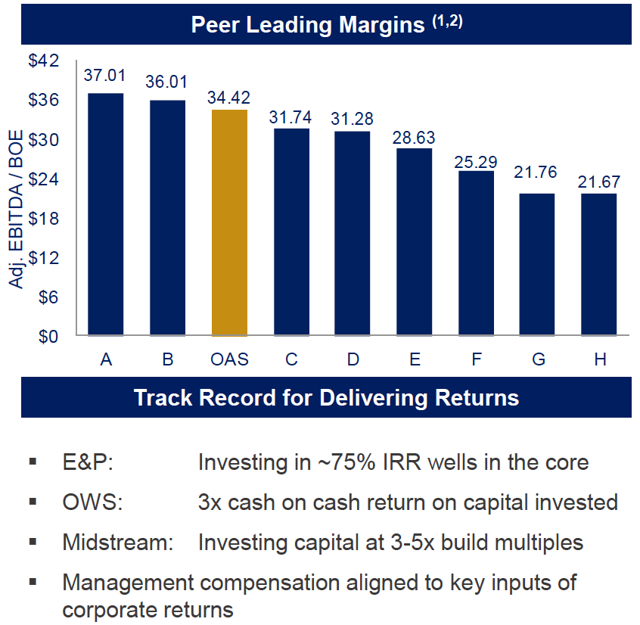 (Source: OAS site)
New Development:
On 11/8/18, OMP announced a deal to acquire more of the interests in Bobcat and Beartooth for $250M.
The general corporate structure is the same as shown below, but this acquisition will increase OMP's interest in the Bobcat DevCo to 25% from 10% and will increase OMP's interest in the Beartooth DevCo to 70% from 40%. This deal is expected to close in December 2018.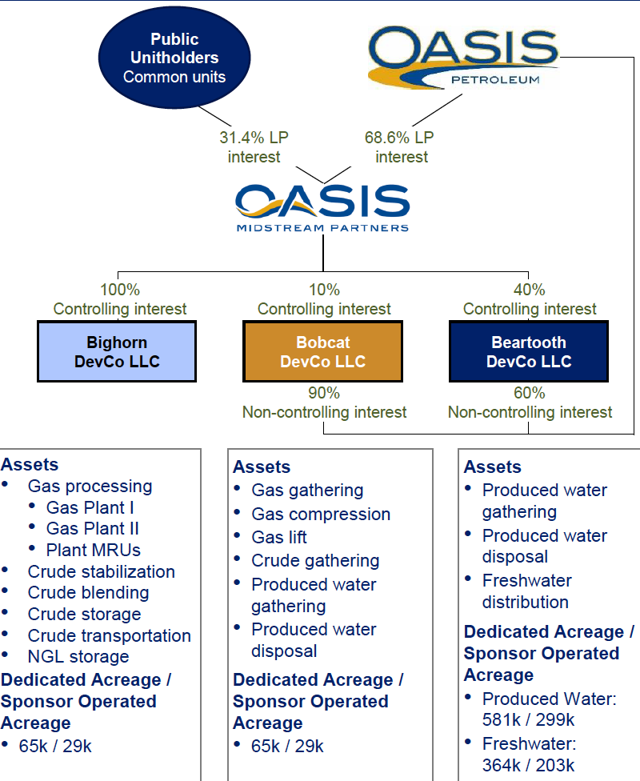 (Source: OMP site)
As a result of this deal, management once again increased guidance.
"The acquisition is expected to be immediately accretive to distributable cash flow per unit of the Partnership, based on a transaction value representing roughly 6.75x 2019 estimated EBITDA of the acquired interests. Distribution coverage is expected to increase 0.10x-0.15x above our guidance provided on November 5, 2018, with the increase solely attributable to the acquisition."
"OMP has increased expectations on distribution coverage, entering 2019 around 1.4x and quickly increasing to 1.6x-1.7x for the remainder of 2019."

(Source: OMP site)
Distributions:
Management upped the Q3 payout to $.43, from the previous $.41. Just using $.43 as a forward quarterly payout gives OMP a forward yield of 8.6%.

However, that's not totally accurate. Since management intends to raise the payouts by 20%/year for the next three years, here's a clearer picture of what 2019 should look like: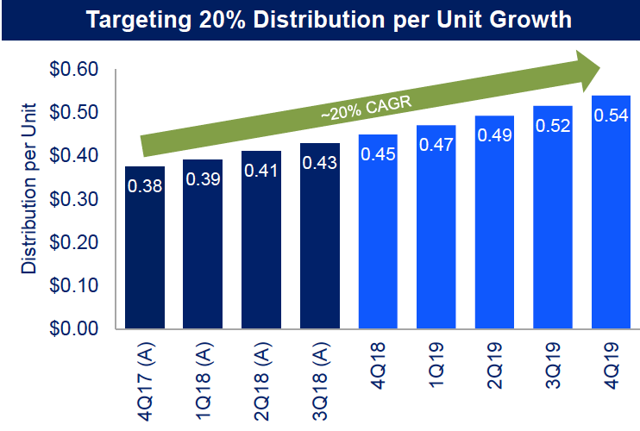 (Source: OMP site)
"Third-party deals in conjunction with high activity levels in the Williston Basin put us in a great position to grow distributions per unit 20% per year past 2021 while maintaining strong coverage." (Source: OMP site)
We put together this table for 2019 - 2021 distributions, using management's 20% annual distribution growth and 2019 coverage guidance.
At $20.01, the 2019 payout of ~$2.02 would equal a 10.09% yield, which would rise to 12.11% in 2020, and rise again to 14.54% in 2021, if OMP is able to maintain the 20% annual distribution growth through 2021.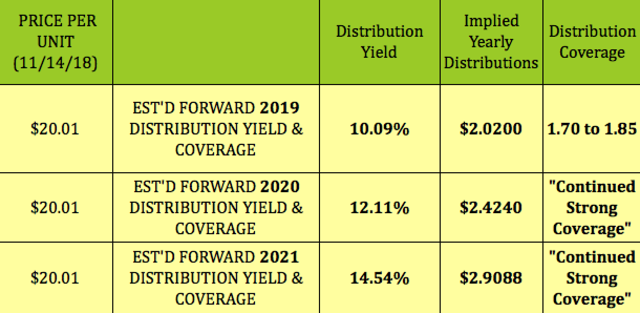 Here's how OMP's coverage has fared over its 1st 4 quarters. Coverage hit a high of 1.28X in Q2 '18, but was a bit lower in Q3 '18, at 1.22X, due to an outage at OMP's Gas 1 plant.
"OMP's 80 million cubic feet per day ("MMscfpd") natural gas processing plant in Wild Basin ("Gas Plant I") experienced operational downtime lasting twelve days in August. Plant operations have successfully been restored and the plant has been running smoothly, at full capacity, since the team brought the plant back online. Crude oil and natural gas volumes in Wild Basin were adversely impacted by the downtime, which resulted in lower than anticipated EBITDA, DCF and distribution coverage. Adjusting for the impact of the downtime, OMP would have seen distribution coverage of approximately 1.3x during the third quarter of 2018." (Source: OMP site)

IDRs: At its current $.41 level, OMP isn't paying out any IDR money yet - this will start to kick in at the $.4313 level, which it will reach in Q4 '18.

(Source: OMP site)
Taxes:
OMP issues a K-1 at tax time to unitholders. So far, it has gone ex-dividend and paid its distributions in February, May, August and November. (See Risks section for more tax info.)
Earnings:
As is often the case with new midstream companies, OMP's sales and earnings growth has been very strong in its first four quarters, as new assets have been integrated.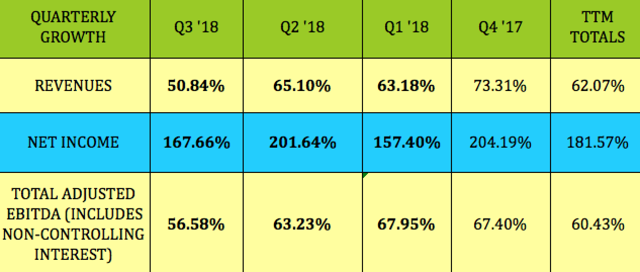 Q3 '18 saw a ~7% sequential rise in revenue, with total EBITDA up ~4%, while net income and DCF were ~flat due to the aforementioned 12-day outage at gas plant 1. (OMP only had six days of operations as a publicly traded company in Q3 '17 - prior periods' figures are from predecessor's assets.)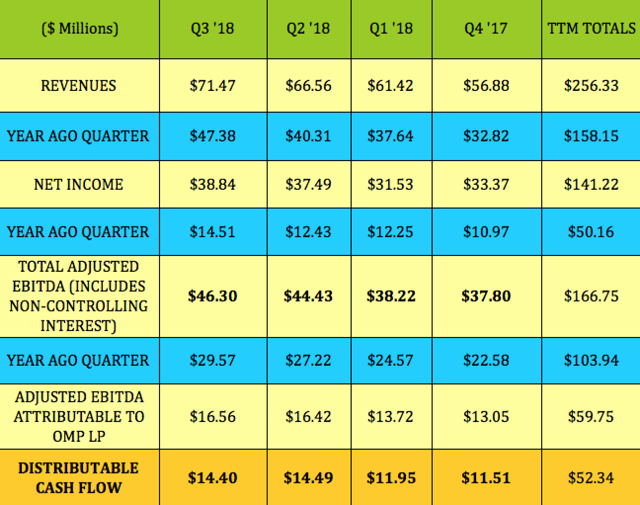 Segments:
Here's the breakdown of EBITDA contributions from OMP's assets. As expected, the 100% ownership of Bighorn resulted in the biggest percent of net OMP EBITDA, at 47%, for $8.2M. However, the 40% interest in Beartooth contributed a very similar, large ~41% of EBITDA. Beartooth gathers, distributes, and disposes of water, which are vital services in energy production. With OMP's ownership in Beartooth rising to 70% in December, this segment's contributions will become much more significant.
"Increased water volumes in Beartooth DevCo to 151.3 thousand barrels of water/day, a 54% increase compared to the third quarter of 2017. Approximately 75% of the increase was related to Oasis Petroleum produced water growth and approximately 25% was associated with increased freshwater volumes, which was largely driven by third-party sales."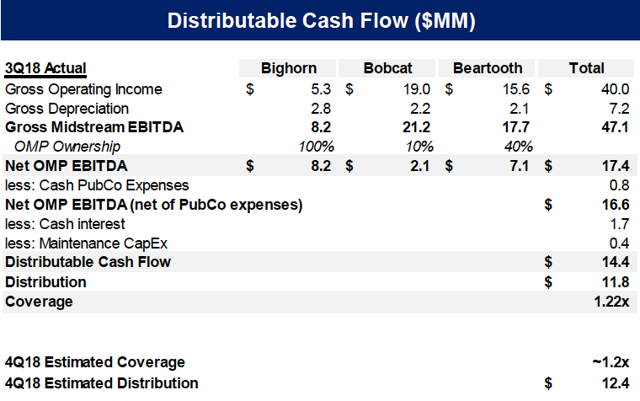 (Source: OMP site)
How Are They Going To Achieve 20% Growth And Great Coverage?
We mentioned OMP's Gas Plant 1, but they also have a much larger plant, the snappily-named Gas Plant 2, which is a strong driver behind management's guidance increases. In addition, management also inked some third-party agreements and intends to add more third-party contracts in order to further diversify its operations:
"Our new 200 million cubic foot per day gas plant provides a strong financial tailwind into 2019. Following the startup of the plant, Oasis Midstream Partners will have the second largest natural gas processing capacity in North Dakota. Additionally, we signed incremental third-party agreements and are increasing our 2019 EBITDA guidance by $4 million and increasing 2019 coverage expectations as well."
"The ramp up of this second Gas Plant is a major driver to our 2019 financial projections, which now calls for coverage of 1.6 times to 1.7 times in the second through fourth quarters of 2019 with 20% LP distribution growth."
"In 2019, Bighorn remains the single largest driver of growth, following the completion of Gas Plant II. A combination of higher volume growth and improving margins is expected to drive Bighorn EBITDA to more than double versus 2018 levels."
(Source: Q3 '18 earnings call)
"OMP mechanically completed its new 200 MMscfpd natural gas processing plant ("Gas Plant II") in October and expects volumes to start flowing at the end of November. Upon completion of the gas plant, OMP will be the second largest natural gas processor in the Williston Basin."
"OMP expects approximately 60% utilization in January 2019, consisting largely of volumes from Oasis Petroleum, before increasing to above 80% by year-end 2019, as third-party volumes become more significant. In October, OMP successfully signed additional third-party agreements, which resulted in increased expectations for EBITDA at OMP for 2019. Gas processing remains tight in the Williston Basin, and OMP continues to pursue additional opportunities with third parties to further increase the utilization of its gas plant infrastructure." (Source: OMP site)
CAPEX:
With the completion of Gas Plant 2 in 2018, management sees CapEx dropping by ~40% in 2019, with maintenance CapEx expected to average about 7% to 10% of EBITDA, which will free up $ for those projected distribution hikes.

(Source: OMP site)
Risks:
Parent company OAS faces a $100M lawsuit from Mirada Energy, which claims that OAS, OPNA and OMS violated agreements with Mirada. The trial is currently scheduled for May 2019. OAS has generated ~$619M in adjusted EBITDA during the first nine months of 2018, and has a market cap of $2.69B. "The Company believes that Mirada's claims are without merit, that the Company has complied with its obligations under the applicable agreements and that some of Mirada's claims are grounded in agreements which do not apply to the Company. The Company filed an answer denying all of Mirada's claims and intends and continues to vigorously defend against Mirada's claims." (Source: OAS Q1 '18 10Q)
Taxes for IRA holders - Holding MLPs in an IRA may possibly expose you to tax issues, which typically limit UBTI to $1,000.00 per year. You'd also gain more tax sheltering benefits from holding OMP in a taxable account. Please consult your accountant for further details.
Valuations:
We compared OMP to other high yield midstream LPs that we cover. After four full quarters of operations, OMP looks a bit cheaper on a price/book basis, with a much lower EV/EBITDA valuation, due to its smaller debt load and market cap.
Its trailing yield of 8.63% is lower than average, but, as we pointed out earlier in the article, OMP's 20% annual growth will eventually grow its yield to north of 14% in 2021, at its current price, if management is able to meet its present long-term guidance of 20% distribution growth. Trailing coverage is in line with these averages, but that also should rise dramatically in 2019.

Financials:
So far, OMP has much better ratios in ROA, ROE, operating margin, and interest coverage. Its debt leverage also is much lower. Even with adding the $250M it will take on for the December acquisition, OMP's Total debt/equity ratio would be 1.67, which is in line with averages, and its net debt/annualized EBITDA ratio would be ~2.22, which is still way below these averages. The additional EBITDA generated by the acquisition will also bring that ratio lower as well.

Debt and Liquidity:
Indeed, management is guiding to a Debt/EBITDA ratio of under 2X for 2018.
As of 9/30/18, OMP had cash and cash equivalents of $5M and outstanding borrowings of $166M under its revolving credit facility, with an unused borrowing capacity of $84M. "On 8/27/18, the Partnership entered into an amendment to its revolving credit facility to (i) increase the aggregate amount of commitments from $200.0 million to $250.0 million; (ii) provide for the ability to further increase commitments to $400.0 million; and (iii) add six new lenders to the bank group. Expansion CapEx attributable to OMP during the third quarter of 2018 of $16.3 million was also in-line with expectations."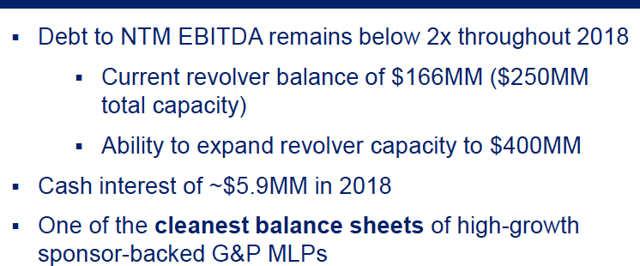 (Source: OMP site)
Options:
OMP doesn't have options available yet, but you can see details for over 30 other trades, in our Covered Calls Table, and also in our Cash Secured Puts Table, which we update throughout each trading day.
Summary:
We continue to rate OMP a long-term buy, based upon its attractive, very well-covered yield, its strong distribution and earnings growth prospects, and its low leverage. The current oil-related price dip should present long-term income investors with an attractive entry point.
"Our 2019 EBITDA estimate increased by approximately 68% from what we originally projected during the IPO just over a year ago, and we continue to see significant growth opportunities ahead." (Source: OMP Q3 '18 site)
All tables furnished by Hidden Dividend Stocks Plus, unless otherwise noted.
Disclaimer: This article was written for informational purposes only, and is not intended as personal investment advice. Please practice due diligence before investing in any investment vehicle mentioned in this article.
CLARIFICATION: We have two investing services. Our legacy service, DoubleDividendStocks.com, has focused on selling options on dividend stocks since 2009.