About three years ago, I wrote a series of 7 articles (article 7) about the Magic Formula list, containing short analyses for each of the 30 'Magic Formula' stocks. The first lookback after one year wasn't too amusing, showing that the formula actually lost money. The silver lining however, was that with a little bit of analysis I already weeded out the worst of the bunch, and observed positive returns vs. the S&P 500 index after adjusting for that. In this article we will again look at the top and bottom performers, and quickly recap the stocks that re-entered the list of November 2018.
Some background information: The Magic Formula is an invention by Joel Greenblatt, which he describes in The Little Book That Beats the Market. The basis is ranking stocks according to earnings yield (EBIT/EV) and returns on capital. Greenblatt has a website that does this for us for free and provides a list of up to 50 (statistically) undervalued companies. This method of stock picking has been highly successful according to Greenblatt who claims it achieved annual returns of 30% up to 2008.
Below is an updated stock return table of the Magic Formula list of fall 2015.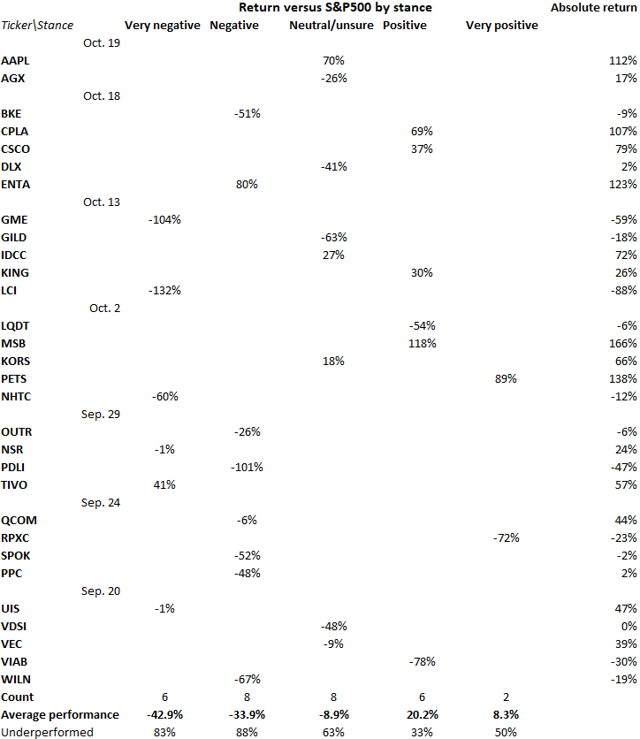 Shows performance of stocks on the Magic Formula list of late 2015 ordered by date of first analysis and categorized by my own stance on them at the time. The performance shown includes dividends, adjusts for corporate actions and is relative against the S&P 500 as of the 2015 dates listed on the left. Source: author's own (total return) calculations up to September 4, 2018.
Results of Magic Formula stocks by sector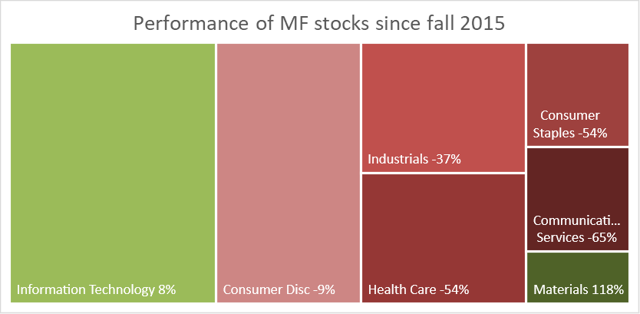 Performance includes dividends and is measured against the S&P500. For acquired companies, the benchmark is backdated appropriately.
Among the thirty Magic Formula stocks of the fall of 2015, we see some industry patterns. IT and Consumer Discretionary did better than the peer group of Magic Formula stocks. That shouldn't be a surprise, as the broad IT and Consumer Discretionary sector indices beat the S&P and about every other major US market benchmark over that same time period. Non-cyclicals fared still poorer, which was to be expected with the benefit of sector performance hindsight. All but one of the Magic Formula sectors of the fall of 2015 underperformed their sector benchmarks since.
Top two laggards
To dig a little bit deeper into what caused the poor performance in general, I dug a little deeper into the cause of the underperformance of the bottom two performers.
Lannett Company (LCI), -132% vs the S&P 500
On rare occasions, investing is easy and this was one of those times. Lannett clearly didn't really belong on the list as it rode the pork cycle. The point of the pork cycle here is that increased profitability for a commodity producer is temporary. At the time, Lannett and others were investing in new capacity to profit from the supply/demand crunch, digging their collective earnings grave. At the time, I was very critical:
"In my view, margins will indeed return to normal levels. […] It's perfectly reasonable to divide current EBIT by three (to 75m) and take this as a realistic [level]. In that case, we would see an EV/EBIT of 20. I will not spend any more time on this stock because it should not be on the Magic Formula list, as the return on capital is supposed to be sustainable and representative of competitive strengths."
In addition, the acquisition destroyed the return on capital and introduced leverage at the peak of the cycle. In hindsight, EBIT was (adjusted for the acquisition) divided by 3 barely 2 years later. The lesson: don't buy stocks that benefit from temporarily inflated margins while many investors fail to discount the obvious.
I can see some similarities to semiconductor stocks nowadays, but investors in those seem to price those more efficiently than Lannet's investors did three years ago.
GameStop (GME), -104% vs the S&P 500
This company has a business model that is clearly hurting both its customers and its suppliers. I wrote several articles criticizing the business model of GameStop and its inflated valuation.
"It all boils down to this: physical retail of video games is inefficient and outdated. What this means to GameStop is that it will be very hard to make its business model of pushing used games last another 5 or 10 years."
The chart below nicely shows how this stock became a real value stock. Note that there is no earnings multiple available because GameStop is no longer profitable (impairments contributed also to that). This fiscal year, video game software has been declining by double digit percentages. Hardware has been strong, but carries a very low margin. I don't this is the end and it is a matter of time before the buying and selling pre-owned video games at amazing margins grinds to a halt.

Source: Seeking Alpha
Given the disappointing profit, and increased debt over time, I still feel the valuation is a bit rich at roughly 0.75x book, which is mostly goodwill. If they had to liquidate today, there would be about $450m tangible book value in the company. To make matters worse, $400m of that is property and equipment that won't sell well in an auction – not to speak of 1.2bn in merchandise. So we relying on cash flows to earn back that market cap of 1.3bn.
The bottom line: my projections have materialized partly but more is yet to come. Investors have woken up and set the stock back by about -60% over the past 3 years. The lesson is don't invest in businesses that hurt their suppliers and customers and also are being disrupted.
Two top performers
Not all went bad and that is shown by the spectacular performance of the top two performers of the 2015 batch.
Mesabi Trust (MSB), +118% vs the S&P 500
Forecasting commodity prices is not one of my skills, but I liked Mesabi due to its simple business model of leasing a mine to a mining company and the potential if iron ore prices would pick-up (normalize) again. Also, the trust has a cost base close to zero, no debt, and pays out all its earnings to shareholders.
One lesson we learned from Mesabi is that luck sometimes pays off. The prices did pick up. Also, government policies towards stimulating domestic steel production have helped. At the time I ignored the financial difficulty of their only customer, but was lucky that mining company didn't go out of business.
PetMed Expres (PETS) + 89% vs the S&P 500
At the time, PetMed experienced a temporary slowdown in sales and at the time just had a poorly received earnings report due to declining revenue caused by lower marketing spend. A year or so later, earnings and sales growth started to pick up, as did the price of the stock.
The financial data below tells the story.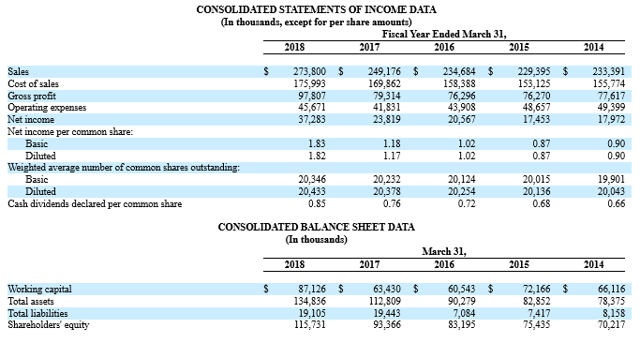 Source: PetMed Express 2018 10-K
Cost control was strong, as were sales. Consequently, EPS has more than doubled in three years time and the same goes for the stock. Total assets has increased considerably, but well over half of assets is in cash. Our lesson here is to not overly focus on temporary setbacks.
On a side note, the stock has declined a lot over the past two months and may be on a path to re-enter the Magic Formula list.
The repeaters
Some of the names I examined three years ago make the Magic Formula list of November 2018. When a stock re-appears on the Magic Formula list, that usually isn't a good thing. Being on it means being un(der-)appreciated and most stocks that failed to 'promote' were beaten by the market. It is interesting to see why they are again on the list though. The eight repeaters are listed below.
The winners
InterDigital (IDCC): the company performed well with 2017 EPS up 49% versus 2015. The nature of the business (patent farming) generates a high return on capital, which is probably why it still screens well for the Magic Formula despite good performance of the stock.
Mesabi Trust (MSB): has seen its earnings and stock price increase in tandem. All is thanks to the strong recovery of iron ore prices. Because the company is a non-growing -but volatile- cash generator, it doesn't warrant a high valuation. The stock is trading at a forward dividend yield of 14%.
The losers
Conclusion
Being selective within the Magic Formula list pays. A big lesson here is to take the long view. We have seen this with companies experiencing temporary windfalls (LCI, PPC), temporary setbacks (PETS, MSB), or structural issues (GME, VIAB, NHTC). These lessons can be applied to the current Magic Formula list, that I will discuss in more detail in my next article.
Disclosure: I/we have no positions in any stocks mentioned, and no plans to initiate any positions within the next 72 hours. I wrote this article myself, and it expresses my own opinions. I am not receiving compensation for it (other than from Seeking Alpha). I have no business relationship with any company whose stock is mentioned in this article.