It's time for another cannabis reality check.
A month ago, I published an article urging investors to sell Canopy Growth (CGC) before legalization day (October 17, 2018), warning that its price already reflected maximum optimism.
Then, I took aim at Tilray (TLRY), warning investors about the ~85M share lock-up expiring in January 2019 (this warning is still valid).
I still believe TLRY is massively overpriced - more so than any other cannabis stock. But I also think Canadian cannabis companies as a group are vastly overvalued.
I'll tell you 4 reasons why.
1) The numbers just don't add up
Simple math can show you why these companies are overvalued.
The combined market cap of the top 5 Canadian cannabis companies (CGC, TLRY, ACB, APHA, and CRON) is about $30B.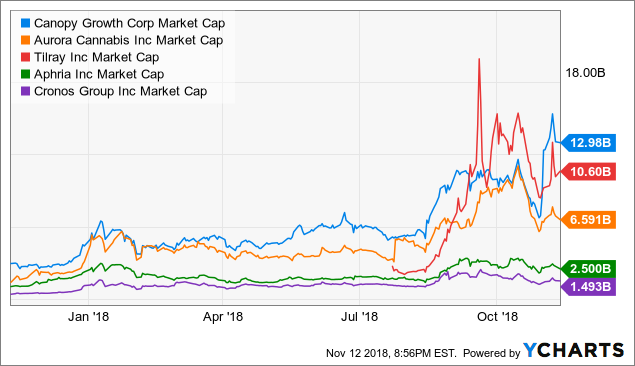 Let's put that $30B into context.
As you can see from the Marijuana Business Daily chart of the week below, CGC and TLRY are priced about the same as Molson Coors (TAP), an established leader in the beer industry with more than $11B in annual sales (compared to Canopy's ~$60M) and more than $30B in assets. Of course, TAP also generates a healthy profit.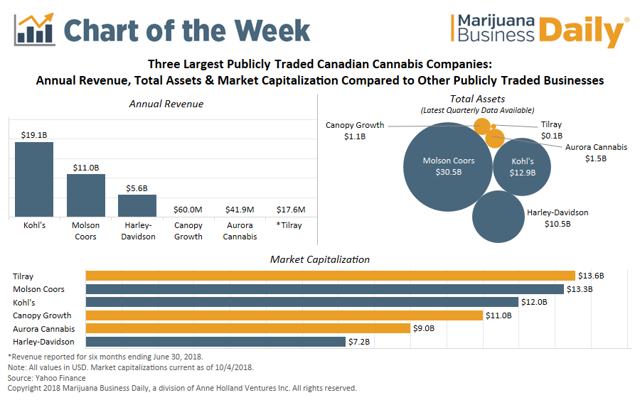 Source: Marijuana Business Daily
The largest beer company in the world is Anheuser-Busch (BUD). It's worth about $120B or 10-times as much as CGC or TLRY. But the global beer market is worth about $600B, 4 times the size of the $150B projected global cannabis market in 2025 (which, of course, is not a sure bet since cannabis remains illegal in most countries) and 30 to 60 times the size of the existing global market, which is worth between $10B and $20B.
So, at today's valuations, you're banking on the fact that each one of these Canadian weed companies will become about as dominant in the industry as BUD is in the beer industry. That's probably not a safe bet.
Bulls will argue that cannabis stocks will grow into their valuations. But so far, the numbers from Canada are telling a different story:
1. The number of companies applying to cultivate cannabis in Canada rose 150% in Q1 2018. There are over 500 applications in the pipeline in addition to the 109 licensed producers. That's a lot of competition.
2. Preliminary data provided by Jonathan Cooper shows that CGC, TLRY, ACB, CRON, and APHA are all being outsold in Ontario (Canada's largest market) by a smaller company called Redecan. Only ACB appears to be gaining any traction at all.
Taxes will also dig into the projected $7B in total sales. Cannabis producers will have to pay an excise tax of $0.25 per gram plus a 2.5% ad valorem duty. Retailers will pay a 6% social responsibility tax as well as the standard harmonized sales tax, which varies between 5-15%, depending on the province.
2) The race to win the $150 TAM is creating a bubble
Current valuations are based on the assumption of a huge $150B total addressable market (TAM).
But a large TAM on its own is not enough reason to invest in a company. If you and I know how big the TAM for cannabis is, then surely everyone who can do a quick Google search also knows. As you can imagine, this market invites competition. Everyone wants a piece of the pie.
Valuations should actually be based on the assumption that a particular company can earn and sustain a profit in their industry. The size of the TAM is not the critical factor; it's the company's moat - its ability to dominate and keep others from stealing market share - that's most important.
What we have today is a market with hundreds of suppliers of various sizes competing to grow the most cannabis and gain market share. We don't see any real innovation or competitive advantages. There's been almost nothing preventing new entrants into the cannabis industry.
Bulls will argue that small cannabis companies will go bankrupt as larger players capture market share. But look at today's beer industry: small suppliers are growing in number and actually winning market share from beer giants.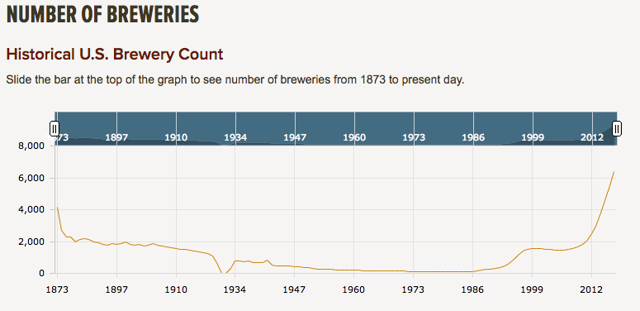 Source: Brewers Association
From the chart above, you can see that the number of breweries spiked to over 700 between 1932 and 1934 after prohibition finally ended. That number fell gradually to 89 in 1978. Bulls expect the same thing to happen in the cannabis industry.
But it's not the 1930s. Look instead at what's been happening since the mid-1980s: the number of breweries has skyrocketed. Last year, the number of breweries in the U.S. was over 6,000.
It turns out that people like having options, and craft beer sales and production are booming: they were both up 5% in 2017, while the overall beer market shrunk by 1%.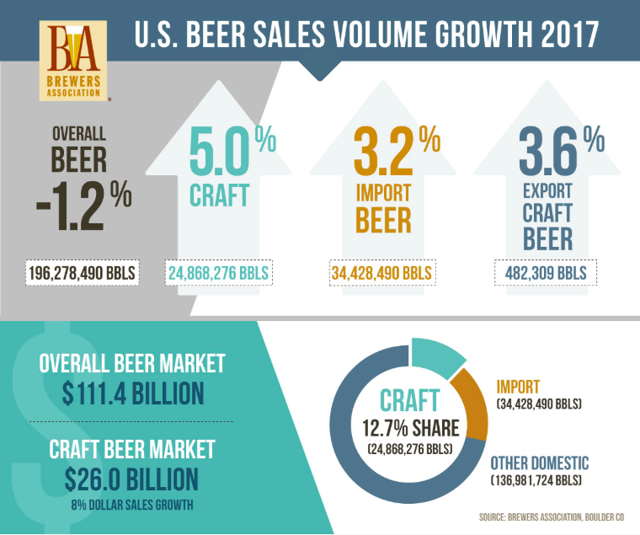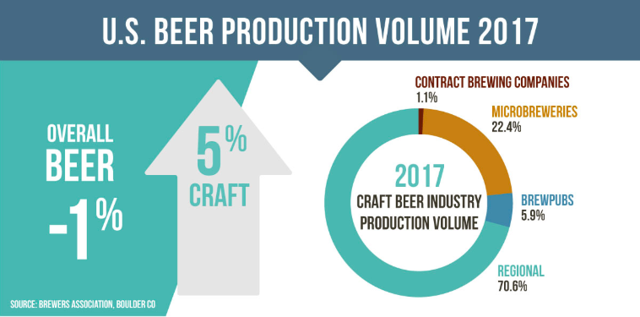 Source: National Beer Sales & Production Data
Why should the cannabis industry be any different? Why should a handful of Canadian companies dominate the entire market? It just doesn't make any sense.
The companies that will fail are the ones that are overleveraged (take on too much debt) and get squeezed as:
1. Cannabis prices fall (which has happened in every market that has legalized cannabis after a short-term bump in prices while supply shortfalls get sorted out), and
2. Interest rates rise (which is happening right now).
3) It's going to be very hard to make a profit in this industry
Look at what's happening to cannabis prices in the U.S.: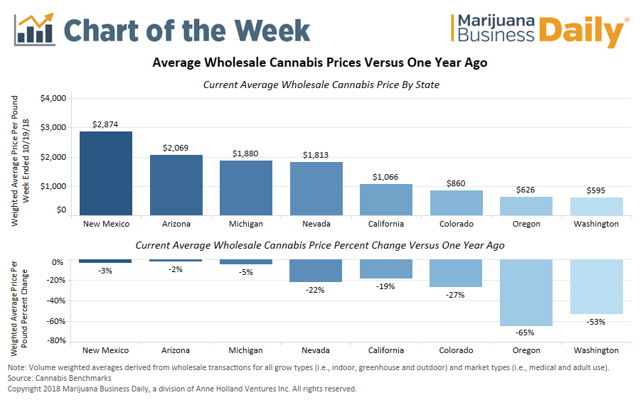 Source: Marijuana Business Daily
Oregon's producers were hit with the steepest price drops. Outdoor-grown cannabis prices hit an all-time low in October 2018, but indoor and greenhouse producers have it even worse: they're reportedly selling for a loss as a result of market saturation.
Prices are dropping in every market, including in Canada, which will make it very hard for Canadian cannabis companies to achieve their target profit margins of 20-40%.
TLRY recently reported an average net selling price per gram of $6.21, down from $7.53 a year ago, and CRON reported an average selling price drop to CA$7.32 from CA$8.01 a year ago.
On the other hand, CGC reported a 24% increase in average selling price to CA$9.87, but this was due to a higher percentage of softgel sales and new sales to Germany, where prices are higher and cannabis is legal for medical purposes only.
It's clear that the most likely trajectory for selling prices is downward.
4) When U.S. growers go public, investors will sell Canadian companies
MedMen (OTCQB:MMNFF) and MariMed (OTCQB:MRMD) are two top U.S. cannabis companies, with much saner valuations than their Canadian counterparts (~$2B and ~$600M).
Why are their valuations so much lower?
It's likely because they trade over-the-counter. They're not allowed to list on U.S. exchanges because they operate in the U.S. and cannabis is illegal at the federal level. But Canadian companies without operations in the U.S. are allowed to list on U.S. exchanges, which gives them a lot more exposure to retail investors (too much in my opinion).
If cannabis becomes legal at the U.S. federal level, these U.S. companies will list their shares on the major exchanges and investors will take notice (just look at what happened when TLRY listed on the NASDAQ). This will pull investor attention away from Canadian cannabis stocks.
If I'm wrong and investors don't sell Canadian companies to buy U.S. companies, it will be because cannabis never gets legalized in the U.S.
The U.S. market is projected to hit $55B, a significant portion of the projected $150B global market. Without access to the U.S. market, the Canadian cannabis domination story evaporates.
Conclusion
I would avoid buying all of the Canadian cannabis companies mentioned in this article.
There may be opportunities to invest in U.S.-based companies that are not yet listed on major exchanges, but as for Canadian companies (with valuations in the billions of dollars and revenues in the tens of millions or even single-digit millions), they're all overvalued.
If you want to invest in Canadian cannabis, why not just buy Constellation Brands (STZ)? They own 38% of CGC and could end up owning more than 50% of the company if they exercise additional warrants (at a price of C$50.40). You can own shares in a profitable company while benefiting from any future upside (no matter how unlikely) in the price of CGC.
Disclosure: I am/we are short CGC, TLRY. I wrote this article myself, and it expresses my own opinions. I am not receiving compensation for it (other than from Seeking Alpha). I have no business relationship with any company whose stock is mentioned in this article.
Editor's Note: This article discusses one or more securities that do not trade on a major U.S. exchange. Please be aware of the risks associated with these stocks.