Editor's note: Seeking Alpha is proud to welcome Penn Little as a new contributor. It's easy to become a Seeking Alpha contributor and earn money for your best investment ideas. Active contributors also get free access to the SA PRO archive. Click here to find out more »

Insider Trading Volume Since 2015. Source: MarketBeat
I was once a patient in two facilities that were later purchased by Acadia Healthcare Company, Inc. (Nasdaq: NASDAQ:ACHC), specifically Sierra Tucson (Oro Valley, AZ) in 2006 and Bayside Marin (San Rafael, CA) in 2007. I found sobriety just over a decade ago, after further treatment at the Hazelden Foundation and Prescott House. I have served in many aspects of the oft-misunderstood, exploited, but also necessary field for over seven years.
As a subject matter expert, these are my observations surrounding Acadia Healthcare.
I. The Beginning: A Legislative Triple-Threat
On October 3, 2008, President Bush signed the Mental Health Parity and Addiction Equity Act into law. Prior to the act, insurers could require people to pay a greater share of the cost associated with mental health and substance abuse. Insurers could also limit the Mental Health (MH) and Substance Use Dependence (SUD) services offered in benefit packages.
But after the act, insurers became required to treat MH/SUD services with parity, meaning they have to provide the exact same coverage for MH/SUD services as they do for medical and surgical benefits.
Another law, passed in 1997, had tried to achieve something similar. It was called the National Mental Health Parity Act (MHPA). Though that law had wonderful intentions, it was far too narrow; it included no provisions for substance use or dependency issues.
Additionally, the provisions it did have were woefully ineffective. Insurers instantly discovered ways to circumvent it. All they had to do was limit the number of provider visits or the number of days they would cover for mental health patients. They also increased cost sharing through higher deductibles, co-pays, and out-of-pocket payments.
Seeing that the 1997 law had no effect on ensuring people could get the mental health and substance use care they needed, and desperate to induce actual change, Senator Ted Kennedy and his son, Patrick, were key in adding the Mental Health Parity and Addiction Equity Act of 2008 (MHPAEA) as a rider to the Troubled Asset Relief Program (TARP). It closed all of the loopholes insurers used to circumvent the prior Mental Health Parity Act of 1997 (MHPA).
Three months after the MHPAEA went into effect, Obamacare was signed into law. Its purpose was to ensure that all Americans had access to affordable health insurance – health insurance that was now required by law to provide access to MH and SUD care on par with traditional healthcare.
Combined, the two laws were meant to guarantee that all people suffering from addiction and mental health disorders could get access to the care they needed. The two bills:
1. Required insurers to cover substance abuse treatment without exception – on an out-of-network basis (Out-of-network, meaning "PPO Plans" or the type of revenue from which most publicly traded companies or institutional dollars seek to derive their profit).
2. Barred companies from rejecting those with pre-existing conditions.
3. Allowed young people to stay on their parents' insurance until the age of 26.
While both acts were written with the clear intention of ensuring that people with MH and SUD would receive adequate care, it was passed without clear economic foresight.
II. The MH/SUD Gold Rush
In effect, the three combined laws were a mandate for the $3 trillion insurance industry to pay out unlimited reimbursements for a lifetime disease with no cost-effective solution. Regulators had inadvertently created an environment ripe for investment.
Naturally, investment firms jumped on the opportunity. According to Crain's:
... there's been a flood of private-equity investment into the $35 billion-a-year addiction treatment industry.
The best natural target was opioid addiction, with its high demand for substance abuse treatment services. This epidemic in the United States exploded throughout the mid-2010s, skyrocketing the number of Substance Use Disorder (SUD) centers. Many users were young adults and children on their parents' insurance plans.
Most drug addicts are treated through Substance Use Disorder centers. The concept of treating addiction is broadly defined. No clear federal definition exists for what constitutes a SUD center, so some entrepreneurs started opening centers in strip malls, filling them with beds, signing users up – often through unethical methods.
Unscrupulous operators resorted to extreme exploitation of minimal regulation via patient brokering, or "junkie hunting," as it's often called, to increase revenues further. Prosecutors say that treatment centers frequently – illegally – waive co-pays and deductibles, telling patients and parents that insurance will cover everything. Or they will rack up huge bills for patients, charging $4,000 for every unnecessary urine test. According to The New York Times:
Starting in 2010, as opioid abuse evolved into a crisis and the Affordable Care Act offered insurance to millions more young people, the cost of urinalysis tests soared.

It was soon common for clinics and labs to charge more than $4,000 per test, and to test clients two or three times a week.
Earlier this year in California, Christopher Bathum, the owner of a facility, was convicted of multiple sexual assaults of patients. Both he and his partner were convicted of financial crimes as well. This is the embodiment of the operational and financial abuses that have permeated this industry.
The low-interest rate environment made borrowing extremely cheap. The entire industry, which was previously a cash-pay or a charitably-supported field filled with legitimate actors, became a massive gold rush, according to Bloomberg News.
The heavy leverage lining the industry artificially inflated valuations beyond 30X EBITDA, spurring many clinicians with a plethora of "modalities" to set up their own shops. Many have been subjected to buyouts and the large checks that accompany them.
Instead of the traditional time-and-capital intensive method of building new (de novo) facilities and adding beds, companies soon found that they could consolidate existing facilities and capitalize on the fragmented nature of the industry.
Today, regulations have finally set in in some states; costs are cut so far that treatment centers often have misleading or dangerous living conditions, and fail to provide individuals with the treatment they desperately need.
Florida State Attorney Dave Aronberg said:
This is an entire industry that's been corrupted by easy money. Unscrupulous actors have taken advantage of well-intended federal law, and a lack of any good law at the state level, to profit off people at the lowest stages of their lives.
But, as a profit measure, it worked. Absent sufficient regulation, the industry saw nearly every publicly-listed behavioral healthcare provider's stock soar from 2012-2015, as seen below: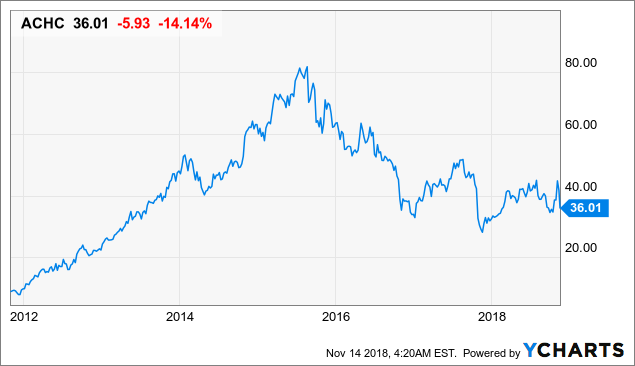 Stock Price for ACHC (Time Range: Initial Public Offering - 11/13/18). Source: YCharts
III. From Six To Nearly Six Hundred
In 2005, Waud Capital Partners, founded by Chicago's Reeve B. Waud created a new behavioral healthcare company called Acadia Healthcare. By 2010, they had opened or acquired a total of six facilities.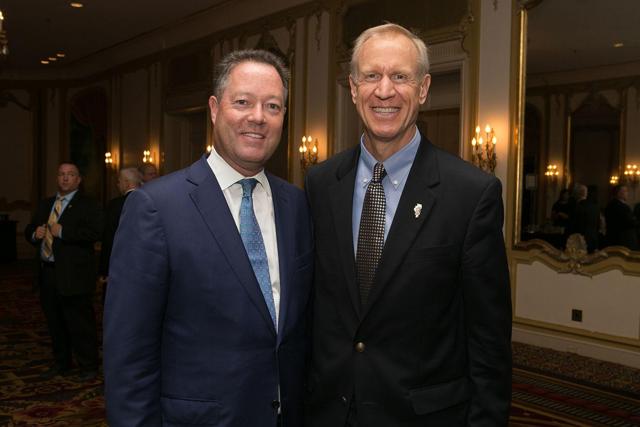 Reeve Waud (left) with Governor Bruce Rauner (R-IL) (right). Source: Chicagosplash.com
Since the passage of the three new laws, they replaced their first CEO, Norman King "Trey" Carter III, with Joey Jacobs, the former CEO of Psychiatric Solutions, Inc. Then, nearly the entire management team that led PSI accompanied Jacobs to Acadia after PSI was sold to Universal Health Services (Nasdaq: UHS).
In regards to Jacobs' tenure as CEO of PSI, himself and his team were subjected to various allegations and litigation after the sale to UHS. A Ms. Alisha Rocinek, on behalf of herself and various shareholders, sued Jacobs and the PSI Management in Federal District Court,
for violations of Sections 14 and 20 of the Securities Exchange Act of 1934 ("Exchange Act"), and as a class action for breaches of fiduciary duties, unjust enrichment and rescission in connection with the proposed sale of PSI to Universal Health Services, Inc.

Source: Complaint in US District Court (Rocinek et al v. PSI, Filed 7/20/2010)
A separate claim, filed in 2009, names the same defendants. That case was filed by counsel on behalf of the Garden City Employees Retirement System and other affected PSI shareholders. The 2009 suit alleged:
(PSI) suffered from systematic quality of care and patient safety problems. The deficiencies led to a failure by the Company to: protect patients from sexual abuse; provide patient care in a safe environment; ensure its patients were adequately monitored; ensure its facilities were adequate(ly) staffed, adequately train and supervise its staff; and ensure incidents were properly reported to state and federal authorities." (Page 2, Paragraph 3 of the complaint).

"Defendants are liable for: (1) making false statements; or (II) failing to disclose adverse facts known to them about Psychiatric Solutions. Defendants' fraudulent scheme and course of business that operated as a fraud or deceit on purchasers of Psychiatric Solutions...

...common stock was a success, as it: (I) deceived the investing public regarding Psychiatric Solutions prospects and business; (II) artificially inflated the price of Psychiatric Solutions' common stock; (III) allowed certain of the defendants to reap over $5.6 million in insider selling proceeds; and (iv) caused plaintiff and other members of the Class to purchase Psychiatric Solutions common stock at inflated prices." (Page 6, Paragraph 1 of the complaint.

Source: Complaint in US District Court (Garden City Employees Ret. System et al v. PSI, Filed 9/21/2009)
On January 17, 2015, a settlement was announced in the Garden City Employees et al case against PSI leadership. A press release on that date, issued by the plaintiff('s) counsel, Robbins, Geller, Rudman, & Dowd LLP, stated that Jacobs and the PSI leadership ended the dispute,
by making a substantial payment to investors harmed by the fraud perpetrated by defendants.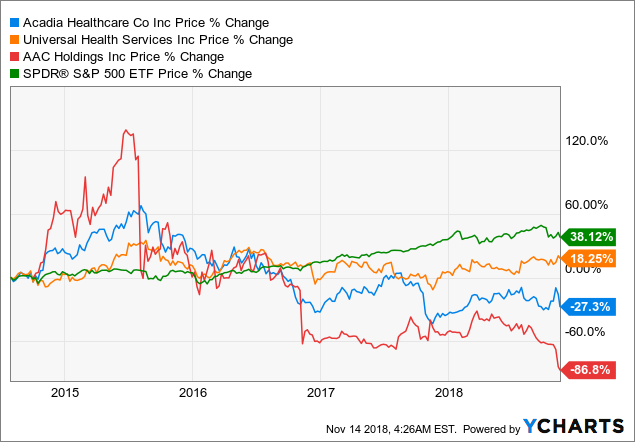 MH/SUD Peers vs. S&P 500 (Normalized). Source: YCharts
In 2015, American Addiction Centers ((AAC)) was charged with murder in California – the first-ever corporation to be charged with second-degree murder. When Bleecker Street Research brought to light ACC's over-billing practices for urine tests, that was the fatal blow. Its stock plummeted on August 4, 2015, and the sector's public players peaked, as seen above. The charges were dismissed.
In just under two weeks after Acadia's stock reached the highest peak it would ever achieve, a few insiders unloaded $1 billion worth of stock onto the market. Insider ownership has plummeted over the last three years, from 30% to now less than 2.5% (See the ACHC Proxy Statement Extractions below, starting with 2012).
Cap Table: 2012 ACHC Proxy Statement (pp. 15). Courtesy Acadia Healthcare
Cap Table: 2013 ACHC Proxy Statement (pp. 27). Courtesy: Acadia Healthcare
Cap Table: 2014 ACHC Proxy Statement (pp. 17). Courtesy Acadia Healthcare
Cap Table: 2015 ACHC Proxy Statement (pp. 16). Courtesy: Acadia Healthcare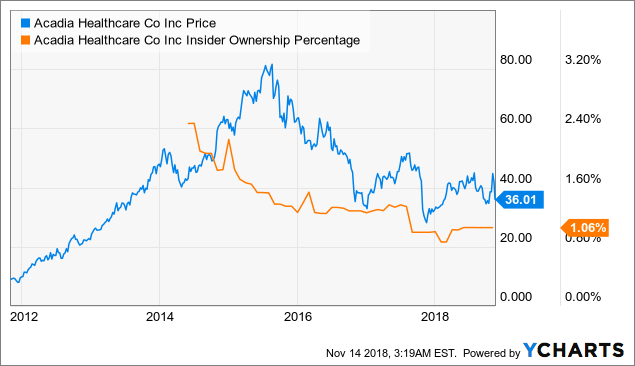 ACHC: Insider Holdings Decline Since 2015. Source: Y Charts
Cap Table: 2016 ACHC Proxy Statement (pp. 27). Courtesy: Acadia Healthcare
Cap Table: 2017 ACHC Proxy Statement (pp. 21). Courtesy: Acadia Healthcare
Cap Table: 2018 ACHC Proxy Statement (pp. 16). Courtesy: Acadia Healthcare
Today, the company appears to be owned by (predominantly) passive dollars. Meanwhile, Acadia has fought to continue its rapid growth.
Cash from operations growth has dried up. Acadia has been unable to raise any additional funds, either through financing or through additional stock placement, since Q2 2016.
It has been saddled with $3.7 billion in debt, unable to pay it down since Q1 2017. While it says that it is keeping debt high to make additional acquisitions, those acquisitions have not happened. M&A activity in the sector leveled off and has declined from 60 deals in 2016 to 47 deals in 2017, according to The Braff Group. Acadia was involved in approximately zero of those transactions.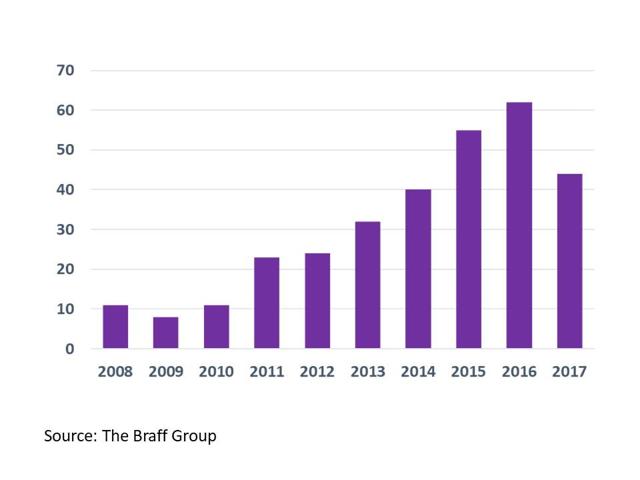 Behavioral Healthcare M&A Deal Volume. Source: The Braff Group
IV. Apparent Morbid Reality
To combat these financial challenges, Acadia has purportedly tried:
Increasing the number of beds in existing facilities for additional revenue. That works for a little while, but does not scale. Acadia's existing facilities now have as many beds as they can fit in them.
Buying more companies. That has not worked at all. The last purchase Acadia tried was in 2016 and it was forced to back out of it at the end of the year.
Cutting expenses to raise margins. That works for a while – margins peaked in 2017 at 28.1% – but does not scale either, per the admission of Joey Jacobs, their CEO, on Q2 2018's shareholder call.
Defending what, ultimately, is a damaged reputation. Acadia gets most of its business from referrals. However, an industry expert and former nurse who also holds an MBA, says that Acadia has been losing referrals because:
...reputable clinicians and physicians don't want to work with Acadia.
Yet cost-cutting has persisted. When a behavioral healthcare company stops growing its business, but revenue and profit margins continue to grow, that's a problem. This is only attained by reducing the quality of care.
So, it was not surprising when a research site named 'Aurelius Research' launched a site called 'Acadia Exposed' that has compiled relatively voluminous copies of pending litigation aimed at facilities Acadia owns, as well as the parent company itself.
Take these seven facilities as a representative example of allegations consistent with declining quality of care:
West Memphis, AR: Ascent Treatment & Outpatient Clinic. In June 2017, four employees were charged with manslaughter after a 5-year-old boy died. The following month, the child's family filed a wrongful death suit against Ascent (owned by Acadia), the employees, and its corporate entities for $135 million. KARK reported that:
Ascent Children's Health Services CEO Dan Sullivan admits some employees didn't follow correct protocol and were fired.
Coverage of this has been widespread, as seen below:
From KARK:
Boy, 5, Found Dead After Spending 8 Hours in Van Outside Children's Health Clinic: Cops
From KAIT:
Ascent Children's Health Services to close all facilities
Philadelphia, PA, Belmont Hospital. In a one-week period in 2017, two suicides occurred at the facility. A lawsuit charges that the facility lacks sufficient and appropriately trained staff. The State cited (Belmont-Combined-State-Inspections.pdf) the facility for lack of staff and lack of facilities that would prevent suicides, among other things. When state inspectors visited in November of 2017, they declared a state of imminent danger.
Fort Myers, FL, Park Royal Hospital. Last year, the location's top physician since 2012 resigned, citing the decline of the facility under Acadia. He said:
Ultimately, it became a matter of principle over passion, and the former was non-negotiable for me.
The hospital risk physician told regulators that she had:
... walked into a hot mess of an organization,
According to a report from the Centers for Medicare and Medicaid Services. Federal inspectors back them up, saying in a report (source) that the facility is:
... too short-staffed to properly supervise patients,
ignoring their complaints, and had poor quality control procedures in place. Sexual assault against patients is alleged to have occurred as well.
New Baltimore, MI, Harbor Oaks Hospital. The facility has been accused of rampant patient and staff abuse, and allegedly inflates staff to appropriate levels only when a visit from the Joint Commission is expected. A month-long news investigation by WXYZ of Detroit, MI, found:
... a pattern of assaults on staff dating back years, repeated allegations of physical and sexual abuse involving patients.
Ada, OK, Rolling Hills Hospital. An alleged cover-up attempt at the hospital by not reporting the deaths of patients to the facility's governing body. A lawsuit from one of the victims, Shannon Archer, highlights the conditions of neglect. This patient was admitted for alcoholism, but suffered permanent brain damage when, allegedly, a patient violently grabbed her from behind, grasping her hair and viciously slammed her head into the concrete floor. The other lawsuit, which involves an unnamed minor, alleges denial of critical emergency medical care, as well as multiple sexual assaults against children.
According to the Archer complaint, there was no supervision or security present at the time of the incident due to the understaffed personnel. I was made aware that the Oklahoma Department of Human Services apparently ordered the removal of all ODHS children from the facility.
Investigations by health inspectors from the Centers for Medicare and Medicaid Services revealed over 50 pages of violations ranging from unqualified staff to infection control deficiencies, patient rights, and maintenance issues. What we found most alarming were the instances of restraint and seclusion violations where adolescents were left unmonitored in seclusion rooms.
Lemont, IL, Timberline Knolls. According to the Acadia website, this facility is:
located on 43 tranquil acres in the suburbs of Chicago. Residential treatment at Timberline Knolls includes a state-approved school for adolescents and 24-hour, 7 day per week medical care. Our intensive, holistic 6 treatment model results in a depth of recovery that is transformational for residents, and fulfilling for our staff.
The women's substance abuse and eating disorder treatment facility is one for which Waud's company paid $90 million for in 2012. Two lawsuits have been filed against the facility this year. One complaint alleges wrongful death due to the neglect of patient Grace Cho. The other alleges sexual assault by Michael Jacksa, 40, a former counselor at the facility. Another suit, from 2015, alleges child neglect.
Henderson, NV, Seven Hills Hospital. Multiple allegations of sexual assault of a patient exists, including McCardle v Seven Hills/Acadia, in which a patient exposes himself to a young woman.
According to a national survey, abuse in this industry by staff is much more common than many would think; some of the data from 958 respondents in California is below:
| % | Characteristics |
| --- | --- |
| 5% | Patient was a minor at the time of the intimacies1 |
| 3% | Patient married the therapist |
| 32% | Patient had experienced incest or other child sex abuse |
| 10% | Patient had experienced rape prior to intimacies with therapist |
| 11% | Patient required hospitalization considered to be at least partially a result of the intimacies |
| 14% | Patient attempted suicide |
| 1% | Patient committed suicide |
| 17% | Patient achieved complete recovery from any harmful effects of intimacies2 |
| 20% | Patient seen pro bono or for reduced fee |
| 12% | Patient filed formal (e.g., licensing, malpractice) complaint |
Source: https://kspope.com/sexiss/sex2.php
On February 28, 2018, The Attorney General's office was notified upon first discovery of potentially harmful misconduct at Acadia. A second attempt to contact AG Sessions was made on April 26, 2018. Attorney General Sessions has since resigned.
An attempt was made to notify Tom Graber of the Oklahoma Attorney General's office in July of 2018, hoping to implore them to investigate, as well as to gather commentary for this account. No response was provided or has been since. In terms of at the federal level, Oklahoma-based Special Agent Alan Carpenter of the FBI did respond to the original inquiry, however, nothing has been addressed in Oklahoma, or nationally, to date.
He stated in a June 11, 2018 response email, "I have been looking for the appropriate office to look into the allegations you have made regarding the healthcare industry. I should know more later this week. I will advise when I have more information." Carpenter didn't respond further.
According to another friendly FBI source (reached via phone in July 2018), Special Agent Tara Smith of Chicago, discussed the link between cost-cutting, potential fraud, and patient harm, and said:
... it's just not something we do, and it's a challenge to connect the two.
Overall, the sexual assault allegations are eerily similar to the lawsuits from the Jacobs et al. era at Psychiatric Solutions. A hospital, now owned by UHS, hasn't appeared to change much. Even this year, surfacing rape allegations at Houston's Kingwood Pines Hospital (previously a Psychiatric Solutions facility managed by Jacobs and this same management team) points to the sparse revenue potential for providers across the spectrum. While these occurrences are industry-wide, the combination of Acadia's mere size and potential for profit appear to position it in similitude with a brewing disaster.
V. Staff Sentiment
In a June 20, 2018, Glassdoor online review entitled "Used to Be Better, Now It's Just About Acquiring as Much as Possible," one employee in the corporate office wrote the following:
Pros:
People you work with; Corporate office is in a nice area.
Cons:
No time off; Little regard for employee's happiness/overall mental health (ironic); No flexibility; Extreme lack of communication company-wide; Unless promoted, raise is 2% max; Lack of ethics.
Advice to Management:
Treat employees better before every ounce of talent is gone and working for competitors. Little time off, no office time flexibility, constant "urgency," lack of communication (from corporate down to the facility level – ESPECIALLY at the facility level), and underpaying employees are the opposite of what this company was built on. SLOW DOWN. The company cannot continue to acquire and grow successfully when many departments are understaffed and employees are suffering/completely maxed out on what they can do. Fix the multitude of issues with the current facilities and get a solid foundation before trying to build higher.
A member of the direct care team at Acadia's flagship facility, Sierra Tucson (located in Oro Valley, AZ), mentioned the following in another Glassdoor employment review entitled "Short staffed to the point that patients are put in danger,"
I have been working at Acadia Healthcare full-time (More than a year).
Pros:
Beautiful vistas. *Some* good colleagues.
Cons:
Too few staff members to treat patients appropriately. As a result, Sierra Tucson has been charged with several wrongful deaths. Working here will land you with people's deaths on your conscience. The company rampantly and openly commits insurance fraud. Staff is asked to gaslight patients who complain and rely on their illnesses to disregard their complaints.
Advice to Management:
SHUT THIS PLACE DOWN BEFORE ANYONE ELSE IS KILLED.
VI. Other Concerns
Interest rates. With $3.7 billion in debt, Acadia is poorly positioned in a rising interest rate climate. In the shareholder earnings call for Q2, Joey Jacobs said they were expecting one more interest rate hike by the end of the year. However, one has already happened since then – and another is expected that is not accounted for by Acadia. Then three more in 2019. Jacobs said they have chosen not to change their loans to fixed-rate instruments because they found that financially inviable for the company. This likely indicates that they will be unable to weather the coming rate hikes.
Oversight. The American Addiction Centers incident led to increased oversight into the industry – and increasing regulation. As more government dollars pour into behavioral healthcare, government watchdogs are calling for the creation of a regulatory body to investigate fraud in the SUD industry. Legislators from Florida are flabbergasted by this issue, and, according to ABC News:
The problem of insurance fraud and patient abuse is so bad in the Sunshine State that it's been nicknamed 'The Florida Shuffle,' where patients are lured here for treatment, then go from one treatment center to another until their insurance benefits run out.
Patient acceptance restrictions. According to an anonymous industry expert trained in both business and medicine, "due to the number of suicides at some of their facilities, Acadia's ability to accept certain patients has been restricted by state-level governments."
Medicare/Medicaid contract risk. In 2017, the majority of Acadia's US revenue came from Medicaid and Medicare contracts.
Inability to Expand. At the same time that Acadia's debt burden is close to becoming unserviceable, it keeps saying it will continue expansion.
The company expects to add more than 800 beds to current and new facilities in 2018.
But, it has added a grand total of 152 beds (out of more than 17,000 total) – and that marginal growth has been off of deals struck in 2016.
A weak UK environment. 30% of Acadia's revenue comes from the UK, but problems exist, such as:
A weak exchange rate. At the end of Q2, Acadia dropped its estimate for the exchange rate for Q3 from $1.35 to $1.30. It will likely have to drop it again for Q4.
Low census. Despite Jacobs' reassurance of an analyst that it has no problem filling beds, Acadia has been unable to fill beds in the UK.
Shortages of staff. Jacobs noted:
The shortage of nursing staff in the UK is cause for alarm bells,
... according to the Royal College of Nursing. In the last two years, the number of nurse vacancies has risen by 17%. More nurses are leaving the profession than joining, leaving Acadia without sufficient staff to care for its UK patients.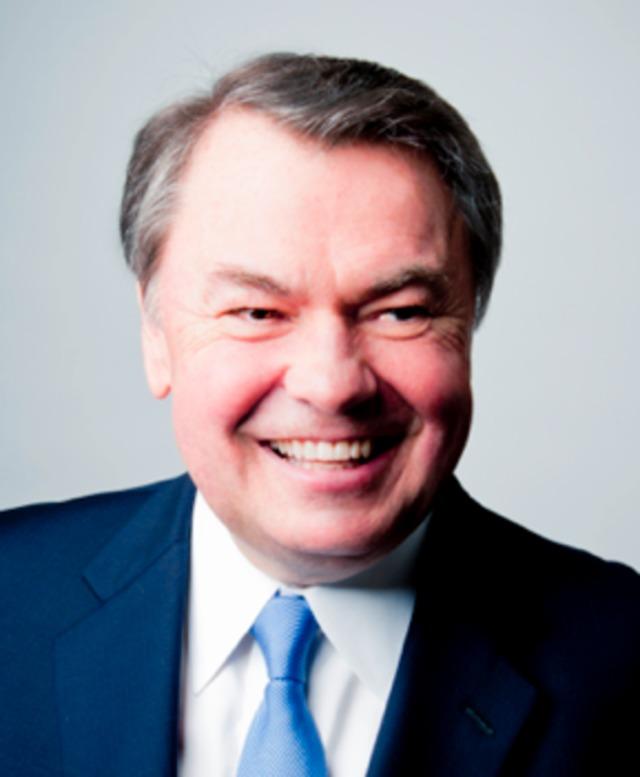 Acadia Healthcare CEO Joey Jacobs. Source: Nashville Post
From the Q2 ACHC shareholder call. Joey Jacobs stated:
The company remains actively engaged with its acquisition pipeline and expects its 2018 acquisition...activity to be heavily skewed toward acute facilities in the United States.
Yet Acadia has not made any purchases in the last two years, and they have begun to champion joint venture de novo projects like the one with St. Thomas Hospital in Nashville, for example.
Seasonality. Acadia struggles with severe seasonality in the summer months. A partial reason is that poor people are inclined to seek free shelter in a behavioral healthcare center when it is warm outside. An analyst asked Joey about that at the end of Q2:
Are you comfortable with your assumptions going into the summer months?"
Jacobs responded:
We've got our fingers crossed.
A damaged reputation. Acadia gets most of its business from referrals. However, an expert in the industry says that Acadia has developed an industry-wide reputation for not providing quality care, cutting costs, and cannibalizing their own programs in order to raise profits. As a result, reputable clinicians are willing to refer to Acadia less and less.
VII. Today's Situation
Acadia's books do not look good. Interest expense for the last half of the year is expected to be around $95 million. Net cash provided by operating activities for the first half of 2018 was $217 million. Again, this is assuming they'll collect all billed revenue. Acadia is nearing a high-risk of default, and logically, would soon be unable to continue to borrow for growth.
Acadia has $6 billion in long-term assets and $3.4 in long-term liabilities, yet when the goodwill from purchases is removed from the books, the company's worth approaches $0.
There has been speculation of a private equity buyout of the company; however, this has not been verified.
Most importantly, the "private equity offer" publicized in early October by Reuters was for $38 a share – but the company was trading as high as $45 a share last week.
On November 1st, 2018, just a few days shy of the November 5th, 2018 earnings call for Q3 2018, Director Reeve Waud, dumped more stock. This, the day after the NY Post reported that Kohlberg Kravis Roberts and Co. Inc. (NYSE: KKR) was looking to acquire Acadia. This is reminiscent of Q2 2018 earnings, when just days before a shy miss of analyst estimates, Waud dumped stock as well. However, when they outperformed at Q4 2017, Waud dumped stock after the release of earnings in February.
In the two previous years, it has experienced a 20%+ drop after its Q3 earnings announcement. This most recent quarter (Q3, 2018), they missed earnings by $.10. Some notable issues stated in the conference call or in public filings were:
Acadia has experienced almost no bed growth in 2018.
Acadia will likely be forced to impair goodwill due to Brexit putting downward pressure on Priory Group.
Acadia is 98% owned by institutions. If one of them sells, it will trigger a mad rush for the door as they look for higher-growth opportunities (healthcare is experiencing 13.7% growth, while Acadia's has shrunk to 9.5%).
Acadia is experiencing severe interest rate and currency exchange headwinds.
Acadia has no apparent ability to raise profit margins any further.
Acadia is experiencing skyrocketing competition from legitimate firms.
Acadia has been unable to hire and retain professional personnel.
Acadia would suffer greatly from any changes in the regulatory environment.
If any of the above happens, it will likely cause Mizuho (which currently has a $60 price target) and Wells Fargo to downgrade the stock as they have in the past, causing a further sell-off. Astonishingly, in their time since becoming publicly traded, no bank has ever issued a sell rating. Ever. All present ratings appear optimistic despite numerous red flags.

ACHC 2018 Recommendations. Source: Marketwatch
Again, the leadership has, for the most part, cashed in.
Reeve Waud is $638 million richer solely from the sales of individually owned stock, but still holds over 700,000 shares in various entities, according to Nasdaq. Waud also has a new house, widely known as Maine's "largest mansion."
Waud was also the nominee of Governor Bruce Rauner, R-Ill., and presently chairs the Illinois State Police Merit Board, which provides oversight, the approval of promotions, and other major decisions for the state's highest law enforcement body.
Joey Jacobs has extracted about $78 million from the company thus far (not including his compensation and bonus package). He recently acquired an ownership stake in the Nashville Predators, according to The Tennessean.
With all of these facts considered, it is challenging to locate a path forward for Acadia Healthcare Company, Inc. It's even harder to find an intrinsic value above $0.
Most importantly, after all of this, is anyone worried about the patients, their pension, or more importantly, the many children in care, separated from their families?
Lastly, contact was made with Acadia Healthcare and Waud Capital Partners via telephone and email. Neither party has chosen to respond or provide any comment to the substance brought forth herein. The various questions for Acadia surrounded the accounting discrepancies, the insider stock sell-off, and the widespread alleged misconduct.
----
***Sources for financial data found within the audited financial filings for Acadia Healthcare Company, Inc., including:
SEC filings (10-K, 10-Q): 2014-18
ACHC press release on Q2 earnings from 2018
ACHC presentation Wells Fargo Healthcare Conference 9/2018
ACHC proxy statements