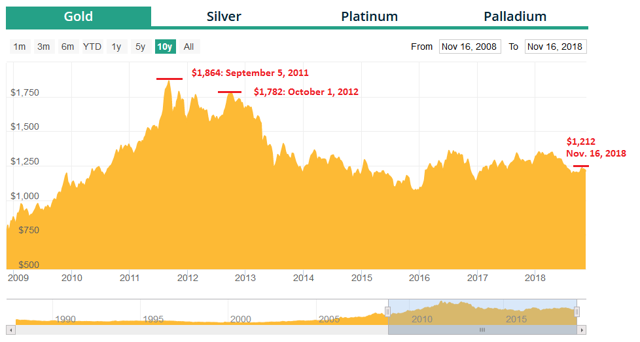 Source: APMEX (red notes by the Author)
The Treasury Department released the October 2018 Federal Deficit numbers last week and they were awful (unless you own gold). The monthly deficit for October was $100.5 billion. That's up 58% from the $63 billion deficit recorded in October 2017. Spending rose 18% while receipts increased by only 7%.
As USAGold reports, the massive federal debt has made gold a superstar. As the graphic below clearly shows, few correlations in the financial markets are more consistent and true than the one between the size of the federal debt and the price of gold: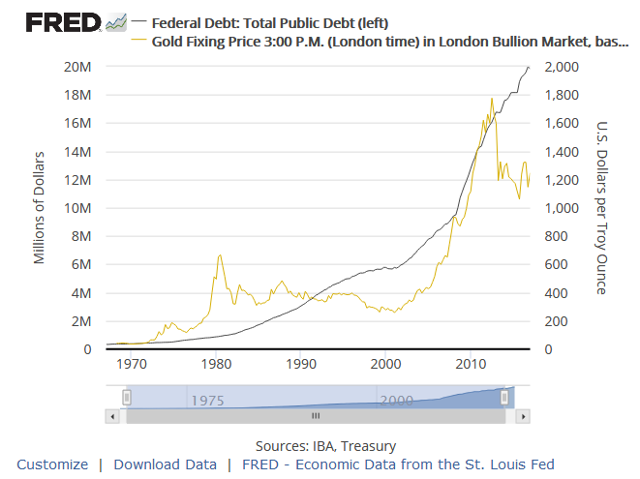 Source: USA Gold
Note that October is just the first month of the government's fiscal year 2019. So it's still very early to project whether the annual budget deficit will reach $1 trillion after ending fiscal 2018 at $782 billion. However, the Congressional Budget Office projects the 2019 deficit will come in just shy of $1 trillion - at $981 billion - due to the impact of the Trump administration's Tax Cuts & Jobs Act combined with a big jump in new spending (mostly because of a huge jump in defense spending).
But not only is the total federal debt correlated well to the price of gold, so too is the 12-month moving average of monthly deficits: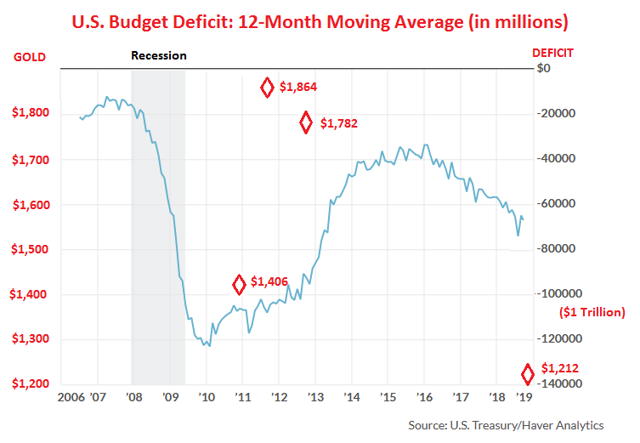 Source: MarketWatch (Notes In Red & Gold Price Diamonds Added By The Author)
Note that in 2011 and 2012, the price of gold was solidly more than $1,700/oz following a few years to >$1 trillion deficits. It ran all the way to nearly $1,900/oz.
But that was after digging out of the "Great Recession." Now, and despite the great economy, what some would generously describe as "unwise" tax-and-spend policies, the U.S. is back on track for a $1 trillion annual deficit for fiscal 2019. Yet gold is barely over $1,200/oz.
As a result, there's currently a massive gap in the relationship between U.S. federal deficits and the price of gold. Clearly, gold has ~50% upside if the relationship between U.S. monthly deficits and the price of gold matches its recent history.
Global Warming
My last article on gold (see Global Warming Will Help Push U.S. Deficits (And Gold) Higher) was met with the response one would expect in the U.S. based on the title and given the number of Americans who still (believe it or not...) think global warming is a "hoax." Further, many openly refuted the effect on federal deficits due to spending on natural disaster recovery efforts.
Yet just days later, as if right on queue, the government announced the full-year fiscal 2018 deficit jumped to $779 billion, $113 billion, or 17% higher than the previous year. Further, TheHill.com reported that a full 18% of the 2018 deficit was due to natural disaster relief:
Maya MacGuineas, president of the Committee for a Responsible Federal Budget, said:
Disasters aren't anomalies — they are unfortunately a sure thing, and they are getting more costly every year.
Source: TheHill.com
MacGuineas advises that funding to pay for natural disasters should be part of a regular budget process, or the nation will unsustainably add to its debt. Case in point:
Congress approved $15 billion last September to help pay for the damages from Hurricanes Harvey and Irma.
The following month, after Hurricane Maria devastated Puerto Rico, Congress approved another $36.5 billion.
Congress went on to approve about $90 billion of aid in additional aid in February.
The total of $140 billion over a six-month period was nearly triple the amount appropriated for the Department of Homeland Security, and about double the Education Department's budget. I feel totally and 100% vindicated that my previous article was spot on.
One thing is for sure ... a certain number of Americans always will believe global warming is a hoax. But one thing is for sure: Their taxes will increasingly pay for massively higher natural disaster recovery costs.
Upside For Gold
An astute reader would have noticed that, in the last graphic (see above), there was a roughly two-year lag time before the price of gold reacted to the 12-month moving average of monthly deficits hitting the $1 trillion level. Fair enough. But in that case you should be buying gold now. If the historical relationship between deficits and gold hold, and if the deficit does reach the $1 trillion level for fiscal 2019, gold should move back to the $1,800/oz level within the next year or two. That's ~50% higher than today.
And it's clear that's where the CBO thinks that's exactly where we are heading:
As required by statute, when constructing its baseline projections, CBO incorporates the assumption that current laws governing taxes and spending will generally remain unchanged in future years. Under that assumption, in CBO's baseline, federal deficits average $1.2 trillion per year and total $12.4 trillion over the 2019–2028 period. As a percentage of gross domestic product ("GDP"), the deficit increases from 3.5 percent in 2017 to 5.4 percent in 2022. Thereafter, the deficit fluctuates between 4.6 percent and 5.2 percent of GDP from 2023 through 2028. Over the past 50 years, the annual deficit has averaged 2.9 percent of GDP.
Source: CBO
And remember, natural disaster relief spending is still a huge wildcard because it remains outside the budget process. Point being, the CBO's estimates will likely be on the low side.
Summary and Conclusion
The "tax reform" package passed by the current administration - combined with the big increase in spending - is resulting in a large increase in deficit spending. The federal deficit for October 2018 jumped to more than $100 billion - up 58% from the previous year. Certainly one month does not make an annual budget. And there always are seasonal factors. But it's quite clear federal deficit spending is going dramatically higher. As a result, so too should the price of gold.
The GLD Gold Shares SPDR (GLD) is one of the easiest ways for investors to invest in gold. It's liquid (assuming there is no financial system meltdown) and there are no direct storage costs as a small investor might encounter with gold coins. If I'm right and gold rallies ~50% over the next couple of years, that equates to GLD reaching $165-$175. (see chart below).
Other options are the iShares Gold Trust (IAU) or the ProShares Ultra Gold Fund (UGL). UGL is a 2x performer as compared to the gold bullion price in London.
And then there's always good-old gold bullion for those who don't feel secure owning "paper gold" and wanting to hold gold in their hot little hands. You can go to Kitco.com or APMEX.com to buy quality gold coins. Or search your local area for gold dealers and buy them in person. Be careful, and good luck!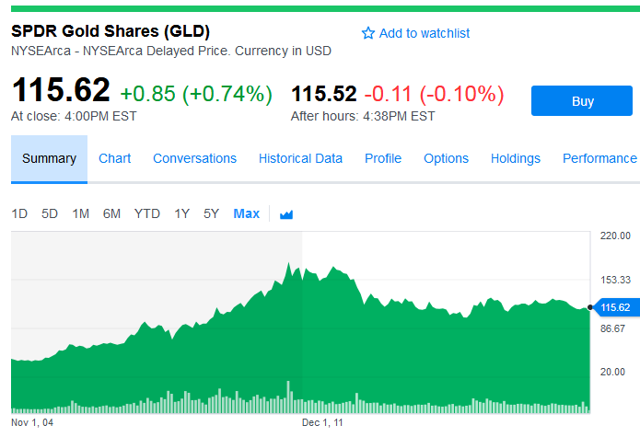 Source: Yahoo Finance
Disclosure: I/we have no positions in any stocks mentioned, and no plans to initiate any positions within the next 72 hours. I wrote this article myself, and it expresses my own opinions. I am not receiving compensation for it (other than from Seeking Alpha). I have no business relationship with any company whose stock is mentioned in this article.
Additional disclosure: I am long gold bullion. I am an engineer, not a qualified investment advisor. While the information and data presented in my articles are obtained from company documents and/or sources believed to be reliable, they have not been independently verified. Therefore, I cannot guarantee its accuracy. I advise investors conduct their own research and/or consult a qualified investment advisor. I explicitly disclaim any liability that may arise from investment decisions you make based on my articles. Thanks for reading and I wish you much success with your investments.