Real Estate Weekly Review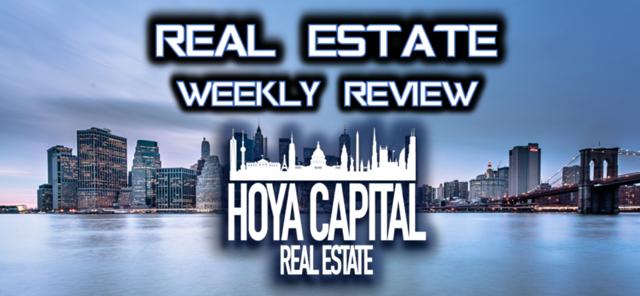 Following a post-election rally last week, US equities finished the week lower as technology, retail, and energy declines weighed on the broader index. The S&P 500 (SPY) dipped 1.5% while the tech-heavy NASDAQ (QQQ) declined more than 2%. The REIT ETFs (VNQ and IYR) continued their streak of outperformance, finishing the week modestly higher despite weakness in the retail sectors. The nearly 25% plunge in the price of oil over the last two months has put considerable downward pressure on inflation expectations and has supported valuations of yield-sensitive sectors.
Homebuilders (XHB and ITB) continue to struggle, dipping more than 1% on the week and pushing their YTD losses to more than 30%. KB Home (KBH) dipped more than 10% on the week after a disappointing guidance update, in which the firm reported a 14% decline in net orders quarter-to-date, far below expectations and providing further evidence that single-family housing demand has softened further in recent months, pressured by rising mortgage rates.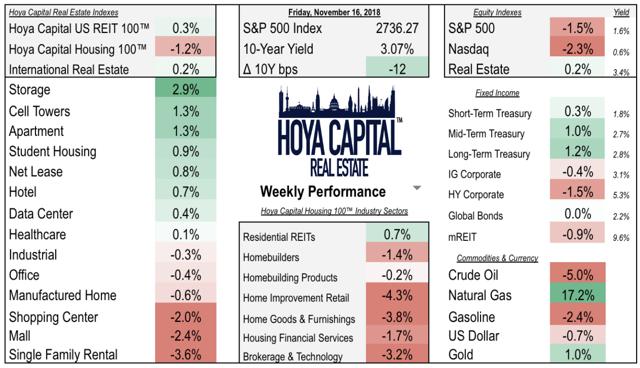 The Housing 100, a broad measure of the US housing market, finished the week lower by 1%, dragged down by weak performance in the home improvement retail segment. Residential REITs, however, were the bright-spot led by the apartment REIT sector. Home Depot (HD) finished the week lower by nearly 5% despite reporting a solid 5.4% rise in comparable same-store sales, but raised caution over the housing market in its earnings call, noting: "Housing-related metrics are moderating…housing turnover is lower than we thought it would be at the beginning of the year."
Real Estate Economic Data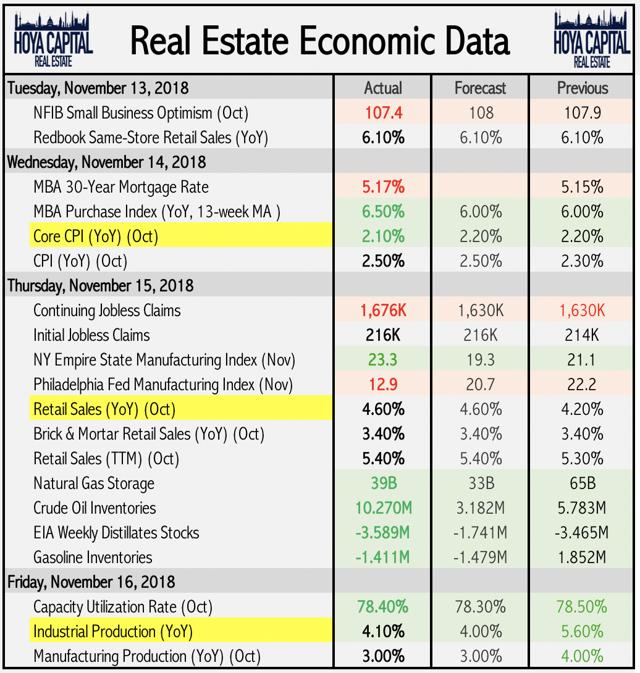 (Hoya Capital Real Estate, HousingWire)
Mortgage Rates Tick Higher Yet Again
The 30-year fixed mortgage rate hit a new seven-year high this week despite the recent pullback in the 10-year Treasury yield. The 120 basis point jump over the last thirteen months is reminiscent of the surge in mortgage rates during the "taper tantrum" from 2013 to 2014, which caused a mild deceleration in housing-related data over the next 12-24 months before reaccelerating as rates retreated. Given recent commentary, homebuilders and housing-related industry executives, particularly the mid-quarter update from KB Home, it appears that the recent leg higher in rates has led to a significant - though perhaps temporary - pullback in buying demand in the single-family markets.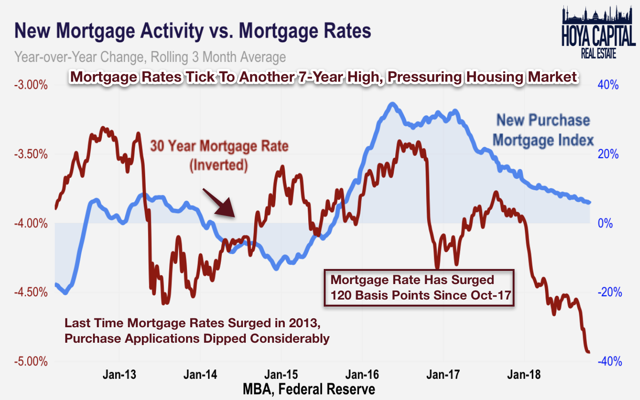 This week, we published our quarterly update on the homebuilding sector, Homebuilders: Relief in Sight. We discussed that the "Four Ls" of homebuilding have bedeviled homebuilders in 2018: lumber, labor, lending, and land. The positive effects of robust economic growth and favorable demographics have been offset this year by the negative effects of rising mortgage rates and reduced homeownership incentives from tax reform.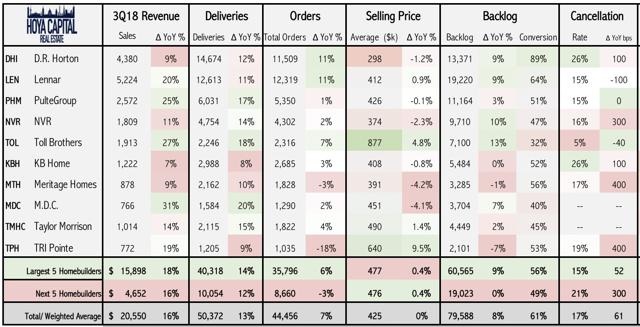 The combination of a reacceleration in economic growth, trade disputes, and immigration policy has pushed construction costs higher by more than 6% compared with last year. Relief may be in sight, however, for at least two of those key components: lumber and lending. Lumber prices surged in early 2018, a result of concerns over NAFTA talks, supply shortages from expectations of robust homebuilding demand, and rail transportation bottlenecks. All three of those constraints have eased considerably over the last quarter, sending lumber prices plunging more than 50% back down to levels last seen in early 2017. Labor costs, however, continue to tick higher as immigration policy put further pressure on the lingering worker shortage. On its earnings call, Toll Brothers (NYSE:TOL) noted lumber prices will improve margins in 2019, but "cost creep" on labor and other materials will offset some of those gains.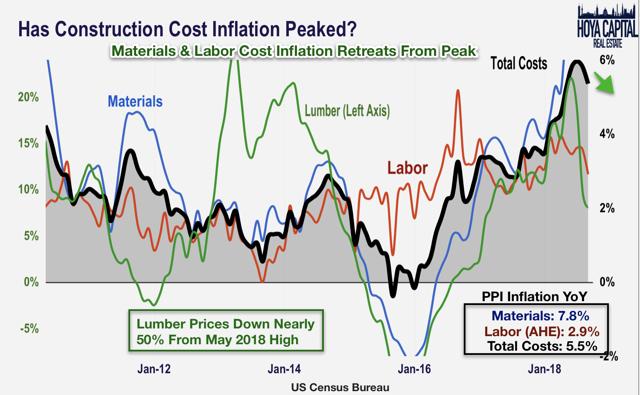 Fourteen months ago as homebuilders were a consensus "top-pick" in many Wall Street research departments amid a 50% surge, we discussed our negative view on homebuilders in Homebuilders Surge Despite Housing Unaffordability. We noted that, while mortgage rates remained relatively low at the time, that an uptick in rates had the potential to derail the recovery as potential first-time buyers were already effectively "tapped-out" with record levels of student debt, among other headwinds to first-time buyer demand. For the reasons that we discussed in our new update, we now have a more favorable outlook than consensus on the homebuilding sector but note that the recovery will remain choppy and could indeed be derailed by an overly-aggressive Federal Reserve or an unexpected surge in inflation expectations.
Solid Trends in Retail Continue
Retail sales, particularly in the traditional brick-and-mortar categories, continued their positive momentum into October as 2018 is on pace to be the best year for retail sales growth since 2012. On a trailing twelve-month basis, growth in total retail sales climbed 5.4% while brick-and-mortar sales have risen an impressive 4.1%. Nonstore retail sales, which include both pure-play online retailers as well as online sales from traditional brick-and-mortar retailers, continue to grow at an impressive double-digit rate.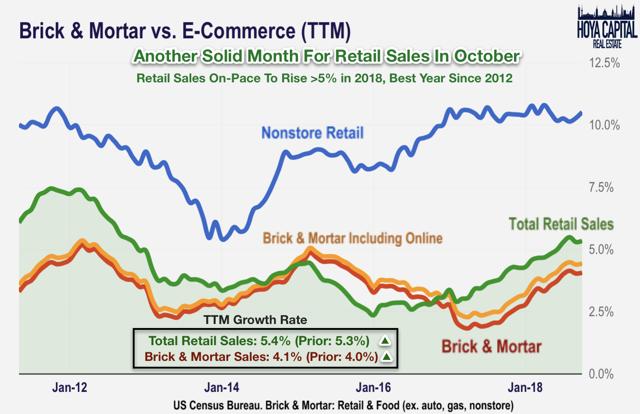 On a TTM basis, six of the ten brick-and-mortar categories ticked higher on the month. Notable trends in the data below include the strong performance of restaurants, clothing, and general merchandise retailers so far in 2018 as well as the relative slowdown in the once-high-flying building and furniture categories. Redbook retail sales data continues to show an impressive 5-6% YoY growth in same-store retail sales.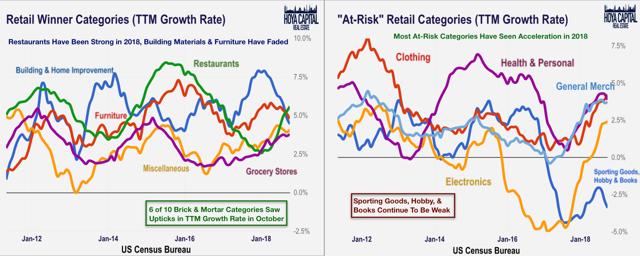 Coming off a record holiday season in 2017 in which holiday retail spending surged 5.3%, expectations are more moderate heading into 2018 given the recent commentary from retailers and recent stock market volatility. The National Retail Federation forecasts a 4.3% to 4.8% rise in holiday retail spending. Working to the favor of retailers, however, the recent plunge in oil prices will soon translate into lower gasoline prices. Given recent correlations, gas prices could be 30-40 cents per gallon lower by December, just in time for peak spending season.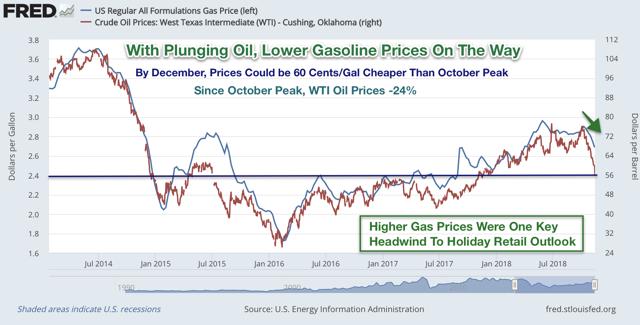 Inflation Remains Tame As Oil Retreats
Runaway inflation was - and remains - the key threat to potentially ending the nearly decade-long economic recovery. Rising oil prices, along with rising costs from tariffs and trade disputes, have put upward pressure on inflation throughout 2018. Even with these cost pressures, however, inflation has remained rather tame and is likely poised to inflect downward given the sharp pullback in energy prices in recent months. October inflation data was cooler than expected with Core CPI, PCE, and PPI all trending sideways from last month.
Shelter accounts for 34% of the CPI weight, and since 2013, it has been significantly above the overall inflation rate. From 2015 through late 2016, shelter inflation was one of the only components keeping Core CPI out of deflationary territory. We have discussed for several quarters that we expect shelter inflation to moderate as the lagging CPI data "catches up" with current market conditions in the rental and housing markets. Core CPI excluding shelter is approaching its fastest rate since 2012, fueled by the bleed-through from rising oil and gasoline prices. Core CPI ex-shelter, however, barely budged this month and remains below 1.5%.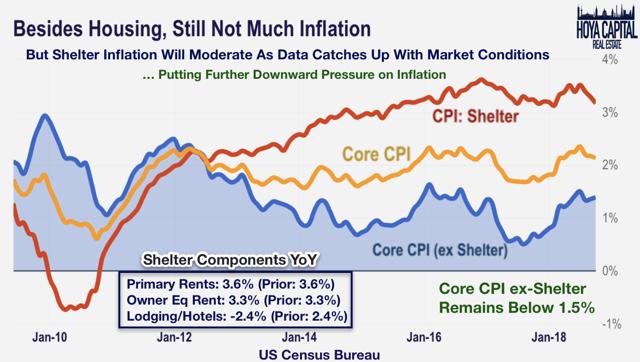 Historically, the path of inflation has been primarily determined by two critical variables: the price of energy and the trade-weighted value of the US dollar. Oil prices have plunged nearly 25% from recent highs on concerns over slowing global growth and rising supply levels. The US dollar, meanwhile, has continued to strengthen relative to other currencies. Our models suggest that further upward pressure on inflation is far less likely than it was in late-summer when oil prices were up as much as 65% YoY.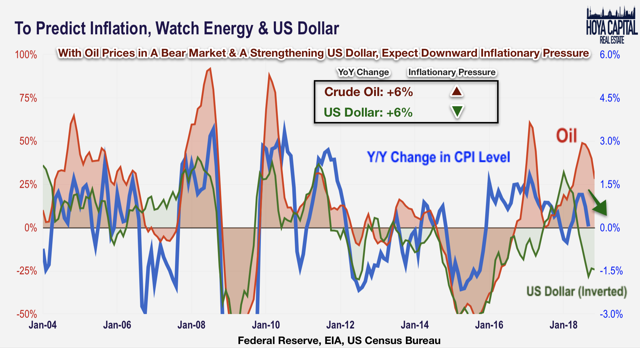 Real Estate Earnings Season Recap
Third-quarter earnings season concluded this week in the real estate sector. REIT earnings were generally better-than-expected as nearly half of REITs beat estimates and more than 40% boosted full-year 2018 guidance. The apartment, office, and hotel sectors were the standouts this quarter. Just 15% of REITs missed third-quarter estimates and 10% of REITs reduced guidance with five of the seven coming from the shopping center sector.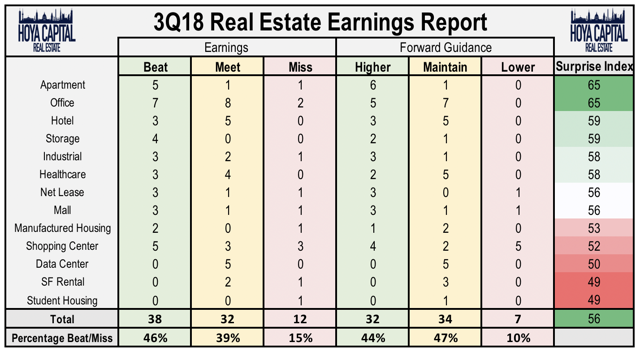 Following several years of robust construction growth, new development activity has tailed off in recent quarters, coinciding with a surprising reacceleration in economic growth, led by the resurgent labor markets. On an inflation-adjusted-basis, construction spending turned negative on a TTM basis in early 2018 for the first time since late 2011. Peaking supply growth, combined with accelerating demand growth, has allowed REITs to regain their footing in 2018 after stumbling last year. Commentary from REIT World this week seemed to confirm the view that fundamentals should see a mild reacceleration into 2019 but that earnings growth will be limited by the continued NAV discount that makes external growth less accretive.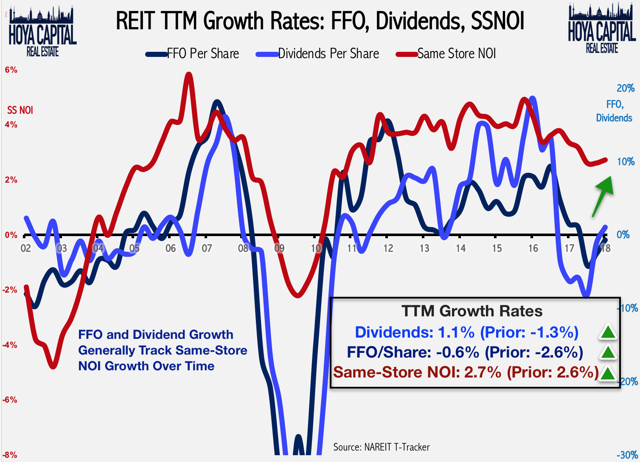 2018 Performance
REITs are now lower by just 1% YTD on a price basis and have nearly closed the underperformance gap relative to the S&P 500, which is higher by 2.5% on the year. Homebuilders are off by more than 3% after rising more than 50% last year. The 10-Year yield has climbed 67 basis points since the start of the year, but the recent plunge in oil prices and the strength of the US dollar are headwinds to a further rise in yields.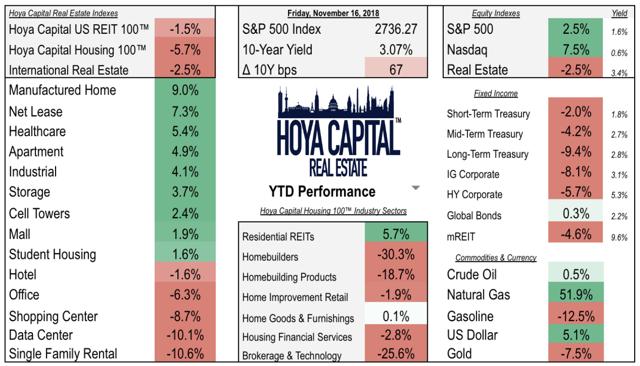 REITs and housing-related equities have outperformed the broader US stock market over the last 25 years. The NAREIT All-Equity REIT Index has delivered a 12.1% average annual return while the Fidelity Construction & Housing Fund (FSHOX) has delivered a 10.8% annual return since 1994. The S&P 500, meanwhile, delivered a 9.9% annualized rate of return during this period.

Bottom Line: REITs Outperform, Homebuilders Struggle
Following a post-election rally last week, US equities finished the week lower as technology and energy declines weighed on the broader index. Oil prices have dipped nearly 25% since mid-October. REITs finished the week modestly higher, boosted by a pullback in the 10-year yield. Declining oil prices continue to ease inflation expectations. CPI inflation data was cooler than expected in October.
Rising mortgage rates, perhaps the primary culprit behind the summer slowdown in housing data, ticked higher yet again this week. Affordability issues continue to weigh on single-family housing demand. Homebuilders finished the week lower, dragged down by KB Home, which plunged more than 10% on the week following a surprisingly downbeat guidance update. Retail sales continue to impress, led by the resurgence in brick-and-mortar retail categories. Lower gasoline prices should help propel holiday sales following a record year in 2017.
As earnings season wraps up, be sure to check out all of our quarterly updates: Data Center, Manufactured Housing, Student Housing, Single-Family Rentals, Apartments, Cell Towers, Manufactured Housing, Net Lease, Malls, Shopping Centers, Hotels, Office, Healthcare, Industrial, Storage, and Homebuilders.
Please add your comments if you have additional insight or opinions. We encourage readers to follow our Seeking Alpha page (click "Follow" at the top) to continue to stay up to date on our REIT rankings, weekly recaps, and analysis on the real estate and income sectors.
Disclaimer: All of our research is for informational purposes only, always provided free of charge exclusively on Seeking Alpha. Recommendations and commentary are purely theoretical and not intended as investment advice. Information presented is believed to be factual and up-to-date, but we do not guarantee its accuracy and it should not be regarded as a complete analysis of the subjects discussed. For investment advice, consult your financial advisor.
Disclosure: I am/we are long VNQ, XHB. I wrote this article myself, and it expresses my own opinions. I am not receiving compensation for it (other than from Seeking Alpha). I have no business relationship with any company whose stock is mentioned in this article.