This research report was produced by The REIT Forum with assistance from Big Dog Investments.
Invitation Homes (INVH) is a single-family rental REIT. Their portfolio benefits from significantly faster growth in rental rates than most other types of real estate. The increase in interest rates is putting pressure on house prices as home ownership is becoming unaffordable for an increasing portion of the American population.
Invitation Homes FFO growth and credit rating
This challenge to home ownership has enabled the single-family rental operators to raise rents. Since most people appreciate having a roof over their head, they get to pick between owning and renting. When owning becomes less affordable, it makes renting more attractive by comparison.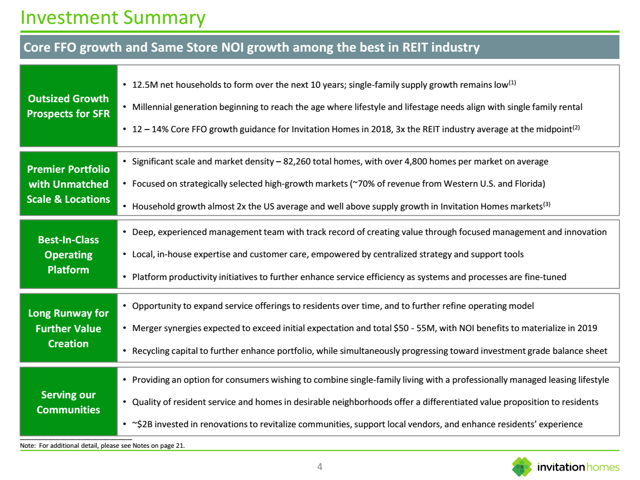 Source: INVH
The 12% to 14% Core FFO growth rate is unlikely to be maintained over the long term, but a significant growth rate should persist for many years. The exceptionally high growth rate in 2018 came from a combination of rental rate increases and synergies achieved following their merger with another single-family REIT.
INVH making progress toward an investment grade balance sheet is a clear positive factor. Excessive leverage is very risky. By moving to a stronger balance sheet, INVH could see their risk rating decline (The REIT Forum assigns risk ratings to REITs we cover) and they would be better positioned for any difficulties in the broader economy.
INVH geography
INVH has a clear emphasis on the west coast and the southeast.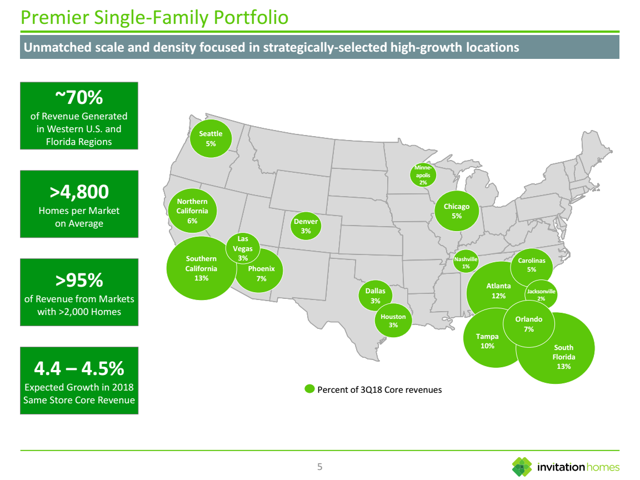 Source: INVH
We see the exposure to California as a potential headwind over the next 2 years. States with higher taxes are expected to suffer from migration towards lower tax states. We believe this could be a very material factor because some aging retirees will want to avoid higher income taxes on their 401k and IRA withdrawals. The other major factor is the loss of deductibility for local taxes at the federal level.
We expect Florida and Texas to perform quite well in this environment.
Portfolio quality and residents
Another small positive factor for the single-family REITs is the reduction in turnover rate. A lower turnover rate can reduce property management expenses.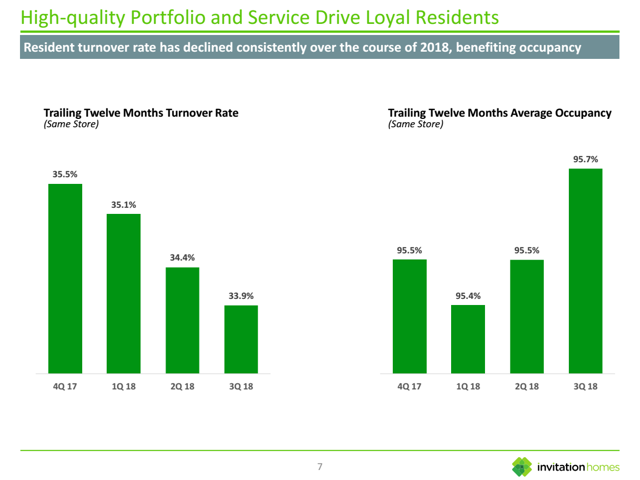 Source: INVH
We see the increasing interest rates and general unaffordability of single-family homeownership as a material factor reducing the turnover rate. If interest rates remain near the current levels, we would expect the turnover rate to remain relatively low.
Occupancy increase and new leases
INVH is benefitting from an increase in occupancy. Q3 2018 occupancy was up 0.5% year over year. That may not seem like an enormous change but it represents vacancy declining from 5% to 4.5%.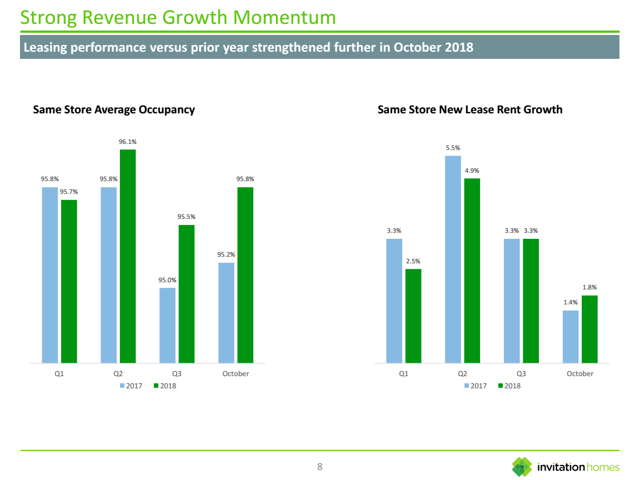 Source: INVH
Same-store new lease rent growth is a simple measure for determining how quickly rental rates are growing. The results for October were only 1.8%. That may seem troubling but it is better than October of last year.
Merger success drives FFO growth
INVH's exceptional growth rate in core FFO has been driven in part by their successful merger integration.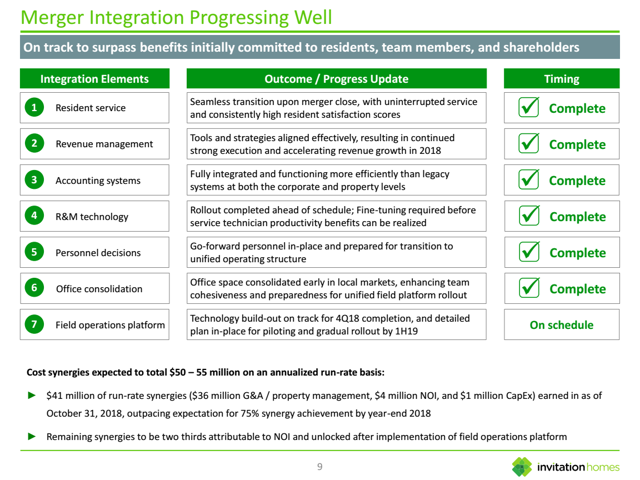 Source: INVH
The majority of the decrease in expenses is already complete. These annualized savings should run $50 to $55 million in total. So far, $41 million in annual expenses have been mitigated. The remaining synergies should reflect improvements to operating expenses for work in the field. That refers to factors such as the expenses for handling repairs on properties and other customer work orders.
Moving toward an investment grade balance sheet
INVH is working toward an investment grade credit rating. We believe they still have a ways to go.
INVH increased their weighted average maturity from 4.1 years to 5.2 years. That is an improvement but it is still dramatically weaker than the values for American Homes 4 Rent (AMH).
INVH is also working to reduce the portion of their real estate portfolio with mortgages attached to them. When fewer of the homes are used as collateral for individual loans, the company can qualify for a better credit rating. The lowest cost of financing for large REITs is usually in the unsecured bond market. To access that market efficiently, INVH would need to achieve an investment grade balance sheet.
Households and generations
Younger generations have a lower homeownership rate than prior generations. The increase in net new households over the next 6 years is expected to be primarily renters.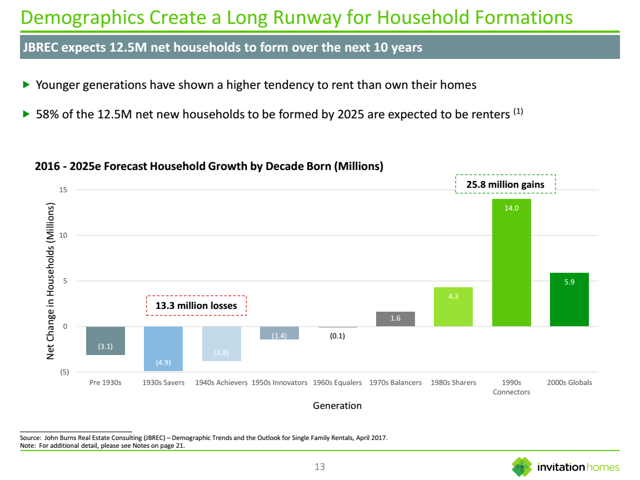 Source: INVH
The growth of renters is often attributed to a change in lifestyle desires by Millennials.
We consider the narrative of young people wanting to rent to be among the stupidest narratives Wall Street has produced in the last decade.
We believe the vast majority of the difference in homeownership rates is attributable to low rates of wage growth and the impact of the Great Recession on Millennials career prospects. Millennials who graduated into the Great Recession faced an enormous headwind to their career. As those Millennials are reaching the point where they might have become homeowners, the combined increase in price and interest rates has elevated the monthly mortgage payment required to become a homeowner.
Absent a material decrease in interest rates or home prices, the growth in renting households should still occur. The reason for the growth is different than what Wall Street projects but the impact is similar so long as interest rates and home prices do not decline materially.
Renters with children
Renters with children are more likely to choose single-family homes.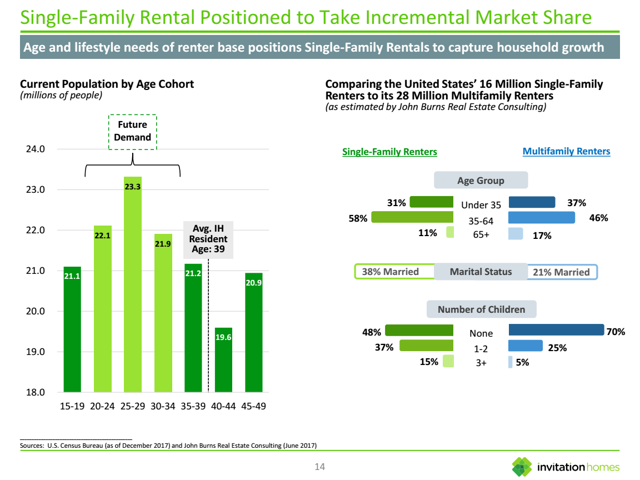 Source: INVH
The most significant correlations between individual factors and the type of property rented are marital status and the number of children. While age has some correlation, it is relatively minor and may be explained entirely by the increase in marriages and children for older people.
As Millennials age, more of them will be become married and have children. Those factors encourage renters to choose single-family homes over apartments.
Conclusion
INVH has delivered exceptional growth in core FFO. Their past growth rate is unlikely to be repeated because it relied on merger synergies. The forward growth rate should still be substantial and the current valuation does not reflect expectations for rapid growth. Much like AMH, we see INVH trading at a significant discount to the value of their real estate.
Compared to AMH, we believe the most significant differentiating factor is the balance sheets. AMH has less debt and the maturities are much further out. However, INVH may see faster growth in FFO next year. Management likes to utilize their core FFO metric for valuation, but we would prefer a core metric that didn't add back stock-based compensation. Despite this weakness in their earnings metric, we still consider the valuation appealing.
Shares of INVH closed at $20.90 on November 16th, 2018.
If you enjoyed reading this article and want to receive updates on our latest research, click "Follow" next to my name at the top of this article.
About "The REIT Forum"
The REIT Forum is the #1 rated service on Seeking Alpha. We focus primarily on defensive investments with high growth potential. With our strategy, we have returned 22% every year since the inception of our service. It is our objective to find quality investments at a discount, along with trading opportunities for the more active investors. Most of our research is on companies that are excellent investments over the long term.
Disclosure: I am/we are long AMH, INVH. I wrote this article myself, and it expresses my own opinions. I am not receiving compensation for it (other than from Seeking Alpha). I have no business relationship with any company whose stock is mentioned in this article.