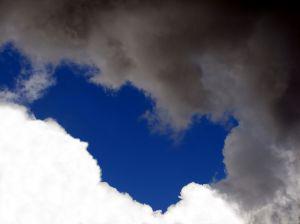 Last October, I reviewed Apple's (NASDAQ:AAPL) situation without Steve Jobs and with a rare, under-expectations earnings report. I likened those negative items as strikes one and two, but leaving Apple in the game.
Strike three? I believe it has occurred, not as a single event, but as a combination of Wednesday's new iPad announcement and some uncharacteristic, growing concerns about Apple's ability to continue its high profit margin growth. These items add up to the beginning of a decline in Apple's superiority.
The new iPad and its announcement
From the iPad event, we get a view of two key measures of Apple's skills: (1) product development and (2) company management. The overriding question is, "Are they Jobs-level quality or, at least, close?" The disappointing answer is, "No," on both counts.
The new iPad has more robust features, but lacks dazzling or compelling improvements. Even the press viewed the changes as a competitive move (think defense), not a product advancement (think offense). For example, The Wall Street Journal (in "Apple Tries to Keep Edge with New iPad") describes the iPad tablet as "updated" and its goal as "Apple … strives to stay ahead of competitors and prove the devices can trump personal competitors."
What about Tim? Is Steve's handpicked successor highly capable? Well, yes, but in a more normal way - understandably, because Jobs was so unique. To me, the best example of Tim's "normality" is his use of a traditional management's favorite accomplishment: The mission statement. From the article above:
… Apple executives now describe the company as an enabler of a broad array of digital devices central to consumers' lives….
Cook reinforced that message at Wednesday's iPad event, along with this odd (ill-advised?) pronouncement:
The PC is no longer the center of your digital world but rather just a device.
Does he really mean MacBook Air (think "ultrabook"), is just a device? Is he trying to push iPad because competitors cannot match its features and price, while they do have an edge over MacBook Air in the ultrabook market? And what about those iCloud ads where what you do on your iPod Touch, iPhone or iPad automatically finds its way back to your… device? And what is going to drive all that programming to Apple TV? Your "i" devices that are dependent on wireless service (and fees) for downloading content?
Note: Occasionally, we get a glimpse of a leader's ability through an event or comment. I believe this is one of those times. Cook is either revealing the skewed logic of over-promoting the product at hand by dismissing the others, or he is attempting to impress us with his future vision of Apple. Reality is found in Apple.com where the first tab after "Store" is "Mac." Included are, in order, MacBook Air, MacBook Pro, Mac mini, iMac and Mac Pro. Does Cook really want us to view each as "just a device" that is no longer the center of (read important to) our digital world?
Growing concerns about Apple
Aside from the iPad event, we are getting some warning signals about Apple. Examples of the latter are these recent The Wall Street Journal articles:
"iPhone's Crutch of Subsidies" (February 27) - The possibility that wireless companies' willingness to offset part of high cost could end.
"The End of Apple's Roach Motel?" (March 7) - Subtitled, "Apple's vast profit margins aren't built to last," discusses the evolving digital/internet changes (including iCloud) that could adversely affect locked-in sales and profitability.
"U.S. Warns Apple, Publishers" (March 8) - The Justice Department' plans to sue Apple and 5 publishers over e-book price collusion. Jobs' biography has a quote showing Apple's support of higher customer pricing.
Well-known growth expectations look overblown
Apple bulls commonly use the following three items as supposedly knockout punches against Apple doubters.
China + iPhone: China Mobile, with its mega-million user base, is about to offer the iPhone. But, then, everyone knows that. What we don't know is the final deal and how it will affect sales. With other countries' wireless providers resisting Apple's subsidized pricing scheme, and Chinese companies' well-known negotiating skills, how that added market translates into Apple sales/profit growth is yet to be seen.
Apple TV invention: Jobs' "we cracked it" TV product/service is supposedly right around the corner. However, unlike the music industry when iPod and iTunes were created, TV (and its broader definition of streamed video) has many well-financed, highly competitive players (both established and new) already collaborating or vying for position in the content, delivery and viewing areas. Moreover, following Jobs' death, deals and developments have been changing the landscape.
Steve Jobs' legacy: Jobs' magic touch lives on. Isn't it just possible that he created something(s) no one else has thought of, and super-secret Apple is putting the finishing touches on it (them) right now? Sure, but faith in magic (or rumor) is a poor way to invest. Wait until the magic becomes reality, then decide.
Reminder: In technology, no company stays on top forever
That technology "S" curve is always alive and well. Its powerful influence is felt by Apple every bit as much as by Microsoft (MSFT) - in fact, more so because Apple is on the steeper part of the "S" curve. The fact that Jobs created alluring, must-have products and services does not give Apple a free pass into a sunny future. Certainly, Apple can remain a force with its stable of Mac-iPod-iPhone-iPad products, iTunes-AppStore-iCloud services, and ancillary products. However, it needs new markets and new creations to offset the naturally slowing growth rates from those already released items. An occasional "new" update will not do the trick.
And now to the Apple investor…
When I wrote that Apple article last October, there was plenty of enthusiasm for AAPL, but also ample skepticism - just the right combination for a healthy stock and reasonable stock price. However, following the January earnings report and AAPL's quickening run-up, the balance shifted to over-optimism with visions of easy money. Published price targets rose up a bubble-like slope: $500, $550, $600, $700, $1000 and now $1500 (a la Barclays). The view that Apple's market cap could become 20%, 50% or 100+% larger than Exxon seemingly raises no eyebrows.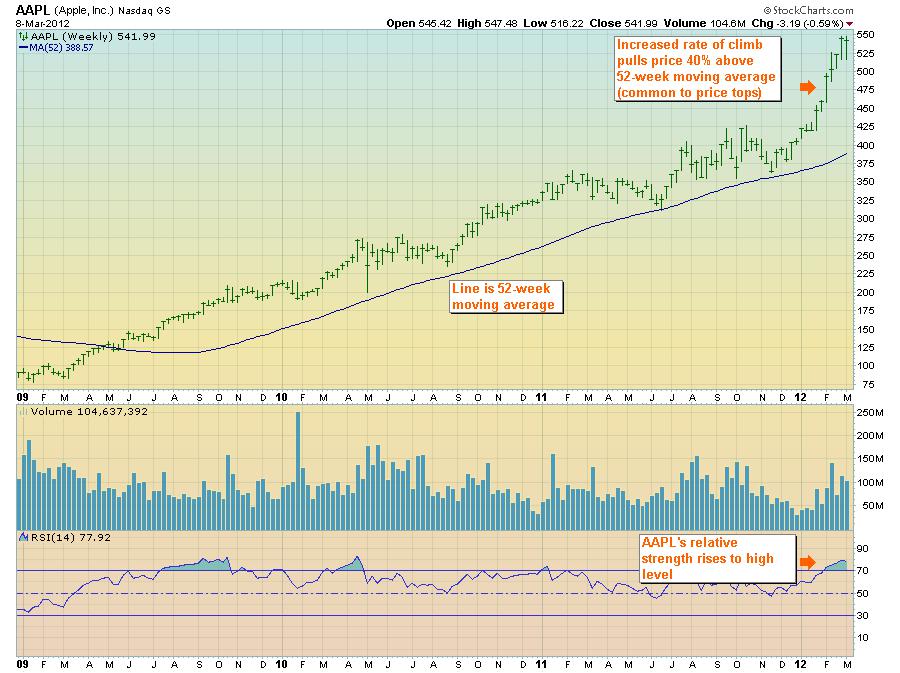 (Stock chart courtesy of StockCharts.com)
With the price rise and ballooning optimism, I decided to sell just below $500 (see my explanation here). The stock's recent high of about $545, instead of being on the road to riches, could be its peak. Why now? Not only because of the over-optimistic rise, but also because of the general stock market weakening (see here).
The bottom line
Apple appears to be shifting from outstanding to normal. With the iPad's good (but not dazzling) improvements and Cook exhibiting good (but not extraordinary) management skills, the move to normal looks to have begun. Adding to this shift are the news reports identifying possible weaknesses. With these changes, Apple is losing its aura of superiority and invincibility (although, among consumers, it still retains its "cool" factor, important for sales of higher priced products).
It was high inventiveness, sales growth and profitability that raised Apple from a small-cap has-been to the country's largest company. A move toward more normal levels in any of those areas would have the opposite effect. Therefore, now looks to be a good time to sell, build cash reserves and look for a new, promising investment.
Disclosure: I have no positions in any stocks mentioned, and no plans to initiate any positions within the next 72 hours.
Additional disclosure: Positions held: Cash reserves and long inverse (short) commodity ETFs. Sold long-term AAPL position on Feb. 10 at just under $500.