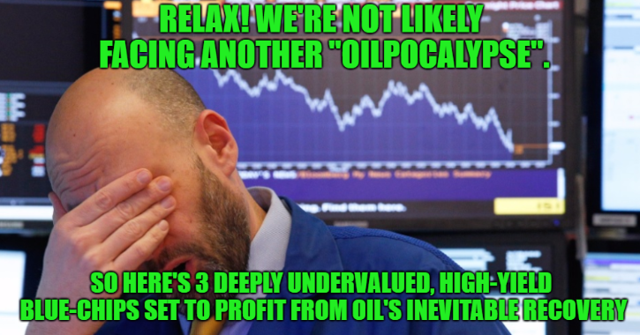 (Source: imgflip)
The last few weeks haven't just been a tough time for stocks, but for oil prices as well. Crude has plunged, with West Texas Intermediate (the US oil standard) at one point falling for 12 straight days. That was the longest losing streak since oil futures began trading in 1983. On November 13th alone, US crude futures plunged nearly 8%, its largest single-day decline in three years, which itself occurred during the second-worst oil crash in over 50 years. And at one point, WTI fell 26% from its recent highs, plunging it into a bear market.
The ferocity of the crude plunge brings back terrible memories of the 2014-2016 oil crash, when oil plunged 76% peak to trough, and which cost some investors a fortune. Many even fear that this is the beginning of yet another epic crude crash that will decimate energy investors who have yet to fully recover from the last one.
So, let's take a look at the reasons for crude prices falling off a cliff. More importantly, let's learn why oil prices are likely not going to keep plunging and may have already bottomed (or soon will). That means that today is a great time to add three high-yield dividend growth blue chips to your portfolio, which can deliver not just generous, safe and fast-growing income, but also market-beating +14% total returns in the coming years.
Why Oil Has Plunged...
The oil market is complex, with prices being set at the margin via hundreds of global variables. However, three things, in particular, have triggered this latest bear market for crude.
First, there are the fresh sanctions imposed on Iran by the US, which were supposed to go into effect on November 5th. In previous months, analysts warned that this could potentially remove up to 2.5 million barrels per day (bpd) from the global oil market. To prevent a sudden and violent spike in oil prices (to as high as $150 per barrel, according to some analysts), Saudi Arabia and Russia agreed to increase oil production by about 1 million bpd ahead of the sanctions. However, thanks to the US granting six-month importation waivers to eight major oil-importing countries (including China and India), that sudden supply crunch never materialized. Thus, the feared supply shortage suddenly turned into a supply glut, which is being made worse by America's epic oil boom.
The US Energy Information Administration, or EIA, recently reported that US oil production hit a record high of 11.6 million bpd, up 2 million bpd from a year ago. The EIA had previously estimated that it would take US shale producers until the end of 2019 to drive US oil production up to 11.9 million bpd. We're not potentially on track to reach or possibly exceed that level one year early.
Oil markets are also fearful that the current short-term supply glut might become a long-term one. That's because of OPEC cutting its 2019 global oil demand growth forecast for the 4th consecutive month, from 1.45 million bpd in July to 1.29 million bpd this month. That's only an 11% decline in expected demand growth, but the crude market is concerned that slowing global economic growth, partially caused by the trade war, might cause those forecasts to keep falling in coming months. And since oil prices are set at the margin (based on the last futures contracts traded), even modest oversupply can be enough to trigger a massive decline in crude prices.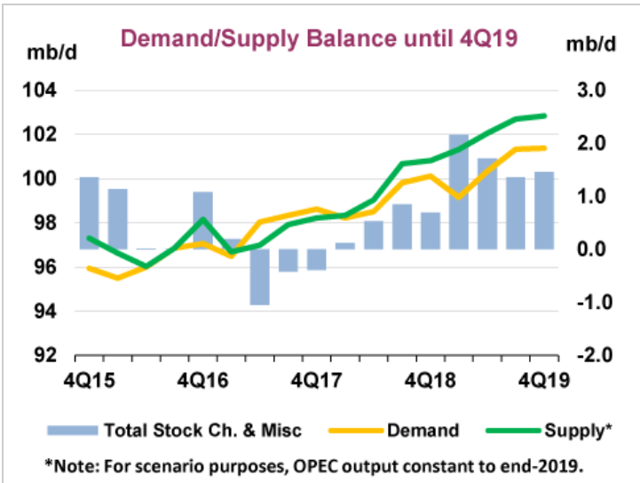 (Source: International Energy Agency)
That's because according to the International Energy Agency, if OPEC (and Russia) were to do nothing, then the world's crude glut would persist through the end of 2019.
However, there are numerous fundamental reasons why oil prices are not likely to keep falling. In fact, they appear to have already bottomed and are likely to recover to long-term prices of about $73 (analyst consensus) to $80 (my best estimate) over the coming years.
... But Crude Has Likely Bottomed And Should Move Steadily Higher
The thing to remember about the last "oilpocalypse" is that it was caused by a confluence of events that are not likely to be repeated. Primarily, that's because the last oil crash was triggered by OPEC eliminating its production limits and all of its members drilling flat-out. That was in an attempt to kill the US shale industry, which had been stealing market share for years. At the time, analysts estimated that breakeven prices for US shale were about $80. Thus, OPEC gambled that it could drown and bankrupt US shale producers with an ocean of cheap oil that would allow it to kill off this new foe which threatened its status as the world's swing oil producer.
While over 130 US shale producers did go bankrupt (out of over 3,000), it turns out that necessity is indeed the mother of invention. The US oil industry was able to adapt quickly and radically cut production costs via the use of the latest fracking techniques, including:
Multiple wells per drill pad (up to eight)
Longer drilling (up to three miles)
Multiple frack stages
Mountains of low-cost frack sand (props open cracks and improve flow) - up to 20,000 tons per well in some cases.
As a result, the breakeven cost for US shale plunged from $80 to under $30 for most major American shale formations.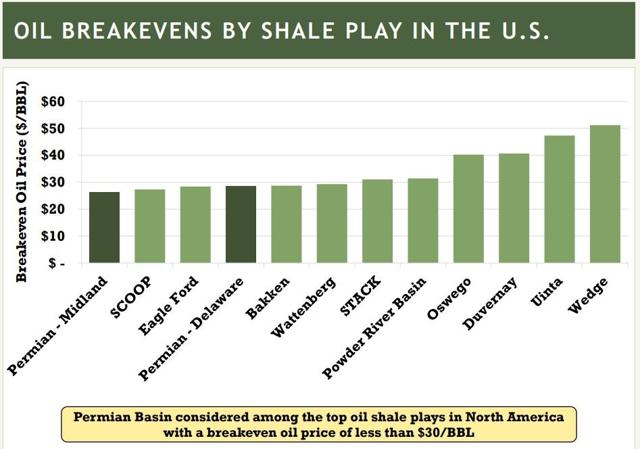 (Source: Pioneer Natural Resources investor presentation)
In the mighty Permian Basin, the main driver of US oil production growth, breakeven costs have fallen to $27 per barrel. And thanks to even better fracking technology (Fracking 3.0, which involves AI-driven real-time drilling analysis), Exxon (XOM) estimates that by 2025 it will be able to achieve $20 breakeven costs on its US shale acreage.
The bottom line is that OPEC, which effectively now includes Russia via the so-called "Vienna Consensus", isn't capable of killing off US shale. And in fact, it's not likely to ever try another oil price war again. Nor is the Vienna Consensus interested in allowing a persistent supply glut that drives crude down to persistently low levels, as oil markets now fear. How do I know that? Because on November 13th, Saudi Arabia's oil minister, Khalid al-Falih, said that OPEC would not allow another oil crash to take place:
"The consensus is we are going to do whatever it takes to balance the market. If that means trimming supplies by a million bpd, we will" (emphasis added)

- Saudi Arabia oil minister, Khalid al-Falih
But what about the current supply glut being made worse by America's exploding production and slowing global growth? Well, we need to keep three things in mind. First, those Iranian oil sanction waivers expire after six months and are merely designed to allow countries to gradually replace Iranian crude with other sources. That means the glut caused by those waivers is temporary.
Second, US production growth, while impressive, is not going to be able to continue growing at 2 million bpd per year over time.

That's because the Permian is tapped out on pipeline takeaway capacity, and new pipelines won't be coming into service until the end of 2019. Now, it's true that current midstream plans call for a doubling of pipeline capacity in the Permian by the end of 2020 (about 4 million bpd extra takeaway capacity). However, US oil producers are being highly disciplined with their capex and are trying to maximize cash flow and returns on capital, not grow production for its own sake (as they did before the oil crash). That's why, based on currently announced production plans from the Permian's biggest producers, Moody's and the EIA estimate that the Permian's production growth between now and the end of 2020 will be about 1.4 million bpd. Why does that matter for long-term oil prices? That would be the long-term global oil fundamentals.
Today, the world is consuming about 100 million bpd of oil.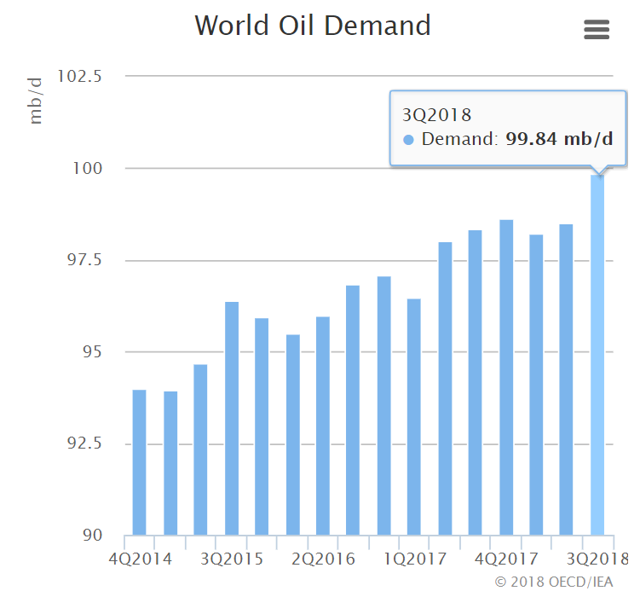 (Source: International Energy Agency)
However, about half that supply is from legacy oil wells that are declining on average by 6% per year. That means the oil industry needs to bring 3 million bpd on-line in new annual production just to keep supply flat.
On top of that, you have slower, but still positive, global oil demand growth, mostly due to emerging economies like China and India.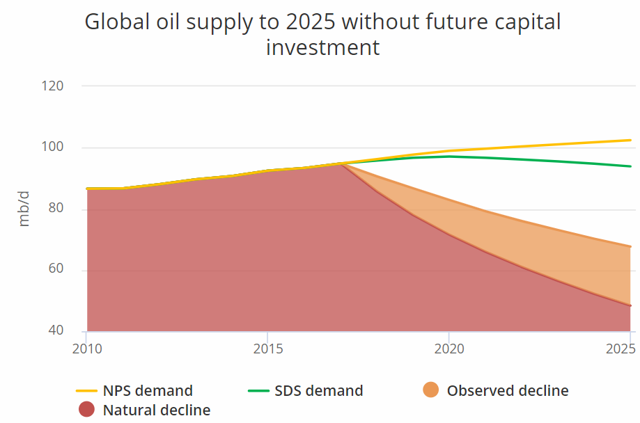 (Sources: International Energy Agency)
The IEA has modeled two scenarios out to 2025. The first is the new policies scenario, or NPS, which assumes the same rate of renewable energy adoption as we've seen in recent years, as well as US shale production growing by 7.5 million bpd from 2017 to 2025. The second is the Sustainable Development Scenario (SDS), in which every Paris accord signatory (200+ countries) lives up to their promises to rapidly reduce emissions and thus oil use.
Note that according to a recent report by Climate Transparency, which focused on the G-20 Paris accord signatories, "None of the G-20 (emissions targets) is in line with the Paris Agreement." In fact, the EU, Mexico, Australia, Brazil, Canada, Japan and Turkey "are not on track to meet their 2030 target." China is expected to see its oil consumption (and CO2 emissions) continue rising steadily through at least 2030. Or, to put another way, the Paris accords are mostly proving an empty gesture that no major country is taking seriously.
That means that global oil demand is likely to keep rising through 2025, while the world's legacy oil fields see massive production declines. According to the IEA, this will result in a 35 million bpd production gap that needs to be filled with new oil projects coming on-line. Here's how the future production outlook looks today:
13 million bpd from new projects already approved
11 million bpd from non-US unconventional sources (like oil sands)
5 million bpd from new US shale production
6 million bpd shortfall
Closing that 6 million bpd gap, according to the IEA, would require that US shale production:
"growth between 2015 and 2025 would surpass the fastest rate of growth ever seen previously over a 10-year period (Saudi Arabia between 1967 and 1977)." (emphasis added)

- IEA
But wait, it gets better (at least for long-term oil bulls). That's because the IEA's latest model assumes that 16 billion barrels of new global oil reserves are discovered between 2018 and 2025. Thanks to oil companies cutting their discovery budgets by about 70% since the oil crash, between 2014 and 2018 global oil discoveries have been running at 8 billion barrels, or 50% what's required.
But what if America is able to close that supply gap? After all, US shale has been surpassing all expectations for a decade now. Can the US truly step up and supply enough oil to keep oil prices stable, or possibly even cause them to fall? According to the IEA's latest report here's what that would require:
Total growth in US tight liquids between 2018 and 2025 would therefore be around 11 mb/d: roughly equivalent to adding another "Russia" to the global oil balance over the next 7 years.

With a sufficiently large resource base - much larger than we assume in the New Policies Scenario - it could be possible for US tight liquids production to grow to more than 20 mb/d by 2025. However increasing production to this level would require a level of capital investment and a number of tight oil rigs that would far surpass the previous peaks in 2014. It would also rely on building multiple new distribution pipelines to avoid bottlenecks that could prevent or slow the transport of oil away from production areas." (emphasis added)

- IEA
The bottom line is that the US, theoretically, could pull off the greatest oil production growth story in history. However, that would require spending by the US oil industry at unprecedented levels that it shows no signs of attempting.
And looking out further to 2040, the EIA estimates that 80% of all new production growth through 2040 will merely offset the natural decline rates of legacy oil fields. That's why Exxon is warning that to meet the world's expected oil demand by 2040 would require oil companies to spend far more than they are planning to. How much? Try $400 billion per year over the next 22 years, or a total of $8.8 trillion.
The bottom line is that another oil crash isn't just unlikely in the short term, but at current rates of industry investment, the risks of another crude crash appear to only fall over time. Which is why I not only don't expect oil prices to keep dropping over the short term, but to remain slightly higher over time ($73 to $80). That means this latest mini-crash in oil is a perfect time to load up on Grade A energy blue chips that are set to profit handsomely over the coming years and decades.
3 Great Undervalued Stocks Poised To Profit From America's Long-Term Energy Boom
For dividend stocks, I determine valuation using dividend yield theory, or DYT. For a detailed explanation of how dividend yield theory works and how I use it to build long-term total return models (including examples and calculations), see the watchlist section of my weekly portfolio updates.
The basic formula I use is a valuation-adjusted Gordon Dividend Growth Model (GDGM) (relatively effective for dividend stocks since 1956). The GDGM says that long-term total returns, over periods of 5+ years (when fundamentals are all that drive a stock's price), follow the formula: yield + long-term EPS/cash flow/dividend growth. The formula assumes a stock starts and ends at fair value (valuations are mean-reverting and always return to fair value). To this formula, I add a valuation adjustment based on DYT.
DYT has been proven highly effective since 1966. That's when asset manager/newsletter publisher Investment Quality Trends began using it exclusively to recommend dividend stocks and began delivering decades of market-beating returns (with about 10% less volatility to boot).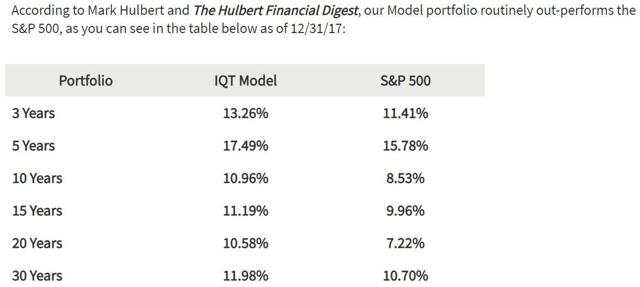 (Source: Investment Quality Trends)
By comparing a dividend stock's yield to its historical norm, we can get an idea of the "fair value yield" that it will likely eventually return too (as long as the fundamentals don't break). This can tell us how undervalued a REIT likely is, and thus, how much the share price will outpace cash flow and dividend growth over time when it returns to its normal historical valuation.
Annualize that upside potential over however many years you are looking to invest and you can get an approximate CAGR valuation boost. Add that to the GDGM and you get a total return formula of: yield + long-term EPS/cash flow/dividend growth + CAGR valuation boost. For my valuation-adjusted expected returns, I use a 10-year time period.
| | | | | | | | |
| --- | --- | --- | --- | --- | --- | --- | --- |
| Company | Ticker | Yield | Fair Value Yield | Discount To Fair Value | Long-Term Dividend Growth Forecast | Long-Term Total Return Potential (From Fair Value) | Valuation-Adjusted CAGR Total Return Potential |
| Enbridge | (ENB) | 6.4% | 3.8% | 42% | 8% to 10% | 14.4% to 16.4% | 20% to 22% |
| TransCanada | (TRP) | 5.3% | 3.9% | 27% | 8% to 9% | 13.3% to 14.3% | 16.5% to 17.5% |
| Exxon Mobil | (XOM) | 4.2% | 3.1% | 26% | 6% to 7% | 10.2% to 11.2% | 13.3% to 14.3% |
(Sources: Management guidance, Simply Safe Dividends, GuruFocus, F.A.S.T. Graphs, Gordon Dividend Growth Model, Dividend Yield Theory)
My goal is always to point out top-quality high-yield dividend growth stocks trading at substantial discounts to fair value. Enbridge, TransCanada and Exxon Mobil are great choices for those looking to profit from generous, safe and steadily rising income, as well as market-beating long-term returns.
Enbridge and TransCanada are two of the largest and oldest midstream corporations in North America with very strong dividend track records. Today, they are some of the lowest-risk ways for high-yield dividend growth investors to profit from the long-term American energy boom.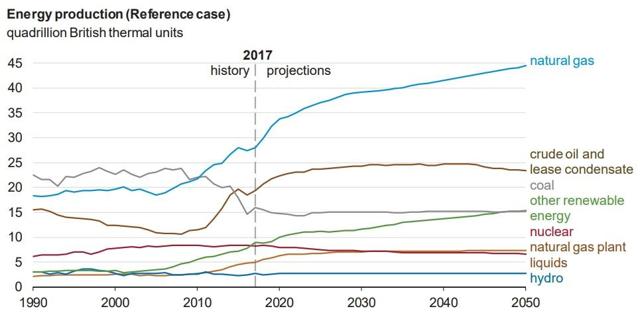 (Source: US Energy Information Administration)
That boom is expected to last through 2043 for oil, and at least 2050 for natural gas. According to the Interstate Natural Gas Association of America (INGAA), that large production growth in both is expected to require an estimated $800 billion in new American midstream infrastructure through 2035.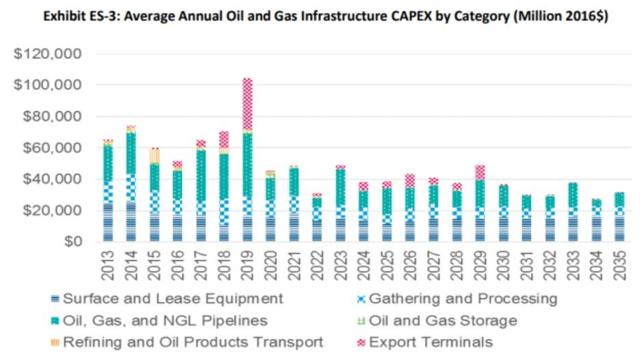 (Source: INGAA)
And that's just for US midstream infrastructure through 2035. Factor in Canada's massive infrastructure needs and the fact that US gas production (fueled by large export demands) is expected to last through at least 2050, and Enbridge and TransCanada are potentially looking at an addressable growth market that's $1.2 trillion in size.
That should provide plenty of growth opportunities for both industry blue chips, both of which are self-funding their capex and are thus 100% independent of equity markets. That massive growth potential potentially means decades more of dividend growth, to add to their already impressive dividend track records.
TransCanada Dividend Track Record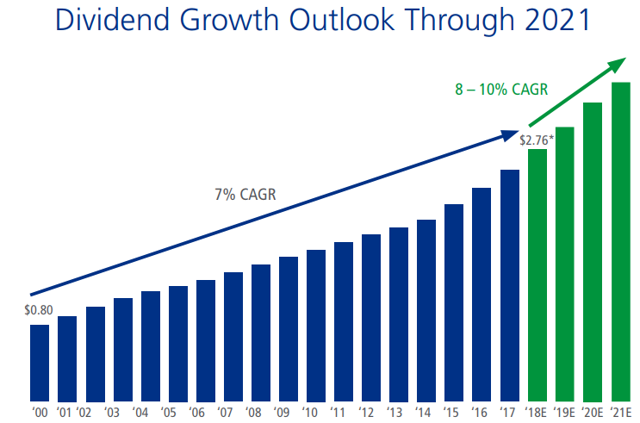 (Source: TransCanada Fact Sheet)
TransCanada has been raising its dividend for 18 consecutive years, which means that it's set to become a Dividend Aristocrat in 2025. Meanwhile, Enbridge's payout growth record is even better, with 23 consecutive years (including the 10% hike for 2018) of dividend growth putting it on track to become the midstream industry's first Dividend Aristocrat in 2020. That's after the company increases its dividends by 10% in both 2019 and 2020, per management guidance.
Enbridge Dividend Track Record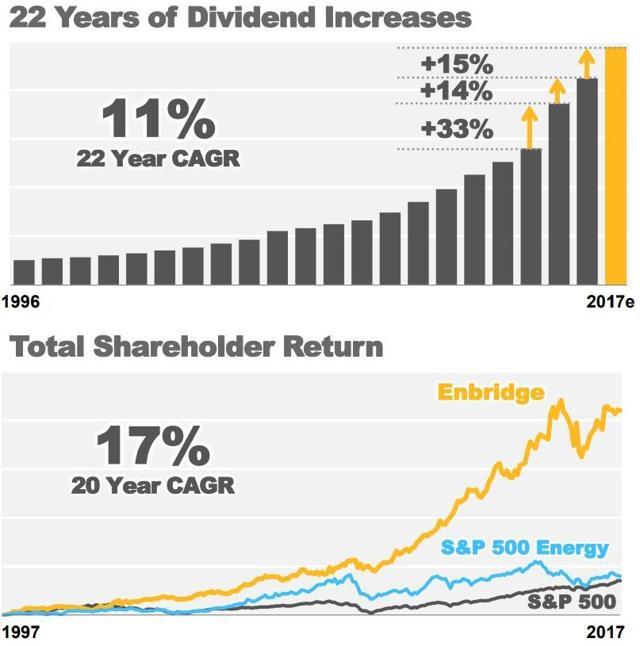 (Source: Enbridge investor presentation)
The cornerstone of Enbridge and TransCanada's stable and fast-rising dividends, in all manner of economic, industry and interest rate environments, is their utility-like toll-booth business models. Specifically, nearly all of their cash flow is under long-term, volume committed contracts with investment grade counterparties. That means essentially no commodity sensitivity, as well as recession-proof cash flow that makes them ideal defensive high-yield income stocks.
Meanwhile, Exxon is my favorite oil major, thanks to several factors:
Historically the best management team (highest long-term returns on capital).
The strongest balance sheet (the most important thing for dividend safety).
35 consecutive years of dividend increases, the second-longest streak in the oil industry, which makes it one of just three Aristocrats in the energy sector.
A great long-term growth plan to profit from industry's current underinvestment in production.
In fact, Exxon plans to ramp up capex spending to $30 billion per year between 2020 and 2025. That would likely be the most of any oil major and lead to massive growth in free cash flow by 2025.
| | | | |
| --- | --- | --- | --- |
| Oil Price In 2025 | Exxon Annual Free Cash Flow | FCF Payout Ratio (Current Dividend) | Annual Retained FCF |
| $40 | $15 billion | 93% | $1.1 billion |
| $60 | $31.5 billion | 44% | $17.6 billion |
| $66 (Current price) | $34.7 billion | 39% | $19.4 billion |
| $73 (Analyst consensus) | $38.3 billion | 36% | $21.9 billion |
| $80 (My best estimate) | $52 billion | 27% | $38.0 billion |
(Sources: Exxon guidance, Morningstar, GuruFocus)
By 2025, Exxon, even accounting for about 6.5% dividend growth through then, is likely to be generating $15-32 billion in annual retained free cash flow (FCF minus dividend). That cash can be used for buybacks or investing in alternative energy to start preparing the company for a post-fossil fuel future.
Bottom Line: Oil Prices Will Always Be Volatile, But With The Right Stocks That Can Result In Substantial Profits
Oil prices have been volatile for 150 years, and all energy investors need to be prepared for sudden plunges in crude prices from time to time. However, even for conservative income investors, there are plenty of Grade A blue chips in the energy sector that can serve as great sources of generous, safe and steadily rising income.
Better yet, thanks to the inherently volatile nature of energy prices, as well as stock prices in general, times like these can be a great opportunity to buy world-class energy companies at extremely attractive valuations. Valuations that can result in long-term, market-beating total returns.
The fundamentals of the oil industry continue to point to rising crude prices over time, which means today is a great time to add Enbridge, TransCanada and Exxon to your diversified high-yield dividend growth portfolio. From today's deeply undervalued levels, all three stocks should be capable of delivering not just the safe income dividend investors crave, but +14% long-term CAGR total returns as well.