After-inflation yields on Treasury Inflation-Protected Securities have been inching downward in the last week, but Wednesday's reopening auction of a 10-year TIPS - CUSIP 912828Y38 - still looks attractive.
The auction will create a 9-year, 8-month TIPS. This same TIPS originally auctioned on July 20 with a real yield to maturity of 0.762%, setting its coupon rate at 0.750%. That was the highest coupon rate for any 9- to 10-year TIPS auction since May 2011.
Since that initial auction, real yields have been climbing. When this TIPS reopened for the first time on September 20, it generated a real yield of 0.910%. Wednesday's result will be even higher, but real yields have been dipping slightly in recent days, as the Treasury market reacts to a stronger dollar (Brexit turmoil), future political gridlock (midterm election results) and a halt (temporary?) to stock market turmoil.
For example, the U.S. Treasury's estimate of the real yield on a full-term TIPS hit a 2018 high of 1.17% on November 8 but has since declined to 1.06% as of Friday's market close.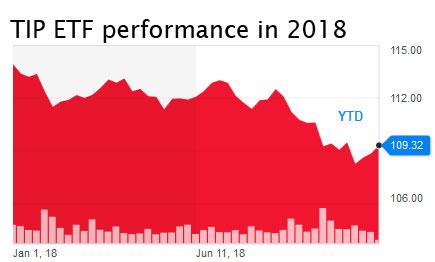 Disappointing? Sure, but keep in mind that the 10-year real yield started 2018 at 0.46%, so it has climbed a remarkable 60 basis points in 11 months. For people keeping track, that is more than a half-point of "duration," which means that TIPS mutual funds have been hit hard this year. The net-asset-value of the TIP ETF, which owns all maturities, has a duration of 7.28 and is down 3.9% year-to-date. But what is bad news for TIPS mutual funds could be good news for investors looking to invest in new TIPS auctions. They'll find much more attractive after-inflation yields, plus a discount to par.
Here is the trend in the 10-year TIPS real yield since mid 2016, showing a steady climb to levels above 1.0%, after inflation:
Looking ahead to Wednesday's auction
CUSIP 912828Y38 is currently trading on the secondary market, so you can get real-time updates on its price and real yield at Bloomberg's Current Yields page. Because this is the most recent 10-year TIPS on the market, Bloomberg tracks it. As of Friday's market close, it had a real yield of 1.04% and a price of $97.37 for $100 of par value. It is trading at a discount because its current real yield is well above the coupon rate of 0.75%.
Keep in mind that no 9- to 10-year TIPS has auctioned with a real yield above 1.00% since January 2011, nearly eight years ago. So Wednesday's result will be ground-breaking for investors in TIPS.
If you are investing, know that this TIPS will carry an inflation index of 1.00563 on the settlement date of November 30. This means that investors will be paying an additional 0.56% and getting a matching amount of additional principal at the settlement. This is more or less a non-factor.
Also: Unusual day, times for the auction
TIPS auctions are almost always on a Thursday and close at noon for non-competitive bids and 1 p.m. for competitive bids. But Thanksgiving is Thursday, so this auction will be Wednesday with closing times of 11 a.m. EST for non-competitive bids and 11:30 a.m. for competitive bids.
Checking in: Inflation Breakeven Rate
TIPS are attractive to investors because they provide "insurance" against future unexpected inflation. The real yield is the yield above inflation, because TIPS principal balances are adjusted upward - or downward - in line with the non-seasonally adjusted Consumer Price Index.
With a nominal 10-year Treasury yielding 3.06% at Friday's close, this TIPS currently has an inflation breakeven rate of 2.02%, which is attractive. It means that this TIPS will outperform a 10-year nominal Treasury if inflation averages more than 2.02% over the next 9 years, 8 months. The current U.S. inflation rate is 2.5%.
After falling to depths in 2016, inflation expectations have stabilized in recent months, and then declined in recent weeks. Actual U.S. inflation has moderated somewhat, despite brisk economic growth and free flowing-federal deficits. Here is the trend since mid 2016, showing how inflation expectations have topped off:

An inflation breakeven rate near 2.0% makes a 10-year TIPS a solid investment versus a nominal Treasury, especially a longer-term Treasury, which offer no protection against future inflation.
Yes or no on this TIPS auction?
If the real yield can hold above 1.00%, this auction will set a milestone for recent TIPS auctions of this term. It would be an excellent investment for anyone building a TIPS ladder with an opening in 2028.
There's one problem, however: You can wait a month and purchase a 4-year, 4-month TIPS at auction and possibly get a real yield very close to Wednesday's 9-year, 8-month TIPS. CUSIP 9128284H0, which reopens at auction on December 20, currently is trading with a real yield of 0.99%.
Should you favor a short-term TIPS over a longer-term TIPS when the real yields are similar? The answer is yes, if you believe interest rates will continue to climb. The answer is no, if you believe interest rates have peaked and will decline in the future.
I'm in the faction believing that interest rates will continue to climb, and they will as long as economic growth remains robust. But I could be wrong. I've already filled the 2028 run in my TIPS ladder, so I will probably sit out this auction. But I'll be very interested in the December 5-year reopening as a way of preserving shorter-term cash.
Here's a history of all 9- to 10-year TIPS auctions, dating back to 2014: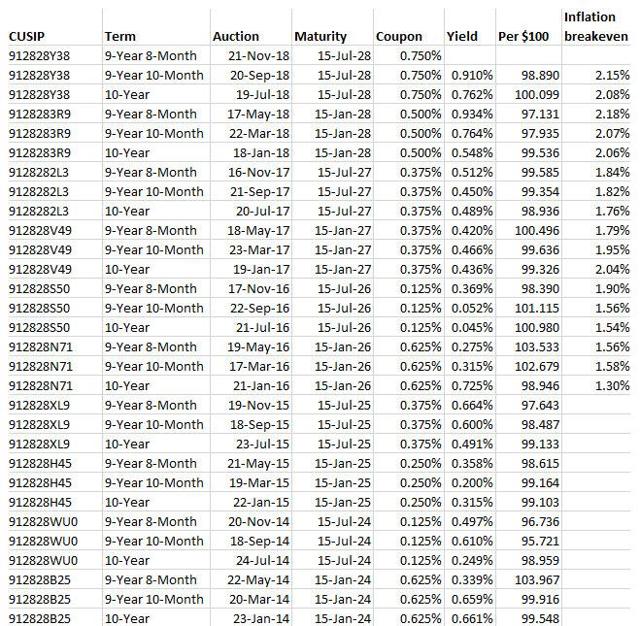 Disclosure: I/we have no positions in any stocks mentioned, and no plans to initiate any positions within the next 72 hours. I wrote this article myself, and it expresses my own opinions. I am not receiving compensation for it (other than from Seeking Alpha). I have no business relationship with any company whose stock is mentioned in this article.