"Over-Valued" has been a label applied to Gold Standard Ventures (GSV) for longer than we care to remember, and we admit that we have been guilty of using it ourselves on occasion. In this article, we would like to question this preconception and offer a more bullish investment thesis for this junior gold exploration and development company.
GSV controls a large chunk of prime real estate on Nevada's Carlin trend, within eyesight of two established mines and with substantial gold resources already defined on the property.
We recently had the opportunity to spend a day picking the brains of Mr Bill Gehlen, GSV's Manager of Corporate Development. In the course of this day, we met with the team on the ground in the Elko office, followed by an extensive visit to said chunk of land, aka the Railroad project. In the process, we came to understand the market's reasons for GSV's valuation, and perhaps more importantly, we came to understand the significant upside still to be realized by GSV.
As a result, we have turned decidedly bullish on GSV's future prospects and would like to provide the rationale for our change of mind in the following.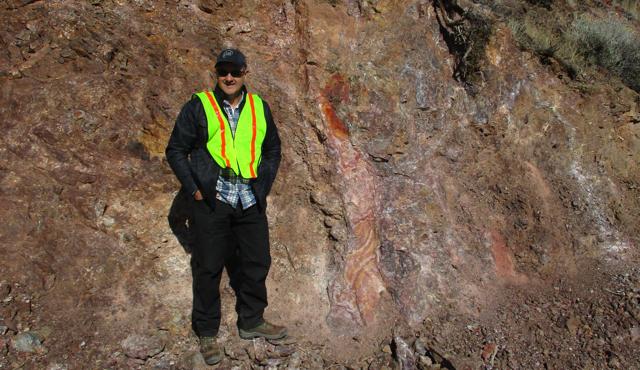 (Fault with altered rock at Pinion. Source: author's archive.)
N.B. All amounts reported in this article are in USD, unless otherwise noted.
An Overview
The Railroad project straddles the Piñon mountain range in the Railroad mining district at the southeast end of the Carlin trend in Northern Nevada. At 208 square kilometers, GSV's land position is second only to Newmont Mining's (NEM) enormous complex of mines and processing facilities on the Carlin trend which yields 1.7M ounces of gold per year. In fact, the major's Emigrant and Rain gold mines are located just a handful kilometers to the North of GSV's Bullion deposit and are clearly visible from most vantage points on the Railroad project. Compiling such a dominant land position has been no mean feat for a junior as this part of the world is typically composed of numerous blocks of private and public land, with numerous individuals and entities holding mineral rights to these blocks. The consolidation achieved by GSV allows the company to apply modern exploration techniques to a large portion of this prospective mountain chain for the first time ever and sets the company apart from most other junior explorers in the region.
Several gold deposits have already been identified on GSV's Railroad project, with resource estimates released for the mentioned Bullion deposit, as well as the Pinion and Dark Star deposits. Oxide resources currently total close to 900,000 ounces in the indicated category and 1.8M ounces in the inferred category using reasonable cut-off grades for heap leaching. Another oxide resource estimate will most likely be released for Jasperoid Wash later this year, and promising exploration results have been documented for various other zones on the property.
The Bullion deposit currently constitutes an outlier as its resource is dominated by sulfide mineralization, whereas the other deposits are comprised mostly of oxide and transitional ore. A selection of these oxide deposits will form the basis of a PEA which is currently progressing towards a release early next year.
The company counts Goldcorp (GG) and OceanaGold (OTCPK:OCANF) among their cornerstone investors, and it has been able to raise capital at favorable terms when most peers have been struggling. Especially the strong support by Goldcorp has led to speculation whether GSV will eventually serve to facilitate this major's entry into Nevada.
At the time of writing, GSV's common shares were trading for $1.27 which translated into a market capitalization of $330M based on 259.7M outstanding shares (already including the shares issued in the September placement). The treasury stood at $26.4M (C$34.4M) putting GSV in a strong position to continue its ambitious drilling program as well as complete the PEA.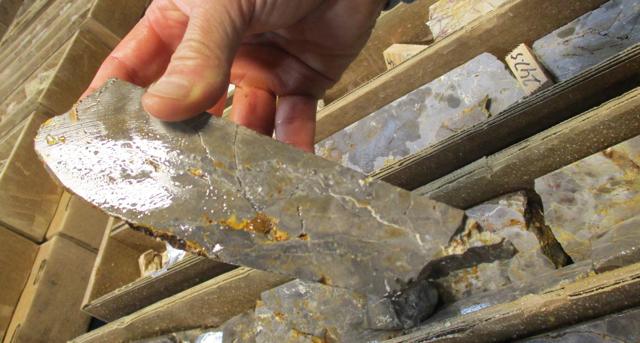 (Mineralized Dark Star core. Source: author's archive.)
New Interpretations
Traditional Carlin trend wisdom suggests that gold will be hosted at the contact between the so-called Devil's Gate and Webb rock formations. And indeed, the aforementioned Pinion deposit on GSV's land package plays exactly to this book. However, the other deposits differ from this perceived rule as they are hosted by entirely different rocks, namely the contact of the Pennsylvanian and Permian units (or Penn-Perm contact as it is often called). This may sound like a minor and academic detail, but being open to the possibility of discovery in this strata made a world of difference for GSV.
Dark Star was the first discovery at the Penn-Perm contact, and it quickly turned into a company maker for GSV. The deposit is close to surface, has exceptionally high grades, and its oxide ore appears highly amenable to heap leaching. Dark Star can be expected to drive the economics of the upcoming PEA; and it will quite likely grow as the deposit is still open in several directions, and particularly at depth where GSV is presently searching for a feeder structure.
Dark Star is by no means the first gold deposit to be found at the Penn-Perm contact (the past-producing Black Pine mine in South-Eastern Idaho is an example for another gold deposit at the Penn-Perm contact), but Dark Star was the first one of this type to be found in the Carlin trend, much to GSV's credit. The Dark Star discovery opened minds and has led to a fresh interpretation of the Railroad project's geology; and further gold discoveries at the Penn-Perm contact have followed in quick succession.

(Source: Paper by D.C.Mathewson)
The company's re-interpretation of the area's geology doesn't stop just there. Traditional Carlin trend wisdom also suggested that the trend was limited to the region around four so-called "windows" (or "domes"). Each dome has a certain and quite particular geological fingerprint, and Carlin gold deposits are typically clustered around each one of these domes. GSV's original thesis was to explore the lands around the southern-most Railroad dome, and the Pinion, Dark Star, and North Bullion deposits fit well into this model.
The more recent discoveries further to the South suggest the possibility of the existence of yet another window, with the Elliot Dome formation a highly likely candidate. Again, this may sound like a minor and academic detail; and again, this re-interpretation is opening the door for discoveries such as the Jasperoid Wash deposit which is next in line for the release of a resource estimate.
These re-interpretations of the regional geology and the associated discoveries bear testimony to the quality of work performed by the GSV team so far. This work is underpinned by a rigorous scientific approach, painstaking field work, and sound geological know-how. The importance of science in exploration is often overlooked by investors, but sound scientific work forms the basis for any successful mineral project, and we were impressed to experience GSV's level of competence during our visit to the company's field office in Elko and on the ground at the Railroad project.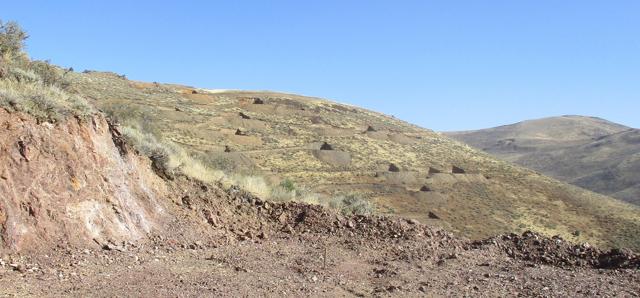 (Drill pads on Pinion deposit. Source: author's archive.)
Two-pronged approach
Gold Standard Ventures has recently moved from exploration to development by initiating a PEA on a heap leach project sourcing oxide ore from the Pinion, Dark Star, and Jasperoid Wash deposits. Management is quick to explain that this is not a shift in focus, but rather a second prong in the company's strategy. Systematic exploration of the remaining targets on the Railroad project still features highly on the company's priority list.
Development and infill drilling has taken up much of the drill rig capacity in the first three quarters of this year, and we will see the results of this effort in the resource updates underpinning the upcoming PEA. We witnessed a close-spaced pattern of drill pads covering the Pinion deposit during our site visit, and we also saw drills still active at North Dark Star; and we would anticipate much of the inferred resource from the 2017 estimates to be converted to higher categories. And judging from announced drill results from locations outside of the current resource shells, we would also expect some notable resource expansions and higher grades especially at Dark Star through the inclusion of North Dark Star.
Exploration activities have been confined mostly to various early-stage field activities up until recently. These activities often go unrewarded by the general market, but sampling results such as recently reported from the LT-target will certainly have Goldcorp's ears pricked. GSV was moving drill rigs onto the various exploration targets during our visit and will be allocating the majority of drill rig capacity to testing those targets for the remainder of this season. A long-awaited move to a "Plan of Operation" for the complete Railroad project will simplify exploration drilling, as this upgraded permit removes various restrictions on ground disturbance and drill locations.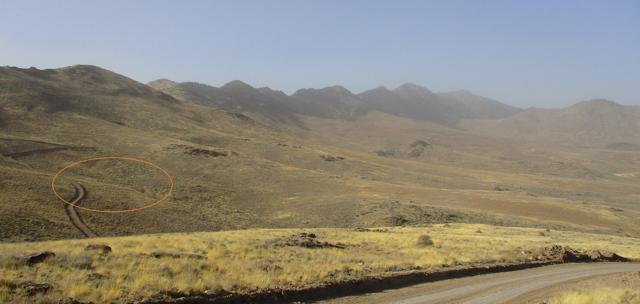 (Proposed site for processing facilities. Source: author's archive.)
PEA Expectation
GSV has picked a site for the planned heap leach operation studied in the upcoming PEA between the Pinion and Dark Star deposits. The topography seems to accommodate leach pads and the associated plant and auxiliary buildings well, and the site is easily accessible from the North where infrastructure is already serving Newmont's Emigrant mine. The PEA will most likely consider high-pressure grind rolling instead of conventional crushing and will represent a standard Nevada heap leach operation with relatively low execution risk and plenty of local know-how to draw from.
North Dark Star has yielded drill results with remarkable oxide grades, and the inclusion of this zone can be expected to boost average grades well above the 1 g/t mark. Taking a wild stab, and making certain assumptions on resource upgrades for the three deposits that will be included in the PEA, and also assuming high metallurgical recoveries, we estimate total planned gold output well in excess of 2M ounces for the PEA project.
In very general terms, we are expecting the PEA to document a highly attractive project, with an annual gold output north of 100,000 ounces and a minimum 15-year mine life. In fact, we have very little doubt that the PEA will confirm the Railroad project as a highly attractive proposition, worthy for inclusion in any mid-tier or major gold miner's portfolio.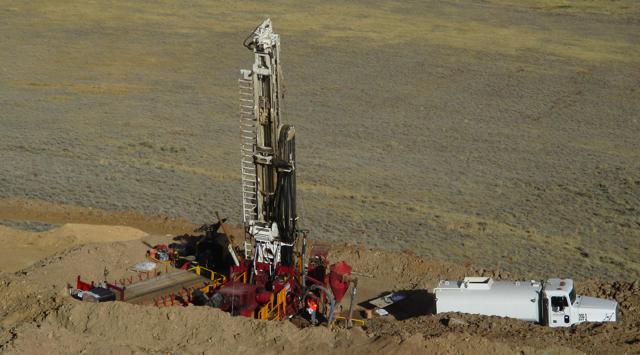 (Drill rig on North Dark Star. Source: author's archive.)
Exploration
Goldcorp has most likely already done its own in-house calculations, and the PEA will merely serve to cross-check these in-house results. So, what will it take for Goldcorp to pull the trigger, and enter Nevada via a GSV takeover?
We would argue size is the governing factor. And sufficient size, or indications thereof, will have to come from additional exploration.
Exploration has shifted back into GSV's focus for the remainder of the season after completing development drilling for the PEA a few weeks ago. The ongoing exploration drill program will be greatly helped by the newly approved plan of operation, a permit which has finally lifted certain restrictions the company had to comply with under the previous notice of intent. Numerous targets are finally there for the drilling and investors and Goldcorp alike can look forward to an interesting news flow for the remainder of the year.
What Will It Take?
Let's entertain some takeover speculations for a moment, and let's muse over what it would take for Goldcorp to acquire GSV. Goldcorp's acquisition of Kaminak Gold a couple of years ago may well serve as a benchmark in these musings. At the time, Kaminak had a measured and indicated resource of 3M ounces at a grade of 1.45 g/t (plus 2.2M ounces in the inferred category), and Kaminak had completed an FS on the Coffee heap leach project in the Yukon. The Coffee project is a high-quality project with lots of exploration upside, and Goldcorp was prepared to pay $279 per recoverable reserve ounce for a total deal value of $520M when it acquired Kaminak.
The currently published resource estimates for the Railroad project indicate a project of distinctly smaller size by comparison. Measured and indicated resources amount to just about 900,000 ounces for Pinion and Dark Star according to the currently published resource estimates for the two deposits, at a considerably lower average grade of around 0.6 g/t. However, these resource estimates do not include the high-grade North Dark Star portion of the deposit; and they do not include recent results from infill drilling. And here we are prepared to go out on a limb, and submit that once these data points find their way into the upcoming resource update the Railroad project won't be too far off the Kaminak benchmark any longer.
Add to that the location of the Railroad project in a jurisdiction that's hard to beat in terms of permitting, readily available infrastructure, a local work force, and a climate that's much more amenable for heap leaching than the Yukon and you have a project for which Goldcorp might be willing to lower the hurdle and make a move well before an FS is completed.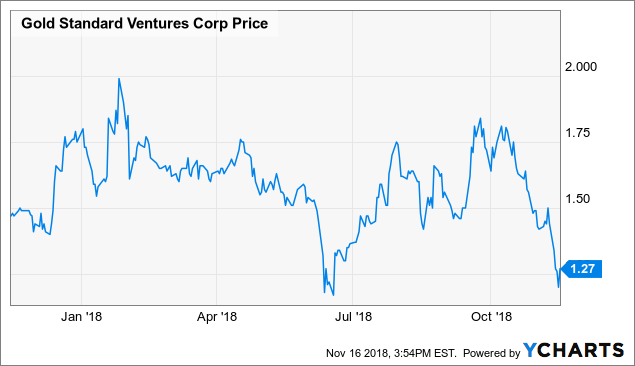 Investment Thesis
GSV has succeeded in assembling a remarkable land package in a sought-after location. And GSV looks to be succeeding in demonstrating the world-class gold mining potential of this land package. Goldcorp has been widely tipped as the most likely acquirer of this project, but we would not rule out surprise bids by other players. OceanaGold owns a large stake in the company as well. The mid-tier might not be interested in entering Nevada itself, but it does have close ties with Newmont Mining who operates the Emigrant mine just to the North of the Railroad project.
Based on currently published resource numbers, GSV's recent market cap of $450M smells of over-valuation, indeed. Quite clearly, the market has been pricing in some upside along the lines discussed earlier in the piece. And here, we cannot help but agree with this general market sentiment. The Railroad project is potentially a tier-one asset, and market valuation rightly includes a premium for the project's upside.
Enthusiasm surrounding the company's potential has cooled off a bit over the past month, bringing the share price 30% down from its $1.80 peak not so long ago. We see little fundamental reason for this sell-off, except perhaps the company's decision to push back the release of the PEA into early next year. Speculators intent on buying the rumor might have been forced to sell pre-maturely, thus creating the current dip.
Investors with a longer-term view should consider this dip a buying opportunity. PEA anticipation will build again as the new due date draws closer early next year, and news flow from the ongoing exploration drilling will most likely provide support until then. Both Goldcorp and OceanaGold saw value well above the current share price when they participated in the February financing, and then again in the September placement. GSV has traded north of $2 in the past, and using Kaminak take-over metrics, we see a realistic path for GSV to regain this handle over the next few months.
Please consider a subscription to Itinerant's Musings, with exclusive access to our small and mid-cap ideas, a lively community, regular commentary and outlook on metal prices. We'd love to have you on board.
Disclosure: I/we have no positions in any stocks mentioned, and no plans to initiate any positions within the next 72 hours. I wrote this article myself, and it expresses my own opinions. I am not receiving compensation for it (other than from Seeking Alpha). I have no business relationship with any company whose stock is mentioned in this article.
Additional disclosure: GSV contributed towards covering my travel expenses for the site visit.