We wrote about this stock back in May when we encouraged investors to wait for a swing before going long. As the chart shows below, though, shares of U.S. Silica Holdings, Inc. (NYSE:SLCA) have been in a sustained downtrend since then. We may though have a bottom on our hands especially considering the slump also in crude oil over the past while. US Silica now for the first time since May has printed a potential double bottom which has resulted in a significant higher high. Buying volume, though, was missing, which still raises doubts whether the bottom is in.
However, when the initial article was penned back in May, SLCA was trading north of $30 a share. The share price has literally been cut in half since then. Silica's book and sales multiples are both now under 1. The dividend is now over 1.7%, and the cash flow multiple has dropped to 3.6. These numbers are definitely "value play" numbers as they are also backed up by a balance sheet where the shareholders' equity still remains larger than the firm's interest bearing debt by over $100 million.
Despite prices for frac sand proppant falling due to new supply entering the equation, we still maintain the fundamentals remain sound for US Silica. We saw this in the third quarter where volumes rose by 10% which offset some of the damage being done by weaker pricing. This company to us is a value play and a play on the future price of oil. The other wildcard is the dividend which we do not see under threat due to how much larger the firm's profits are compared to its dividend pay-out. Ultimately, we see crude oil prices going higher which will over time increase demand for the company's sand. Here is how we see the price of oil playing out over the next few months.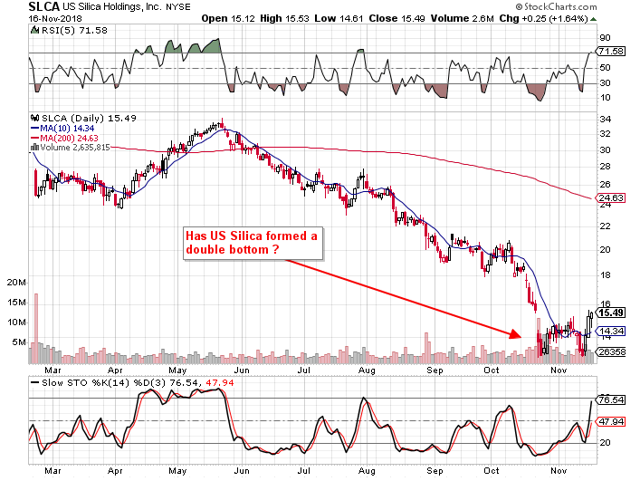 We wrote about crude oil recently and stated that a daily or intermediate bottom would soon be at hand. We still believe this to be the case especially considering that the last clear daily cycle low took place back in August. The daily cycles though in oil are the not the issue. It is the long-term cycles which investors should be more focused on.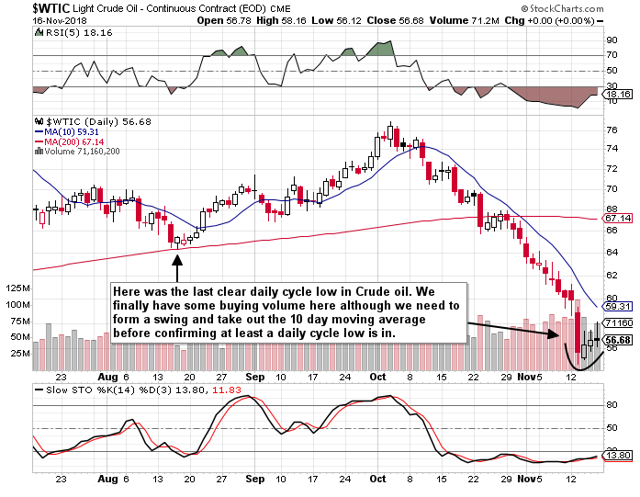 Here is the crux of the issue. The August low also seemed to be a clear intermediate low at the time because the lows took place 27 weeks after the February intermediate low. This would mean that we are only on week 14 at present. Now, intermediate cycles in crude oil can easily span up to or even exceed 30 weeks. An intermediate bottom here seems out of the question although we believe crude oil could be undergoing a pattern very similar to what stocks did last month. Because crude oil has now traded under the February lows, we could have a situation that we are 41 weeks into this intermediate cycle and an intermediate bottom is imminent. This thesis also ties in where crude oil is in its timing band for its yearly cycle low. Below are the weekly and monthly charts which explain our viewpoints.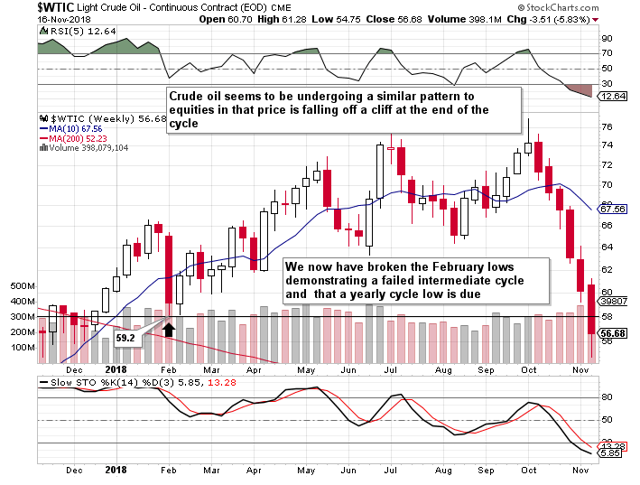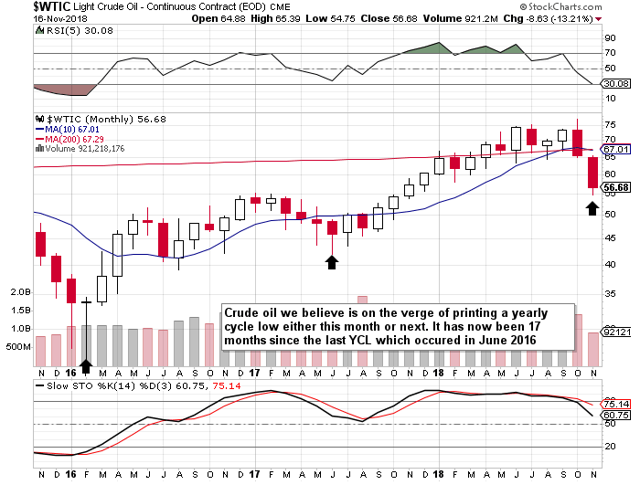 So, here are the numbers in order for crude to print both a daily and weekly swing low. If the commodity can take out $59.35, we would confirm a daily swing. Consequently, a rise above $61.28 would confirm a weekly swing low. Now considering where we are in the current cycles for crude oil, we believe crude oil will have printed a yearly cycle low if these numbers were to be taken out. $54.75 is the low that must hold this week if the yearly cycle low was printed last week. Crude oil's movement obviously has a direct impact on US Silica's share price. If our targets get taken out in crude oil this week, then in all likelihood, US Silica's double bottom should hold, and we would look then to get long. Sometimes at intermediate bottoms, a lower low gets printed the following week as this makes a weekly swing low much easier to print. Patience is what is required now. We will update portfolio when we decide to get long.