I'm a huge advocate for allocating a portion of your investment portfolio to inflation-protected investments - U.S. Series I Savings Bonds and Treasury Inflation-Protected Securities.
But I have zero investments in TIPS ETFs or mutual funds. Why? I rely on individual I Bonds and TIPS, held to maturity, to fill my allocation. Yet, I can understand that this investment style isn't for everyone. TIPS ETFs and mutual funds offer a simple, no-hassle way of getting inflation protection and are ideal for tax-deferred accounts.
Current market trends are getting me interested in possible future investments in these ETFs and mutual funds. I've been monitoring the TIPS market since 2011, and in recent weeks, yields have risen to levels unseen in nearly eight years. In turn, the net asset values of TIPS funds have reached multi-year lows. Seems like a time to take a serious look.
Here is a chart showing the price trend of the iShares TIPS Bond ETF (TIP), the biggest fund in this market, from 2011 to 2018. During that time, the fund has consistently bounced off the $110 price level, but has now dipped below that mark: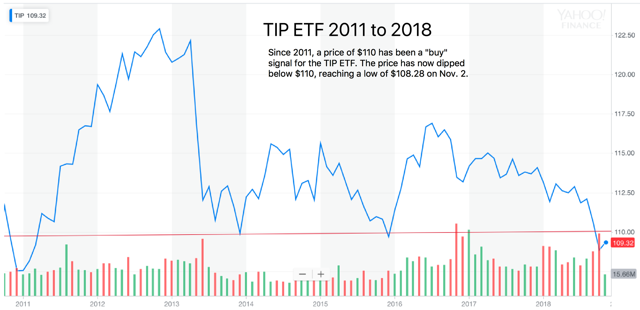 Back on August 6, I wrote an article noting that the flat yield curve could be distorting the price of the TIP ETF, since short-term yields had risen much faster than longer-term yields. That is still somewhat true, so it could be the $110 mark isn't an accurate buy signal. But it might indicate that shorter-term TIPS funds are a fairly safe buy today, and even total market TIPS funds have had a lot of risk wrung out.
Here is a chart comparing the year-to-date net asset value performance of the four largest TIPS ETFs: iShares TIPS Bond ETF (TIP), Schwab U.S. TIPS ETF (SCHP), iShares 0-5 Year TIPS Bond ETF (STIP) and Vanguard Short-Term Inflation-Protected Securities ETF (VTIP).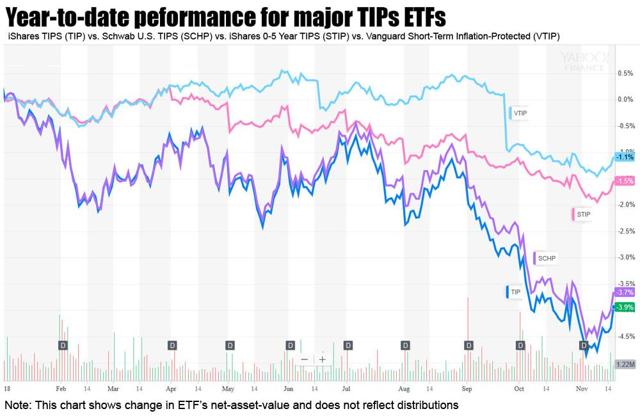 These charts are somewhat misleading because they track net asset value and don't reflect distributions. U.S. inflation was up 2.5% over the last year, which would be reflected in TIPS fund distributions. But it is clear that overall performance has been poor as real yields have risen in 2018.
Next, let's take a look at the "total return" of these ETFs - including distributions - compared against two major bond ETFs: iShares Core Total U.S. Bond Market ETF (AGG) and iShares 3-7 Year Treasury Bond ETF (IEI).

A few things are worth pointing out right away:
TIPS ETFs and mutual finds are highly specialized investments. They are not diversified. They generally hold fewer than 40 investments, versus 6,899 for the AGG ETF, a true core fund. TIPS funds should not be considered core bond funds.
Any bond fund you look at should have a very low expense ratio, and the lower the better. The iShares TIP fund is acceptable at 0.20%, but you can do better with Schwab's at 0.05%. Notice that Schwab's total return is higher for the 1- and 5-year periods.
Short-term TIPS ETFs have been the best performers year-to-date for total return, despite rising yields and falling net asset values. The lower duration of these funds - combined with U.S. inflation running at 2.5% - have kept returns for these two funds positive for 2018.
Five-year total returns for all these funds have been mediocre. The TIPS funds have been held back by very low inflation in recent years; that trend could be reversing.
In conclusion: TIPS funds are now safer investments
I especially like the shorter-term TIPS funds because the investments they hold have already seen a nice rise in real yields. I have speculated that when longer-term yields begin rising, shorter-term yields could actually fall a bit as the yield curve normalizes. That would mean net asset value gains for the shorter-term TIPS funds.
But even the total-market TIPS funds are becoming more attractive. The one real negative is the 30-year real yield hanging in at 1.25%. Could it rise another 25 to 50 basis points? Possibly. That would pull down the value of total-market TIPS funds.
The "winning" formula - but not great for the nation - would be an economic slowdown that results in the Federal Reserve lowering interest rates and launching another round of quantitative easing. That would bring real yields down sharply and TIPS values would soar.
Another possibility - not likely in my opinion - is that the nation overshoots in the opposite direction, with the economy booming, inflation taking off and real yields climbing to a range of 2.5% to 3.5%. TIPS funds would take a hard hit, but new investors in individual TIPS would be gleeful.
Overall, risk remains. But using TIPS funds in tax-deferred accounts makes a lot of sense, because of the simplicity of the investment and the fact that returns can be reinvested with no taxable event. Time to take a look.
Disclosure: I/we have no positions in any stocks mentioned, and no plans to initiate any positions within the next 72 hours. I wrote this article myself, and it expresses my own opinions. I am not receiving compensation for it (other than from Seeking Alpha). I have no business relationship with any company whose stock is mentioned in this article.