Welcome to the hide and seek edition of Oil Markets Daily!
There's a giant global oil inventory game being played right now leading oil market participants to believe that there's a "surplus" in the oil market. Here are two charts presented by Bernstein:
Global Inventories Including Non-OECD (ex-OPEC, China SPR)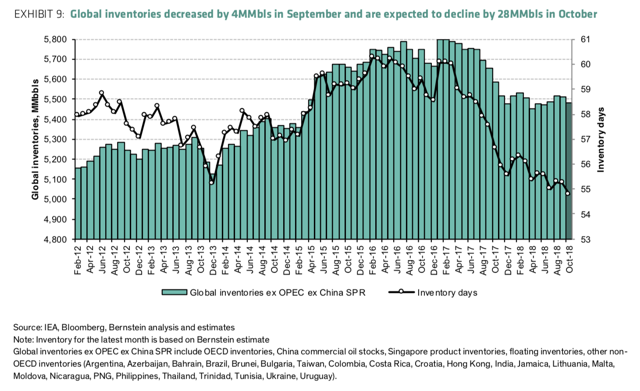 Global OECD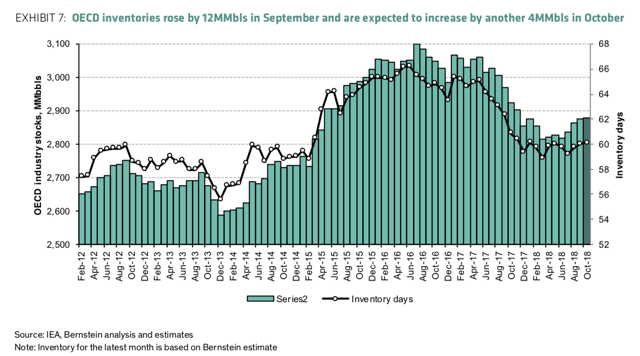 Now from the two inventory charts, you can see that since March of this year, OECD stockpile has increased while global inventories have largely stayed flat. Now if you want to break it down even further, most of the storage increases came from the US.
We wrote in two reports last week noting that Saudi has already started to decrease crude exports to the US, but since the end of March 2018, high US Saudi crude imports (above ~700k b/d) contributed to ~48 mbbls in US crude storage build.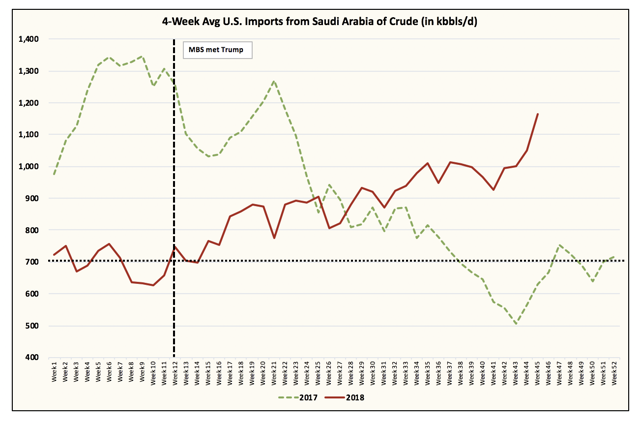 Sources: EIA, HFI Research
This is the startling difference between what US crude storage would look like if Saudi had kept exports at ~700k b/d to the US: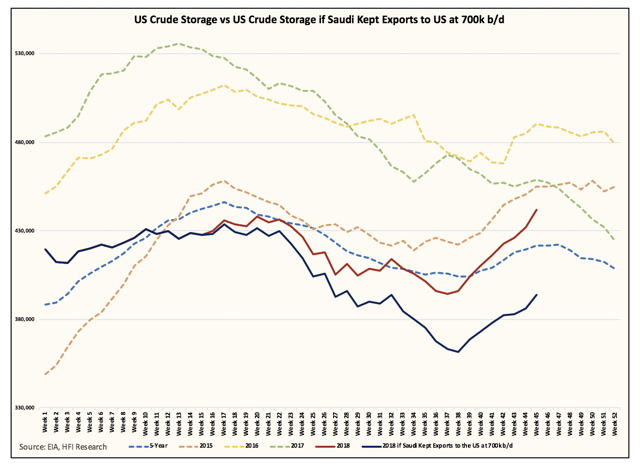 And with US total liquid stockpile builds concentrated mostly in gasoline and crude, we can see that the delta change in y-o-y total liquid stockpile has been bearish since the end of June 2018:

What does that mean going forward?
Right now, OPEC+ is contemplating a production cut of 1 to 1.4 mb/d based on the idea that its own report, IEA, and EIA are all saying the global oil markets are going to be oversupplied in 2019. With this as the baseline for considering the production cut, the market continues to forget several variables in play:
OPEC cut does not consider any additional production declines from Venezuela, Iran, and Angola. The total, we estimate, to be ~1.45 mb/d y-o-y in 2019.
The assumption already uses a weak global oil demand

growth figure, but demand growth has not been low this year given lower non-OECD imports are the result of de-stocking inventories rather than low demand.

US oil demand is amazingly robust despite contrary beliefs about slowing OECD demand growth.
One shocking figure that seems to get zero limelight is how shockingly strong US oil demand growth is this year. Unless we believe that non-OECD demand grew a modest ~800k b/d versus the start of the year ~1.4 mb/d forecast, we think demand estimates are once again too low.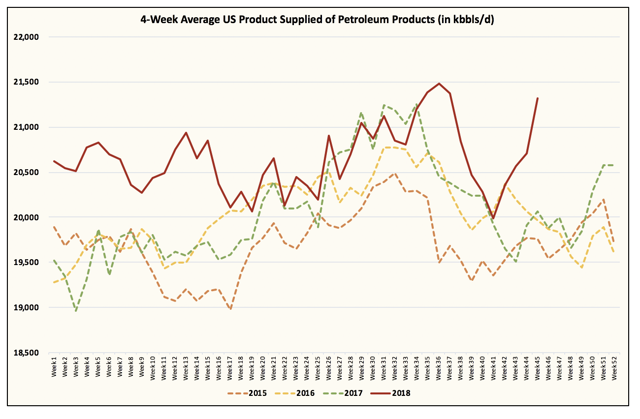 Sources: EIA, HFI Research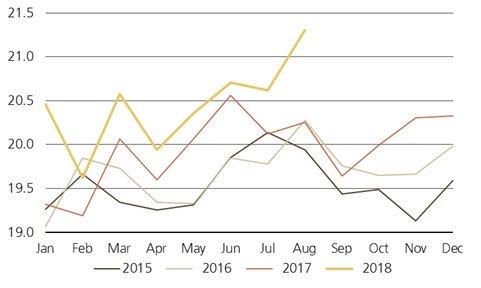 Sources: EIA, Giovanni Staunovo
(Note: EIA monthly data shows demand growth of ~522k b/d y-o-y YTD to August.)
Spec long positions have all but bailed
So while OPEC is playing the game of hide and seek with global inventories, money managers are fleeing the oil market in record fashion. Here's a take a look at a chart created by John Kemp:
And here's what we are seeing: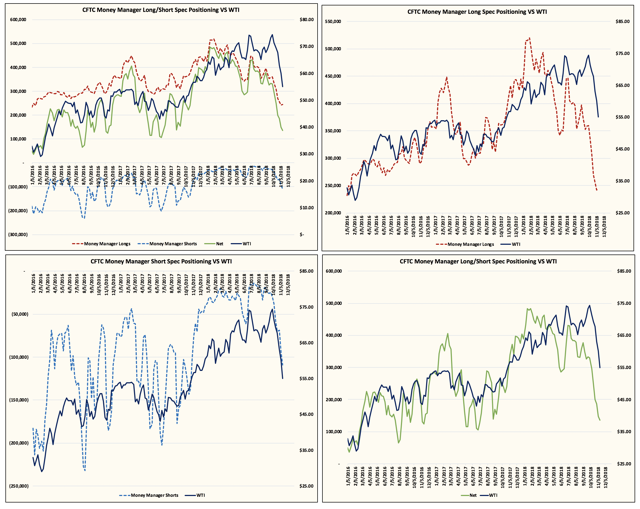 Sources: CFTC, HFI Research
Perhaps the speculators are right to be bailing on the oil market as a possible demand led recession is on the horizon, but if our analysis that oil demand growth "appears" weak in Q3 this year due to non-OECD de-stocking inventories, we think the next few months of demand shock could surprise market participants.
Conclusion
This year's oil market analysis has been anything but easy. Geopolitics, midterm elections, export timing mismatch, inventory swapping, and just a whole host of factors have required us to obtain better data to understand the narratives being played. But we think over the coming months, the data should get clearer as the lower Saudi exports to US show up via lower overall crude imports. This could pressure US crude storage lower, which could result in a sentiment shift.
Author's note: Thank you for reading this article. If you found this article insightful, please leave a "Like" below.